Word association is powerful and intractable.
Beach – summer.
Thanksgiving – turkey.
Confetti – weddings.
So it's no surprise, that after a public vape pen scandal, on Tuesday November 12, 2019, Vapen MJ changed its name to Vext Science (VEXT.C).
"For weeks, it's been clear THC vape products are playing a major role in the outbreak of vaping-related illness that has sickened more than 1,600 people across the country," reported Vox.
 A study from Utah indicated that most tainted vape products "were acquired from illicit online dealers."
To be blunt, this tragic shit-storm did not involve Vext Science's products.
"The core business, which is derived from an Arizona licensed vertically integrated model, generated USD $13 million in revenues during the first two quarters of 2019," confirmed Equity Guru's Sam Bourgi last October.
Ironically, VEXT is a healthy cannabis business, and investors are quickly gaining confidence in it.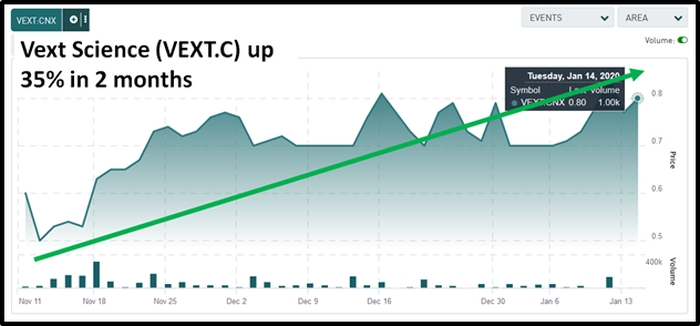 "The vaporizing cartridge is only one of many products we manufacture," confirmed Vext Science, "We support and encourage enforcement related to safe ingredients and licensed producers."
"Our core-competencies and key differentiators lie in our strong operational procedures, particularly in the extraction processes and science-based approach to manufacturing," stated Vext Science. We deliver "crucial expertise in equipment and cannabinoid extraction techniques."
"With a humble grow, an extraction lab, and a pair of Arizona dispensary outlets, and a solid group of products in multiple SKUs that emanate from the above," stated Equity Guru's Chris Parry last summer, "Vapen [now Vext Science] has managed to do what few before them have.  You've got to appreciate the folks who can just mint money every month while so many others eat dirt."
Two weeks after the re-brand, VEXT released financials.
"Gross Revenues increased 36% to USD $18.8 million for the nine months ended September 30, 2019 from US$13.8 million for the nine months ended September 30, 2018," reported VEXT.
Total Net Income increased 7% for the nine months ended September 30, 2019 to US$3.6 million compared to US$3.4 million for the nine months ended September 30, 2018.
VEXT's Gross Revenues increased 19% to US$5.6 million for the quarter ended September 30, 2019 from US$4.7 million for the quarter ended September 30, 2018.
Total Net Income decreased 44% for the quarter ended September 30, 2019 to US$0.8 million compared to US$1.4 million for the quarter ended September 30, 2018.
The majority of the decrease in net income was primarily due to professional fees incurred for the Growth Strategy deploying in Q4 2019 and 2020.
Working capital as of September 30, 2019 was reported at US$20.7 million, compared to US$14.5 million as at December 31, 2018, a 43% increase.
Working capital, is the difference between "current assets" such as cash, accounts receivable, inventory – and its current liabilities, such as accounts payable.
Vext Science Q3, 2019 Operational Highlights:
New equity partnership designing an extraction facility and lending technical support for Hawaiian hemp production and formulation with Archipelago Ventures, a strategic joint venture with Legacy Ventures and Arcadia Biosciences (NASDAQ: RKDA).
Executed a strategic partnership with CBD Emporium, the Arizona Headquartered CBD retailer, which will carry the full-line of Vapen THC-Free, Pharmaceutical Grade, Broad Spectrum CBD Products in all its stores, including CBD vape oil, tinctures, edibles, topicals, inhalers and dog treats.
Granted U.S. patent #10,231,948 (expiring 2018) for a metered dose inhaler system, "consisting essentially of an actuator, a user interchangeable canister assembly, purified cannabinoid from cannabis, isolated terpene, ethanol, and a hydrofluorocarbon propellant.
Formed cannabis THC production, extraction and cultivation partnership with the founders of Texoma House of Cannabis to form Vapen Oklahoma, LLC in Oklahoma, which is one of the fastest growing medical marijuana markets in the U.S.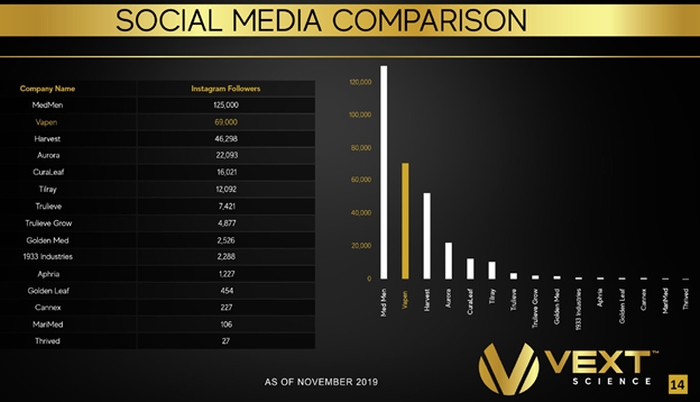 Growth Strategy for Q4 2019 and 2020:
Cannabis multi-state revenue and profit share joint venture partnerships. VEXT provides THC licensed partners with core expertise in SOPs, equipment, extraction and manufacturing of our THC product line, as well as a diverse product offering under the Vapen brand as it has done successfully in Arizona. 6 States: AZ, NV, CA, OK, MA, OH.
Hemp farm and seed multi-state revenue and joint venture partnerships. VEXT provides biomass partners with core expertise in SOPs, equipment and extraction techniques for CBD, CBG, and other hemp derived cannabinoids. 3 States: KY, AR, HI, and Jamaica.
"VEXT has experienced a strong three quarters primarily related to the Arizona operations," stated Bob Brilon, President and CFO, "We have announced partnerships in the THC and Hemp CBD industries that are moving forward.  We are looking forward to announcing the details of additional domestic and foreign extraction partnerships to further strengthen the financial results of 2019 and 2020."
"President Trump's war on vaping cast a dark shadow over the booming e-cigarettes industry," stated Bourgi last September, "Although Vapen MJ's products don't contain the chemical widely linked to the 450 cases against e-cigarettes."
It's not nice to have your hand forced.
But given the breadth of this company's product line and the emphasis on technological innovation, Vext Science is a better name than the previous one.
– Lukas Kane
Full Disclosure: Vext Science is an Equity Guru marketing client.