On December 2, 2019 Sol Global (SOL.C) released its Q2, financial results for the three and six-month period ended September 30, 2019.
SOL Global invests in cannabis related companies in legal U.S. states, hemp and CBD marketplaces and the emerging European cannabis and hemp territories.
Its business activities encompass cultivation, distribution, retail – and an R&D program with the University of Miami.
Dumbing the financials down, the company has a potentially lucrative foot print in Florida, but booked a large Q2 loss, due to a stock-based investment in a company with a falling share price.
In 2019, SOL's share price tumbling vertiginously from a March 21, 2019 high of $4.01 to today's opening price of .45.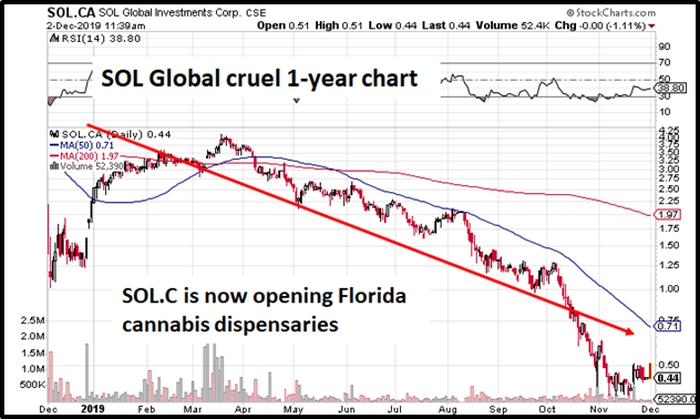 Let's start with Florida.
"Our One Plant Florida operations have experienced tremendous growth, while reshaping how cannabis is delivered to patients," stated SOL Global CEO Brady Cobb, "We will continue to focus on these operations and deliver the highest-quality products to Florida's patients."
One Plant Florida was formerly 3 Boys Farm, LLC.  SOL Global invested an additional $8 million dollars USD into One Plant Florida to fund strategic initiatives including:
expansion of cultivation facilities in Indiantown, Florida
expansion of processing facilities in Indiantown, Florida
a fleet of delivery vehicles
buildout of retail dispensaries in key retail corridors
opening 1st dispensary in Boynton Beach, Florida on November 6, 2019.
As a "proof-of-concept" retail location, Boynton Beach is meeting expectations.  Since opening three weeks ago, the store has experienced consistent week-over-week 30% revenue growth.
New locations often have a very low sales base-line, so week-over-week growth numbers may not initially translate into high cash-register receipts.
Patient on-boarding at Boynton Beach is also increasing at an average of 26% week-over-week growth.
"Patient On-boarding" describes the process that users go through when they start their journey as a customer. On-boarding protocols can define the ongoing relationship the customer has with the product.
"Based on data from the Florida Office of Medical Marijuana Use, the launch of One Plant's first premium strain, Mac1, set a record for the premium flower sold at the highest price point in the state," stated SOL, "further validating the One Plant business model of focusing on producing the highest quality flower in the state."
One Plant obtained Good Agricultural Practices-Farm and Good Manufacturing Processing approvals for its state-of-the art cannabis cultivation facility in Ruskin, Florida with 100% scores on both.
During the six-month period ended September 30, 2019, SOL Global recorded a loss from continuing operations of $94.8 million, compared to a gain of $150.9 million respectively for the same period in the prior year.
A extended residential stay at the Beauty Spa Rigi Kaltbad in Switzerland is not going to make that a $98.4 million loss look healthy or attractive.
The body-blow for SOL investors is softened slightly, in that 78% of the loss is a result of SOL Global's investment in Verano Holdings.  SOL got caught in the crossfire when, early in 2019, Verano announced a merger with Harvest Health & Recreation.
As a result of this merger agreement, the price of SOL's investment in Verano is linked to the value of the underlying Harvest shares should the merger close.

On April 4, 2019 Harvest shares were trading at $13.65, they have no declined to $3.31, causing SOL to book "an unrealized loss of $74.2 million on its Verano investment".
"We are disappointed in the volatility of certain core portfolio holdings which had significant negative impact on our NAV," stated Cobb, "However we continue to stand by those investments and their long-term value creation."
Cobb points out that "traditionally an investment holding company trades at a discount to operating companies."
"On a positive note," added Cobb, "the decline is unrealized and we believe we will garner better than expected returns for stockholders as the deals close and accretive operations are implemented."
According to Marijuana Business Daily, Florida's medical weed market has been growing fast: last year active patients nearly tripled, from 56,000 to 159,000
The Marijuana Business Factbook projects that 2019 medical marijuana sales in Florida will reach $425 million-$525 million, up from $225 million-$300 million in 2018.
Florida is the 3rd most populous state in the U.S (19 million) with 17% of Floridians over 65 years old.  With that demographic – it's not surprising that there is a strong demand for medicinal cannabis and CBD products – which are used to treat cancer, joint pain and inflammation.
Here is Cobb, October 18, 2019 on Fox News talking about the U.S. CBD market.
SOL Global completed its acquisition of 3 Boys Farms, LLC in April 2019 through the purchase of its parent company CannCure Investments.  Some shareholders have expressed confusion about SOL's financial liability in the wake of this transaction.
SOL issued a clarification, that it intends to complete the transaction for the sale of 3 Boys Farms, LLC within 2 years of the closing date of its acquisition.
In the event that a sale of 3 Boys Farms, LLC does not occur within the two-year timeframe, only then would SOL be required to compensate the former CannCure shareholders USD $80,000,000.
Should a sale occur within the two-year period, CannCure shareholders will be compensated based on "current market conditions, which will likely less than the USD $80 million figure."
Today, SOL was down 4% to .43 on 110,000 shares traded.
– Lukas Kane
Full Disclosure:  SOL Global is an Equity Guru marketing client