On August 19, 2019 GTEC Holdings (GTEC.C) announced that its 100% owned Tumbleweed Farms has been granted a "Standard Cultivation, Processing and Medical Sales Licences, pursuant to the Cannabis Act and Regulations by Health Canada."
Tumbleweed is a purpose-built cultivation facility located in Chase, British Columbia – named after an American, Whitfield Chase, who worked as a carpenter in Victoria, BC, and then in 1859  wrote to his Mom, "I may go to the gold diggings."
He battled his way north, and five years later, married a young First Nations woman, the eldest daughter of the Neskonlith Indian Band Chief.  They had 10 children.
Tumbleweed's Chase facility is designed, constructed and equipped to produce the highest quality cannabis flower. The property has an on-site well for water.  The initial phase of the facility is 10,000 sq. ft. and is projected to produce 1,000 kg of cannabis flower annually, with significant expansion capabilities.
Shortly before GTEC went public, Equity Guru's Chris Parry summarised GTEC like this: "GTEC's growers are genuinely small batch, artisan guys. They have enough size to fulfill a strong demand, and grow as needed, but they haven't come to market with a 'We're going to have the biggest greenhouse in the world play.'
They're coming to market with this play:
We already have a grow license.
We have four other late-stage applicants we expect to secure grow licenses.
If any don't, we'll roll them into one that does and apply for an expansion rather than a fresh license.
We're running this like a winery. Quality is everything.
That means keeping costs low, margins high, and not fighting with every other LP for that sweet Ontario Liquor Board deal that wants a lot of weed cheap and quick. Rather, they're offering something people will look for."
Although GTEC's super-objective has been clear and unwavering from the get-go, many cannabis investors have gravitated away from weed micro-caps to the "big-is-better" stories.
Recently, the "We're-a-Big-Ass-Weed-Company" stocks have experienced investor pain and a slew of CEO firings.
For instance, two months ago Canopy Growth (WEED.T) reported a Q4 2019 net loss of $323 million Canadian, which amounts to $41 loss per second, $2,500 per minute, $150,000 per hour – or $3.6 million dollars a day.
Ten days later, Canopy announced that its long-time co-CEO Bruce Linton will "step down" from all positions and responsibility at the company.
"Linton has exercised the stock options he's been sitting on for years, acquiring Canopy shares for as little as $2.95 per (it's trading at $52.36 at the time of writing)," wrote Equity Guru's Chris Parry, "amassing $17,965,750 in stock that cost him just $2,199,861."
"I think 'stepping down' might not be the right phrase," Linton told CNBC about the Canopy divorce. "I was terminated."
Since then, significant further losses have been reported by WEED.T.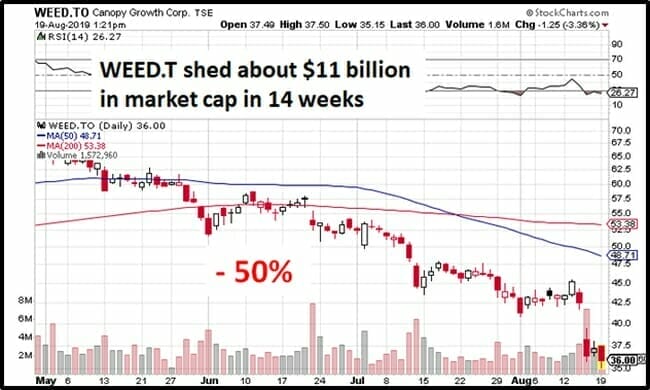 GTEC's market cap is currently CND $40 million.
With GTEC's licensing of Tumbleweed, management expects the following forecasts across the organization's three operational cultivation facilities:
Estimated Annual production of 4,000 kg of flower
Generating 1,000 kg trim
Tumbleweed and Grey Bruce entering into full production and sales
Positive cash flow in the near future,
GTEC is currently implementing its new cultivars into Alberta Craft Cannabis, transitioning its sales efforts from B2B wholesale, to Provincial & Territorial adult-use supply chains and direct to medical patients.

GTEC anticipates that its average selling price will increase. The expected completion of two more facilities (GreenTec Bio-Pharma and 3PL) in the near future, is likely to increase GTEC's production output in 2020.
In the last six weeks, GTEC has accomplished all three of its cannabis licensing objectives for 2019:
Standard Cultivation Licence at Grey Bruce Farms – July 5, 2019
Standard Processing and Medical Sales Licence at Alberta Craft Cannabis – July 26, 2019
Standard Cultivation, Processing and Medical Sales Licence at Tumbleweed Farms – August 19, 2019
"As the organization progresses in the direction of profitability, we will persevere to ensure that Tumbleweed and Grey Bruce become cash flow positive in the near future, while striving to complete the build-outs of GreenTec Bio-Pharma and 3PL," stated Norton Singhavon, GTEC Founder Chairman and CEO.
Tumbleweed has now begun cultivation of cannabis plants from a portfolio of high-end cultivars (commonly known as genetics).
The business model – which has never changed – is based on the belief that superior genetics and cultivation techniques will create a long-term sustainable competitive advantage – while provide resistance to overall price compression.
GTEC may be onto something.
Full Disclosure: GTEC is an Equity Guru marketing client.