Cobalt has been one of the more impressive commodities in the auction arena in terms of price chart theatrics and supply/demand fundamentals. And the fundamentals are most compelling.
Two years ago the price of cobalt was trading just north of $10.00. After flirting with the low $40.00 range in recent weeks, it's now retracing some of that parabolic price action, currently testing the low $30.00 level.
The market for a number of junior explorers in the cobalt space has come off hard in recent months, perhaps exacerbated by the recent price correction in the underlying metal. And as usual, the price action in the stocks is waaaay overdone.
This current market malaise in the junior exploration arena, this apathy displayed by many of the companies I follow, may represent another prime opportunity to back up the truck on deals that have seen > 50% of their market-caps wiped out since the highs registered earlier this year.
Cobalt Power Group (CPO.V) is a good example of this latent potential (above chart).
Joining CPO in this carnage, acquisition hungry FCC dons a chart that's nearly identical to CPO's.
Of course, there are always exceptions.
The herd…
It would appear that many investors are viewing the current situation in the cobalt space as a crisis, ala 'OMG (Oh Mine Gosh), we're all gonna die'.
Then you have the Chinese, who often view things differently. Their spelling of the word CRISIS is composed of two characters…
The first character represents the word DANGER, the second represents OPPORTUNITY. Interesting way to reframe a tumultuous situation, a situation which, as is the case with the tumult currently displayed by a number of high-profile cobalt stocks, prompts many market participants to turn tail and run.
That is NOT how one goes about making a fat stack in this sector. I think it was Rick Rule who coined the phrase: 'you've stuck around for the PAIN, you may as well stick around for the GAIN'. Makes sense to this humble observer.
The Opportunity?
There may be a serious opportunity setting up here for stocks like CPO. If you still believe in the longer term fundamentals in cobalt, that it'll remain a key ingredient in the composition of EV batteries and the like, current stock prices offer tremendous value.
Note that Equity Guru has emphasized the role cobalt plays in the battery metals market repeatedly. A very good summary of the underlying supply/demand fundamentals can be viewed here, by Equity Guru's own – the illustrious and incomparable Lukas Kane.
Cobalt Power Group – the company and its components:
The company's stated mission: "To give investors access to the green revolution by creating a company that aims to become a leading supplier of cobalt – a critical component of lithium-ion batteries."
This company's fundamentals and progress have also been tracked and discussed thoroughly here at Equity Guru.
From the get-go, CPO has been aggressive in its hunt for geologically prospective projects.
The company's flagship projects are its Smith Cobalt and Canadian Cobalt properties located in the historic Cobalt and Silver Centre mining camps of northeastern Ontario.
The Smith Cobalt Project is a land package comprising some twenty patented claims and ten staked mineral claims covering 1,170 hectares
Immediately to the west of the Smith Cobalt property is the historic Deer Horn mine. Deer Horn is reported to have produced approximately eleven million ounces of silver and one-hundred-thousand pounds of cobalt up until 1966. Several of Deer Horn's Silver-Cobalt vein structures extend onto CPO ground – Ag-Co-Ni values were also encountered in underground workings.
A quick characterization of Smith…
The Smith Cobalt Property & Extensions:
This land package consists of nine patented mining claims covering 72 hectares and two extensions covering 32 hectares. The project was a past producer. A mine shaft exists on the property. A number of mineralized veins have been identified. The property lies in close proximity to Cobalt, Ontario with good access via pavement and mining roads
The Proteus Property:
Sharing a common boundary with Smith, Proteus comprises three staked mining claims covering 144 hectares. A number of mineralized veins have been identified on the property. In close proximity to the town of Cobalt, this one also sports good road access.
The Kirk Lake Property & Extension:
Covering 472 hectares (509 ha's including its extension), the Kirk Lake property is contiguous with CPO's Proteus asset. A mine shaft exists on the property. The project also plays host to a number of mineralized veins. Access is good.
The Bende and Kingston Properties:
The Bende and Kingston properties consist of four claims covering a total of 89 hectares. A mine shaft exists on the property. Mineralized veins have been identified. Access is via paved roads.
The Coleman Township Properties:
The Coleman Township parcels, contiguous with the company's Kingston Block, contain the historic Cobalt Twentieth Century Mine and workings. The property has three shafts that were sunk between 1908 and 1926 with approximately four-hundred feet of lateral development. Access is via a paved highway.
A note on the Smith's underlying geology…
Silver-cobalt mineralization typically occurs in steeply-dipping carbonate veins. The better values are found where these veins cut Coleman sediments and/or are close to the Archean contact with the Nipissing diabase. Historically, in the Cobalt area, most of the Ag-Co has been produced from veins within the Coleman sediments. More recently, the lower diabase-volcanics contact has become increasingly important as a host for significant mineralization.
The Canadian Cobalt Project's forty-three unpatented mining claims (along with one mining lease) cover approximately 7,567 hectares located in the Silver Center of the Cobalt Camp, Ontario.
This group of claims lies within close proximity to several historic mines, including the former producing Keeley and Frontier mines in the South Lorrain Township, Ontario.
Keeley and Frontier produced in excess of 19 million oz of silver and 3 million lbs of cobalt in their day, over a sixty-year mine life.
Canadian Cobalt's geological setting…
The properties are generally underlain by Huronian Cobalt Group metasediments with abundant occurrences of the Nipissing diabase sill/dyke. Both the upper and lower contacts of the sill occur on the property. The Cobalt Group metasediments include quartzites and arkoses of the Lorrain Formation, as well as significant outcrops of siltstones and greywackes of the Coleman Formation, which are locally in contact with the base of the sill.
The company has its work cut out for them – there's a fair amount of ground to probe on both project areas.
The Report:
Recently, Cobalt Power Group engaged CSA Global Canada Geosciences Ltd to study the underlying geology of the Smith Cobalt and Canadian Cobalt Projects in order to produce a 43-101 report, one which delves into the exploration potential of these core assets.
After an exhaustive review of the various properties, the author of said report stated…
CSA Global considers the Smith and Canadian Cobalt Projects to be at an early stage of exploration and recommends a multifaceted exploration program including historical and current data compilation, continued airborne geophysical surveys to cover both Project areas, prospecting, geological mapping, testing of ground geophysical and geochemical methods with follow-up surveys and finally diamond drill testing of targets developed from these programs.
The author of the report also stated…
The Projects have potential for additional cobalt-silver discoveries near historical mines and mineral occurrences and for new mineralized zones in areas with little past exploration (particularly the Canadian Cobalt Project area).
Below is a property wide exploration program and budget proposed by CPO – CSA Global concurs with the planned exploration expenditures…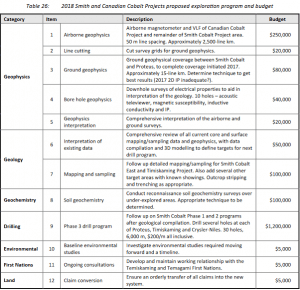 With insights gained from CSA Global's 43-101 report, Cobalt Power Group's initial work program will include: airborne geophysics, follow-up prospecting, mapping and sampling.
The Alliance…
This portfolio of projects, though early stage along the exploration curve, demonstrated sufficient potential to attract the attention, and financial commitment of one Hochschild Mining (HOC:LON). Hochschild stepped up and purchased Cdn $635K worth of the companies stock approximately ten months ago. This is a strategic alliance. Hochschild has the skill set required to exploit the vein hosted mineralization underlying many of CPO's claim blocks.
Moving along…
The Hunger:
Cobalt Power Group continues to hunt down prospective assets to add to its project portfolio. On June 15th, the company announced the closing of an acquisition made outside the Ontario Cobalt Camp, in the eastern Athabasca Basin of Saskatchewan.
These properties, contiguous with UEX Corporation's West Bear Cobalt-Nickel Project, comprise approximately 8,146 hectares of prospective Co geology.
One notable highlight of the property is its close proximity to a recent discovery made by UEX: 2.0% cobalt and 1.26% nickel over 10.00 meters in one drill hole – 0.73% cobalt and 0.36% nickel over 20 meters in another. These are high-grade hits. Anything 0.5% Co or better is considered high-grade.
And then just yesterday (July 5th), the company announced the acquisition of the Little Trout Project in the Cobalt Mining Camp in Ontario.
Little Trout's forty-six claim units total approximately 776 hectares of highly prospective geology for cobalt and copper mineralization. The claims share a common boundary with the company's Canadian Cobalt project.
Acquisition highlights…
•The Little Trout property was originally staked to cover the source area of a cluster of 3 significant cobalt and copper lake sediment anomalies derived from a 2004 Ontario Geological Survey sampling program.
•The geochemical signature of the anomalies differs from much of the Cobalt Ontario camp in that the anomalous cobalt is coupled with copper, in contrast with the typical Co-Ag-As signature of the historical mining camp. This is suggestive of sediment-hosted copper-cobalt mineralization.
•The Company is fully funded for the 2018 exploration season and plans are underway for an aggressive exploration program on its new Little Trout property.
Management And A Peek Under The Hood:
Management…
… an important consideration in this high risk arena. Experienced, competent management is key. Without it, even the best geological prospects can fail. Good management keeps a lid on stock dilution, they spend exploration funds wisely, frugally. They know their rocks, they keep their eyes peeled for acquisition opportunity and they embrace the concept of creating shareholder value.
Cobalt Power Group's management team is stacked with talent. Included in the lineup is Chris Healey, P.Geo, V.P. Exploration, Director. I've had the pleasure of chatting with Chris in person on a number of occasions. His breadth of knowledge in everything mining-related is best described as encyclopedic. In my way of thinking, Chris' involvement here adds validity to the quality of the company's asset portfolio.
Share-structure…
With just over 145.6 million shares outstanding, the company's market-cap is approximately $13.1 million. This is at the very low-end for a cobalt focused exploration company.
Final Thoughts:
When you take into consideration the prospective nature of Cobalt Power Group's assets, its top shelf management team, not to mention the current price of the company's stock, it's not difficult to imagine a share price several multiples above where it currently sits (this author's opinion).
The company has a $2.3 M exploration budget allocated for 2018. Included in this amount is a $1.2 M budget for a phase III drilling campaign at their Smith Cobalt project. This is an aggressive campaign. With a modest $13.1 M market-cap, exploration success could be met with significant price appreciation in the weeks and months to come.
We stand to watch.
END
~ ~ Dirk Diggler
Full disclosure: Cobalt Power Group is not an Equity Guru client – they used to be. The author does not own shares in  Cobalt Power Group.