Imagine you are a diabetic and every day you are forced to walk through a crime invested neighborhood to get the insulin you need to survive.
In this neighborhood, people frequently get mugged.
But you are not the victim.
The victim is your insulin dealer, who happens to be an 8-year-old child.
This is the predicament of major automobile manufacturers currently securing cobalt from the Democratic Republic of Congo (DRC) – a country with a serious child-labour problem.
Last week, leading carmakers including Volkswagen (VOWG.DE), Toyota (TM.NYSE), Ford (F.NYSE), BMW (BMWG.DE), Honda (7267.T), Jaguar (TAMO.NS) and Volvo Trucks (VOLV-B.ST) formed a "Drive Sustainability" partnership – pledging to "uphold ethical and socially responsible standards in their purchases of minerals for an expected boom in electric vehicle production".
At Equity Guru we cover a select group of companies in the non-DRC cobalt space, including:
• First Cobalt (FCC.V)
• Cobalt Power Group (CPO.V)
• Castle Silver (CSR.V)
• Nano One (NNO.V).
On May 27, 2017, we first alerted our readers to the problem – and the opportunities – arising from the child-labour situation in the DRC.
Stating that the DRC has lax labor standards is like saying Thailand is sunny.  It's famously sunny.  It's been sunny as long as anyone can remember.
Sky News (UK) reporting on labor conditions in the DRC.
Since then, CSR is up 20%, NNO is up 42%, CPO is up 144% and FCC is up 185%.
Exposing our readers to profitable investments is gratifying.
It's also how we eat.
In the last six months we've written about the Ontario cobalt area play, revived cobalt mines and new Lithium Nickel Cobalt technologies.
With the heat on this sector, news flow is hot and heavy.
On Dec. 07, 2017 FCC announced that it has purchased four mining claims located in the Ontario Cobalt Camp, near the past producing Caswell mine.
The properties are contiguous to FCC's existing properties, further consolidating FCC's large land position.
First Cobalt now controls over 10,000 hectares of prospective land and fifty historic mines as well as a mill and the only permitted cobalt refinery in North America capable of producing battery materials.
"Expansion of First Cobalt's property into this highly prospective area increases the opportunity for regional exploration work in keeping with the Company's intention to identify bulk cobalt mining opportunities," stated Trent Mell, President and CEO of FCC, "Cobalt Central was historically underexplored yet the Caswell mine to the east of these claims boasts one of the highest historic cobalt-to-silver ratios within the Camp making this region highly attractive for continued exploration."
A recent prospecting program at Caswell identified high-grade mineralization at surface, including 9.44% cobalt, 1.27% copper and 2.92% nickel.
According to the press release;
Caswell mine was initially developed in 1910, with two shallow shafts no more than 40 metres below surface. The mine produced almost 5,000 pounds of cobalt and over 1,500 ounces of silver in 1936, for a remarkable cobalt-to-silver ratio of 3.3 lbs Co for each 1 oz Ag produced.
On December 8, 2017 FCC announced a "bought deal" with Canaccord (CF.TSX) in which they have agreed to purchase 4.7 million "Flow-Through Units" @ $1.51 for gross proceeds of $7 million and 16.4 million units @ $1.10 for gross proceeds of $18 million.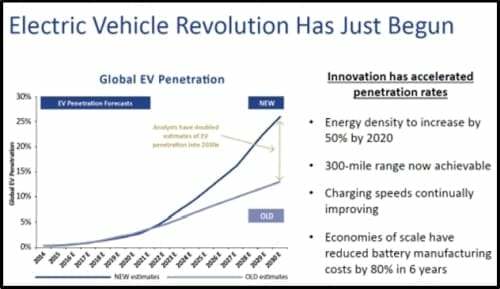 "We have some of the best assets in the world for our exploration," stated Mell in a recent interview with Uptick Newswire, "We are in a sweet spot right now."
At a press conference last week BMW board member, Oliver Zipse confirmed that sourcing of cobalt and other critical materials is "the most important" question BMW is wrestling with.
"We have a detailed strategy for the future," explained Zipse, "that secures our volume need as well as the origin and the type of production, so that we can obtain it in good conscience."
That howling sound you hear is the wind – pushing Canadian cobalt companies higher.
Full Disclosure:  First Cobalt, Cobalt Power, Castle Silver and Nano One are Equity Guru marketing clients, we also own stock.

As reported by newswire.ca 'Castle Silver Resources Inc. (TSX.V: CSR, OTC: TAKRF, FRANKFURT: 4T9B) (the "Company" or "CSR") is pleased to announce the name change to Canada Cobalt Works Inc. which will more accurately reflect the direction of the Company. The TSX Venture Exchange has confirmed that shares will commence trading effective, Friday, February 23, 2018 under the new ticker symbol "CCW". The tickers for OTC: TAKRF and Frankfurt: 4T9B are the same and will not be changed at this time.'