While US stock markets, European stock markets, and many other Asian stock markets continue to chop around and range, one market in Asia is on a tear. Japan is drawing in investor money and it really all began with the Oracle of Omaha, Warren Buffett.
I recently gave my thoughts and technical levels on Japan and the Nikkei in a chart attack video. The zone I spoke about has been broken, and thus, I expect more interest in the Japanese stock market:
Buffett venturing into Japan came as somewhat of a surprise to many. To be honest, I was not too surprised. It was more of a matter of when he would go big into Japan. Warren Buffett is considered to be one of the best investors ever, and his investment thesis is to pick up VALUE stocks which have brought in consistent business and pays out a consistent dividend. Japan is the place to be if you love value stocks. Many of the companies do well domestically and pay consistent dividends. Some investors ignore Japan because of the lack of change from corporations. Anyone who has visited the country knows how difficult it can be to ask for a simple change on a food menu such as getting a latte with little sugar. The regular worker would say they need to discuss with their high ups before they can do that. This type of hierarchy can be frustrating, but this type of mentality is all about, "if things are going well as they are, why change it up?".
In summary, these companies are doing well in the domestic Japanese markets and pay a consistent dividend. Japan being the third largest economy in the world means investors would look at it after the US since China, the second largest economy, isn't as easy to invest in for foreigners. Even though the country's debt to GDP is the highest in the world, the Japanese people have one of the highest savings rates in the world.
Speaking about debt to GDP, perhaps the attraction to Japan is that while most of the world has raised interest rates on a largely indebted population, the Bank of Japan has kept rates at -0.1% and has slightly adjusted their yield curve control. A new Bank of Japan Governor sparked some fear of a new hawkish policy, instead new Governor Kazuo Ueda said it will take almost a year and a half to review its monetary policy essentially saying that ultra low rates are here to stay for sometime. The money printers are still on in Japan.
This means there is a HUGE gap between American and Japanese interest rates (pretty much between Japan and any Western country) which offers opportunities.
Buffett sees this, and has invested in Japanese trading houses Itochu Corp, Marubeni Corp, Mitsubishi Corp, Mitsui and Sumitomo Corp. These are Japan's sogo-shosha or general trading houses. Businesses which play a huge role in the Japanese economy from providing energy to minerals and food. Today, most of their revenue comes from non-trade activities and they have interests in everything from logistics to real estate, frozen food, aerospace, EV's, energy and renewable energy. Diversified portfolios, long term investments and a focus on value and cash. You see why Buffett is a fan?
"I just thought these were big companies. They were companies that I generally understood what they did. Somewhat similar to Berkshire in that they owned lots of different interests," Buffett told CNBC's Squawk Box during his April visit to Japan. "And they were selling at what I thought was a ridiculous price, particularly the price compared to the interest rates prevailing at that time."
Buffett and Berkshire Hathaway boosted their investment in the trading houses to 7.4%. He also said he intends to add to his Japanese holdings. So what was the Buffett effect? Japanese stock markets rallying for five weeks in a row after his Japan bet, outperforming US markets.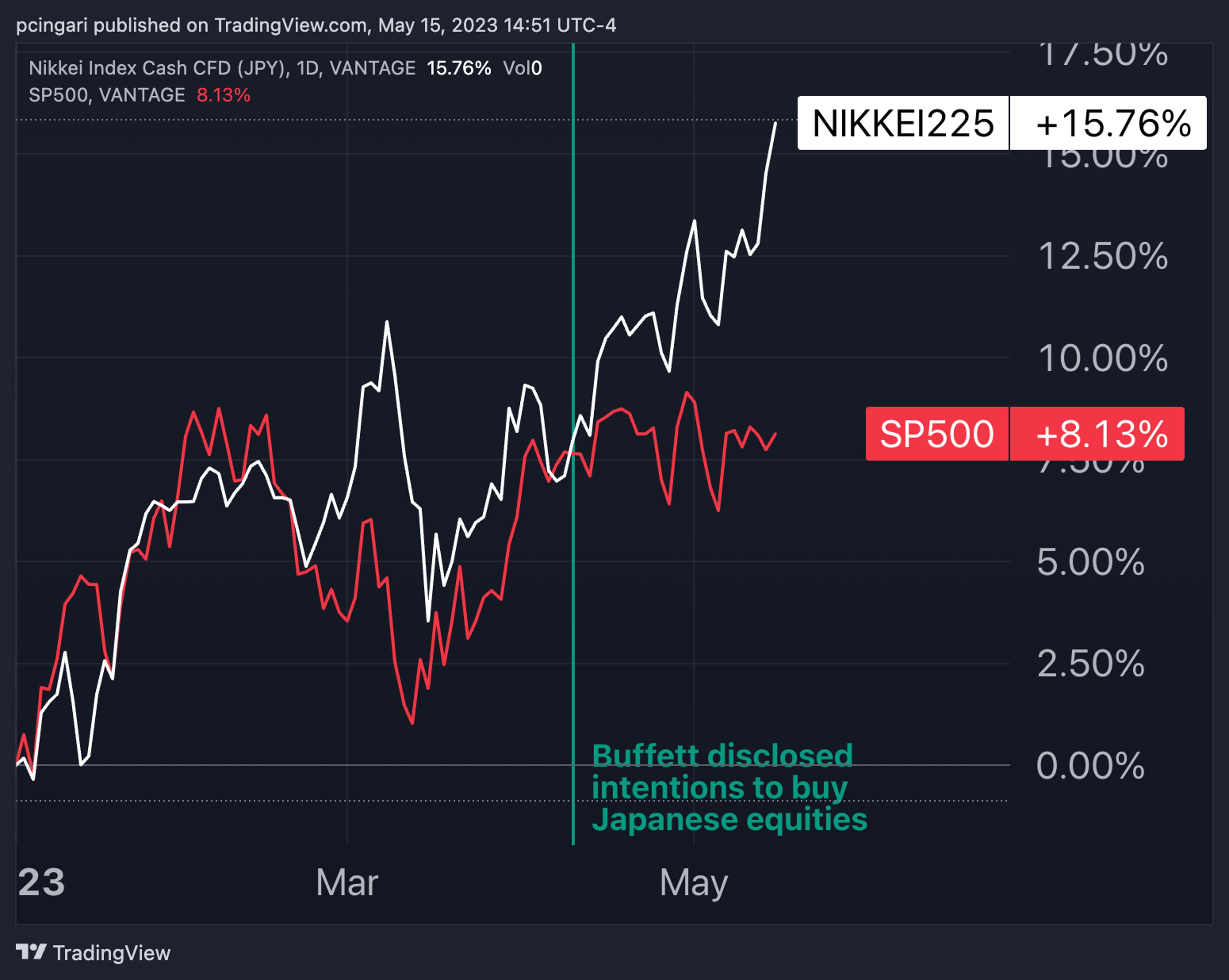 Wall Street and funds tend to follow the Oracle of Omaha. And as I said in my recent Youtube video, a technical close above a certain level would attract even more institutional money. That level has broken.
30,000 was the major key resistance level I had on my radar when we were testing the 28,750 zone. We have broken above this level. It is the first time the Nikkei has closed above this major psychological level in 20 months.
Besides the Buffett effect, there are other headways for the Nikkei. One is the weakening Japanese Yen. A weaker yen tends to help exporter shares as it increases the value of overseas profits in yen terms when companies repatriate them to Japan. And corporate profits have been stellar. Shiseido jumped 4.51% after the cosmetic maker beat consensus by posting a 97% jump in its net profit for three months through March. Beer maker Asahi Group Holdings rose 2.91% after its quarterly net profit grew more than four times. Uniqlo brand owner Fast Retailing rose 0.7% to provide the biggest boost to the Nikkei.
Investors have been scooping up these stocks that have reported positive earnings which has also boosted the overall Japanese stock market. And now that more eyes are on Japan from the West largely thanks to Buffett, there are other data points which may attract more foreign money.
Japan's GDP for the first quarter beat expectations. Japan's economy grew by 0.4% in Q1, double the expected 0.2% growth rate. The upbeat performance was driven by an increase in tourism (service sectors such as restaurants and hotels have witnessed a boost in private consumption) and domestic household spending. With economists expecting an economic slowdown in Europe and the US, Japan is showing some resilience and the Nikkei can continue to benefit from supportive central bank policy, strong earnings, and a resilient domestic economy.
What are Japanese analysts saying about the Nikkei?
"As long as the BOJ does not change its ultraloose monetary policy, I believe that the market will continue to trend upwards," said Tomoichiro Kubota, senior market analyst at Matsui Securities Co.

"The tailwinds for the Tokyo Stock Exchange are still in place, but there's a feeling of overheating," said Kazuo Kamitani, an equity strategist at Nomura Securities. "Whether it's today, tomorrow, or next week, the Nikkei is due for a healthy adjustment lower," potentially to around 28,700″.
Before I sign off, I want to leave you all with this monthly chart of the Nikkei. Yes folks, even with the easy monetary policy, the Japanese Nikkei has not taken out record all time highs printed in 1989. Even here at 30,000, we still have about 9,000 points to go before we test previous all time highs.
To the right of the chart, note the current price action. You will see that we are set for a close above a resistance level or the breakout of a range/consolidation. This is bullish. But more intriguing is we can be setting up for a breakout above a downtrend line. A downtrend line which began with the all time highs in 1989. To me, this would be a huge macro technical breakout. Technical traders at banks and funds, as well as algos will see this. The retail crowd should too.
If the Nikkei confirms a MONTHLY close (meaning we will have to wait for the last day of the month for the candle to close) we breakout above this downtrend line. This would set us up for a run up to the 33,000 zone and then eventually previous all time record highs in the medium to long term. Alternatively, we don't see the breakout and the Nikkei retraces lower.