Readers know that I am a commodity person. I believe a major commodity super cycle/opportunity is coming. My focus has mainly been on precious metals and the base metals. Recently, those markets have been exploding to the upside. Gold and silver do have supply and demand fundamentals as well, but they are also assets money runs into whenever there is uncertainty.
I have to use the 'I' word inflation here. When inflation rises and persists, money tends to run into hard assets. Commodities. Real tangible things.
This article will focus on a unique investment opportunity. An investment in critical minerals. Why? Well if you believe we are heading into the green revolution, and expanding the digital economy, then critical minerals will be the crucial component. More demand will mean the world will need more supply.
Canada produces more than 60 minerals and metals and is a leading global producer of many of the critical minerals, including nickel, potash, aluminum, and uranium. Canada has the potential to supply even more critical minerals to both domestic and international markets.
Here is what Canada considers as critical minerals:
The investment opportunity also provides some complications to the supply and demand picture. For example, the current deteriorating relations between the US and China. China is a dominant player in the Rare Earth minerals market with China controlling around 80 percent of the production of rare earths. If relations deteriorate further, the CCP will likely use their rare earth card and ban exports to the US and allies.
If I were to use a term to summarize the investment opportunity in critical minerals it would be 'mineral security'. Just like the US and Europe are focusing on energy security with Russia being a major exporter of uranium, oil and natural gas, ensuring consistent and secured supply chains of critical minerals will be near the top of the agenda for most western governments.
In Canada, the Critical Minerals Centre of Excellence (CMCE) is leading the development and coordination of policies and programs in collaboration with various stakeholders. Canada's federal government has committed substantial funding to various aspects of the critical minerals value chain. Budget commitments from 2021 and 2022 include $79.2 million for public geoscience and exploration to better identify and assess mineral deposits, a 30% Critical Mineral Exploration Tax Credit for targeted critical minerals, $47.7 million for targeted upstream critical mineral R&D through Canada's research labs, and $144.4 million for critical mineral research and development, and the deployment of technologies and materials to support critical mineral development for upstream and midstream segments of the value chain.
In the United States, President Biden signed Executive Order 14017 to review vulnerabilities in the critical mineral and material supply chains. The resulting first-of-its-kind supply chain assessment highlighted the national and economic security threats posed by over-reliance on foreign sources. Consequently, the administration is working to expand domestic mining, production, processing, and recycling of critical minerals and materials in collaboration with partners and allies, while adhering to strong labor, environmental, and community engagement standards.
To me, the opportunity will be investing in North American based miners. To ensure supply chains are intact for these minerals, governments will have to make it easier for projects to go into production and invest heavily in near term projects.
Let's take a look at a few companies.
NioCorp Developments (NB.TO)
NioCorp Developments (NB.TO) is developing the Elk Creek Critical Minerals Project in Southeast Nebraska. This mine will produce strategic/critical minerals such as niobium, scandium and titanium. Several rare earths will also be produced from this mine. In fact, Elk Creek is the second largest indicated-or-better rare earth resource in the US.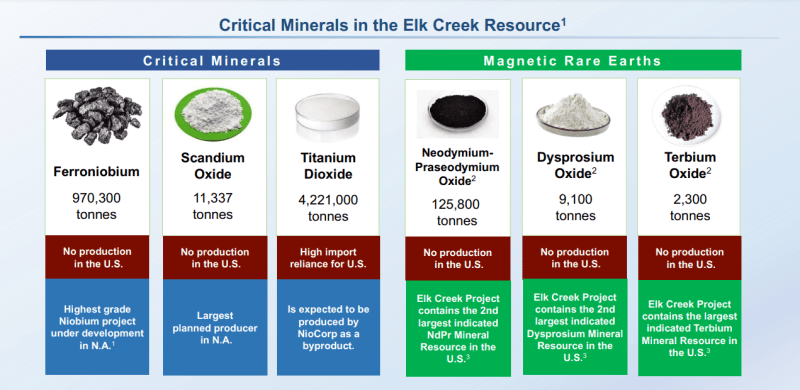 The company recently announced a breakthrough in niobium and titanium processing at its demonstration-scale processing plant in Quebec.
The Company recently began trading on the US Nasdaq via SPAC acquisition. A move which will see NioCorp have access to a significant sum of money to advance its project.
To me, this is a US-China mineral security play. The company produces rare earths, is de-risked and advanced, and can now be bought by US investors and funds.
Above is the chart of the Canadian listing, although the US listing chart looks similar just priced in US Dollars.
The stock bounced at a major support zone around $8.00. You can clearly see the major range NioCorp has been in and we are at the bottom portion of it. Buyers are here as can be seen with the large wick. Support zones tend to be an area where a major move and reversal begins. $10 is some interim resistance I would watch as it is a psychological number. A consolidation/range is forming, and a breakout will give us the next direction.
Standard Uranium (STND.V)
Standard Uranium announced that the Winter drill program at its 100% owned Sun Dog Project has been completed. The Sun Dog project boasts all the favorable characteristics to host a high-grade, Athabasca-style unconformity-related uranium deposits, and the results of the second drill program on the project have strengthened the validity of the exploration model.
The Company also recently announced results from geophysical surveys completed on each of the Company's three eastern Athabasca basin projects. Key drill target areas have been defined for each project based on positive survey results and historical exploration data.
In an exclusive interview with Fabi Lara, Sean Hillacre, VP of Exploration for Standard Uranium, shares the exciting drill results and discusses the company's future plans for uranium exploration efforts. Standard Uranium plans to continue its exploration efforts with a supplementary bedrock mapping and sampling program in Q3 2023, followed by a possible exploration drill program in fall 2023. The company is dedicated to discovering and advancing high-grade uranium deposits within the Athabasca Basin.
Standard Uranium broke below a major support zone at $0.06, and printed new all time record lows at $0.04. We are currently resting and testing these record all time lows.
A range has developed indicating the possibility of a bottom. Bulls would want to see a close back above the $0.06 zone for bullish momentum.
I want to highlight that uranium prices and ETF's are still showing lower uranium prices, or still in a downtrend with more legs lower. This is putting pressure on uranium stocks and provides an opportunity for long term bulls to acquire uranium stocks at good prices. For more information on uranium prices, check out this article here.
Beyond Minerals (BY.CN)
Beyond Minerals (BY.CN) engages in the acquisition, development, and exploration of mineral property assets in Canada. The company primarily has a focus on Lithium, a commodity with great fundamentals given the increasing demand for Electric Vehicles.
At the end of March 2023, the Company announced it had entered into agreements to option 57 high potential greenfield lithium properties totalling 125,751 hectares and has acquired through staking three properties totalling 9,104 hectares. This brings Beyond Minerals total lithium property portfolio in Ontario to 66 properties covering 147,975 hectares.
With such a deal, Beyond Minerals has become the largest greenfield lithium player in the province of Ontario. With this focus, and a strong presence in lithium, the Company is considering a special resolution to change the name of the Company to "Beyond Lithium Inc" to more accurately reflect the Company's focus on lithium assets. The name change will be a topic at the annual general and special meeting of shareholders called for May 15th 2023.
With so many projects, Beyond will have to review all the properties and determine which will be advanced by Beyond Mineral's exploration team and which will be optioned to joint venture (JV) partners.
The stock has been in a strong uptrend in 2023.
Beyond Minerals printed new all time record highs on April 6th 2023. This resulted in a breakout above previous resistance I had marked at $0.425.
The stock has since pulled back and is in its correction phase, although it has closed back below the $0.425 zone. Generally, when a resistance zone is taken out, we would expect to see buyers jump in on the retest of the broken zone. This has not happened. With a close back below $0.425, there is a chance the stock could correct some more.
The stock is ranging around this zone, and a potential reversal pattern leading to a deeper pullback could be in play. Structurally, we do have a head and shoulders pattern on the intraday chart. However, this does not confirm a deeper retracement. The trigger is always important, and in this case, it would mean an hourly (and daily) close below the $0.385 level.
The daily chart shows the overall trend, so even though the hourly chart shows a potential pullback, traders and investors should understand that this would just be a corrective move in the current uptrend. Since it is best to not go against the trend (the trend is your friend!), corrections should be seen as a buying opportunity. As long as the stock remains above $0.30, the uptrend remains intact.
West High Yield Resources (WHY.V)
West High Yield Resources (WHY.V), is focused on the acquisition, exploration, and development of mineral resource properties in Canada, including its Record Ridge magnesium, silica, and nickel deposit in British Columbia.
The Company has the objective to bring into production one of the world's largest, greenest deposits of high-grade magnesium. The Record Ridge magnesium deposit is located 10 kilometers southwest of Rossland, British Columbia has approximately 10.6 million tonnes of contained magnesium based on an independently produced preliminary economic assessment technical report.
At the beginning of April, WHY provided updates on the status of its mining permit progress for the Record Ridge magnesium deposit located in Rossland, British Columbia, and the status of its nearby Midnight Gold drilling program. The company has submitted all material information, mine site engineering designs, and reports requested by the British Columbia Ministry of Mines. WHY is also initiating a formal Request for Proposal (RFP) process to invite interested groundworks contracting companies with expertise in mine site development and on-site road construction to submit their bids.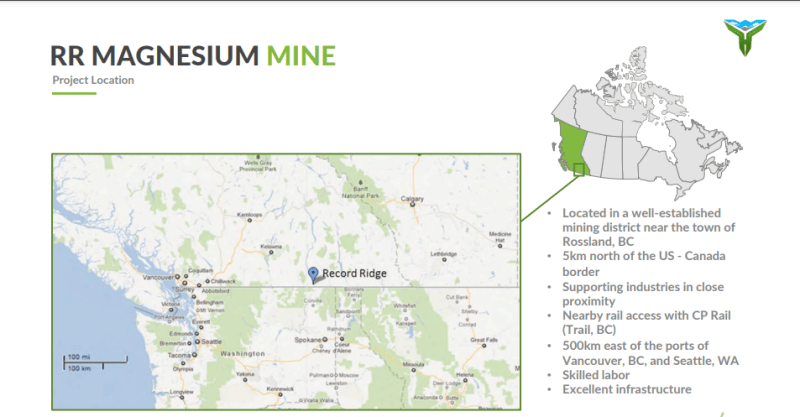 The stock caught the attention of investors when the stock price skyrocketed going from $0.22 to hit highs above $0.50 as the Company began making real progress on its project. I even told readers about the stock ranging and basing after a long downtrend when it was at $0.22.
Since December 2022, the stock has given up most of the gains even after an attempt to break out above recent highs at the beginning of 2023. $0.50 is a very important resistance zone that chartists should mark down.
The stock tested the all important $0.29 zone zone and saw buyers step in. And they stepped in with strength, pushing the price back above $0.375. This is near term support, while resistance comes in at $0.50. Note to the left how many times sellers came in at the $0.50 resistance level. If we breakout above it, then we are due for a major breakout move.
In conclusion, we do have upcoming fundamental catalysts which could get the stock beginning a new uptrend from this support zone. With the mining permit expected to be granted soon and the resumption of the Midnight Gold Drilling Program, the company is poised for significant growth. For investors looking for a promising opportunity in the mining sector, West High Yield Resources should be on their radar.