Beyond Minerals (BY.CN) engages in the acquisition, development, and exploration of mineral property assets in Canada. The company primarily has a focus on Lithium, a commodity with great fundamentals given the increasing demand for Electric Vehicles.  It holds a 100% interest in the Eastchester-Fabie-Trudeau property, which comprises 37 non-contiguous mining claims located northwest of Rouyn-Noranda, Quebec.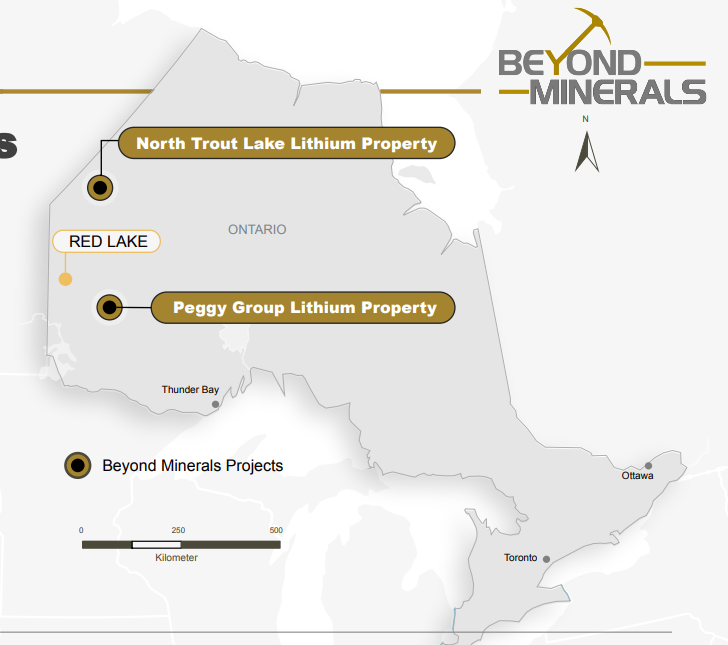 Big news from Beyond Minerals today. The Company announced it has entered into agreements to option 57 high potential greenfield lithium properties totalling 125,751 hectares and has acquired through staking three properties totalling 9,104 hectares. This brings Beyond Minerals total lithium property portfolio in Ontario to 66 properties covering 147,975 hectares.
Now that the portfolio is quite large, Beyond Minerals will be adopting a project-generator model to maximize exploration dollars while minimizing shareholder dilution. Upcoming catalysts in the coming weeks will be a review of all the properties to determine which will be advanced by Beyond Mineral's exploration team and which will be optioned to joint venture (JV) partners.
The agreements were entered into with Bounty Gold Corp and Last Resort Resources.
Here is what Beyond Minerals CEO, Allan Frame had to say:
"When I was appointed President and CEO of Beyond Minerals earlier this year, I stated that under my leadership, we would accelerate the acquisition and optioning of additional lithium assets and make plans for a robust exploration season in the current calendar year," said Allan Frame, President and CEO of Beyond Minerals. "I also committed that our acquisition and optioning plan would rest on four pillars: (i) focus on quality assets for which extensive geological data is available, (ii) concentrate on Ontario assets, while being open to strategic transactions in other jurisdictions (iii) maintain financial discipline in all aspects of our business, including acquisition and options terms and conditions and (iv) preserve a share structure that is favorable to value creation for our shareholders."

"The transaction announced today is consistent with the vision I laid out back in February. Beyond Minerals has now become the largest player in the Ontario's greenfield lithium exploration with quality lithium assets for which extensive geological data is available, while maintaining financial discipline with regards to the terms and conditions of our acquisitions and options and maintaining a share structure that is favorable to value creation for our shareholders."

"There are a number of compelling and strategic reasons to focus on Ontario. Ontario is quickly emerging as a reliable global supplier of responsibly sourced critical minerals. World-class deposits of high purity, low-iron spodumene are currently being discovered and advanced toward production in Ontario. We are confident more of these deposits remain to be discovered here. While other jurisdictions such as Quebec have seen success, we feel the economics of transactions being done in Ontario being more compelling and conducive to creating shareholder value."
Jason Leblanc, President of Bounty Gold Corp., commented:
"Beyond Minerals' strategy of focusing on high quality assets for which extensive geological data is available aligned perfectly with our staking methodology. A high threshold of prospective criteria needed to be met before a positive staking decision was made. It took perseverance to dig deep into the geological databases of Ontario, sometimes reading through reports that dated back to the turn of the 20th century, often searching for days without turning up any meaningful leads. But slowly over time, a portfolio of high-quality greenfield lithium properties began to emerge. We conducted preliminary "first pass" prospecting on a number of properties that we staked earlier in 2022, recording the location, photographing and documenting the minerology and characteristics (size/orientation) of pegmatites we found. We discovered several new rare-element pegmatites in the process, validating the staking methodology that we used to assemble our overall portfolio of properties. We believe Beyond Minerals is the right company to now advance these projects forward and deliver further exploration success."
Here is an image showing the location of the projects across Ontario. The blue stars are Beyond Minerals projects:
Beyond Minerals now has a significant position in every major LCT pegmatite district known in Ontario. Over 500 individual pegmatites are known to exist on the properties. Some individual pegmatites are mapped as being over 100 meters wide and traced for up to 2.5 km along strike.
Several of these projects have past drilling information available:
Thirty historic drill holes on eight properties intersected pegmatites, with historic drill core logs often describing interesting pegmatite mineralogy, none of which was assayed for rare-elements.
Historic drill cores from three properties are stored in government core library facilities and available for re-examination and resampling.
On the Stimson Property, possible "spodumene" was noted in the drill core logs within three core intervals, one of which is described as a "granitic complex" over 39.8 meters of core length (from 60.0 m to 99.8 m downhole).
Several drill holes on other properties are logged as having unidentified blue-green minerals and/or greenish coloured feldspars.
A summary of the highlights of the several projects Beyond Minerals expects to focus its exploration during the 2023 exploration season can be seen here. This includes the Frontier Lithium District, the Georgia Lake District, the Case Lake District, the Wisa Lake District, the Dryden Mavis Lake District, the Eastern English River District, the Mountainry & Hilltop District, and the Hearst District.
At time of writing, Beyond Minerals stock is up 1.25% on the day and is sitting at a market cap just under $10 million.
The stock has had an explosive week. It is ending the week breaking into new all time record highs hitting $0.445 on today's news.
I covered the technicals on the stock on March 22nd 2023. I outlined the support and fibonacci level Beyond Minerals was testing. This was an area we expected bulls to step in, and this proved to be the foundation of a large move. Here is the image from that article:
Going forward, the support levels outlined in my fibonacci chart remain intact. Those being the $0.35 and $0.30 zone. What sets the stock up for a major bull run would be a daily candle close above $0.425. This would confirm a new all time record close for the stock AND a technical breakout.
Using our fibonacci to find the next target for the stock, we get a level just above the highly psychological $0.50 zone at $0.52.