AMPD Ventures (AMPD.CN), a Canadian company providing cutting-edge performance computing solutions for video game development, esports, film and entertainment, AI, and big data is reaching a critical point on the chart.
The stock is on the verge of confirming either a breakout or breakdown on a quintessential technical pattern. But before we look at the chart, let's recap some of the recent fundamental news.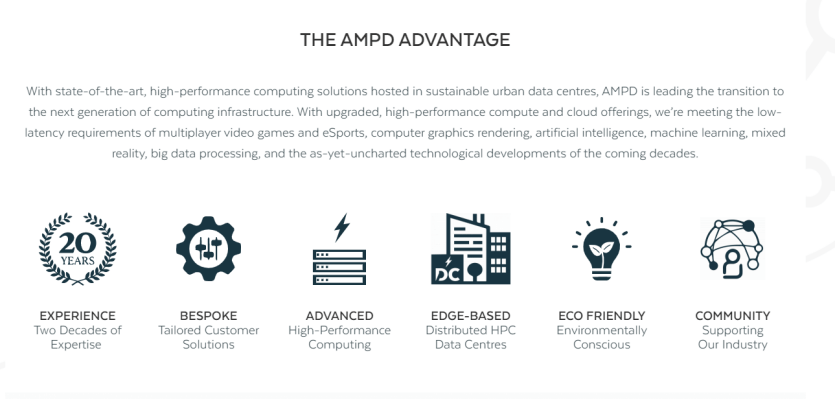 At the beginning of October, AMPD announced that Tippett Studio, a leading full service animation and visual effects production company led by two-time Oscar and Emmy winner Phil Tippett, has picked AMPD Virtual Studio to help power their growth and expansion in the North American market.
A co-developer of the revolutionary go motion animation technique, Tippett has been a fixture in Hollywood animation and visual effects since the 1970's when he famously created the stop-motion miniature chess scene in the original Star Wars film.
From there, he has earned a string of nominations and awards, working on over 30 films including multiple Jurassic Park offerings as well as the latest Star Wars Trilogy.
Tippett Studio's expansion into Canada began in May 2022, with the company's first satellite office, Tippett Canada, in Toronto. Recent projects handled by the studio include work on "The Book of Boba Fett," Season 2 of "The Mandelorian," Marvel Studios' "The Falcon and the Winter Soldier, all on Disney +, and Season 2 of "Locke and Key" on Netflix.
Tippett Canada will be servicing the likes of Marvel Studios, Lucasfilm, Disney, Showtime, New Line Cinema, AMC, Amazon, and Legendary Studios including "The Toxic Avenger."
Recently AMPD announced its wholly owned subsidiary, Departure Lounge, was open for business. This facility contains the world's largest volumetric capture stage packed with next gen technologies. CEO Anthony Brown explains the facility's capabilities and potential:
AMPD Technologies also signed an agreement with Magnolia Quality Development Corporation (MQDC). MQDC is a property development company in Thailand which is looking to AMPD's expertise for their next generation metaverse content production initiative, which is intended to be the largest in Asia. 
AMPD will be offering consulting services to MQDC and will offer consulting on the technical and studio infrastructure requirements to design and build a world-class Creator Studio utilizing AMPD Technologies Inc and Departure Lounge Inc, which both are AMPD subsidiaries.
This Creator Studio will have the latest cutting edge technology and could transform Thailand into the centre of the Metaverse and film production in Thailand.
In recent news, AMPD announced the closing of its second tranche of financing. AMPD issued an additional 8,491,016 Units at a price of CAN$0.14 per Unit for gross proceeds of CAN$1,188,742. The second tranche is closed, but AMPD will continue to accept investments up to $2,000,0000 and extend the closing date to mid December. Cash is in the bank, which means management has the money to trigger catalysts for the stock.
Deals continue to be announced as AMPD expertly leverages its virtual studio solutions as well as the world's largest volumetric capture stage.  AMPD Ventures is one of the few companies actually doing something and their metaverse/AR high-performance computing solutions are revenue generating with incredible potential for growth.
Equity Guru founder and avid AMPD shareholder, lays out the argument for giving AMPD serious consideration as a part of your investment portfolio:
And there are signs on the chart that the AMPD adventure ride is about to begin!
AMPD Ventures stock just recently closed below the major $0.12 support, and thus breaking the range. This was a bearish sign, and we could have seen a drop down to $0.08. However, breakdowns just like breakouts, tend to pullback to retest the zone it closed below before continuing lower.
On the retest, buyers managed to get a close back above the $0.12 nullifying the breakdown. We have a confirmed false breakdown or a fake out.
Technically, we still require a breakout. Ideally, the big break comes when the price climbs over $0.19. However, notice the trendline I have drawn.
The price of the stock has been respecting this trendline and I would say it is a valid technical indicator for traders. If we see price close above it, above $0.15, we would have a trendline breakout. This break would be a technical breakout which would see the stock potentially rise back up to the $0.19 resistance zone.
The chance of this breakout actually increases due to the fakeout to the downside we have just seen. These tend to see momentum take the stock higher.
Furthermore, a break above this trendline would trigger a technical pattern:
I see a falling wedge pattern. Some would say it looks like a triangle pattern. Whatever you want to call this pattern, there are certain things we can agree upon. That the downtrend line is acting as important resistance as price rejects it. We can all agree that a break above this trendline would trigger an upside move.
With the stock coiling in this pattern for months, the breakout is sure to release all this pent up energy.
Have AMPD Ventures near the top of your watchlist. A break of this pattern could be triggered in coming days and weeks!