Standard Uranium is an exploration company and evaluates, acquires and develops uranium properties in Canada. The company holds five projects located in the Athabasca Basin, an area which hosts the world's highest grade uranium deposits. Its flagship project is the Davidson River Project. The Davidson River Project is located in the heart of the Patterson Lake Uranium District (Southwest Athabasca region). Surrounded by major players in uranium exploration and development including Cameco, Orano, NexGen, Fission Uranium, Fission 3.0, Denison, Purepoint, UEX, ALX and Skyharbour. Other projects include the Sun Dog and East Basin Projects.
Today, Standard Uranium announced its exploration schedule for 2023 to continue to advance its uranium projects in the Athabasca region.
In summary, Standard Uranium will be following up on prospective drilling results from 2022 on its flagship Davidson River Project ("Davidson River") in the southwestern corner of the Basin and its 100% owned Sun Dog Project ("Sun Dog") near Uranium City, Saskatchewan. In addition, the Company has planned inaugural drill programs over two of its three 100% owned projects in the eastern side of the Basin, which are drill ready following successful geophysical surveys that were completed throughout 2022.
2023 Exploration Summary
2023 will be the most ambitious year of exploration activities for the Company to date. The Company is well underway on preparations for follow-up drill campaigns on Davidson River and Sun Dog, in addition to planning inaugural reconnaissance drilling on two eastern Basin projects.
In addition, the technical team at GoldSpot Discoveries Corp. ("GoldSpot") has been engaged to complete new geophysical interpretations and data-driven target generation on all five of the Company's projects to supplement drill target prioritization for the 2023 programs. Standard Uranium is the first and currently the only uranium company utilizing GoldSpot's cutting-edge machine learning technology to assist in drill targeting.
Jon Bey, CEO and Chairman of the Company, stated: "2023 will be the Company's most comprehensive and exciting exploration season to date. We strongly believe the uranium market will be one of the few bright spots in the investment landscape and we are planning to apply a modern approach to historical data and deploy more advanced analysis techniques in the upcoming drill campaigns. We have our projects ready for drilling with our First Nations agreements in place, drill permits in hand, and our vendors contracted. We recently completed a capital raise of $4.2 million and we will prioritize our exploration work starting with our Sun Dog drill program this winter."
For more details on specifics at each project, check out the press release here.
Just recently, Equity Guru has devoted days to all things Standard Uranium. Lukas Kane outlined the story. I myself outlined the technicals. We even had an interview with CEO Jon Bey on the green energy revolution.
Uranium bull and expert Fabi Lara did a three minute hit breaking down the fundamentals of Standard Uranium, its portfolio, and why uranium investors should be paying attention to this company: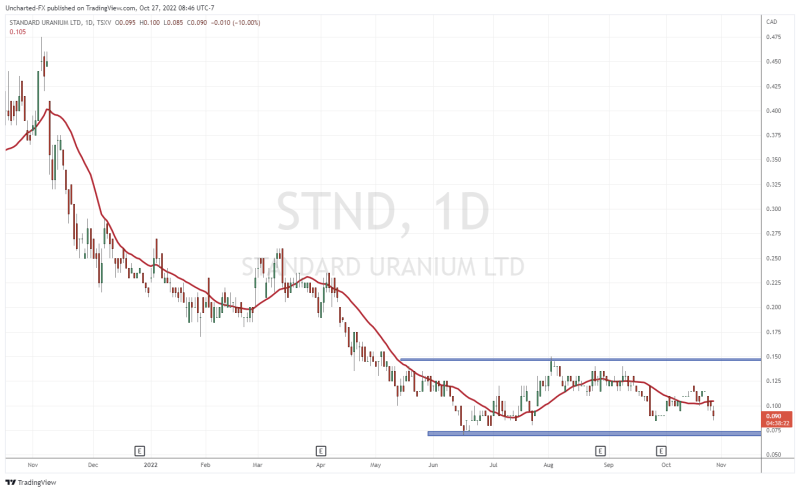 The stock is currently down 5% with over 350,000 shares traded at time of writing.
Standard Uranium has been in a downtrend and is now in the range, or consolidation phase. This is positive for technical traders as a consolidation is a phase which tends to come before a new uptrend.
Support comes in at $0.07 (which is the previous record all time lows) and resistance comes in at $0.145. Support is an area where buyers enter and we can expect to see a wall of buyers at $0.07. For those wanting to enter on a technical breakout, we would need $0.145 to break. This triggers the end of the range and the beginning of a new uptrend.
Even though many of the catalysts for the stock come in 2023, uranium prices are on the verge of breakout and could be the trigger for a move in all uranium miners and juniors.