NioCorp (NB.T) is a $274 million company developing a critical minerals mine in Southeast Nebraska – The Elk Creek Project – which is expected to produce niobium, scandium, and titanium.
Used across a wide variety of defense and civilian applications, these superalloy metals have all been designated as "critical minerals" by the U.S. Government.
With the exception of Titanium, none of these critical minerals are produced today in the U.S. North America is 100% dependent upon foreign imports.
Niobium is used to produce specialty alloys as well as High Strength, Low Alloy steel used in automotive, structural, and pipeline applications.
Scandium is a specialty metal that makes Aluminum corrosion resistant, also used in solid oxide fuel cells.
Titanium is used in various lightweight alloys and is a key component of pigments used in paper, paint and plastics and is also used for aerospace applications, armor, and medical implants.
According to the June, 2022 Feasibility study, in addition to niobium, scandium, and titanium, the Elk Creek Mineral Resource "contains various amounts of all rare earth elements (REEs)."
"There is potential for NioCorp's REEs to be mined, crushed, and placed into solution as part of the process NioCorp plans to use to produce its primary niobium, scandium, and titanium products, once project financing is secured," states NB.
NioCorp is building a demonstration plant in Quebec to perform metallurgical testing on REE recovery rates from Elk Creek ore. In the future, NioCorp could produce separated rare earths as a by-product, making it more economically efficient than other rare earth projects.
Recent high-profile regulatory and political events positively impact NioCorp's business model.
US Treasury Secretary Janet Yellen said that the United States wants to end its 'undue dependence' on rare earths from China," reports the South China Morning Post (SCMP).
"We cannot allow countries like China to use their market position in key raw materials, technologies or products to disrupt our economy or exercise unwanted geopolitical leverage," stated Yellen.
On August 2, 2022, the REE de-coupling campaign reached a new level of intensity when US House Speaker Nancy Pelosi visited Taiwan, ignoring warnings from the Chinese and U.S. governments. China views Taiwan as a breakaway state, which it is planning to take over.
"Millions of Chinese internet users tuned in to livestreams of Pelosi's flight," reported NYC-based SupChina, "with one broadcast hosted by China.org reaching a peak of 70 million viewers".
"How did this old witch land in Taiwan safely?" one typically outraged Chinese netizen asked. "Weren't we planning to shoot down her plane?".
The deterioration of China/U.S. relations accelerates the push for domestic supplies of critical minerals.
The push to greener energy is also creating a significant tail wind.
California is banning the sale of new internal combustion engine cars by 2035:  This will accelerate the shift to EVs – and increase demand for NioCorp's targeted minerals.
A bill was just signed into law that limits eligibility of the U.S. federal $7,500 tax break for EV purchases in ways that should drive higher demand for the products NioCorp will make.  In short:
Starting immediately, final assembly of the EV must be done in North America (Canada, Mexico, U.S.) to be eligible for the tax credit.   This reinforces the move to manufacture these technologies in the U.S. with materials that are produced in the U.S.
To get $3,750 of the tax credit, the EV must contain a minimum content of U.S.-made minerals in the car's battery.  Those minimum content percentages are 40% in 2023; 50% in 2024, 60% in 2025, 70% in 2026, and 80% in 2027.   The bulk of these battery elements now come from China.
To get the other half of the $7,500 credit, starting in 2023, 50% of the EV's battery components must be manufactured or assembled in the U.S. (or in any country that has a free-trade agreement with the U.S.). The minimum percentages creep up in stages to 100% by 2029
A vehicle ineligible for the tax credit if any of the battery's components were sourced from a "foreign entity of concern," which includes China, Russia, Iran, and North Korea. As of January 1, 2025, this exclusion will extend to cover critical battery minerals too.
The same legislation provides for a 10% production tax credit for companies that make a number of critical minerals in the U.S.  The list includes all of NioCorp's planned products except titanium.
The 2022 FS shows that the Elk Creek Project contains an estimated 632.9 kilotonnes ("kt") of contained total rare earth oxides (TREO) in the indicated mineral resource category.
According to U.S. Geological Survey data, this places the Elk Creek Mineral Resource behind MP Materials' Mountain Pass deposit but ahead of all other current rare earth projects in the U.S. in terms of contained TREO from a NI 43-101 rare earth resource of indicated or higher classification.
The Elk Creek Indicated Mineral Resource includes the following tonnages of contained metals, using a ≥US$180/tonne NSR cut-off that was calculated using solely the contained niobium, scandium, and titanium in the Mineral Resource:
    632.9 kt of TREO, including these individual rare earth oxides:
        26.9 kt of praseodymium
        98.9 kt of neodymium
        2.3 kt of terbium
        9.1 kt of dysprosium
    970.3 kt of niobium oxide
    11,337 tonnes ("t") of scandium oxide
    4,221 kt of titanium oxide
The expected Pre-Tax and After-Tax Net Present Value (NPV) of the Project both increased, the mine's expected life has been extended from 36 to 38 years, and expected Life of Mine (LOM) gross revenue for all three currently planned products (niobium, scandium, and titanium) have increased.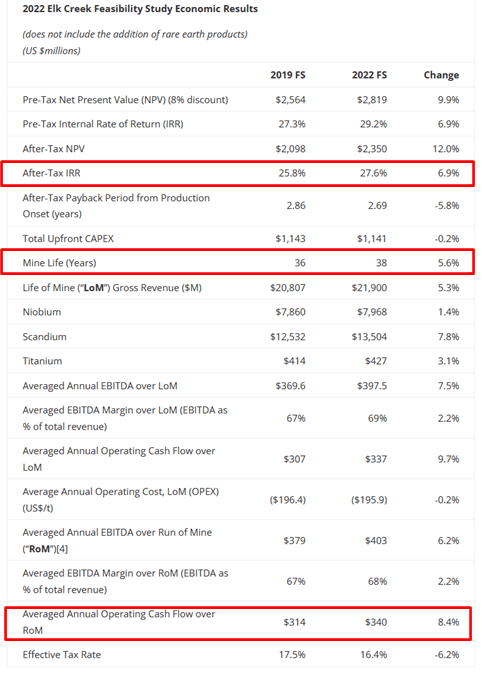 On June 20, 2022 NioCorp closed a non-brokered private placement – issuing 4.9 million units at .96, for total gross proceeds of $4.8 million.
There are only three primary Niobium mines in the world today.  But growing demand has created a global market value of more than $5 billion.
On August 9, 2022, Chris Parry, CEO and founder of Equity Guru, spoke with NioCorp (NB.T) CEO, Mark Smith and COO, Mark Honan, regarding the company's flagship Elk Creek critical minerals project.
"I've been working in this area for about 42 years now," Smith told Parry, "I've never seen the momentum for the green technologies and the green world that we're seeing today. I think it's real. I think it has traction. And that light-weighting revolution is going to continue to take over the automobile world."
"Rare earths are going to be hugely critical in the green world," continued Smith, "You're going to want rare earth permanent magnet motors in those EVs."
"Adamas Intelligence forecasts that the value of global magnet rare earth oxide consumption will triple from $15.1 billion in 2022 to $46.2 billion by 2035," reports Investment Monitor. Rare earth oxides are essential to many industries including the military.
Except for Titanium, all of NioCorp's intended products (Niobium, Scandium, Neodymium-Praseodymium, Dysprosium, and Terbium) are used in EVs.
Full Disclosure: NioCorp is an Equity Guru marketing client.