I came across an interesting article discussing peak agricultural land. Not the words that we are used to which follow "peak". Peak inflation is a term that is familiar with all of us. It is becoming the new "transitory inflation".
Inflation rose 8.6% in May, the highest level since 1981. No peak inflation just yet. Surging food, gas and energy prices all contributed to this gain. Food is what we are interested in.
Finally, food costs climbed another 1.2% in May, bringing the year-over-year gain to 10.1%.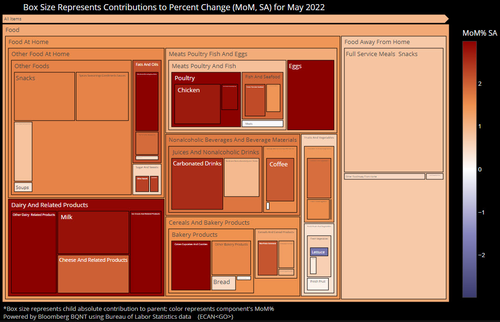 Zerohedge had this image which I know is a bit difficult to see. The size of the box represents each component's contribution to food and the color of the box shows the month over month percentage change in price. We have soaring costs in chickens, eggs, milk and cupcakes (noooo not cupcakes!).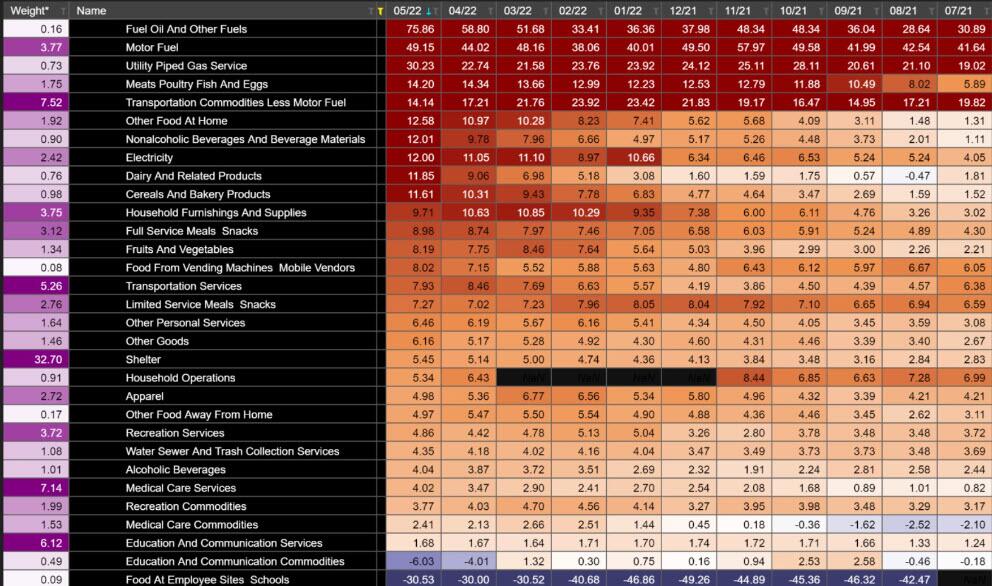 Above are year over year numbers. Quite the rise in meats and poultry (14.20%), food at home (12.58%), nonalcoholic beverages (12.01%), dairy (11.85%), cereals and bakery (11.61%), full service meals and snacks (8.96%), fruits and vegetables (8.19%) and even vending machine food is up (8.02%)!
Some people are putting the inflationary and non inflationary puzzle pieces together. The Fed has done some major rate hikes, yet oil prices remain high. And how are rate hikes going to fix supply chain problems? Inflation will be here for a while as central banks need to find a way to kill demand, or increase productivity. It appears they are aiming for a recession.
From peak inflation to peak agricultural land. The world has passed peak agricultural land after a millennia of agricultural expansion, says ourworldindata.org.
Agricultural land is defined as the total of arable land that is used to grow crops, and pasture used to raise livestock. The chart above shows three different methodologies on how to measure global arable land. There are of course different ways to calculate this data as a lot of farming land is often low density, mixed in with rural villages, or in tiny smallholdings that are somewhere between a garden and a farm.
There could be disagreements on how to measure arable land, but all the data agrees on one point: we have passed the peak. A very important and historic moment in the history of humanity…and our relationship with the plant and ecosystem!
The takeaway according to ourworldindata?
It shows that the future of food production does not need to follow the destructive path that it did in the past. If we continue on this path we will be able to restore space for the planet's wildlands and wildlife.
The good news is that even though we have peaked in agricultural land, the world continues to produce more food. A decoupling has already begun with agricultural land and food production.
Global agricultural land – the green line – has peaked while agricultural production – the brown line – has continued to increase strongly, even after this peak.
What this tells us is that feeding a larger population does not mean taking habitat way from other wildlife and destroying the ecosystem. We can produce more food and give land back to nature.
You all know my love for indoor and vertical integrated farming. As weather becomes unpredictable and affects outdoor farms, we will see a shift to indoor and vertical integrated farming. Vertical integrated farming means more food and less land. Outdoor farmland has to be in locations that receive a lot of sun and wind. Going indoors means those lands can be used for solar panels and wind turbines.
Yes a lot of people are talking about food shortages and such, but I believe there will be light at the end of the tunnel when it comes to food production. Indoor farming and vertical integrated farming will allow us to provide enough food for everyone. There will be some shakiness for the transition, but we will come through. This is why I remain a bull when it comes to investing in this technology.
And now, here's what happened to certain agriculture stocks this week:
CubicFarms (CUB.TO)
Speaking about indoor farming, hey CubicFarms fans! Stay tuned as we have an exciting video with them coming out soon on Equity Guru!
This week saw CubicFarms announce a $3.8 million Hydrogreen sale. A 10-machine Automated Vertical Pastures is being sold and installed at the Cnossen dairy farm located in Heresford, West Texas. CubicFarms Hydrogreen division will install this machine to grow year-round, consistent nutritious fresh forage for the Cnossen Dairy, providing a reliable source of fresh forage during the drought conditions across the western United States.
"We've endured extreme peaks and valleys of inconsistent feed during one of the driest periods on record and needed a simple to use, innovative fresh feed technology to survive these water shortages," said Jim Cnossen. "After evaluating numerous on-farm indoor growing technologies, HydroGreen emerged as the leading solution to reliably produce the high-quality feed necessary for optimal herd health and performance."

"Vertical farming is going to be important for all dairies raising their own feed, regardless of drought conditions, and the HydroGreen product benefits are unique in the industry," said Bill Dyer, Chief Executive Officer, Dairy Specialists. "Adding HydroGreen fresh forage to the ration improves feed intake with better digestibility, sugars make it more soluble, and transition cows can increase milk production. We're pleased to support innovative ag-tech like HydroGreen to meet the land and water savings needed by the farmers who put their trust in us."
The stock has not had a great 2022. The broader stock market sell off doesn't help too, but I truly believe we are at a good price point. From a technical perspective, the stock is finally showing signs of bottoming. We are developing a range rather than making a new low day after day. This is indicating that selling pressure is exhausting.
We can now begin to look for signs of a reversal. A range is a start, but there are a few more things I would like to see. Firstly, it would help if we break and close above $0.50. 50 cents is an important psychological zone, and we can then use this price level as support for a new move higher.
I would like to then see a climb back above $0.625 which is a very important resistance zone. You will see this if you zoom out on your chart. This would not just reclaim what was previous support, but would also see price cross back across my moving average. A cross which will be warmly welcomed by investors and traders as we have not seen price above the moving average since March of this year. A cross over, especially after a long downtrend, is a great indication that the stock is reversing. Once all this happens, we can make a nice run up to $1.00.
Water Ways Technologies (WWT.V)
Two press releases this week from Water Ways Technologies.
First, another delivery. Water Ways received a new purchase order to install a 50 Hectares smart turnkey irrigation project of vegetables, mainly green peas, in Ethiopia. The project is expected to be delivered and installed during Q3 of 2022. The total value of the order is approximately C$400,000. The order is a repeat order from an existing Ethiopian client. Revenues are to be recognized from the client in Q3 2022.
Second, Water Ways subsidiary, Irri-Al-Tal Ltd, signed a representation and distribution agreement in the country of Georgia. According to the agreement the Georgian company will receive exclusive right to sell Water Ways' products and projects in Georgia and will promote the brand "WWT Georgia".
Ohad Haber, Chairman and Chief Executive Officer, commented: "We are expanding our business and brand to other countries in Asia following our success in Uzbekistan. After the Covid supply crisis many governments in the region are supporting local agriculture and we will market our smart irrigation technology as part of these efforts in Georgia."
Not the best looking chart. Water Ways peaked out earlier this year and began to tumble. We broke major support levels and an uptrend line. The downtrend is still intact. The good news is that we are approaching a support zone which could see buyers jump in. On June 14th, we saw a nice long wick candle indicating buyers stepping in at support at $0.16. We know there are buyers here, the question now becomes whether there will be more buyers than sellers. Can we begin to reverse here?
Right now, it is like catching a falling knife. I don't enter like that. I would await for signs of selling exhaustion. Hopefully we see a few days of range at support here, or if we break, lower at $0.10. The latter price point looks like a very cheap price point for this stock.
TrustBIX Inc (TBIX.V)
Big news out from TrustBIX Inc. The company announced the release of the BIX Origin module, an innovation in many industries  supporting provenance, chain of custody, and ESG reporting. This new module will further the Company's initiative to reward the agri-food and waste industries for their sustainable efforts, and to supply key insights and verifiable data to participating organizations and end consumers.
BIX Origin is a SaaS traceability solution that provides verifiable data at every step of the supply chain, verifying source, brand claims, and practices with uniquely generated QR codes that are branded to match participating organizations. Producers and processors in multiple agri-food and bio-industrial industries, including cereal crops, pulse crops, animal protein, carbon and biochar, could use BIX Origin to provide assurance to further processors, investors, retailers and consumers on the origin of their products.
"BIX Origin enables organizations to manage and source their inventory while validating certified product claims, practices, and qualified program participation." Said Hubert Lau, CEO of TrustBIX Inc. "The release of BIX Origin will further assist TrustBIX in its initiative to reward the Agri-foods industry for their sustainable efforts."
The stock has seen some larger than average volume, but the stock is looking weak. New lows for 2022. I would be watching for some sort of range at these lows. A cross back above $0.09 and then the major resistance at $0.13 would get me excited.
Avivagen (VIV.V)
Avivagen released Q2 earnings this week. Here are the results:
The Company reported net revenues of $88,438 (compared to $159,614 in the quarter ending April 30, 2021) and a comprehensive loss of $(1,303,677) for the quarter ending April 30, 2022. This compares to a comprehensive loss in the quarter ending April 30, 2021, of $(2,197,649). As at April 30, 2022, the Company reported total assets of $3,013,537 (current assets of $2,878,566), total liabilities of $6,907,179, and shareholders' deficit of ($3,893,642).
The stock is in a range, but near the bottom of the range. Avivagen has held up well and always sees buyers stepping in whenever we tested this support in recent months. Can we do it again? I would be watching for a strong green candle close which would set us up for a move back to $0.25.
RiceBran Technologies (RIBT)
RiceBran technologies announced that the company is pursuing upcycle certification from the Upcycled Food Association.
The UFA Upcycled Certified™ Program is the world's first third-party certification program for upcycled food ingredients and products. The flagship of the Program is the on-package mark, which helps retailers feature upcycled products on shelf, and indicates to consumers which products are Upcycled Certified™, providing the opportunity to prevent food waste with every purchase. The mark highlights upcycled ingredients and products procured and produced with surplus food or food by-products from manufacturing, that use verifiable supply chains and have a positive impact on the environment
RiceBran's Stabilized Rice Bran (SRB) has always been an upcycled product. RiceBran's proprietary processes preserve the nutritive value of rice bran in a stabilized format by giving it a sufficient shelf-life to make it a compelling ingredient to replace soy, corn, and wheat alternatives across a wide range of applications for human and animal consumption.
"Upcycle certification is an important step for RiceBran to gain traction with impact-focused consumers, demonstrating that not only is our stabilized rice bran a healthy, hypoallergenic, non-GMO alternative, but an ingredient that materially reduces food waste," said RiceBran Chairman Peter Bradley. "Without our proprietary processes, rice bran would be little more than animal feed, with a significant portion wasted. By taking this waste and turning it into wellness, we provide significant added value to the entire supply chain, from farmers to retailers, creating a regionally sourced, healthy option where one did not previously exist."
This is a company I have been writing about a lot recently on Equity Guru. The stock has been quite volatile. However, the uptrend remains. Unfortunately, we did end up closing below $0.75, but are still holding above the important $0.65 support area. Now we are testing support and the uptrend line. A good spot for buyers to jump in.
If we do close below $0.65, then the uptrend is cut short, and I would need to wait and assess the price action afterwards.
In fundamental news, CNBC put out a piece regarding higher rice prices. Rice prices are up for the 5th straight month and have made a 12 month high. Something like this does help buoy the interest in RiceBran Technologies.