It has been two weeks since the Vancouver Resource Investment Conference. One thing that I could easily tell was that uranium continues to be one of the most popular commodities and space among the retail crowd. And I do not think this popularity dies down anytime soon. As an investment, nuclear energy is CO2 free green energy the world needs. Even Bill Gates has said we need more nuclear power plants… and is putting his money where his mouth is with TerraPower.
Things get even more exciting (for uranium investors that is!) when you consider that Kazakhstan is the largest exporter of uranium. Russia also has a significant hold with enrichment and other aspects of nuclear energy. With geopolitics almost creating a split, and European energy to be tested come winter, we might have all the catalysts required for the government to accept nuclear energy as the best option for green/clean energy. It certainly seems that many Asian nations think so.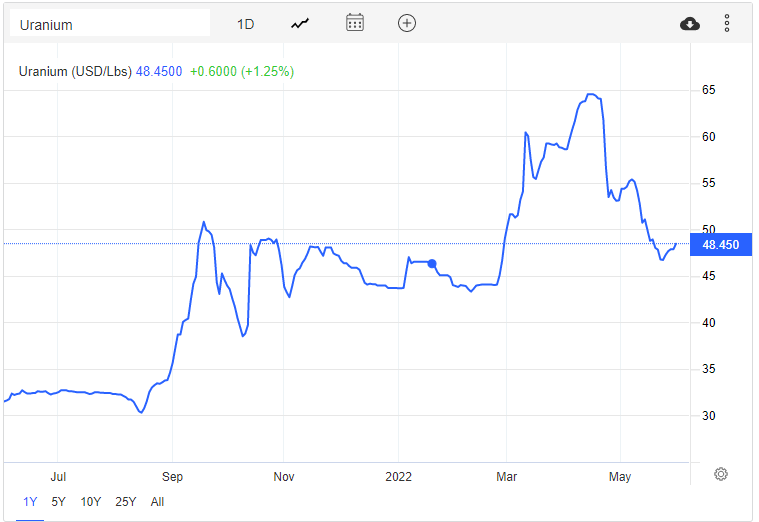 The uranium spot price has pulled back. I want to remind readers that on a monthly and weekly chart, we remain bullish long term as long as uranium trades above $43. Currently prices are pulling back to a major support area. We did close below $50, but I see some support around $45. I will be watching to see if uranium prices can bottom here. If so, expect another run on uranium stocks.
Before we delve into specific companies, I want to remind you of the chart of the Sprott Physical Uranium Trust. Ticker U.UN. This is what I use as my proxy for the uranium spot price. The daily charts look very similar to the spot price, and can be easily traded through the Canadian market. The major support on U.UN comes in at $13.00. However, we could see basing at the price level we are at currently after two weeks of range.
For the companies, let's start in one of the best jurisdictions, an area that has some of the highest grade uranium in the world, the Athabasca region.
Azincourt Energy (AAZ.V)
Azincourt Energy (AAZ.V) is a Canadian-based resource exploration and development company focused on the alternative fuels/alternative energy sector. The core projects are in the green energy space focusing on Uranium projects in the prolific Athabasca region. Good jurisdiction, and high grade Uranium. The place you want to be. Azincourt also holds lithium/uranium projects in Peru, on the Picotani Plateau. Currently, Azincourt is developing the East Preston uranium project, located in the prolific Athabasca Basin, with partners Skyharbour Resources (TSX.V: SYH) and Clean Commodities Corp (TSX.V: CLE) , and the Escalera Group lithium/uranium project in Peru.
The last project could be sold off to Oberon Uranium corp. A Letter of Intent was signed with Oberon, an arms-length party, for a proposed transaction whereby Oberon would be granted an option to acquire the Escalera Group, a 100%-owned series of uranium-lithium exploration projects. Under the terms of the LOI, Oberon has 90 days to conduct due diligence on the projects, following which Oberon has the right to negotiate an option to acquire 100% interest in the projects from the company.
Azincourt controls a majority interest (72%) in the 25,000+ hectare East Preston project as part of a joint venture agreement with Skyharbour Resources (TSX.V: SYH), and Dixie Gold. Three prospective conductive, low magnetic signature corridors have been discovered on the property. The three distinct corridors have a total strike length of over 25 km, each with multiple EM conductor trends identified. Ground prospecting and sampling work completed to date has identified outcrop, soil, biogeochemical and radon anomalies, which are key pathfinder elements for unconformity uranium deposit discovery.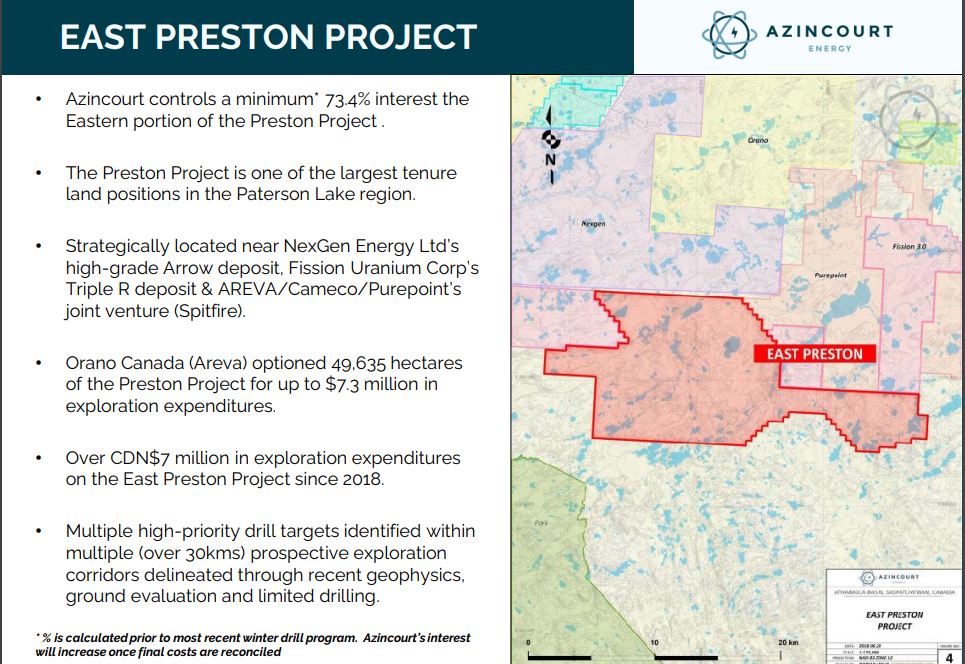 The most recent news was the closing of a $5.1 million private placement. The company now has cash in the bank to deploy and initiate catalysts. In the same press release, Azincourt announced a share consolidation on a 2.5 for 1 basis, which upon completion, would mean there would be approximately 227,000,000 common shares outstanding.
Chris Parry recently had a chat with Alex Klenman, the CEO and director of Azincourt Energy. In The Gauntlet, Mr. Klenman addresses investor concerns over the 2.5 to 1 share consolidation. Check it out:
Technically, Azincourt has been ranging for the past two weeks of trading. A bottom looks to be confirming here, but we require that breakout for direction. Watch for a close above $0.10 to confirm a new uptrend and leg higher. If uranium also manages to find a bottom, then we could see a nice rise here on Azincourt. From a risk to reward perspective, the stock still looks attractive at these levels.
Skyharbour Resources (SYH.V)
Skyharbour Resources Ltd., a uranium and thorium exploration company, engages in the acquisition, exploration, and evaluation of mineral properties in Saskatchewan, Canada. Its flagship project is the Moore Lake Uranium project covering 35,705 hectare, located on the eastern portion of the Athabasca Basin.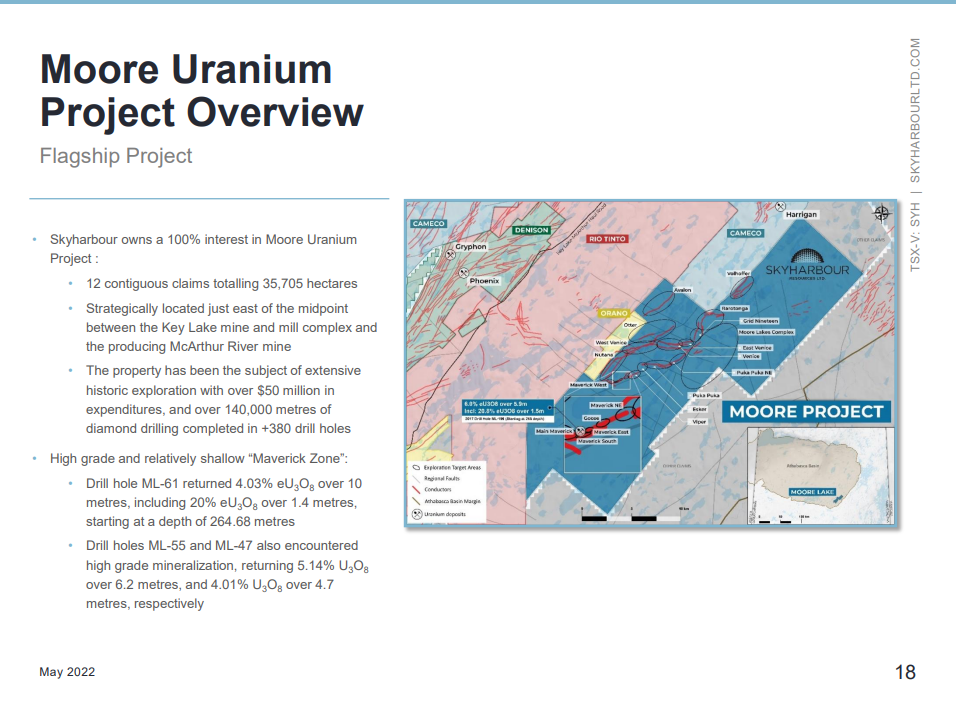 The most recent news has to do with Skyharbour announcing the completion of its phase one 2022 drill program at Mann Lake near Cameco's Millennium uranium deposit. The phase one program consisted of five holes totalling 3,503 metres with the unconformity being intersected between 608 metres to 651 metres in all holes. This was the first significant drill program undertaken on the property since 2007. The second phase of drilling is planned for the fall of this year and will consist of approximately 3,500 metres. Results from both the phase one drill program and upcoming geophysical surveys at Mann Lake will be used for targeting and follow-up in the second phase.
Now we have an upcoming catalyst with those drill results.
The stock recently made a nice bounce above $0.35 and is slowly inching higher. Regular readers may recall I marked the breakout above$0.60 as being a major technical achievement. We had broken above a major weekly resistance level. Unfortunately, prices have closed below this so that weekly breakout has been nullified. I think this has more to do with the fear in markets lately which saw major sell offs in stocks. Skyharbour has big backers holding shares and very prospective land positions. With phase one drilling complete, and phase two beginning later this year, we have some catalysts upcoming which have a chance to get the stock going.
Standard Uranium (STND.V)
Standard Uranium is an exploration company and evaluates, acquires and develops uranium properties in Canada. Its flagship project is the Davidson River Project. The Davidson River Project is located in the heart of the Patterson Lake Uranium District (Southwest Athabasca region). Surrounded by major players in uranium exploration and development including Cameco, Orano, NexGen, Fission Uranium, Fission 3.0, Denison, Purepoint, UEX, ALX and Skyharbour. Other projects include the Sun Dog and East Basin Projects.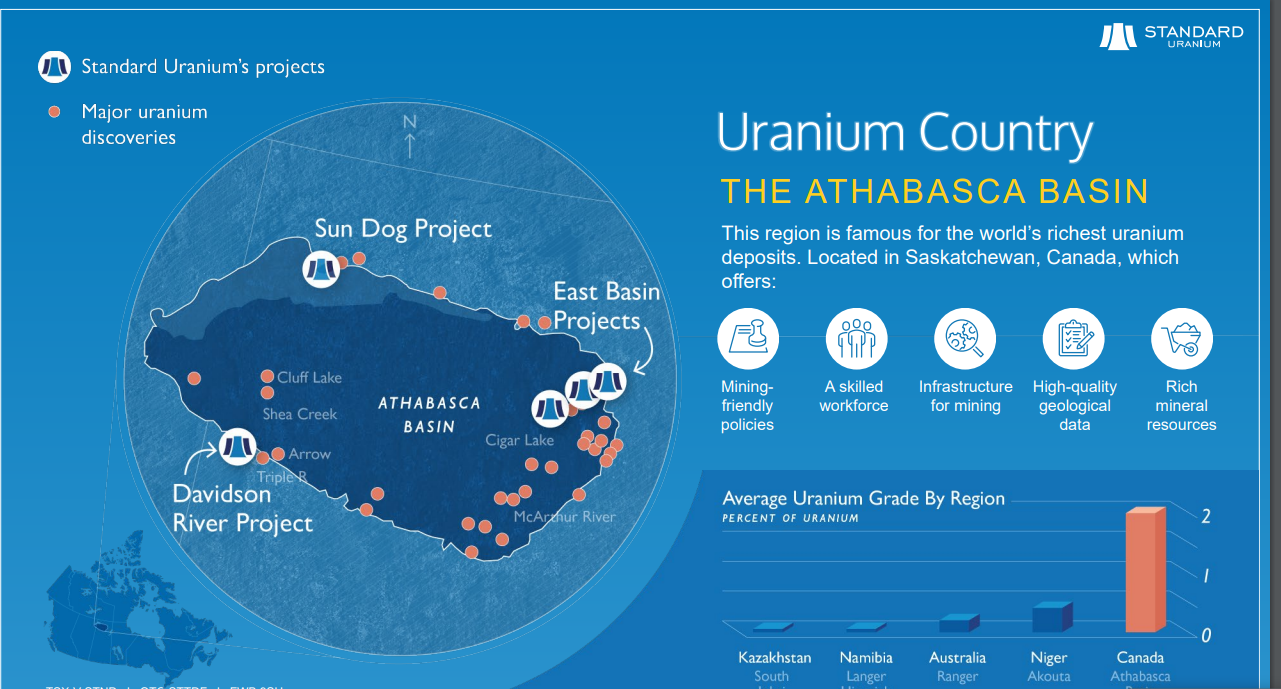 The company is preparing for an upcoming drill program at Davidson River. Drilling commenced on the third week of May 2022. The goal is to make a basement hosted high-grade uranium discovery. Another catalyst this year will be exploration and drilling at the Eastern Basin projects in Q3-Q4.
The stock recently printed record lows hitting $0.10 on May 12th 2022. Since then, the stock has ranged. To me, the selling pressure is exhausting, and I have to say this setup intrigues me the most because it meets all the criteria I look for in a reversal. The only missing element is the breakout. If we get a close above $0.14, a new uptrend begins. With ongoing drilling, we have a short term catalyst that can give us that breakout.
Blue Sky Uranium (BSK.V)
Leaving the Athabasca region, let's head to Argentina. Blue Sky Uranium is leading advanced exploration at the newest uranium/vanadium district in Argentina. The company's objective is  to deliver exceptional returns to shareholders by rapidly advancing a portfolio of uranium-vanadium projects to the pre feasibility study stage , while respecting the environment, the communities, and the cultures in all the areas in which they work.
The company's flagship project is the Amarillo Grande Project which contains three major properties (Ivana, Anit and Santa Barbara). It should be noted that chairman and director Joseph Grosso and his Grosso group have many discoveries in Argentina under their belt.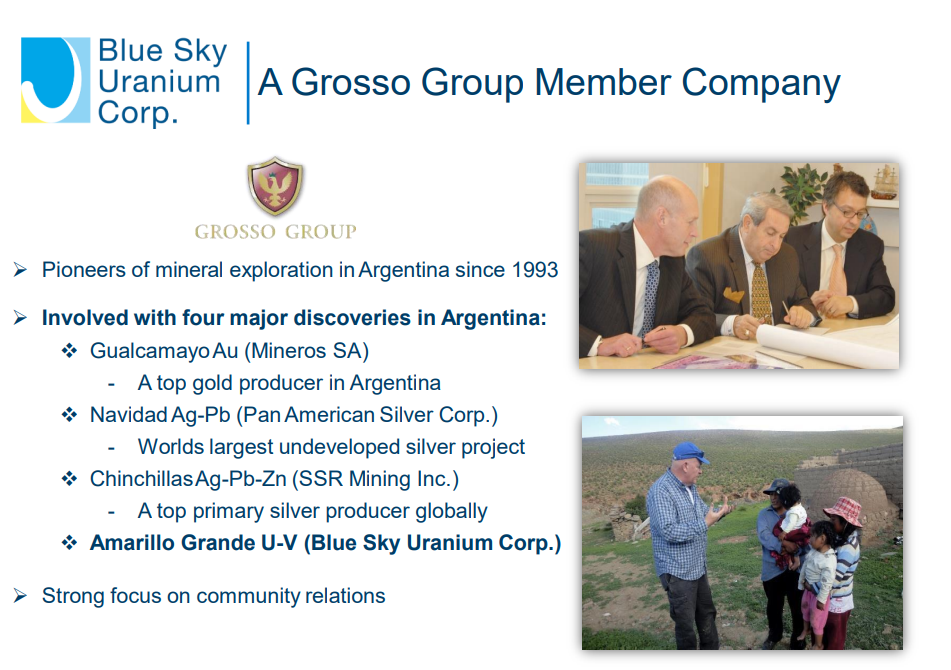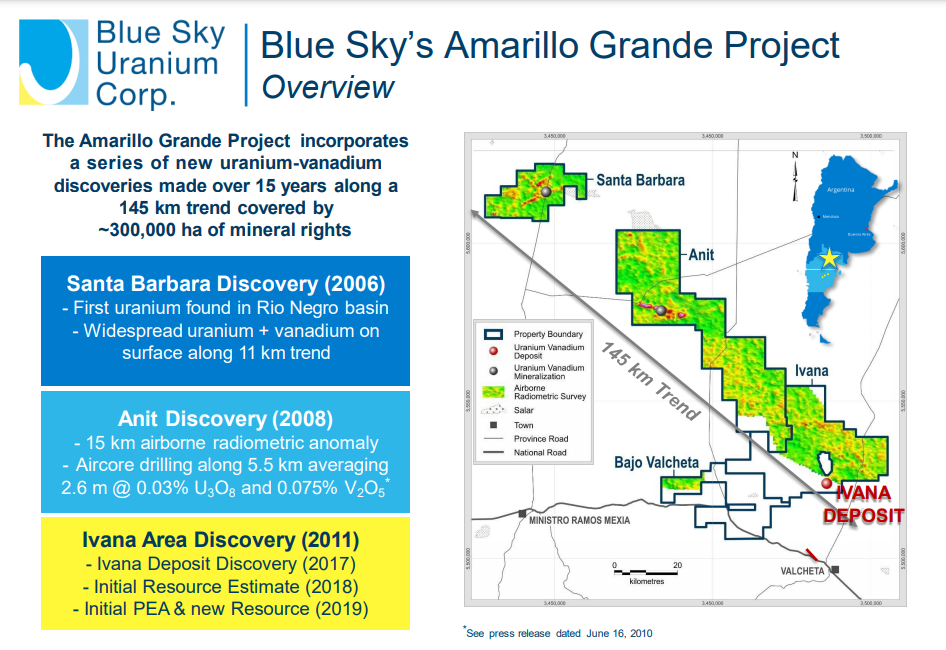 It should be noted that Blue Sky hosts the largest NI 43-101 uranium resource in the country with an initial Preliminary Economic Assessment at Ivana.
There was some more drilling in April of this year at Ivana. Results are an upcoming catalyst. Blue Sky is also raising funds through a non-brokered private placement.
It is best to zoom out on the chart. Just so you can see how important an upcoming support level is. The $0.15 zone looks like it wants to be tested. We have bounced multiple times from here going back to 2020. Note the ranges which developed when we hit $0.15. I would really love to see this in upcoming days. If so, it would go a long way to confirm that a bottom is developing and we are ready for a bounce. Just look at the bounces created in the past when we bounced at $0.15. Let's hope history repeats itself. I will be watching this for the support test in the near future.