Just recently, I covered Plant Based foods and the charts of Freshii, Nexe Innovations, Beyond Meat and Organic Garage. It's only two weeks old, so the technicals still apply. Looking forward to 2022, it is difficult to determine whether it will be make or break for Plant Based food stocks, but what I know is that it will be a major trend shift for the future. The climate crisis is going to require us to change how we source foods…and even what we eat. We have heard Bill Gates come out saying synthetic beef is the way to go because of the environmental strain from rearing cattle and livestock. Germany has banned meat at official government functions and even some student canteens. Two days ago, the Spanish consumer affairs minister said the Spanish people should eat less meat to limit the climate crisis. Citing how industrial beef megafarms are impacting the environment, and the people need to be educated on this because many think only gas from cars and transports affect the climate. Essentially, changing eating habits will help combat climate change.
Not really a fan of big government telling me how I should live my life, but unfortunately, the government dictating every aspect of your life, including what you can and cannot eat, will be the new normal. This is the opportunity for plant based foods going forward.
The plant-based meat market is still in its infancy but growing fast. Barclays estimates the market, currently less than $14 billion, could grow to $140 billion over the next decade, grabbing about 10 percent of the $1.4 trillion global meat industry. A report by Blue Horizon and Boston Consulting forecasts that alternative proteins could take over 11 percent to 22 percent of the protein market in 2035.
Currently, the plant based food sector is bloated with tons of companies and competition. For this reason, I think it is prudent to stick with some of the larger cap companies for now. But I admit that plant based can have a broad definition. For example, Nexe Innovations makes fully plant based compostable coffee pods, and Organic Garage is an organic and health super market. In this article, I am sticking with the actual food.
A few years ago, it was difficult being a vegetarian or vegan. Now there are vegan options at pretty much every restaurant. Going back to the climate crisis, many younger people are choosing to go vegan because it is better for the environment. It also helps that vegetarian/vegan food actually tastes good. Some say it tastes just like meat. For retailers, it does mean they can charge a bit of a premium for their products. Take Beyond Meat for example…or as some now say, Beyond Expensive: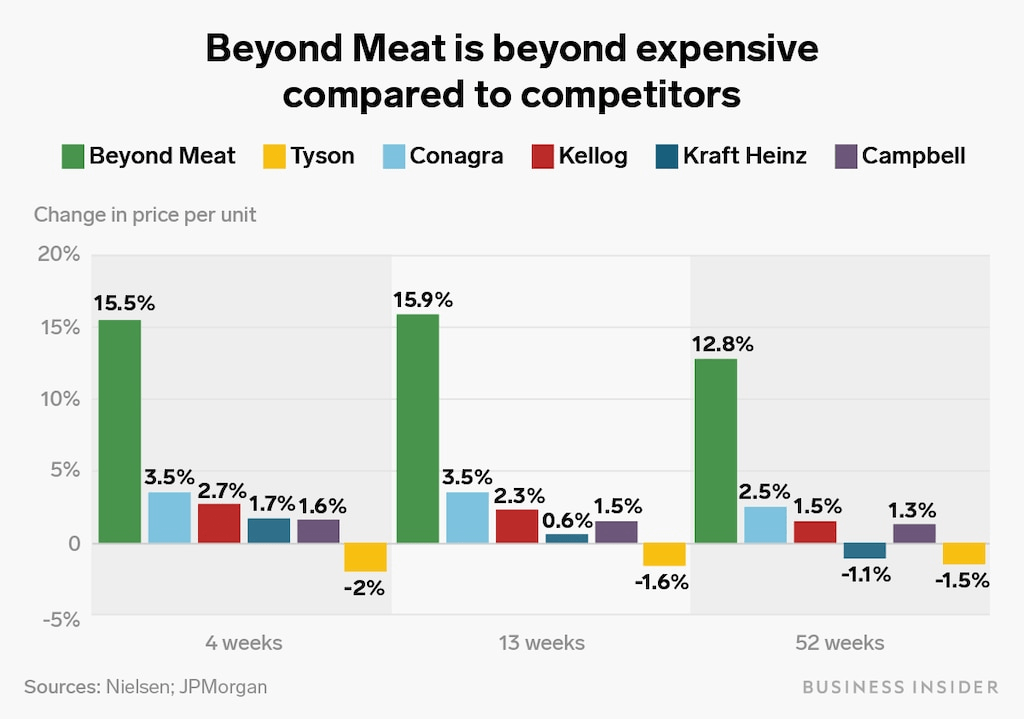 Plant-based meat products are more expensive than animal meat right now, but market watchers say prices will come down as consumption increases. Blue Horizon estimates that the cost, taste, and texture of plant-based meats will reach parity with meat sometime around 2023.
Consumer trends indeed are shifting. But my biggest concern heading into 2022 is inflation. I am expecting food prices to become even more expensive. If so, will consumers who are already feeling the pinch spend the extra money for plant based options? We'll have to wait and see. I know many consumers would spend the extra money on organic and healthier options, but inflation and saving money could change that in an instant.
For those wanting to go the 'safe' route, I suggest the newly created and released VanEck Future of Food ETF YUMY. I highlighted this ETF in a recent Agriculture sector round up.
VanEck's ETF Investing in the Future of Food is offering , "actively managed exposure to the leading innovators and disruptors solving some of today's most difficult agricultural challenges".
"The growing global population and the concurrent threats from climate change are driving the need for more sustainable agri-food processes and technologies in order to provide for a future with more affordable, nutritious and safe food for all," said Mr. Reynolds, Portfolio Manager for YUMY. Mr. Reynolds also oversees VanEck's Environmental Sustainability and Natural Resources Equity Strategies. "We are now in the early stages of a multi-decade agri-food system transformation. Growth opportunities in this space currently exist, but the market remains nascent. A number of private firms appear poised to enter the public markets and several established companies are pivoting their business models to embrace the future of food, so an active approach to stock selection will position YUMY and its investors to capitalize on emerging trends."
The three pillars of the current agri-food technology and innovation opportunities as identified by VanEck are:
Food Technology: alternative proteins, animal feed and nutrition, and sustainable aquaculture.
Precision Agriculture: vertical/indoor farming, robotics and automation, data collection and analysis, water and irrigation.
Agriculture Sustainability: seed genetics, sustainable and safe fertilizer and crop chemicals, and sustainable food preservation and packaging.
A growing population and a larger emerging Middle class in Asia will be increasing the need for innovation in Agriculture:
VanEck further noted the growing global population is driving the need for innovation as the population is expected to increase by 25% from 7.8 billion today to nearly 10 billion by 2050.1 More people are expected to enter the middle class than any time in history, accelerating anticipated consumption of protein and animal-based foods, which are resource-intensive to produce. By some estimates it may take as much as 70% more food production to feed this larger and wealthier population.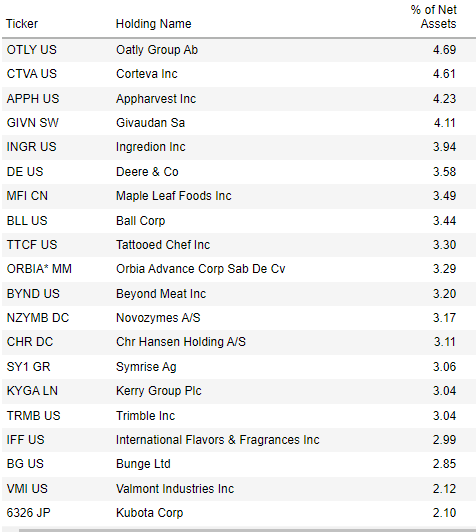 The ETF just came out this month, so we don't even have a month of price action. My readers know that I like to wait a few months after an IPO or an initial release so support and resistance levels can be formed. Looking at the price action we have right now, I cannot say any support or resistance barring previous lows and recent all time highs, will act strongly. $24.90 looks interesting because of the few touches we have had, but that is about it.
The good thing about YUMY is that it is an ETF. So I wouldn't say you would trade this. This is a long term investment if you are big on plant based foods. Keep buying monthly and hold. Eventually, this ETF seems likely to pay a dividend.
Let's take a look at the two big boys, or as the cool people say it, the big bois.
Oatly makes a big portion of the YUMY ETF. It is the largest position by percentage. The stock itself is hovering around all time low levels. I am a market structure guy, so I believe markets move in waves. The downtrend here looks like it is running out of steam. A basing, or bottoming pattern here is looking good. Support is at $7.50. A daily close below this and we continue to drop like a rock. But if we can hold, then a reversal pattern is on the cards. A cross over my moving average and a break above $9,00 would get me excited. Keep tabs on Oatly, this could be a stock we can act on in Q1 2022.
Beyond Meat did not have a great 2021. We started off with a bang, hitting $220. But then it was all downhill from there. For the last five weeks, we are basing around the $60 zone. An area which could be the platform for a bounce and a new uptrend. The breakout is still required.
Taking Beyond down to the daily chart, and you can see it looks similar to Oatly. Potential basing and a breakout could be imminent. Just wait for the breakout and close. Another plant based stock which could confirm a trend shift in early Q1 2022.
One that I find attractive at current price levels is Else Nutrition Holdings (BABY) on the Canadian exchange. Else Nutrition Holdings Inc is an Israel-based food and nutrition company focused on developing innovative, clean and plant-based food and nutrition products for infants, toddlers, children, and adults. Its revolutionary, plant-based, non-soy, formula is a clean-ingredient alternative to dairy-based formula.
Just like Beyond Meat, 2021 was not kind to Else Nutrition. Sensing a bit of a pattern here? I hope so, as sectors move in cycles too. All the stocks I have mentioned so far are basing at important support levels, and Else Nutrition is no exception. I am really digging this huge weekly support zone. It coincides with the all so important $1.00 psychological zone. Watch for basing and a reversal pattern breakout here in Q1 2022.
A lot of Canadian investors think of Modern Meat, or now called Modern Plant Based Foods. With the ticker MEAT, I once thought they were Beyond Meat. But no, Modern Meat is a Canadian based company developing and selling plant-based meat alternatives made from plants. The company's product lineup includes the modern burgers, modern crabcakes, modern meatballs, modern crumbles, and sauces. It offers its products through various retail locations in the British Columbia Lower Mainland, as well as on e-commerce platforms.
The stock recently made new record lows. Yikes. Not looking too great. Investors need to watch to see if the stock finds some basing here before entering. Look for a long range pattern. Once again, I just want to stress that on the retail side, there seems to be too much competition. A plant based company really needs to distinguish themselves or have a niche market. This I think will be really important for anyone wanting to invest in plant based foods for the future.
2021 is ending off with plant based stocks stopping the price bleeding. Heading into 2022, the technicals are showing signs of basing and a potential new uptrend beginning.