This week's Agriculture sector roundup will be a bit different. We won't talk about what ____ is seeing a shortage and leading to rising prices. Seen too many of those, and unfortunately, we'll probably see more next year. Because we are approaching the Christmas Holidays, I want to sprinkle some positivity and speak about things we agriculture investor's can look forward to heading into the New Year. Deep inside, I know it will be an excellent year for this sector. In the near future, watch for my "If I had $1 Billion Dollars, how would I play Agriculture" before the year end.
As we end the year, company headlines will be slow (and a few companies may try putting out bad news because they know many investor's won't be paying attention), so the next round ups may be a bit shorter. But if I find some good looking charts, I'll be sure to share them.
Luckily this week, we can talk about VanEck's new Agriculture ETF. To me, just a sign that the big boys know this sector will be hot. Agriculture still seems under the radar compared to say technology and crypto's, which is very popular with the younger retail crowd and growth investors. VanEck definitely sees a bullish future, listing a key point as : The agricultural and food sectors are in the early stages of what is likely to be a multi-decade transformation.
VanEck's ETF Investing in the Future of Food is offering , "actively managed exposure to the leading innovators and disruptors solving some of today's most difficult agricultural challenges".
"The growing global population and the concurrent threats from climate change are driving the need for more sustainable agri-food processes and technologies in order to provide for a future with more affordable, nutritious and safe food for all," said Mr. Reynolds, Portfolio Manager for YUMY. Mr. Reynolds also oversees VanEck's Environmental Sustainability and Natural Resources Equity Strategies. "We are now in the early stages of a multi-decade agri-food system transformation. Growth opportunities in this space currently exist, but the market remains nascent. A number of private firms appear poised to enter the public markets and several established companies are pivoting their business models to embrace the future of food, so an active approach to stock selection will position YUMY and its investors to capitalize on emerging trends."
The three pillars of the current agri-food technology and innovation opportunities as identified by VanEck are:
Food Technology: alternative proteins, animal feed and nutrition, and sustainable aquaculture.
Precision Agriculture: vertical/indoor farming, robotics and automation, data collection and analysis, water and irrigation.
Agriculture Sustainability: seed genetics, sustainable and safe fertilizer and crop chemicals, and sustainable food preservation and packaging.
A growing population and a larger emerging Middle class in Asia will be increasing the need for innovation in Agriculture:
VanEck further noted the growing global population is driving the need for innovation as the population is expected to increase by 25% from 7.8 billion today to nearly 10 billion by 2050.1 More people are expected to enter the middle class than any time in history, accelerating anticipated consumption of protein and animal-based foods, which are resource-intensive to produce. By some estimates it may take as much as 70% more food production to feed this larger and wealthier population.
Here are the basics of the ETF: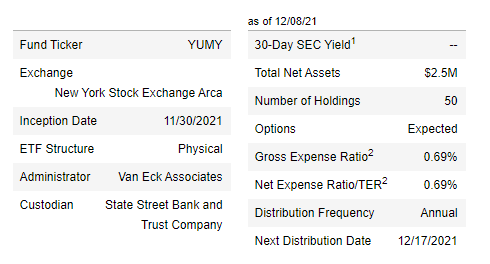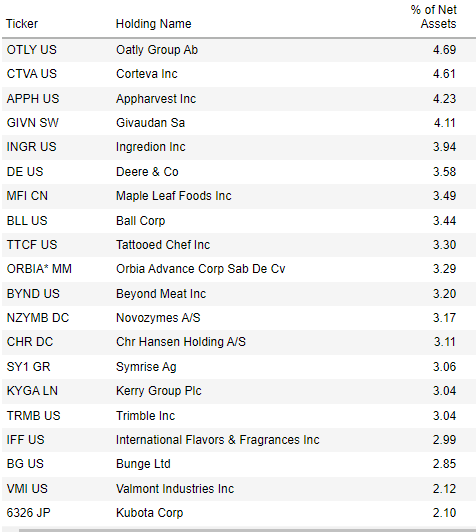 Above I have listed the top holdings of YUMY. A bit surprised that Oatly is the largest percentage of the portfolio. Oatly Group is a Swedish food company that produces alternatives to dairy products from oats. But perhaps long term, the fund managers believe the world will shift more to plant based diets as we know that raising cattle for meat and dairy have environmental consequences.
Or perhaps the stock price looks appealing here. The company IPO'd this year, and just hit record lows four days ago. We are nearing my moving average which is a positive sign that the stock may begin to turn around. Technically, a break above $11.00 and then the subsequent recovery of the gap, would confirm the beginning of a new uptrend.
The ETF sold off on the second day to print lows, but then, boom, spiked just as markets were recovering. We recently hit record highs at $25.31. Obviously not much price action to work with, but I think this ETF is a buy and hold one. However, if one wanted to get a good entry, I have laid out my fibonnaci levels which are interesting price points that the price of the stock tends to pullback towards. These levels are where dips are bought. The 0.382 and the 0.618 being the key zones.
In terms of news, as I said a bit shorter, but here are four major headlines.
CO2 Gro Inc (GROW.V)
CO2 GRO's proprietary CO2 Delivery Solutions™ technology is revolutionizing the global 600 billion square foot protected agriculture industry. The company has created a dissolved CO2 solution that when misted onto plants provides growers that cannot gas with CO2 the opportunity to increase plant yields by up to 30% and profits by up to 100%. Applying dissolved CO2 also suppressed the development of pathogens such as E.coli and powdery mildew, helping to reduce crop losses. CO2 GRO's CO2 Delivery Solutions™ is protected by a suite of patents and patents pending.
CO2 GRO's management is rapidly expanding its international marketing partner relationships into Mexico, Spain, the EU, the UK, South Africa, the Middle East, South East Asia and Latin America as well as in its North American base.
This week, two press releases from the company. CO2 announced the sale of a delivery solutions system to a hemp grower in Tennessee. The customer has extensive experience employing atmospheric CO2 enrichment (also referred to in the industry as CO2 gassing) to enhance crop yields. CO2 GRO's CO2 Delivery Solutions™ technology can save the customer up to 90% of CO2 gas usage and costs while achieving yield targets and increasing profitability. In addition, the customer will benefit from CO2 Delivery Solutions'™ Pathogen Perimeter Protection™ which suppresses the development of powdery mildew on plants, improving overall production and financial performance.
The next press release details the commencement of a previously announced Colombia Rose Commercial Feasibility which was delayed due to logistics for CO2 delivery systems because of Covid-19.
CO2 Gro is battling at support. Down near 10% yesterday when news of the Colombia commencement came out. We have been holding this support here at $0.19 for about two weeks. Bulls and bears are battling here, but the key break will be a close above $0.215.
Agrify (AGFY)
Agrify is one of the most innovative and vertically integrated provider of premium cultivation and extraction solutions for the cannabis and hemp industry. Their proprietary micro-environment-controlled Vertical Farming Units (VFUs) enable customers to produce the highest quality products with unmatched consistency, yield, and ROI at scale. Agrify brings data, science, and technology to its customers for unparalleled control over cultivation and extraction.
Grow smarter. Grow better. Grow profitably.
This week, Agrify entered into a binding letter of intent to acquire PurePressure, a leader in solventless extraction and advanced ice water hash processing in the Cannabis and Hemp industry. The parties intend to close the acquisition by the end of December 2021, and the acquisition is expected to be accretive in early 2022. The purchase price will be a total of $9 million, consisting of $4 million in cash and $5 million in unregistered shares of Agrify common stock.
"We are thrilled with the pending acquisition of PurePressure, a company with very impressive solventless extraction solutions, a growing portfolio of intellectual property, some of the best and brightest talent in the extraction industry, a strong product roadmap, and limitless potential," said Raymond Chang, Chairman and CEO of Agrify. "We believe superior extraction solutions will be at the core of producing high-quality medical and recreational consumer products consistently, and the expected addition of PurePressure will make Agrify the number one source for the finest extraction solutions on the market in the cannabis and hemp industry."
We discussed the support zone on Agrify in recent weeks. So far, we are holding. I do like that large wick candle at support. A good sign that buyers are stepping in and accumulating shares. A very strong support zone, and it appears we might be forming some sort of reversal pattern here. Once we take out the $18 zone, the party will get started.
TrustBIX Inc (TBIX.V)
TrustBIX provides agri-food traceability and chain of custody value solutions. The Company's goal is to create a world where we trust more, waste less and reward sustainable behaviour by addressing consumer and agri-food business demands. The proprietary platform, BIX (Business InfoXchange system), is designed to create trust without compromising privacy through innovative, blockchain-derived use of technology and data. By leveraging BIX and its unique use of incentive solutions, TrustBIX delivers independent validation of food provenance and sustainable production practices within the supply chain – Gate to Plate®. The company is involved in the sale, installation, and support of software and computer systems for auction markets and livestock dealers; software for livestock feedlots; and data capture and carcass grading systems for pork plants, as well as Business Infoxchange (BIX).
All about value chains and food sustainability.
TrustBIX announced the intention to complete a non-brokered private placement of up to 6,250,000 shares at a price of $0.16 for gross proceeds of up to $1,000,000. The first tranche of 2,500,000 shares for $400,000 has already closed.
"TrustBIX will use the Private Placement funds for working capital and general corporate purposes," said Hubert Lau, CEO. "This financing provides us with resources to continue developing our software platforms and growing our business globally."
The last time I covered the chart, I outlined the range we are currently in. Still in it, but we are seeing a nice bounce from the bottom portion of the range. The stock saw a nice 10% pop yesterday on a volume of 138,500 shares. The company is in the process of raising funds, which can be used to initiate some sort of catalyst. It could be enough to get us the break above $0.20. The stock chart appeals to me because I like the market structure. We have had a long downtrend, now we are ranging. The next part of the cycle would be a new uptrend once we get the breakout.
Tyson Foods Inc. (TSN)
Tyson foods operates through four segments: Beef, Pork, Chicken, and Prepared Foods. The company processes live fed cattle and live market hogs; fabricates dressed beef and pork carcasses into primal and sub-primal meat cuts, as well as case ready beef and pork, and fully cooked meats; raises and processes chickens into fresh, frozen, and value-added chicken products; and supplies poultry breeding stock; sells specialty products, such as hides and meats. It also manufactures and markets frozen and refrigerated food products, including ready-to-eat sandwiches, flame-grilled hamburgers, Philly steaks, pepperoni, bacon, breakfast sausage, turkey, lunchmeat, hot dogs, flour and corn tortilla products, appetizers, snacks, prepared meals, ethnic foods, side dishes, meat dishes, breadsticks, and processed meats.
A lot of news on the company from funds buying the stock, to Tyson Foods paying frontline workers $50 million in bonuses. However, the news on plans for 2022 is what I think investor's should be paying attention to, because it represents the trends to come. As supply chain crunches are felt, we will be seeing agriculture companies expand and invest to make up for the demand. Automation is also coming as US labor shortages are limiting production while demand is booming.
Tyson Foods is investing $1.3 Billion in automation in the coming years, with plans to open 12 new plants over the next three years. The company expects global consumption of chicken, beef and pork to grow by 95 billion pounds over the next decade. Tyson expects to boost production and reduce labor costs by expanding automation, with cumulative savings of more than $450 million projected by fiscal year 2024. The company will increasingly use machines, instead of people, to debone chicken, one of its most labor-intensive jobs and a position with high turnover, said David Bray, group president of Tyson's poultry division. A capital investment of $500 million in the area through fiscal year 2024 will generate labor savings equal to more than 2,000 jobs. Profitability in Tyson's chicken unit has declined partly due to the labor shortage and because processing plants are operating below full capacity.
The stock is finding some resistance at the $85 zone. The play on this is simple, we have our support and resistance levels, and we just wait for the breakout confirmation. This is one of those stocks that will be attracting institutional funds and I would not be surprised if the stock takes out all time record highs at $94 sometime down the road.