It's time for another Agriculture Sector Roundup and do we have a lot to talk about! Before we get into company news, let's start with some broad sector news. Tons of headlines that are bullish for agriculture…but aren't the most positive news for the world and its people. We start with inflation. Food prices are rising. Supply chain disruptions are being blamed for shortages.
Here in Canada, food prices rose nearly 4% in September.
Overall, the cost of food rose 3.9 per cent year-over-year compared to 2.7 per cent in August. The biggest gains were in food purchased in store (4.2 per cent), followed by food in restaurants (3.1 per cent).
The big question now is how long will prices remain elevated? The answer is well…it all depends on when supply chain disruptions get alleviated. Analysts believe this is sometime in mid 2022. I don't know about you, but I have a suspicion higher food prices will likely be the norm for sometime if we factor in things such as crop yield and climate change.
Disruptions are scaring people, and now news is out that people are hoarding food. Shelves are emptying on an 'everything shortage'. I won't go into too much detail here, but a few analysts are saying shortages are not because of supply chain issues, but because the US economy is booming and people are buying so much stuff. I will let you decide on that.
To add more drama into the mix, and a headline most of us thought we would never ever hear: there is a Carbon Dioxide shortage. Yup that's right, a CO2 shortage. CO2 is used for extending a products shelf live, and is used for culling animals in slaughterhouses. A shortage will impact meat products, but also packaged food supplies. In fact in the UK, the situation is becoming dire. The blame is on high natural gas prices.
So headlines that we agriculture bulls have expected, and quite frankly, it will likely get worse month by month if not week to week. Supply chain disruptions and shortages was one of my major macro cases for being bullish, and we are still in the initial phases. Great for us investors, but it sort of sucks for the real world.
Let's take a look at the weekly performance of ag's and our good ol COW ETF.
Orange Juice, Canola and Soybean Meal are near the top! W spoke about that Soybean Meal chart last week as it looked bullish. Sugar and Lean Hogs near the bottom. Just a few non agriculture comments: Silver is one of my top swing trades, I detailed about going long on Market Moment in the recent weeks. I trade everything else, so be sure to check out my Market Moment for other ideas. Secondly, I find it interesting that the VIX is rising on a week where stock markets did relatively well. Perhaps markets are topping here (October 23rd is when Evergrande goes into bankruptcy), and are pricing in fear. Or maybe fear will come from something else such as inflation or supply chains. Just something that surprised me, but I a writing this on a Thursday. Perhaps markets dump on Friday to reflect the VIX being the top performer this week.
Not too exciting on the meat side of things. Everything just ranged this week. Lean Hogs however is one that is breaking down reflecting it being one of the weakest performers of the week.
On the grains side of things, a bit better. I like the Corn chart heading into next week. Soybean Oil is pulling back to retest a breakout zone as support. Canola broke out. Soybeans may bottom here as well. As you all know from last weeks roundup, I love trading Wheat, Corn and Soybean CFDs.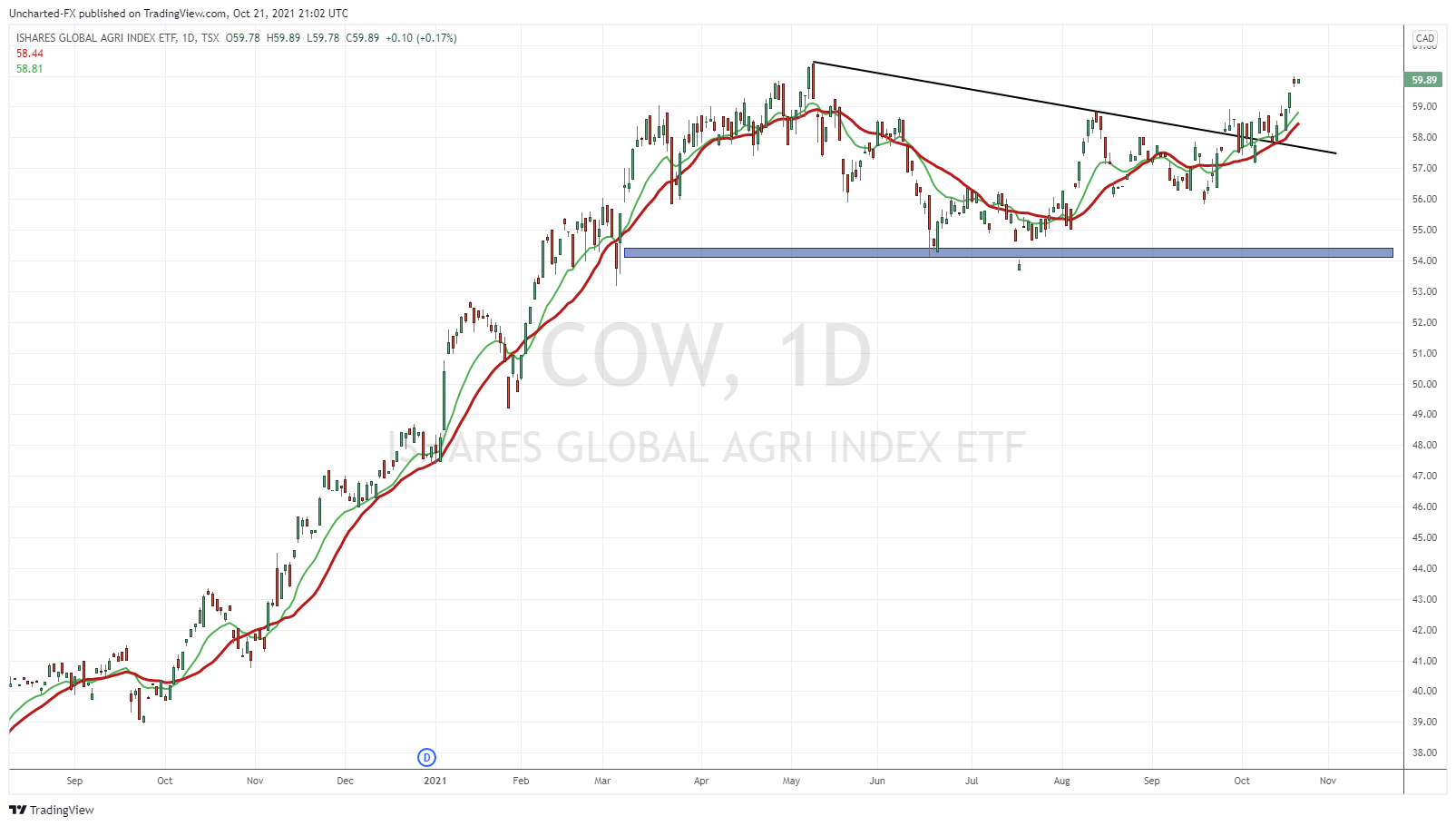 Our COW ETF has broken above its trendline. Things are looking very bullish. As long as we remain above the breakout, we should expect a move higher. Overall stock markets moving higher helps, but so do the food headlines. I bet investors are finally beginning to pay attention to this sector. Now we watch for a breakout above $60.46.
Let's get to some Ag stock moves!
AG Growth International (AFN.TO)
AGI is a provider of the physical equipment and digital technology solutions required to support global food infrastructure including grain, fertilizer, seed, feed, and food processing systems. AGI has manufacturing facilities in Canada, the United States, the United Kingdom, Brazil, India, France, and Italy and distributes its product globally.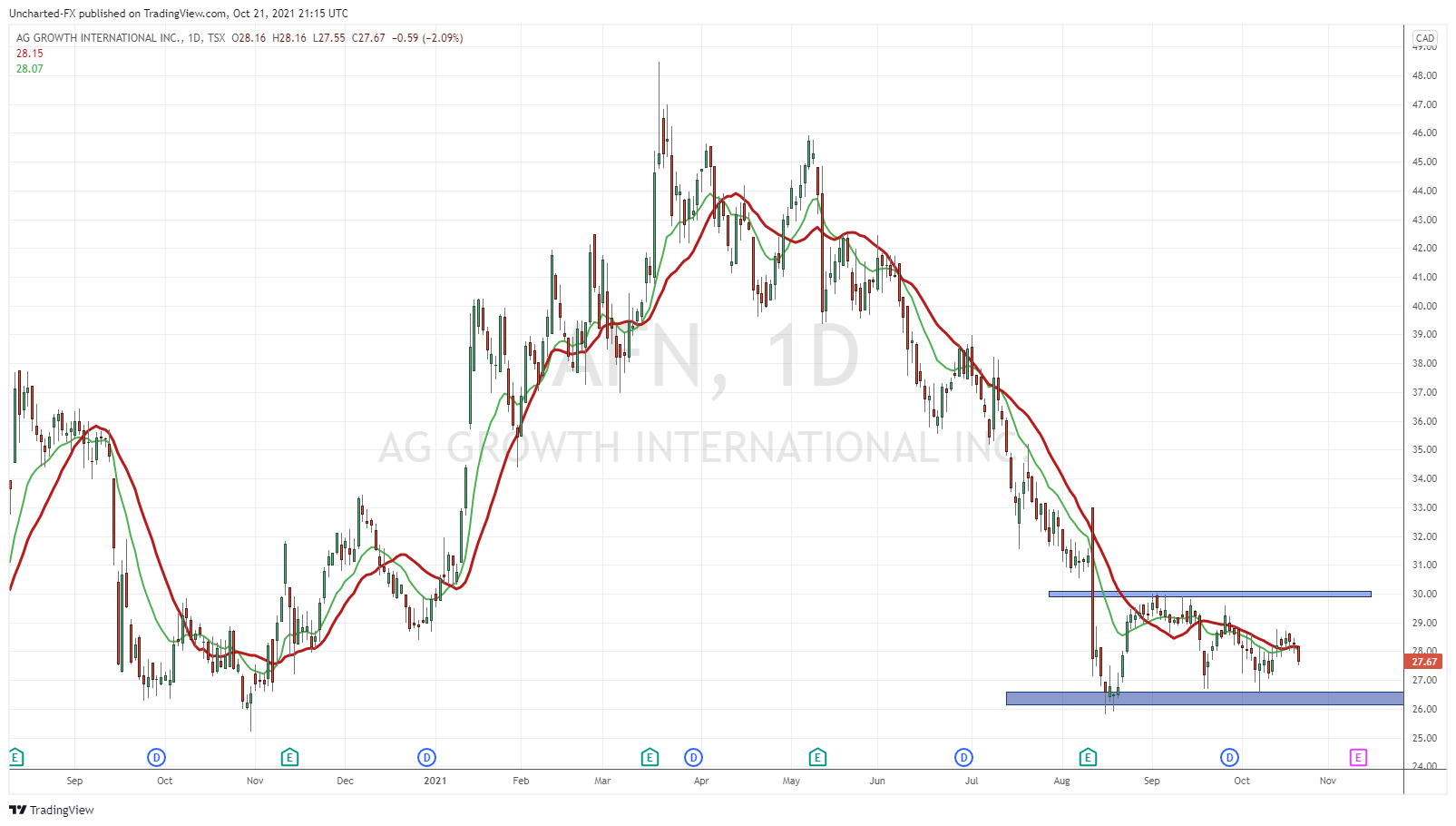 This one is a pure chart play. Earnings are coming up on November 10th, so that could be the catalyst we are looking for. People who follow my market structure method of investing and trading see the potential of AFN. We have had a downtrend, we are now ranging. The next phase is hopefully an uptrend. 
Price is ranging between $26 and $30. The breakout above $30 confirms a new uptrend. The way I would play this is just the typical breakout method of trading. Wait for the break and close above $30 for the trigger. The chart is looking based, and now we wait for our trigger.
MustGrow Biologics (MGRO.CN)
MustGrow is an agriculture biotech company focused on providing natural science-based biological solutions for high value crops, including fruits & vegetables and other industries. MustGrow has designed and owns a U.S. EPA-approved natural solution that uses the mustard seed's natural defence mechanism to protect plants from pests and diseases. 
Right now the talk of pop culture is all about South Korean drama Squid Game. Sticking to South Korea, I spoke with my Korean friend who is a big fan of this company. Why? Mustard Seed is a big thing in South Korea, and he was very excited about the innovative Mustard plant technology MustGrow has created.
The stock has been on a TEAR. In the last Agriculture set up, I discussed the Private Placement which included Ira Gluskin. Well the Private Placement has now been closed for a total of $7.1 Million! 
MustGrow has closed on an aggregate of 2,726,611 units for gross proceeds of C$7,089,189 effective October 6, 2021. Included in this sum, Ira Gluskin and Gluskin-related parties have invested C$1.0 million under the same terms and conditions.
The Private Placement consists of units at a price per Unit of C$2.60. Each Unit consists of one common share of the Company and one-half of one common share purchase warrant. Each full Warrant shall entitle the holder to acquire one common share of the Company at a price of C$4.00 for a period of 24 months following the closing of the Private Placement.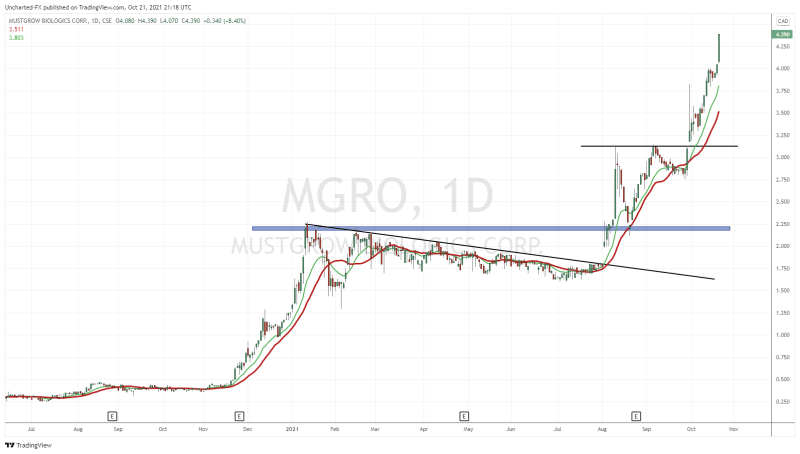 The stock is ripping. MustGrow has been one of my Ag round up OG's, as it was featured in my very first round up. We called the trendline breakout at a $1.80, and the resistance breakout above $2.20 in previous round ups. Another breakout has triggered above $3.13.
Where to next? Well when I draw my fibonacci's, I get an extension at $4.90. So I would say the $4.90-$5.00 zone is the next target to the upside as long as we remain above $2.75.
This is an exciting story and stock. Love the technology, and now management has the cash to grow and create catalysts for shareholders. Exciting times.
Organto Foods (OGO.V)
Organto Foods is an integrated provider of branded, private label and distributed organic and non-GMO fruit and vegetable products using a strategic asset-light business model to serve a growing socially responsible and health-conscious consumer around the globe.
This one is a bearish technical breakdown unfortunately. We have been watching this triangle and support hold for weeks. A good lesson on why it pays to be patient for the breakout confirmation before an entry. What was once support at $0.40 now becomes resistance. We now look for some basing at lower levels. I am looking at $0.30, but $0.35 has a chance to be interim support. If we can close back above $0.40, then I would change my mind on a drop lower.
Clean Seed Capital (CSX.V)
Clean Seed Capital Group Ltd. operates in the agriculture equipment industry in North America. It offers seeding and planting equipment. The company focuses on building the SMART Seeder MAX-S prototype and advancement of the related SMART Seeder technology. 
Another one where the chart didn't pan out as we would have hoped. 
We were watching the range, with our support at $0.45. The resistance at $0.50 unfortunately did not break. Now, we will look for some basing when price hits support at the $0.34 zone. 
We have had a corporate update from the company which can fully be read here. I would like to share some excerpts as management sees a lot of the macro issues I have reported on, and why we remain bullish agricultures:
Against the backdrop of the current global supply chain challenges, near-term shortages, and long lead time conditions, we shifted our pending orders into our next cycle. We continue to focus on delivering an outstanding product and experience to our new customers and dealers during spring 2022. All other sales activities remain on track, including our ongoing demonstration programs and international outreach initiatives.

Institutional, government, agronomic and farming community interest in SMART Seeder™ grew beyond expectations in 2021 through our North American show programs. Severe drought and a multitude of pests had profound impacts across much of Western Canada and throughout the Northern Plains in the USA. Producers looking to change the way they manage crop inputs in the seeding furrow to limit additional crop stress and give seeds better access to water table moisture, have further turned their attention to the benefits of SMART Seeder MAX™.

Our brand-new facility in Saskatoon is on schedule for occupancy before calendar year-end. This facility will be the bedrock of our operations for both sales and operations in 2022. We are currently hiring new operations and production staff as well as additional technical resources to support the growth of our SMART Seeder MAX family of seeders.
Bee Vectoring Technologies (BEE.CN)
Bee Vectoring Technologies International Inc., an agriculture technology company, develops and provides natural commercial farming solutions. Its solutions include the Hive and Bees, an inoculum dispenser system; Vectorpak with Vectorite, a recipe of ingredients that allows bees to carry crop BVT-CR7 and other beneficial fungi or bacteria in their outbound flights to the crops; active ingredients, such as BVT-CR7, an organic strain of a natural occurring endophytic fungus; and pollen distribution systems. The company's patented bee vectoring technology uses commercially-reared bees to deliver targeted crop controls through the natural process of pollination. It provides natural pest and disease management solutions for various crops, such as strawberries, sunflowers, apples, tomatoes, canola crops, blueberries, and other crops.
This is quickly becoming one of my favorite companies in the space. Great news put out recently on their first commercial industry partnership with BIOGARD one of the leading bioptectant company in Europe. 
"This first commercial agreement with a partner in the EU represents a major step in BVT's growth," said Michael Collinson, Chairman of BVT. "It is the most significant global milestone for BVT since acquiring EPA registration in the US in 2019. The agreement will enable BVT to operate in the EU through the development and registration of a bee-vectoring product extension of an already-accepted biological active substance, rather than awaiting approval of a new active substance submission – a process that can take up to 3 years. It is also a clear indication that the industry has begun to recognize the value of our bee vectoring system as an effective way to deliver crop protection."
I recently did an in depth look at Bee Vectoring. Check it out here.
On a technical basis, there is just so much to like here. Held support at $0.235, where we know there are plenty of buyers indicated by the wicks. And now we have just broken out above $0.32. Honestly everything is pointing to higher stock prices on this one. I would be looking for resistance at $0.385-$0.40 next. Good news and good technical momentum!
CO2 Gro Inc (GROW.V)
CO2 Gro focuses on commercializing patent-licensed CO2 gas infusion technology and patent-pending US PTO CO2 delivery solutions system.
CO2 announced another feasibility study with an Ontario licensed producer. The feasibility will run for several grow cycles. Objectives of the feasibility are to accelerate growth in order to increase harvest turns, increase bud yields, powdery mildew suppression through the Perimeter Protection™ benefit, reduced CO2 gas use resulting in a safer work environment, reduction of the operation's ecological footprint, cost savings and a significant improvement in profitability.
We discussed the range which broke down. Our next support level was down at $0.20. The retest was looking positive with a close back above support turned resistance, but alas, we closed back below at $0.25. Just choppy price action right now.
Deveron Corp (FARM.V)
Deveron is an agriculture technology company that uses data and insights to help farmers and large agriculture enterprises increase yields, reduce costs and improve farm outcomes. The company employs a digital process that leverages data collected on farms across North America to drive unbiased interpretation of production decisions, ultimately recommending how to optimize input use. Our team of agronomists and data scientists build products that recommend ways to better manage fertilizer, seed, fungicide, and other farm inputs.
Deveron is also one of the OG's on my sector roundup. And the company just put out BIG news this week. A big congratulations to the team there!
Deveron has signed a multi year, multi million dollar enterprise contract for use of Carbon services platform. A four-year enterprise agreement, with an initial two-year statement of work valued at $3.14 million. The agreement initially covers nine states in 2021 with an expansion to 17 states in 2022, with an annual value of $1.25M and $1.89M, respectively. The contract provides the client with access to Deveron's new carbon platform, which provides a scalable and streamlined process for collecting, analyzing, and sharing in-field soil carbon data to support the development of the client's carbon program.
"Carbon credits provide agribusiness and growers with a unique opportunity to create an additional revenue stream for their business while implementing environmentally conscious improvements to their operations. We are excited to see leaders in all industries look to agriculture to offset their carbon emissions and decrease their environmental footprint," said David MacMillan, Deveron's President and CEO. "Our turn-key carbon services platform addresses the industry's need to digitize and standardize the collection, analysis and distribution of carbon soil data. Our vertically integrated data technician network and laboratory, provides our clients with an end-to-end platform ensuring the highest fidelity digitized carbon soil data."
I recently read Marin Katusa's book titled "The Rise of America". His top trend and investment for the future? Carbon credits and carbon trading. I have been looking at ways to play this including cryptocurrency KLIMA, but now Deveron is an option. Exciting news.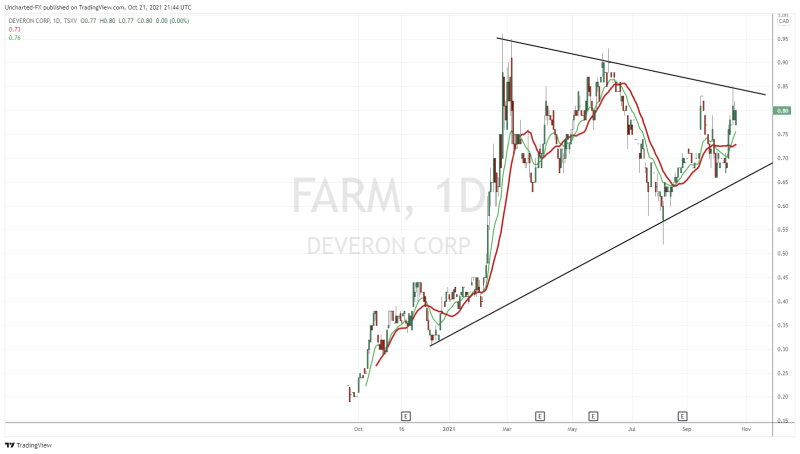 On the charts I have to say the $1.00 zone is coming with news like this. We are at the upper band of my top trendline, but I would be watching for a breakout to take Deveron into new record all time highs! A strong management team that keeps on putting out great news. They do what they promise to do. You will be hearing about Deveron a lot more often and regularly.
Agrify (AGFY)
Agrify has broken below a major support zone, but has news announcing a new and improved technology for its micro-environment controlled vertical farming unit (VFU). The company will unveil them at MJBizCon 2021 in Las Vegas. The upgraded VFUs offer updated features integral to cultivator success, including industry-first 3.0 micro-moles per Joule, NSF certified lighting, cameras, soil sensors, and automated harvest weight tracking, and will be available in the first quarter of 2022. You can read about the new features here.
"These enhancements which seamlessly integrate with our Agrify Insights software should maximize the ability of our customers to produce more consistent, efficient, and higher quality crop yields," said Agrify CEO Raymond Chang. "The latest VFU innovations reflect our long-standing mission to continuously improve our products to deliver the best fully integrated end-to-end indoor growing solution. We believe our new VFUs further raise the bar for the whole cannabis cultivation sector by optimizing cultivation and minimizing risk. The efficiencies they deliver are unprecedented, allowing post-harvest plant processing times to be greatly reduced so our customers can go to market faster and generate greater ROI."
AgJunction (AJX.TO)
AgJunction Inc. develops, sells, and licenses hardware and software solutions for precision agriculture applications worldwide. Its products and solutions offer precision guidance and positioning, autosteering, and machine automation for off-road markets with application to farming operations, such as tilling, planting, spraying, and harvesting. The company provides Wheelman white-label, an autosteering platform for manufacturers and suppliers; Electronic Control Units family support modules for autosteering, hydraulic control, machine learning, diagnostic system, and sensor fusion applications.
And they have just been bought. Kubota corporation from Japan is acquiring AgJunction in an all-cash transaction for approximately $91 million CAD for $0.75.
We had a flag pattern which is fast becoming my favorite chart pattern. We have seen it on Oil, Copper, and perhaps Gold in the near future. Tons of stocks too. We cannot predict a buyout, but just using market structure, we can tell an upwards move is coming with a flag.
Avivagen (VIV.V)
Avivagen is a life sciences corporation focused on developing and commercializing products for livestock, companion animal and human applications that safely enhances feed intake and supports immune function, thereby supporting general health and performance.
The company announced a new purchase agreement to supply its largest customer in Asia with a 6.3 tonne order of OxC-beta livestock. This is a 43% increase in size over the customer's previous order, and continues the trend of increased reorder size among customers worldwide.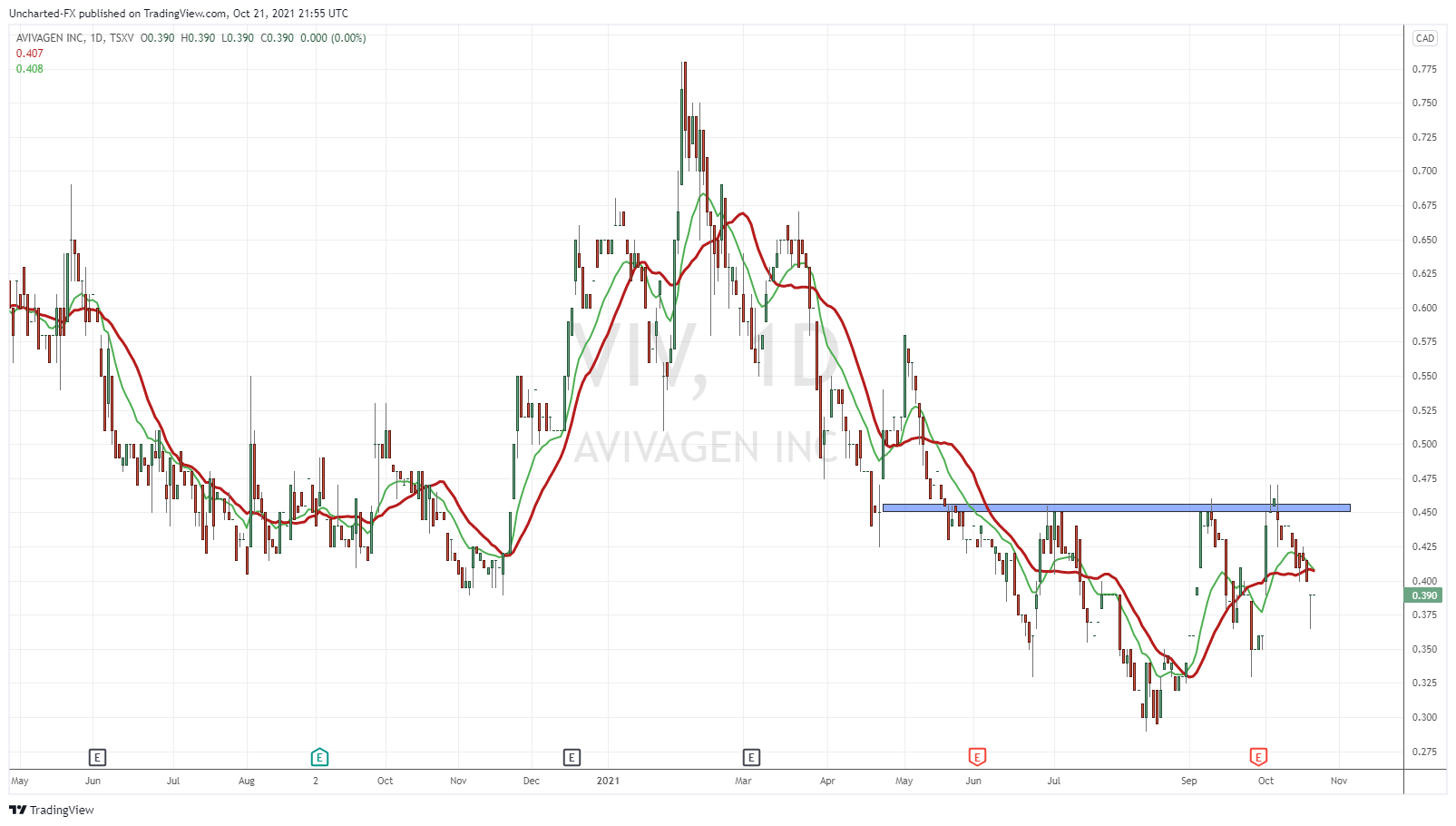 We looked at this chart in the previous weekly round up. Same structure and the same trigger awaits. Almost an inverse head and shoulders pattern here, and we just need that breakout above $0.45. But it does seem like Avivagen is developing a nice base here at support. These are the types of reversal patterns I personally love to play!
Sprout AI Inc. (SPRT.CN)
Sprout A.I. engages in the planning, designing, manufacturing, and assembling vertical urban and controlled environment agriculture and farming cultivation equipment. It offers multi-level rolling racks with self-contained and environment-controlled habitats.
The stock is getting destroyed. 51% down day with 7.2 million shares traded on Wednesday. Then 8.5 million shares traded on Thursday. Someone is selling. 
Management updated shareholders stating: The Company announces that it is not aware of any material, undisclosed corporate developments and has no material change to report at this time. The Company will keep the market informed as required. We would like to assure our investors that the trading volume and resulting downward pressure is not a reflection of the Company's financial health or future business opportunities.
I mean look at that red candle. We took out multiple support levels. Would I jump in now? I would be patient. Allow the stock to form some sort of base or range indicating things cooling down. Management is saying they aren't aware of what would cause this, but someone is definitely selling, and they must have a reason. Let things cool down.
Mary Agrotechnologies (MARY.CN)
Let's end off on a high note though shall we? 
Mary Agrotechnologies Inc., an agriculture technology company, develops and distributes home growing automated machines and commercial containers for various herbs and vegetables worldwide. It also plans, establishes, and operates container farms. I love the home growing aspect. Mark my word, this will be a big trend in a few years time.
Mary Agrotechnologies has entered a strategic partnership with Changzhi Yufeng Agricultural Technology Development Co. Ltd. ("Yufeng"), one of the largest vertical farms in China.
Based in Shanxi, China, Yufeng owns and operates one of the largest vertical farms in the country, which is dubbed as a "plant factory." The parties have agreed to collaborate on a pilot project of 700 square meters (approx. 7,535 sq. ft.) with Mary Agrotech's proprietary automation technology, including its proprietary vertical farming hardware and AI-driven automation software.
"The farm is in a great location as over 600 million people reside within its 500-mile radius. As only about 12% of China's landmass is arable, food security is a key focus for the country, and this pilot is proof that our technology has its unique advantages to be a part of that massive market," said Frank Qin, CEO of the Company. "It's a foot in the door. Now that Yufeng – one of China's leaders in vertical farming and controlled-environment agriculture – is adopting our technology, we are already fielding additional opportunities."
The stock is thinly traded, but you all know I love these basing patterns. The longer the range, the bigger the breakout pop. I am looking for a break above $0.48 before MARY gets going. But as I said, average volume is 3,563 shares so one that isn't traded much. On the 7th of October, we did see 28,000 shares traded, so people are buying near the bottom of the support. One to put on your watchlist.