Week in Review (Week 10)
Fall has finally arrived. Like a middle-aged suburban mom, I have spent the last couple of weeks indulging in some seasonal festivities, including going to a pumpkin patch, eating pumpkin spice doughnuts, and carving pumpkins. All the while, an old man as orange as a pumpkin announced the launch of his new social media site, aptly named TRUTH Social. You guessed it, Donald Trump has officially created his own social media platform following his expulsion from all major sites. On the other hand, the fast-food industry titan McDonald's has been putting its time to good use.
McDonald's recently announced that it will begin testing its plant-based McPlant at eight restaurants in the United States (US). Speaking of plant-based, Oatly Group AB announced plans to open a new research and innovation center at Lund University, Sweden. Oatly is a major player in the plant-based sector, but let's give some love to the little guys too such as Feel Foods Ltd., and Plant & Co. Brands Ltd. To summarize, in this week's plant-based sector roundup up, we will be focusing on McDonald's Corporation (MCD.NYSE), Oatly Group AB (OTLY.Q), Feel Foods Ltd. (FEEL.C), and Plant & Co. Brands Ltd. (FEEL.C). Let's get into it!
McDonald's Corporation
$181.974B Market Capitalization
McDonald's Corporation (MCD.NYSE) is an American fast-food company, founded in 1940. Tell me something I didn't know. Well, did you know that McDonald's sells an average of approximately 75 burgers a second? Furthermore, McDonald's serves about 68 million people every day, which is approximately 1% of the world's population. There are a lot of things I don't like about McDonald's, including its logo, Ronald McDonald, and the god damn Hamburglar. Lucky for me, the Hamburglar has been sealed away in the dark depths of irrelevancy. Why? Long story short, Sid and Marty Kroft sued McDonald's in 1970 for copyright infringement. Turns out McDonald's Mayor McCheese looked awfully similar to Kroft's Pufnstuf. Since then, McDonald's has stored most of its iconic mascots away, including the Hamburglar. Moreover, the Company's advertisements are now geared towards adults rather than children. This probably has something to do with the fact that McDonald's faced a lawsuit in 2003 claiming that the Company was responsible for obesity in children.
What has McDonald's been up to lately? Recently, McDonald's announced that it will begin testing its plant-based McPlant burger at eight restaurants in the US. In particular, the McPlant will be launching at select stores in Texas, Iowa, and California. The McPlant was created through a partnership with Beyond Meat Inc. (BYND), whereby Beyond Meat will supply McDonald's with its plant-based patties for a three-year term. The McPlant line was first introduced during an investor update in November 2020. According to the Company, the McPlant line will eventually include plant-based chicken and breakfast sandwiches. In the meantime, McDonald's has tested out its McPlant burger in European markets such as Sweden, Denmark, the UK, and elsewhere. McDonald's also conducted a 12-week test of its McPlant burger in Canada, specifically Southwestern Ontario, in 2019.
"By being part of the Canadian fabric and serving close to three million guests every day across more than 1,400 restaurants, McDonald's Canada is playing an important role in the ongoing reduction of single-use plastics in the country…By removing these single-use plastics in our restaurants, we show our ongoing commitment to minimize our environmental footprint and to help protect the planet for future generations," said Rob Dick, Supply Chain Officer, McDonald's Canada.
Additionally, on October 7, 2021, McDonald's Canada announced that it will introduce wooden cutlery, wooden stir sticks, and paper straws to its more than 1,400 restaurants across the country by December 2021. By removing plastic cutlery, stir sticks, and straws from its restaurants, McDonald's Canada will remove roughly 840 tons of plastic from the Canadian system annually. This is great news, let's just hope McDonald's paper straws are actually recyclable this time around. The Company first attempted to launch its "ec0-friendly" paper straws at McDonald's restaurants in the United Kingdom and Ireland in June 2018. However, due to their size and thickness, these straws were thrown away and burned, rather than recycled. Yikes. With this in mind, I seriously hope McDonald's Canada can get it right.
McDonald's share price opened at $240.17 on October 21, 2021. The Company's shares were up 0.50% and were trading at $240.93 as of 12:07 PM ET.
Oatly Group AB
$8.486B Market Capitalization
Oatly Group AB (OTLY.Q) is a Swedish food company that produced alternatives to dairy products using oats. In addition to being the world's original and largest oat milk company, Oatly has an extensive lineup of dairy-free products including ice cream, yogurt, cooking creams, spreads, and on-the-go drinks. That's cool and all, but what the hell is oat milk? Oat milk is a plant-based milk derived from whole oat grains by extracting the plant material with water. In terms of texture and flavor, oat milk is creamy and supposedly tastes like oatmeal. Lucky for me, I have a carton of Earth's Own oat milk sitting in my fridge. After having a glass, oat milk certainly has a creamier texture compared to traditional milk, although the difference isn't too noticeable. As for its taste, it hardly differed from the 2% milk I usually drink. With this in mind, Oatly is a food company focused on developing expertise around oats. In doing so, the Company stands at the forefront of the oat milk market, which was valued at USD$251.57 million in 2019. Looking forward, this market is projected to reach a value of more than $USD490 million by 2026, expanding at a compound annual growth rate (CAGR) of 10.2% between 2020 and 2026.
 What has Oatly been up to lately? On October 20, 2021, the Company announced plans to open a new research and innovation center at Lund University in Sweden to further exploit the potential of oats. This new innovation center is intended to further Oatly's leadership around oats and enable the Company to accelerate its mission to drive a societal shift towards plant-based foods and sustainability. That being said, Oatly expects to add roughly 30 scientists to its global team based in Lund over the next year, with the potential to add nearly 100 researchers across its research hubs in Europe, the Americas, and Asia.
"We're excited to build on our strong foundation in science, research, and innovation as we expand our team at Lund University…For more than 25 years, we have developed great-tasting, oat-based products that have been designed for human nutrition and as a solution for a more sustainable food system. We believe this new research and innovation center will both improve our existing products and lead to new, innovative oat-based foods," said Sofia Ehlde, Oatly's Executive Vice President of Food Innovation.
In order to increase its oats expertise, Oatly will utilize the unique competence and technology gathered at Lund University. Here, scientists will study oats in greater detail from various perspectives including biochemistry, biophysics, microstructure, nutritional traits, and refinement. Am I the only one who feels bad for these oats? Sure, they may be inanimate, but it sounds like they are going to have a hellish time at Lund University! By brutally experimenting on innocent oats, the Company's innovation team plans to use the acquired knowledge to enhance Oatly's existing oat-based drinks and food products as well as develop new innovations to meet consumer needs. Construction has commenced on Oatly's Science and Innovation Center in Science Village by Wihlborgs, a Sweden-based real estate company, and is expected to be completed by 2023. If you're interested in Oatly's financials, the Company will be releasing its Q3 2021 Financial Results on November 15, 2021, before the US market opens.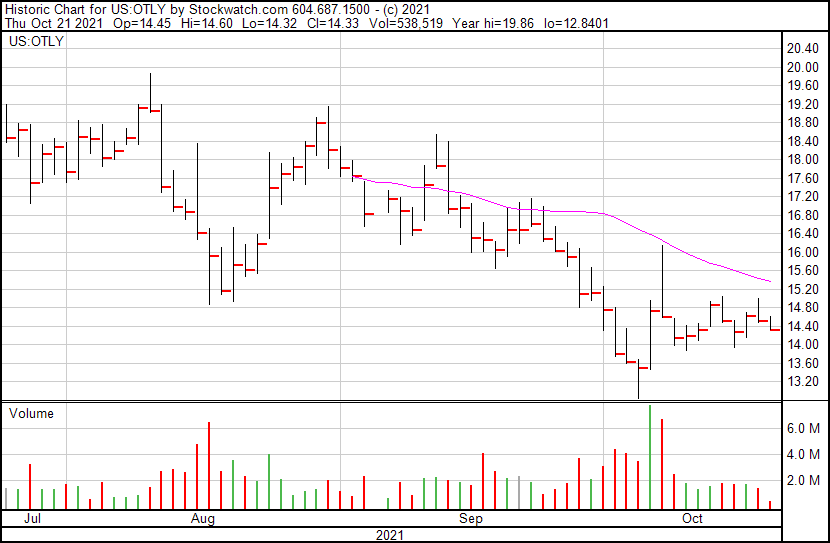 Oatly's share price opened at $14.47 on October 21, 2021, down from a previous close of $14.51. The Company's shares were down -1.17% and were trading at $14.43 as of 2:08 PM ET.
Feel Foods Ltd.
$15.205M Market Capitalization
Feel Foods Ltd. (FEEL.C) is an agri-food holdings company focused on developing innovative products and technologies in the foodservice industry. This includes the Company's wholly-owned Be Good Plant-Based Foods Ltd. (Be Good), a food company dedicated to designing, developing, producing, licensing, distributing, and selling a variety of plant-based meat and other food alternatives. Some of Be Good's products include plant-based chicken, pork, and beef products. Ultimately, Feel Foods is on a mission to provide a unique offering of plant-based food products intended to make it easy for carnivores, flexitarians, and vegans alike to incorporate less meat into their diets. Additionally, Feel Foods has two other brands under its belt, namely Black Sheep Vegan Cheeze and PlentyFull.
Black Sheep Vegan Cheeze – as you probably could have guessed from the name, Black Sheep is a food company specializing in organic almond-based cheese, organic soy-based cheese, and more. Black Sheep's products are currently offered at more than 40 grocery stores and close to 30 food services locations throughout British Columbia (BC).
PlentyFull – a Canadian startup dedicated to bringing Asian-inspired meal kits to chefs of all levels. Currently, PlentyFull offers a variety of plans designed to teach you how to cook new recipes while also introducing you to seasonal, farm-fresh ingredients. The company currently delivers to three cities in BC, including Richmond, Vancouver, and Burnaby.
What has Feel Foods been up to lately? Most recently, on October 21, 2021, the Company announced that its common shares had begun trading on the Frankfurt Stock Exchange (FSE) under the symbols 1ZF. With this in mind, Feel Foods' common shares are now cross-listed on three exchanges, including the Canadian Securities Exchange (CSE), the US OTC Market, and the FSE. As a result, the Company now has international exposure to both North American and European investors, as well as additional liquidity for the Company's shareholders.
"We look forward to introducing Feel Foods and our premium plant-based meat, cheese, and dessert products to the world. Listing on the Frankfurt Stock Exchange will provide Feel Foods an opportunity to grow our shareholder base throughout Europe and allow European investors to follow Feel Food's developments in the plant-based food industry and be a part of our growth," commented Feel Foods Director and CEO, David Greenway.
Keep in mind, the FSE is one of the world's largest trading centers for securities. The exchange has a share turnover of roughly 90%, and it is the largest of Germany's seven stock exchanges. In addition to listing on the FSE, Feel Foods announced on October 14, 2021, that it had received an initial purchase order from Summit Specialty Foods for its 100% owned Black Sheep products. It is worth noting that Summit manages over 125 brands and has an expansive distribution network with major retailers such as Safeway, Whole Foods, and Natural Markets Food Group, to name just a few. Needless to say, the Company's acquisition of Black Sheep is already paying off.
Feel Foods' share price opened at $0.24 on October 21, 2021, down from a previous close of $0.245. The Company's shares were down -2.04% and were trading at $0.24 as of 1:09 PM ET.
Plant & Co. Brands Ltd.
$20.636M Market Capitalization
Plant & Co. Brands Ltd. (VEGN.C) is a modern health and wellness company curating plant-based foods. The Company offers a growing number of plant-based food products through its two leading plant-based brands, Holy Crap Foods Inc. and YamChops, the vegan butcher. With this in mind, Plant & Co. is dedicated to offering functional plant-based foods to people in every facet of life. Let's talk a little bit about the Company's brands:
Holy Crap Foods Inc. – a plant-based food company offering consumers a variety of high-fiber, plant-based superseed cereals made with chia, buckwheat, and hulled hemp seeds. In addition to being plant-based, the company's cereals are organic, gluten-free, kosher, and non-GMO.
YamChops – a plant-based butcher shop committed to providing extraordinary plant-based foods and service to its customers. The company offers numerous meat alternatives including its Tunaless "Tuna", Chick'n Schnitzel, Szechuan "Beef", and Montreal Style "Steak". Additionally, YamChops offers prepared foods to go, vegan grocery, catering, and delivery.
What has Plant & Co. been up to lately?  On October 21, 2021, the Company announced that its wholly-owned subsidiary, YamChops, had begun offering a range of its plant-based foods, dishes, and meals through Hungerhub's meal delivery applications, Uncatering™. For context, Hungerhub is a food-tech company connecting offices with restaurants for daily meal delivery. Uncatering™ is the company's proprietary process and application software for workplaces to order food. Via Uncatering™, team members are able to log in, choose a restaurant, their meal for the day, and make individual orders with special instructions. I gotta say, this is quite a unique take on food delivery. Rather than expanding into the oversaturated food delivery services market, Hungerhub is targeting restaurants and businesses.
"We are constantly working to expand the distribution and availability of our great products, and working with Hungerhub is enabling more people in Toronto to order YamChops great meals…Using the Uncatering™ mobile app, customers can order YamChops specialty plant-based foods, dishes, and meals to be delivered to their office. We have already experienced an increase to our weekly baseline order counts and have delivered numerous delicious plant-based meals throughout Hungerhubs' client base to dozens of new establishments, representing a new source of customer growth for YamChops," said said Donna Reddy, President of Plant&Co.
With this in mind, YamChops' offering of plant-based foods will now be offered via Hungerhub's Uncatering™ meal delivery application. It is also worth noting that YamChops is also available on the five most popular food delivery platforms, including Uber Eats, Skip the Dishes, Door Dash, Corner Shop, and Ritual One. That being said, Plant & Co. is clearly putting in the elbow grease needed to deliver on its growth strategy, announced during the Company's Strategy Update on September 16, 2021. According to Plant & Co.'s initiatives, the distribution efforts for increased sales and revenue, market exposure, and organic growth within the Company have begun and are expected to continue throughout Q4 2021 and into Q1 2022.
Plant & Co.'s share price opened at $0.22 on October 21, 2021, down from a previous close of $0.225. The Company's shares were down -6.67% and were trading at $0.21 as of 3:09 PM ET.