Let's get straight to it! In terms of major headlines, supply chains and rising costs show up once again. Not surprising. This has been one of the reasons for my bullish stance on Agriculture. We will be seeing more headlines like this in the future…as well as increased prices in grocery store aisles.
The big story out today comes from one of the largest food group in the world, Nestle. They are expecting a higher input cost inflation next year. Which of course will be passed down to consumers. If input costs are rising, Nestle will raise prices to make profit.
"If we talk of 2022, it is likely that input cost inflation will be higher next year than this year," Francois-Xavier Roger said at a Barclays consumer staples conference.

"Our strategy is to offset anything we receive through pricing. The idea is to pass it on to the trade and to consumers whenever we receive it," he said, adding there would be a delay.

He said the company was gaining market share in most categories and regions, with the exception of infant nutrition in China that wouldn't return to growth this year and frozen pizza due to supply chain constraints.
I sort of got worried because the image in the article displays the Nescafe Gold products. I mean I own a Nespresso machine, I hand grind my own beans for my pour over, but I still like to have some Gold instant coffee here and there. It's decent stuff to meet my caffeine cravings. Looks like I'll be paying more for my coffee.
But at least Coffee futures aren't at highs of $300 right? Gulp.
In other news, China's Ministry of Agriculture and Rural Affairs unveiled a plan for the development of the nation's agricultural sector over the next five years. When the government wants to get things done…they get things done.
The plan, jointly issued by six departments including the Ministry of Agriculture and Rural Affairs, identified resource protection, pollution control, restoration of agricultural ecology, and the development of a low-carbon agricultural industrial chain as the key tasks for the 14th Five-Year Plan period (2021-2025).

The plan set quantitative objectives for the agriculture sector to be achieved by 2025, which include attaining an overall pass rate of over 98 percent in routine quality and safety tests of agricultural products.
Finally, let's end of this news week with Australia's Agriculture Labor Crisis.
With more than half of Australia's population currently in lockdown due to outbreaks of the delta Covid-19 strain, tight rules on movement and state border closures are posing serious challenges for the A$66 billion ($49 billion) agriculture industry for the second year in a row.

"A disaster situation will occur if the limited number of harvest workers are stopped from moving back and forth across the border," National Farmers' Federation Chief Executive Tony Mahar said in an August statement.
Can you say potential supply chain issues?
Let's take a peek at the agricultural commodities and their performance so far this week up to Thursday.
I am still worried about Corn, Soybean Oil, Soybean Meal and Soybeans. Just as I was last week. We saw them breaking down important support levels, and the continuation might occur. But to find one positive, because I like being a positive person, Corn could still create a double bottom here.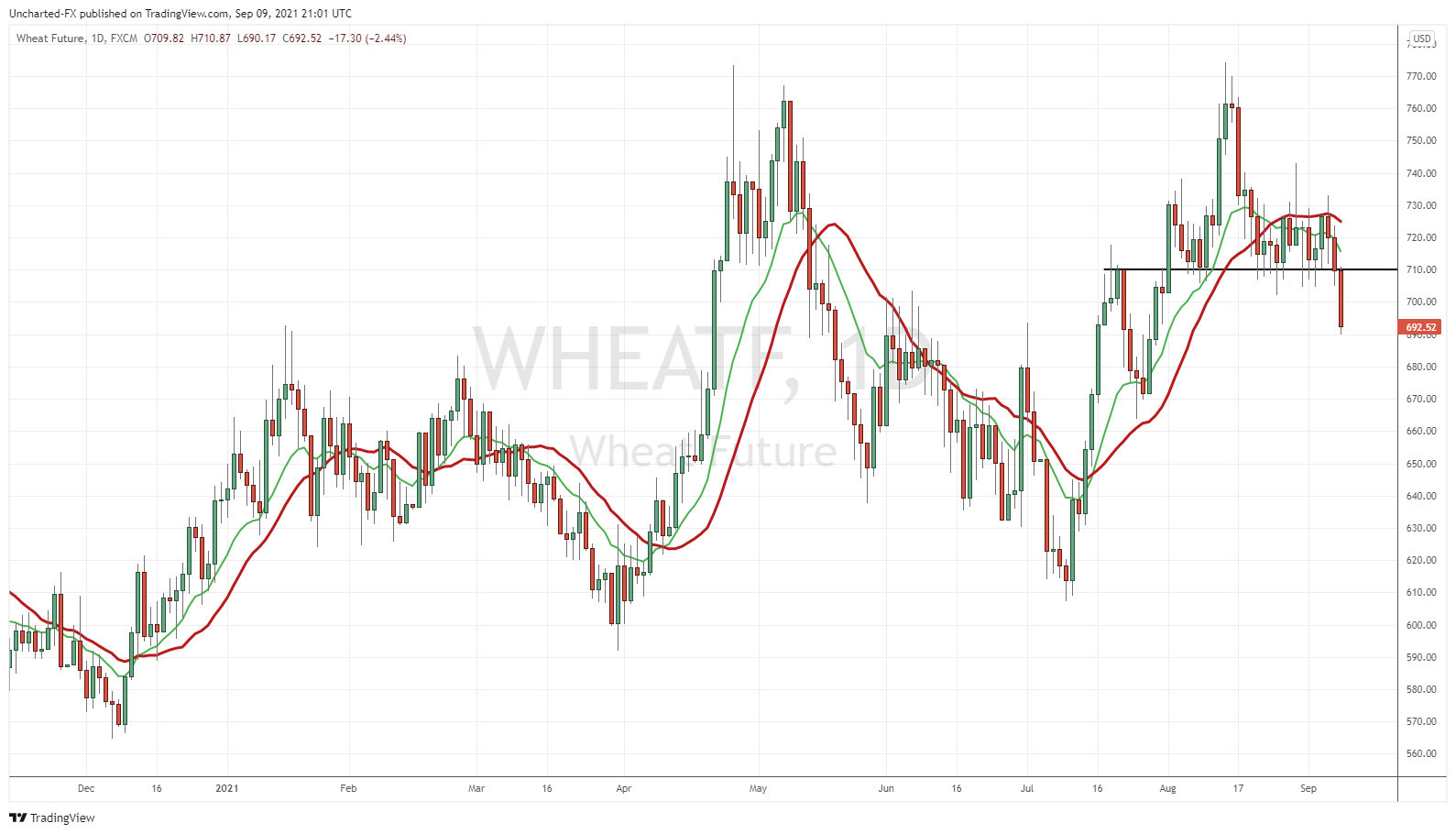 I just quickly scoped out some of my technical charts and saw this on Wheat. Ouch. Something I would short as a trade taking out a major support level which has been holding for more than a month.

Not much more to say about the meats except PAIN. Feeder Cattle and Live Cattle with multiple red days. Lean Hogs still remains one of interest because it meets my criteria for a reversal. Let's hope we build a base here.
Here is the 1 week performance so far from Monday to Thursday. Team Cocoa for Ag! Let's go. While Soybean Oil, Wheat, Oats, Lean Hogs, Canola, Coffee, Corn are close to being the worst performers for the week.
I tend to post the COW ETF every week, but I want to change things up. Plus the COW ETF is still contained between our two support and resistance levels from previous weeks. Now, I want to highlight charts of interest.
SunOpta (SOY.TO)
This week is SunOpta (SOY.TO) which will be a regular ticker on our list going forward as they sell fruit based foods and beverages as well as plant-based ( would regularly be covered by Kieran over on his plant based food round up!).
The stock chart is looking like a roller coaster heading downwards. But I like these type of charts, because downtrends don't last forever. After making a few swings, we will eventually reverse. These happen at major support zones. We aren't at a major support zone just yet, so this could move lower to the $10.00 zone. But notice that large wick candle we had a few weeks back? It tells us that buyers will come in and defend this area. We are still ranging, but today (Thursday's) daily candle looks a bit gnarly. It would be nice to see a bid up on Friday and into next week. Let's keep this on our radar for a technical breakout next week.
Loblaws (L.TO)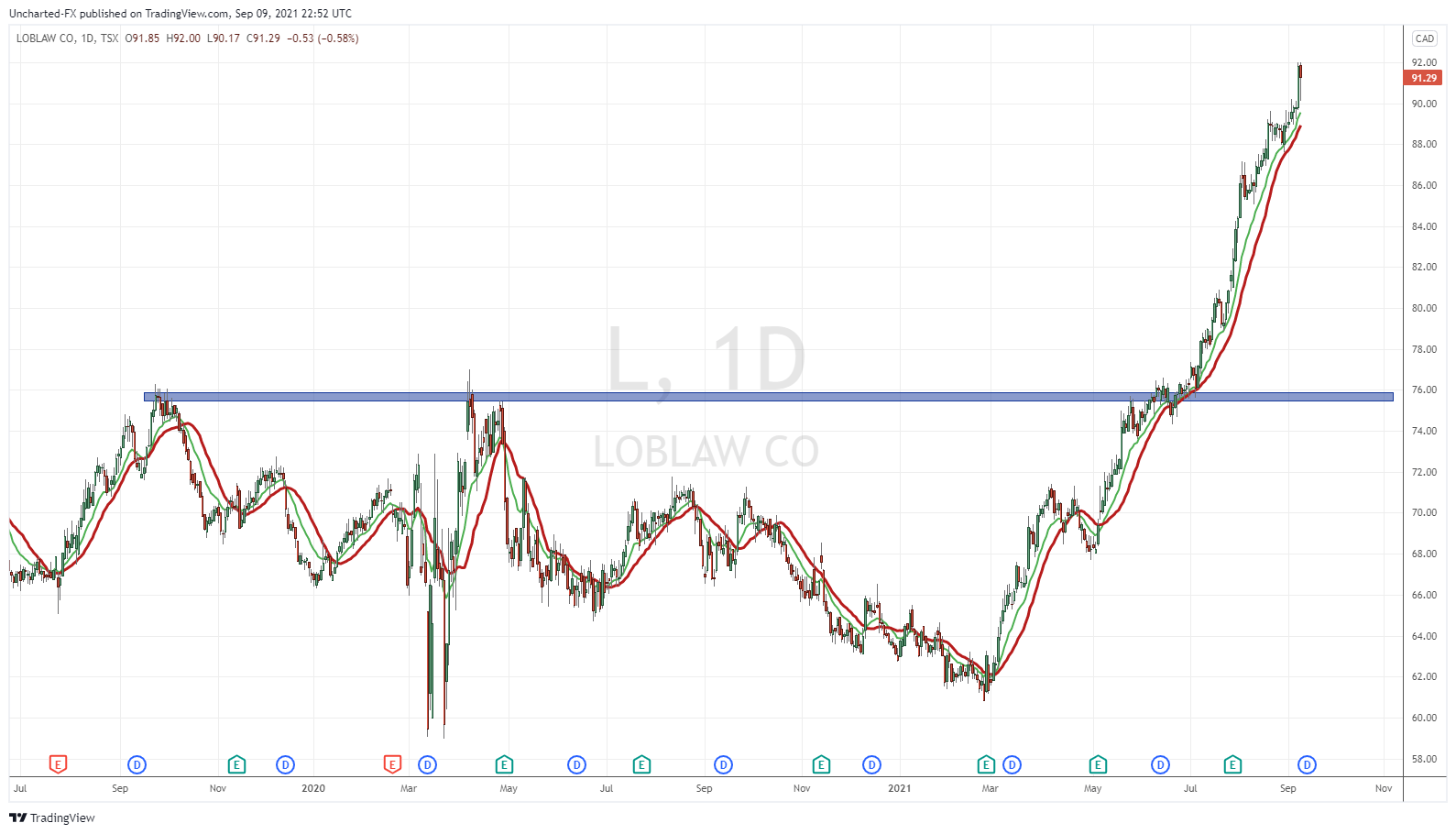 I also want to point out Loblaws. This is a company I have in my long term value portfolio. Add shares every month. I like the dividend, I like that they own T & T market and Shopper's Drug Mart which are places I regularly shop at. I'm just not a fan of their recent tv commercials. Please change that stuff up.
But ever since this stock broke out and printed new highs above $76, we just rallied. I bring this up because this is what we should watch for when looking for signs of institutional buying. When large institutions buy breakouts, price rallies for many days. Loblaws sort of takes that to the next level, but my point is that the stock won't just rally and then pullback hard. Same sort of price action we saw earlier this year on Facebook, Microsoft, Amazon and Apple. Although recent breakouts into new record territory is not carrying the momentum life before.
Organic Garage (OG.V)
Speaking about food and groceries, let's consider Organic Garage (OG.V). We have been basing and forming a range for two months. We just need the breakout above $0.39 for a trigger. The technicals are looking exciting.
Nutrien (NTR.TO)
Nutrien (NTR.TO) has a chart that I wouldn't talk about too much because I don't like ranges especially after the stock has rallied with multiple uptrends. It is usually a sign of a reversal, but the key is we need a breakdown of support. A range can just be a pause for the uptrend. The uptrend can continue as long as it doesn't break below support and breaks out above resistance.
In the case of Nutrien, we had really strong price action today. So strong that is looks like the large green candle will be presenting us with a breakout above previous highs. Momentum plays like this catch my attention because we can front run that breakout.
CubicFarms (CUB.TO)
CubicFarms has been making headlines in recent weeks. Last week they announced a bump up to the TSX (note the .TO on their ticker now). It's no secret that I am a big fan of these guys. This week saw their indoor growing technology for fresh food, HydroGreen Grow System, win "Sustainability Product of the Year" at the 2021 Sustainability awards program.
Very cool stuff. Stock wise I would love to see a close back above $1.30. We would climb back above a support zone which has broken.
MustGrow Biologics (MGRO.CN)
MustGrow Biologics had no news for a while, but the stock price is what we need to talk about. Big push higher on the retest of $2.25. Just a typical breakout and retest pattern. You can apply this to any asset you trade. And then, we printed new record highs. What would be super bullish is a daily candle close above $3.14 ($3.16 would be cooler because you know…Stone Cold Steve Austin). We are already getting record CLOSES with a few days closing higher, but we need to take out that wick from August 11th.
Organto (OGO.V)
Last week, we talked about Organto (OGO.V) adding organic fresh fruit to their product portfolio. This week that portfolio expands with organic fairtrade bananas! Bananas are regularly consumed in my morning oatmeal, and I tend to go organic.
Stock wise we still remain contained within the triangle. Just awaiting the breakout to give us direction.
Earth Alive Clean Technologies (EAC.V)
Earth Alive Clean Technologies announced a follow-on purchase order in the amount around $500,000 for its proprietary ea1 dust suppressant from a customer in Mexico.
"We believe that the repeated business we have seen since 2019 from this first large-scale commercial customer is evidence of the value proposition that our disruptive dust suppressant technology brings to the market," said Earth Alive CEO, Michael Warren. "We expect to ship the totality of this order before the end of the current fiscal year".
Earth Alive also announces that, on September 8, 2021, it has granted stock options to purchase an aggregate total of 1,725,000 common shares of the Company to employees and executives. The options are exercisable at a price of $0.13 per share, have a term of five years, vest immediately and have been granted in accordance with the Company's stock option plan.
Bee Vectoring Technologies (BEE.CN)
Bee Vectoring is a chart of interest from last week. Exactly what we wanted to see! The breakout has occurred, and now we are pulling back to retest the breakout zone. Now we MUST see buyers enter and hold this zone. A retest provides buyers the opportunity to enter if they missed the initial pop. Volume is picking up on this one, so we would like to see a nice green daily candle today! One to keep on the radar as a breakout has triggered!
Water Ways Technologies (WWT.V)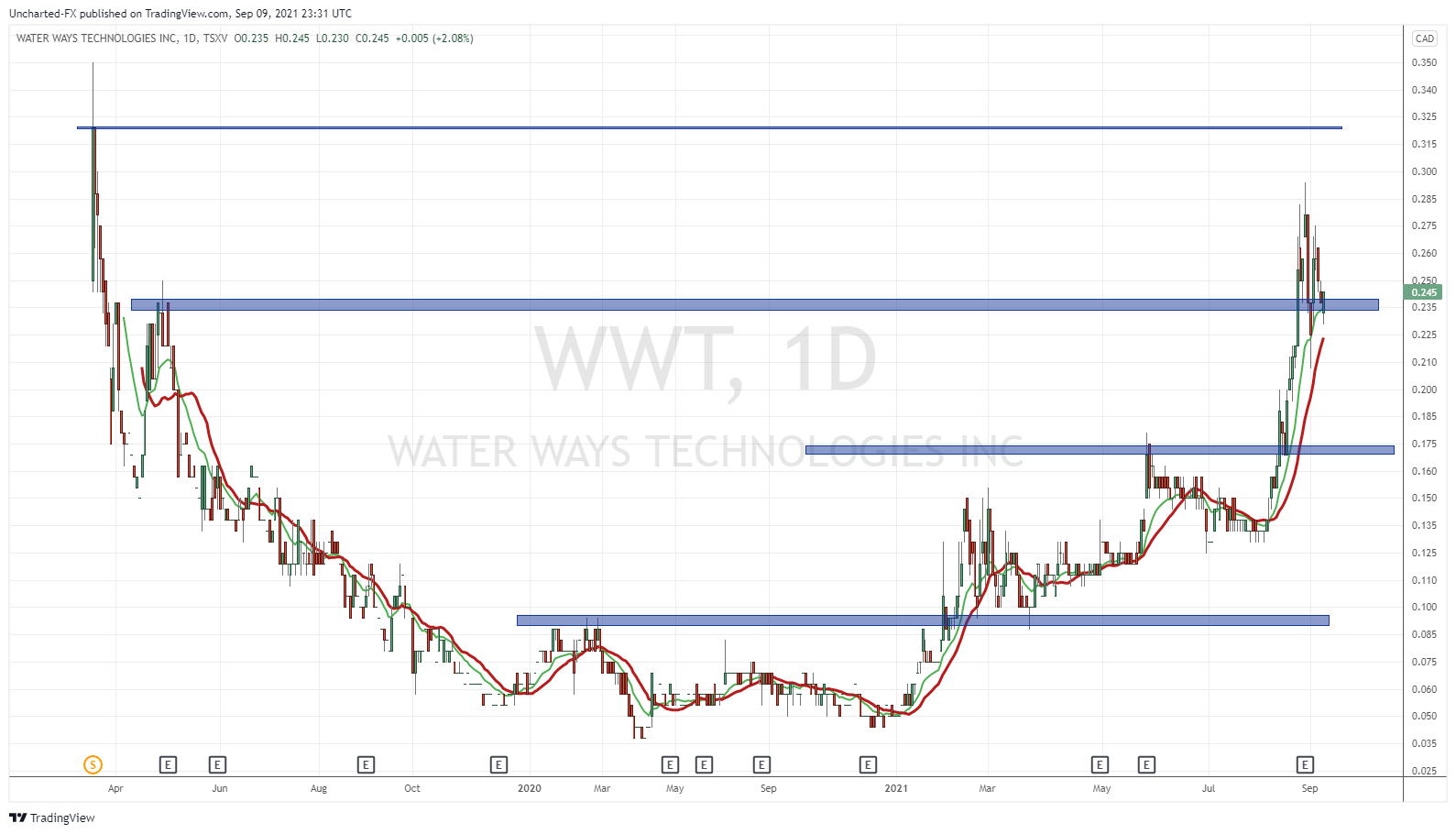 Water Ways has been on fire! Covered almost weekly in my Agriculture round up since inception. This is purely a technical breakdown. I just want to highlight that we have pulled back to support at $0.235. We would like to see buyers buy just like the retest at $0.175. We did initially pop on a retest earlier, but failed to carry momentum. Let's see if we can attempt continuation again, or if sellers take us below $0.235 for a deeper pullback.
Agrify (AGFY)
Another quick one just on the technicals. We have pulled back to retest a very important support zone. Super important. There is a good chance we see buyers step in here. Honestly, I will be looking for some options on this one this morning. Will keep an eye on stock markets in general, if they are weak, AGFY can come under pressure and see a close below support. Meaning a deeper pullback to $16-$18.
International Zeolite (IZ.V)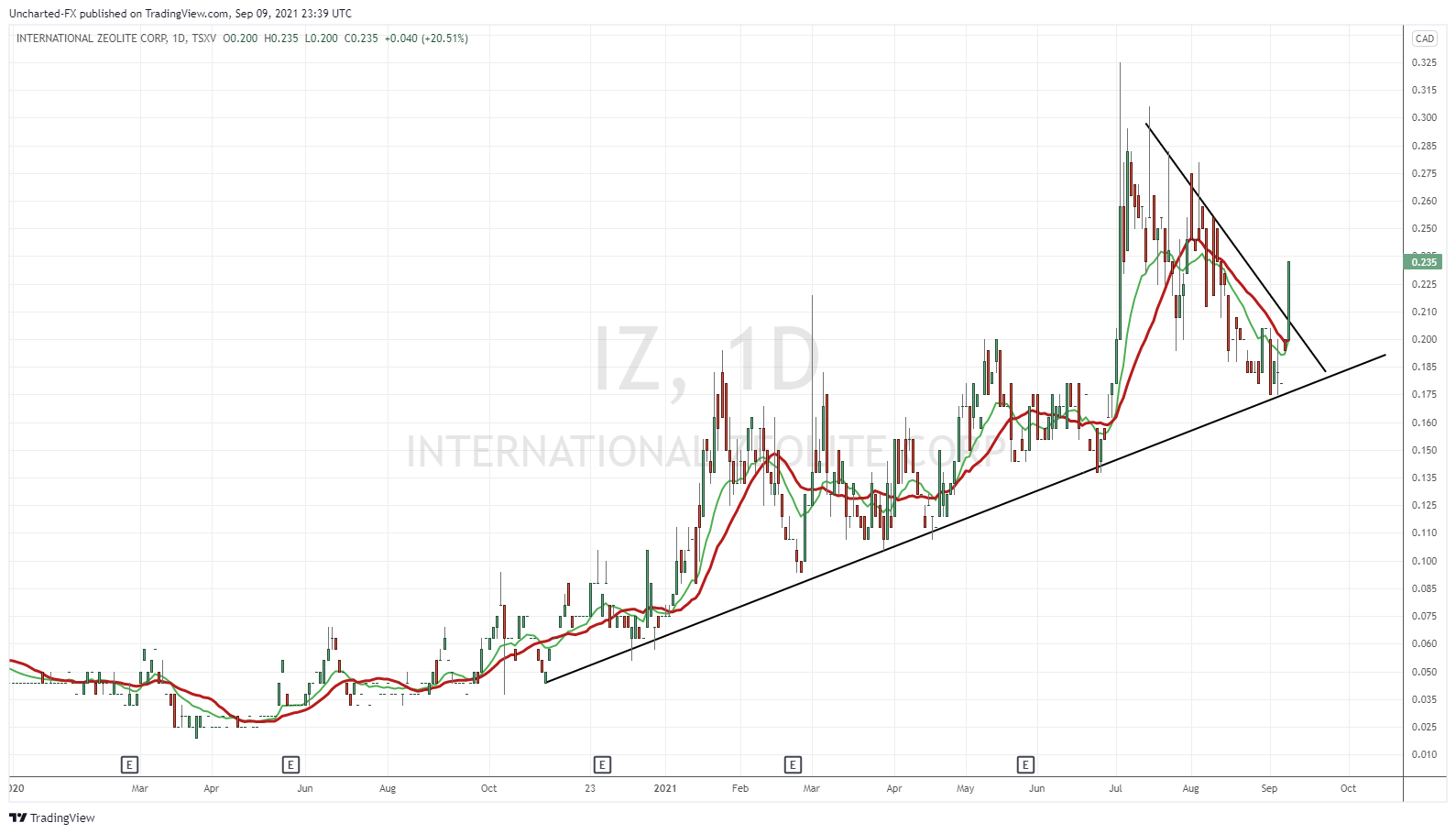 Another purely technical play. No news out, but International Zeolite popped on Thursday! Not only did we hold the uptrend, but we popped above a downtrend line. A flag as some would call it. Volume was 10,000 so we will need to see if this sustains momentum.
I want to leave you with two more charts. No major news, but some interesting price action.
Avivagen (VIV.V)
Avivagen (VIV.V) with a nice pop. Not much volume though, and no news. Interesting because it broke a downtrend as you can clearly see. Will follow this one next week, especially to see if volume picks up.
Sprout AI (SPRT.CN)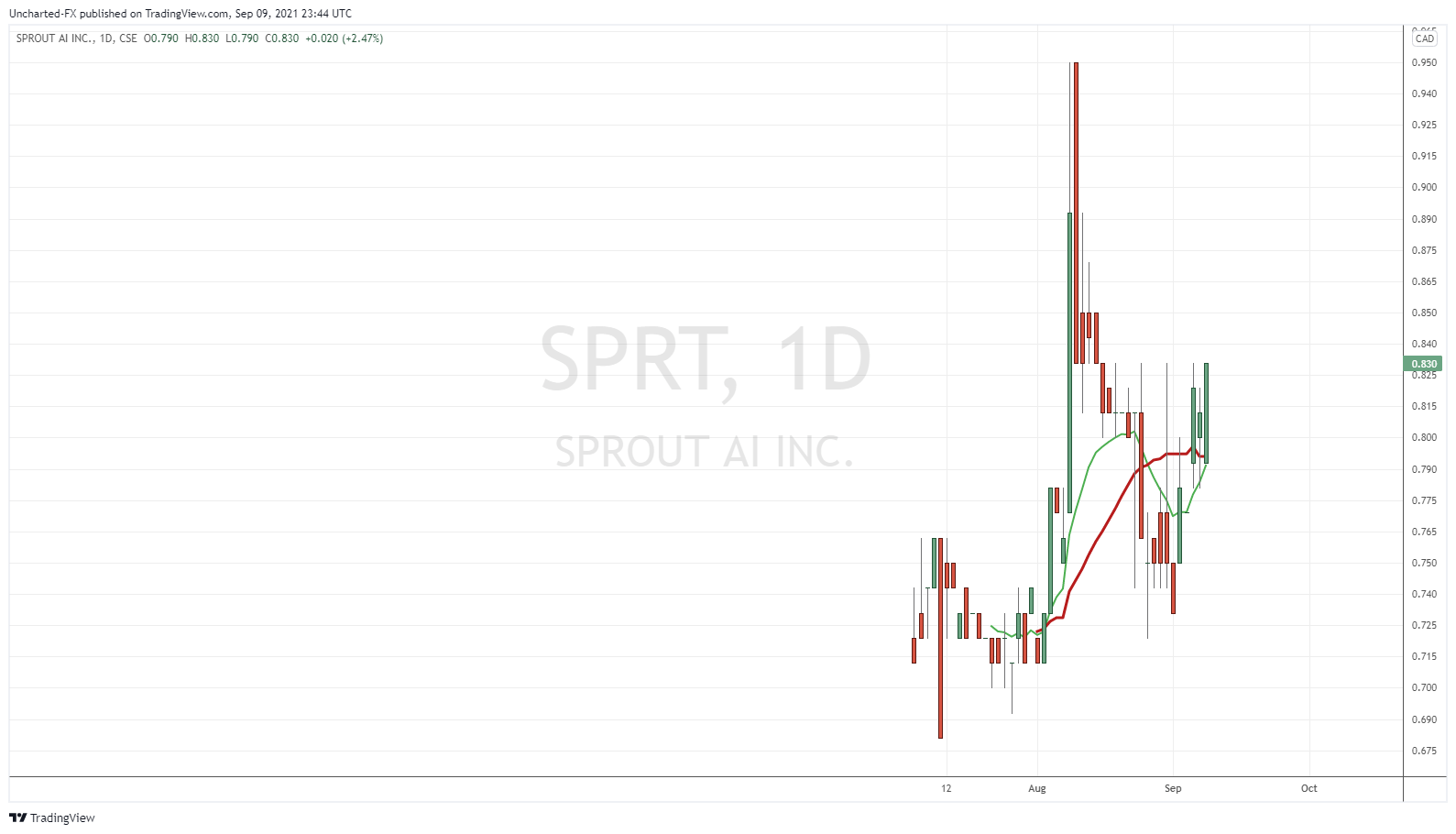 Sprout AI Inc (SPRT.CN) with a nice pop and close today. Big kicker: 223,459 shares traded! 199,154 shares traded on the 7th of September too. Substantial given the average volume is 56,826 shares traded. There actually was news. To do with the marketing side.