Harborside (HBOR.C) announced they have completed substantial improvements on their Salinas production facility.
Their facility, located in Salinas, California, is a 47-acre integrated production campus, and the upgrades being announced are to their 45,000 square foot greenhouse.
The upgrades included, among other things, the installation of blackout curtains, supplemental LED grow lights, and the incorporation of an advanced environmental control system. These enhancements enable high-yield indoor cultivation techniques and technology into the existing greenhouse environment.
Harbourside expects the annual cultivation capacity of the greenhouse to increase over 50%. The automatic light deprivation technology and LED lights will also allow them to grow year round.
"We are thrilled to have completed the upgrades at our Salinas facility, delivering on our plan to drive harvest yield improvements and commence year-round cultivation," stated Peter Bilodeau, Interim CEO of Harborside. "These upgrades will permit Harborside to increase availability of our portfolio of branded products including Key and, through our recently announced acquisition, Sublime's Fuzzies, to both the retail and wholesale markets in California."
When Harborside first announced these upgrades, they had originally expected them to be completed by Q1 of 2021, so these improvements have come a little late. Harborside will quickly make up for lost time though, as they expect to recoup the cost within 12 months of operation. Harborside has also seen increasing growth in the sales of their own cannabis, as, in Q3 of 2020, 42% of flower sold at their dispensaries was cultivated at their own facility.
In other HBOR news, last week, when the Monterey County Board of Supervisors (the county where Salinas is located) met they amended the County Code to provide additional flexibility for existing greenhouses to expand cultivation capacity by adopting a non-coastal zoning ordinance.
Harborside intends to apply for a discretionary https://e4njohordzs.exactdn.com/wp-content/uploads/2021/10/tnw8sVO3j-2.pngistrative permit from the County to expand their production. Doing so could allow them to continue to grow their production, allowing them to become more fully vertically integrated. It seems work on the facility may not be finished after all.
"With the recent amendment by the County of Monterey permitting expansion of existing greenhouses, our Salinas Facility is well positioned to grow with demand for our products. We have built a strong reputation for supplying high-quality cannabis products and as we move into the second half of 2021, we are excited to continue to fuel our growth," noted Travis Higginbotham, VP of Production for Harborside.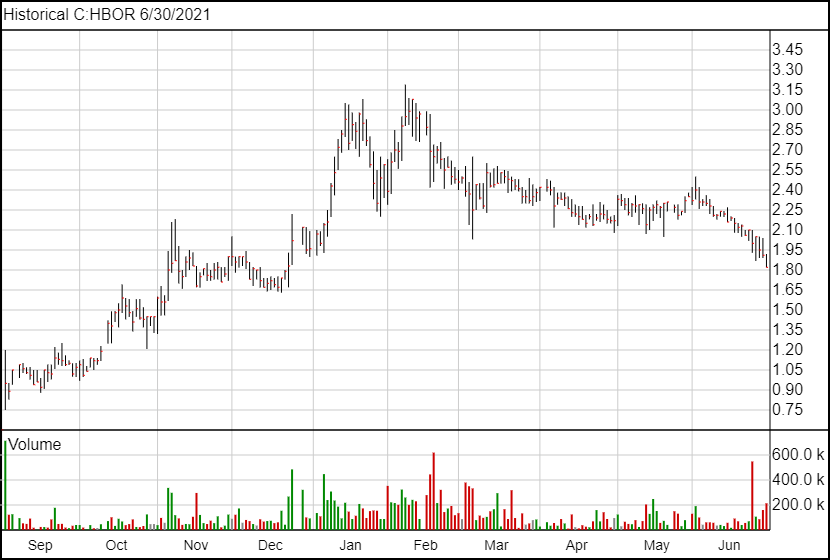 Following the news, Harborside's shares are down 5 cents and are currently trading at $1.86.
Full Disclosure: Harborside is an Equity Guru marketing clients.