On November 6, 2020 Harborside (HBOR.C) announced that it is "upgrading of one of its approximately 45,000 square foot greenhouses at its 47-acre integrated production campus in Salinas, California".
A month ago, we stated that HBOR "is a $22 million company that operates three big dispensaries in the San Francisco Bay Area, a dispensary in the Palm Springs, a dispensary in Oregon and a cultivation/production facility in Salinas, California".
Harborside generated Q2, 2020 net retail revenue of $10.9 million and net wholesale revenue of approximately $5.2 million, for total gross revenue of $16.1 million in Q2 2020, compared to $12.5 million in Q2 2019, a 28.8% increase year-over-year.
The 142% year-over-year increase in wholesale revenues was driven by improved harvest yields and higher average prices per pound at HBOR's Salinas Farm.
The last 30 days, as we've continued to cover HBOR, its market cap has risen from $22 million to $39 million. We are not claiming cause-&-effect. We are commenting that these two things (EG coverage and share-price-appreciation) occurred concurrently.
The general cannabis investment sentiment has been improving this last month. The $390 million Horizons Marijuana Life Sciences Index ETF rose abut 25% – a healthy gain – but about half of HBOR's rise.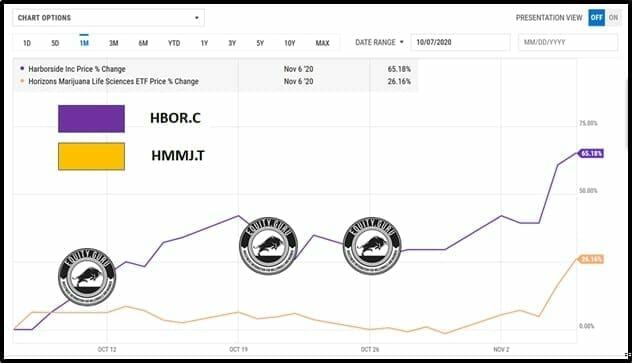 The planned upgrade to the production campus in Salinas includes installation of blackout curtains and supplemental LED grow lights in the greenhouse.
Expected outcomes from the upgrade in this greenhouse:
50% increase in production of this greenhouse
10% increase in bulk wholesale revenue capacity of this greenhouse.
7% increase in the total productive capacity of the Salinas facility.
HBOR projects that the upgrades will be complete by Q1, 2021 and the costs will be recouped within the first 12 months of operation.
Additional announcements:
The company's in-house brand, Harborside Farms will begin sales of clones grown at its Salinas facility at all Harborside branded locations, including Desert Hot Springs.
Sales of Harborside Farms products have grown year-over-year by 229% at Harborside's iconic dispensaries capturing 42% of its total retail flower sales through the end of Q3, 2020
"We have carved out a strong reputation for supplying high-quality cannabis products to the growing California market and these upgrades are a crucial investment that will fuel our growth heading into 2021," stated Peter Bilodeau, interim CEO and chairman of Harborside. "Leveraging the strength of our Salinas facility, we're thrilled to be officially commencing sales of clones that are grown at our farm and only available at our stores immediately. This new in-house product category was developed utilizing sustainable cultivation techniques to provide discerning consumers with access to locally grown, high-quality cannabis."
"The company's clone initiative aims to capitalize on these trends and the continued high-quality production from its Salinas facility," continued HBOR, "and will underscore the single-source, local nature of the Harborside Farms brand, as well as its emphasis on sustainable cultivation practices. The initiative will also continue to enhance the company's retail gross margins by adding an additional in-house product category sourced internally from its Salinas facility".
At its retail dispensaries, clones (inclusive of seeds and seedlings) are expected to generate 5% of HBOR's total annual retail sales, or approximately $2-million in annual net retail revenue in 2020.
The company's average gross margin in this category is approximately 52% through the end of the third quarter.
HBOR projects that its clones will capture "at least 50% of total clone sales throughout the course of 2021, resulting in total sales of approximately $1-million, with estimated gross margins as high as 90%
The company expects average gross margins across its entire clones category to increase about 70% during 2021 as a result of this initiative, providing an approximate 18% improvement over its expected annual average gross margin in this category as compared with 2020.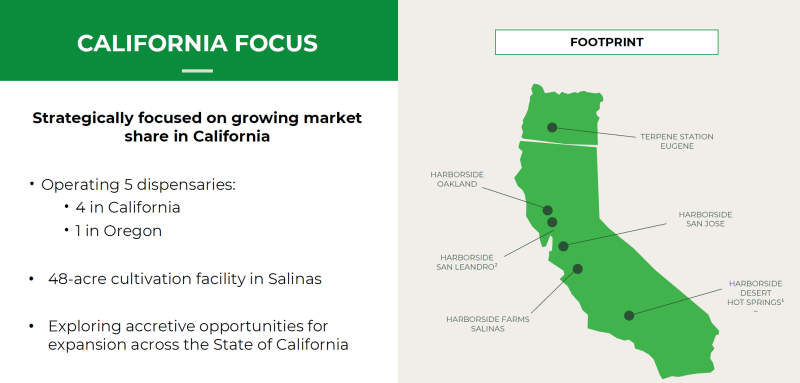 Last week, HBOR announced that its largest shareholder – and other stakeholders – requested an "alternate slate of nominees for election as directors of Harborside".
"The desire for board renewal is focused on maximizing shareholder value and aligning the strategic vision for Harborside, including a review of the Company's management team," stated HBOR, "Peter Bilodeau will remain as interim Chief Executive Officer of the Company during this search process.
The Nominees consist of the following cannabis industry and capital markets professionals:
Matthew K. Hawkins (member of the current board) and Chairman
Kevin K. Albert
Michael Dacks
Peter Kampian (member of the current board)
Alexander Norman
James E. Scott
Andrew Sturner
You can read more about the nominees to the board here.
HBOR recently signed a definitive agreement to acquire 50.1% of FGW Haight – a California co. that has the "conditional-use approval" to operate a cannabis dispensary and related businesses in the iconic Haight Ashbury area of San Francisco, Calif.
"Upon completion of the acquisition, build-out and receipt of all necessary approvals, our latest retail location will seamlessly blend elevated, contemporary-industrial architecture with the best-in-class service and unbeatable product selection that Harborside has become famous for," stated Bilodeau.
In Q2 2020, Harborside experienced a decrease in general and https://e4njohordzs.exactdn.com/wp-content/uploads/2021/10/tnw8sVO3j-2.pngistrative expenses of $300,000; a decrease in share-based compensation of $900,000.
Wholesale gross margins were 46% for the quarter, which was an improvement of approximately 52% year-over-year.
As of June 30, 2020, Harborside had about $13.6 million in cash.
Full Disclosure: Harborside is an Equity Guru marketing client