Harborside (HBOR.C) announced today that it has completed its previously announced acquisition of Sublimation Inc. (Sublime), an award-winning cannabis manufacturing company located in Oakland, CA, for a total consideration of USD$43.8 million.
"We are thrilled to complete this Acquisition and add Sublime's talent and its iconic, award-winning California brand, with an exceptional product offering and consumer following, to our growing brand portfolio…With a strong balance sheet and deep cultivation and brand building expertise, our unified company is well-positioned to support the continued growth of the Sublime brands while expanding the reach of Harborside's existing branded product portfolio in both the retail and wholesale markets," said Peter Bilodeau, Interim CEO of Harborside.
Legal US cannabis sales hit a record of USD$17.5 billion in 2020 marking a 46% increase from 2019. In particular, Sublime delivered a revenue CAGR of roughly 70% in 2020 and ended the year with 7.9% of California's pre-roll market share. Keep in mind, California represents the largest cannabis industry in the world, generating $3 billion in sales in 2019 alone. Moreover, Sublime's line of high-potency, high-quality and affordable Fuzzies branded pre-rolls have become a leading brand in California. Currently, pre-rolls represent the fastest growing cannabis sub-segment within California's market, indicating that Sublime is well positioned to see additional growth in the future.
"We are thrilled to officially join forces with Harborside and create a leading California house of brands. Together, we can leverage our vast production and retail capabilities to further expand the distribution of our suite of branded products. On behalf of my team, we look forward to commencing the integration process and working together to scale Harborside's reach," added Ahmer Iqbal, CEO of Sublime.
With the acquisition now completed, Harborside intends to leverage Sublime's brands, production capabilities and robust distribution system to extend the reach of Sublime and Harborside branded products throughout California. Paired with the Company's Salinas cultivation facility, this is expected to result in additional gross profit and EBITDA for Harborside. The Company will also fortify Sublime's marketing capabilities in order to drive higher retail margins for Harborside. In doing so, Harborside hopes to license Fuzzies in additional legal recreations markets across the US.
Having recently completed a substantial upgrade to one of its 45,000 square foot greenhouses in Salinas, CA, the Company's annual cultivation capacity is expected to increase by over 50%. An increased cultivation capability will assist Harborside in increasing its sell-through rate at its Oakland, San Jose and San Leandro dispensaries. Paired with Sublime's popular Fuzzies branded products, Harborside is positioned to see additional recognition and growth in California's adult-use cannabis market.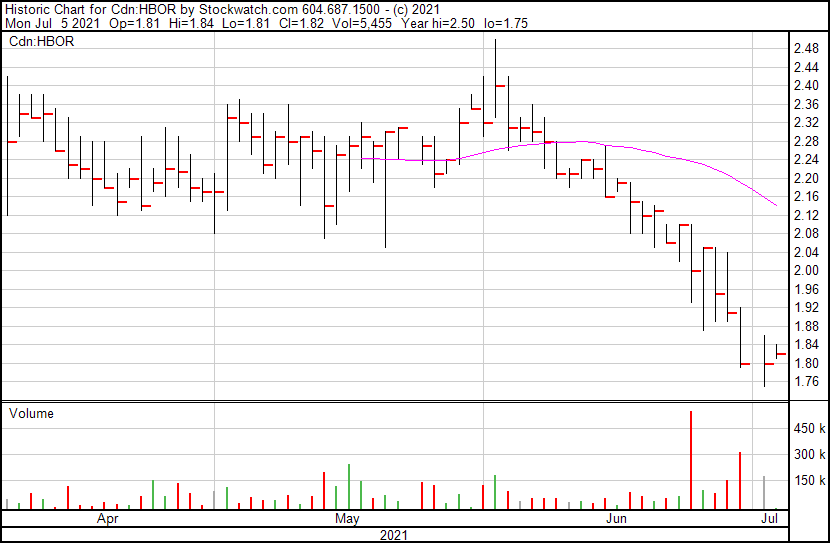 Harborside's share price opened at $1.81 today, up from a previous close of $1.78. The Company's shares are up 2.25% and are currently trading at $1.82 as of 9:48AM ET.
Full Disclosure: Harborside is a marketing client of Equity Guru.