Boom! The Nasdaq printed record highs on yesterday's close. But to be fair, so did the S&P 500. Meanwhile the Dow and the Russell still lag. In yesterday's Market Moment, I broke down the equity indices, and already we have some interesting developments. This is all happening with the Federal Reserve Interest Rate Decision looming.
On the Fed side, the big day is tomorrow. However, two more important data prints were released today for the Fed's consideration. First off, retail sales declined 1.3% which is worse than the 0.6% expected. After two months of stellar retail sales data, we have hit a wall. The crew over at Zerohedge and many other traders are saying "we're gonna need more stimulus". Economists though say that this decline in retail sales might suggest the consumer is beginning to shift consumption from goods to services. Something the Fed said would happen eventually, and why the inflation right now is transitory. They believe this inflation disappears and drops back below 2% once consumers shift to services.
Speaking about inflation, Producer Price Index climbed to 6.6% in May on an annual basis. This is the largest (and fastest) 12 month increase on record.
The 6.6% surge was the biggest 12-month rise in the final demand index since the Bureau of Labor Statistics began tracking the data in November 2010.
On a monthly basis, the producer price index for final demand rose 0.8%, ahead of the Dow Jones estimate of 0.5%.
So inflation remains high, and retail sales are weaker, BUT perhaps the drop in retail sales is indicating consumers shifting to services, which is what the Fed wants to see because it means transitory inflation will disappear…crazy. Adds more drama to tomorrow's Powell press conference.
Technical Tactics
With the breakout, the Nasdaq is currently dropping. All US markets are currently. Not too surprised on the day before the Fed meeting. I expect prices to range and be choppy until tomorrow's meeting at 11 am PST with the press conference at 11:30am PST. If you are thinking of entering a swing position or a longer term position, you're probably thinking, "why not just wait until after the Fed?".
You can see I drew an arrow projection. Just a simple breakout play. The Nasdaq will pullback and then retest what was once resistance, as new support, and then continue making record high after record high. You can zoom down to a lower timeframe for evidence that buyers are stepping in. Look for large green candles, or large wicks on the retest.
Of course, the Fed can spoil the party. If they cause a taper tantrum, or say something the market doesn't like, we can close back below current support and then the breakout becomes a fake out.
One other thing I am watching is this: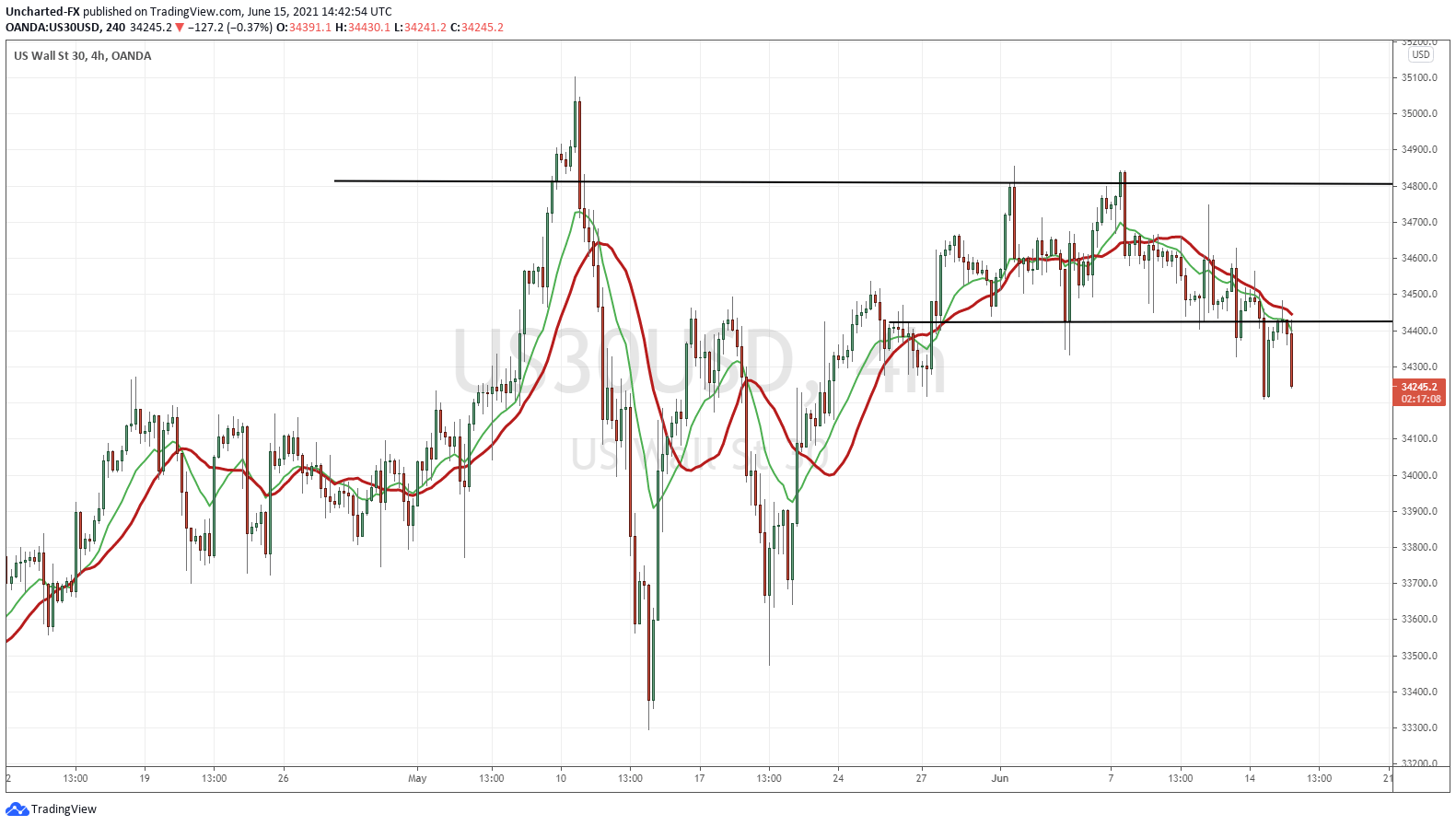 The Dow is looking very weak. In fact, I took a short yesterday. I believe another leg lower is possible. Why am I interested in the Dow? Because we could be seeing what the financial media is calling the rotation out of value (Dow stocks) and into growth (Nasdaq stocks). If we see the Dow continue to drop lower, and the Nasdaq to pop higher, we can confirm this.
So what other stocks am I watching to predict the next move on the Nasdaq?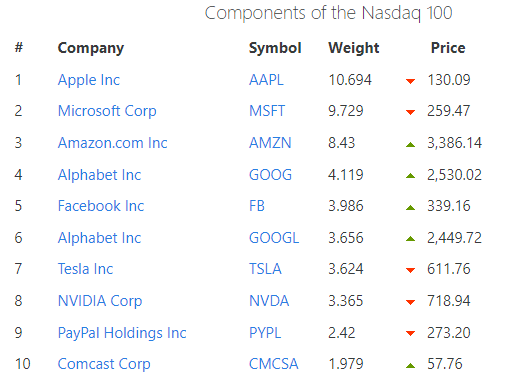 Here are the top 10 components of the Nasdaq by weight. Facebook is an interesting one on the list as it printed new record highs in today's trading, but is giving up its gains. Watch for further continuation on it.
My readers know that I prefer stocks that are indicating a trend reversal. Meaning I do not like to buy stocks when they are making new highs after new highs. I prefer to buy a stock that looks like it is about to BEGIN a new uptrend.
Enter Apple and Tesla.
Apple confirmed a breakout yesterday. This largely was the reason why the Nasdaq closed in record high territory. And check out the daily candle. We are talking about a STRONG breakout with the size of that green candle.
What now? Good question. The breakout support is the $128 zone. We can pullback to retest it, but I expect buyers to step in and continue the move higher. If we close below $128, the breakout is a fake out. In technical terms, I am looking for a higher low. In fact, I am in some Apple Calls for next week betting on this.
I am looking for a continued move to the $135-$136 zone. If this occurs, bet on the Nasdaq to continue higher.
On the fundamental side, we just had news recently about new Apple IOS for the MAC and older Iphones.
Tesla is the other stock on the list. Not only does it impact the Nasdaq, but also the S&P 500. Readers and members of Equity Guru's Discord Trading/Investing Channel are very familiar with this chart set up. We have been scoping Tesla at this support at $550. It has held for almost two months. Tesla is now building a bottoming pattern here.
It is almost a double bottom pattern. The trigger for the breakout though is a close above the $635 zone. If we get that break, the momentum traders will come back in. It would be a big resistance breakout. Prices of Tesla can easily climb back above $700. I see a major resistance zone closer to $775.
In terms of fundamentals? Seems like Tesla and Elon Musk are more linked toward Bitcoin and other cryptocurrencies rather than cars. But, just a few days ago, we had the Tesla Model S Plaid release event. Elon Musk saying "This car crushes", but for some reason, the release did not get as much hype as past releases.
Watch these two charts as we head into the Fed tomorrow. Personally, I am waiting until after the Fed meeting to open new trades. If the Fed says something to the likening of the market (ie: more easy money for a longer time like the Bank of Canada and the European Central Bank), breakouts on Tesla and Apple become even more likely as markets continue running higher.