The apes from WallStreetBets (WBS) are back! This is not meant to be a derogatory term. It is what they actually call themselves! They ape into stocks, and use the quote "apes together strong".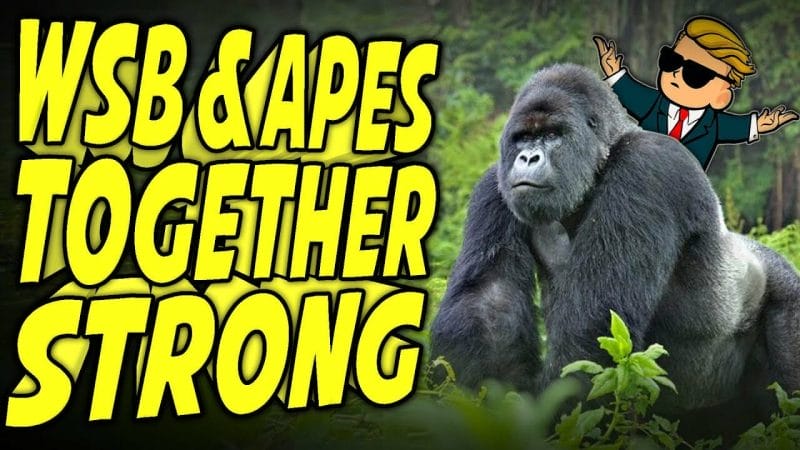 In past Market Moment posts, I discussed how we are not hearing much on WallStreetBets anymore. The meme stocks were not doing anything but ranging, and it appeared that the meme retail crowd went over to cryptocurrencies. Perhaps largely due to Elon Musk's tweets.
On the 10th of May, I provided some evidence that the retail crowd was indeed rotating out of meme stocks for cryptos. In that Market Moment I said we will watch to see how meme stocks react a few days after crypto's take a hit or begin to range. We are seeing this now.
Keep an eye on the Russell 2000. Watch for the interim resistance of 2240 to be taken out. Since this is the small caps index, a breakout would help to confirm that the retail/meme crowd are back, and they are back in a strong way.
The money printers over at the Fed still means that stocks will be propped. Brrrrrrrrr.
As the meme stocks go crazy, I want to look at the charts of AMC Entertainment (AMC), Gamestop (GME) and BlackBerry (BB). The charts are showing us some very exciting things. We looked at one of these stocks just recently, and the others I discuss a lot over on Equity Guru's Trading Discord Channel. If you want updates on market moves and set ups real time, be sure to join us!
Technical Tactics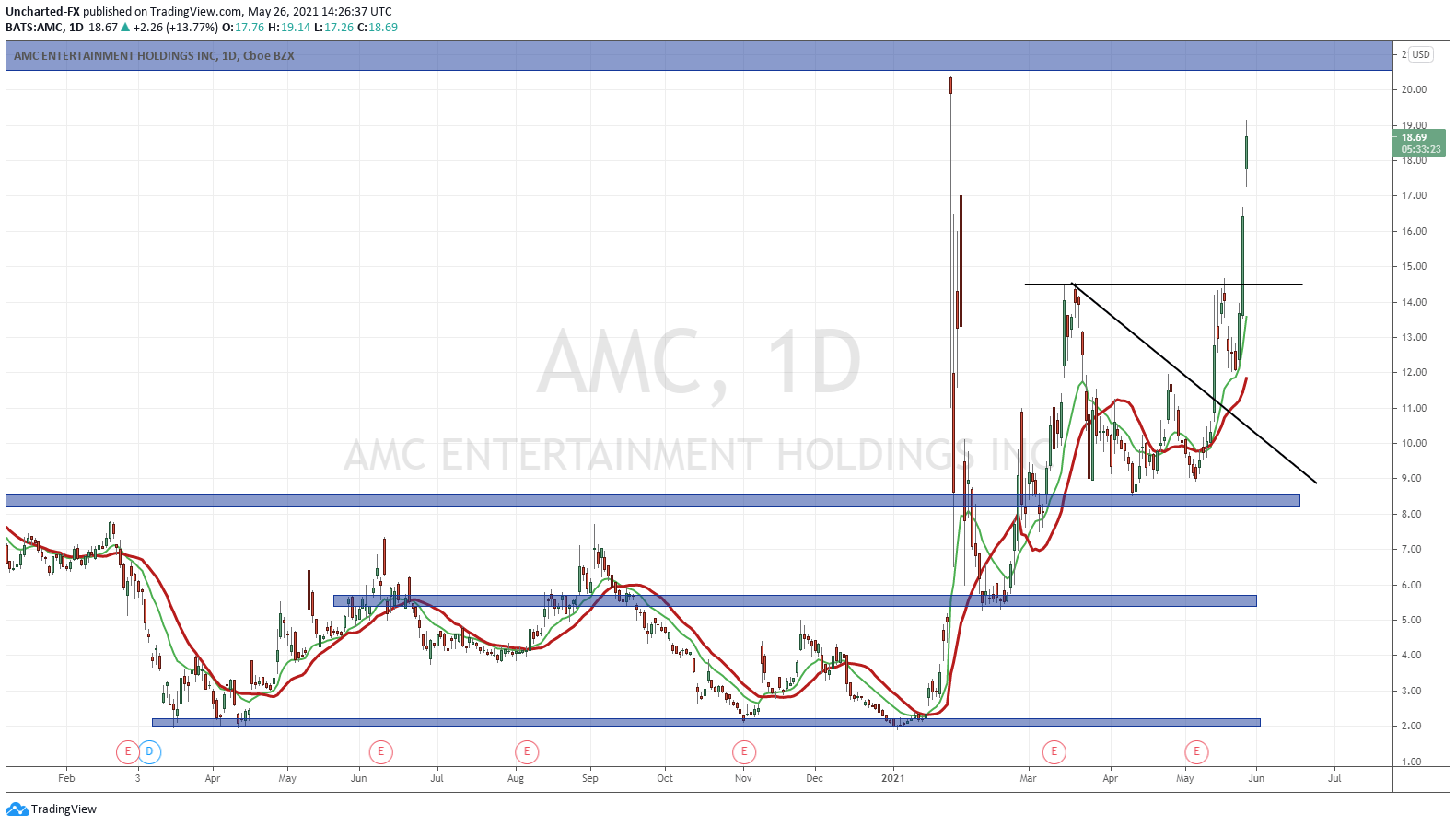 Let's start with AMC, one of the original darlings of WallStreetBets. I just covered the technicals last week on the 18th. Everything that I predicted regarding price action on AMC is happening. From that pullback to make a higher low, to the trigger break above recent highs at $14.50. We are now in route to retest the previous recent highs with the first WallStreetBets short squeeze around $20.00.
The fundamentals on theatre re-openings is a real story, and catalyst for the stock to move higher. Going to shortsqueeze.com and typing in AMC, I see that the short interest is 94,580,000 shares. This is setting up for another wild squeeze.
I want to show you the weekly chart of AMC. Look at the $20.00 zone. This is a MAJOR resistance and flip zone (ie: a zone that has been both support and resistance in the past). These flip zones act like magnets, attracting price to them. $20.00 is set to be hit, but the sellers might pop in, and buyers might take profits at the flip zone. For further strength, watch to see if we can get a WEEKLY close above $20.00 by the end of Friday's trading session. If this happens, $30.00 and then previous all time record highs are possible targets!
At time of writing AMC is up 12% for the day.
The original WallStreetBets meme stock, Gamestop (GME) confirmed a breakout over resistance yesterday. Our Discord Trading Room Members were notified. In fact, we were watching this days before.
How things change. Just a few months ago, we were worried that GME might close below support at $140. Instead we breakout. Once again, this is why it is so very important to wait for candles to close before taking trades! Don't jump the gun. Lot of fake outs occur, and new traders are left in a losing position and stopped out.
With a break above the $189 zone, what was once resistance now becomes support. We can technically pullback to retest $189 before moving higher. A close back below $189 would be bearish. Targets to the upside is the big $280 zone. A break above that then we look at $280 and then previous highs close to $480.
Looking at GME on shortsqueeze.com, we have a short interest of 11,970,000.
One very important thing to point out is we do have a high risk event upcoming. GME reports earnings tomorrow, May.27th/2021. Last time GME delivered earnings during the short squeeze, we actually gapped down. Only for apes to buy the dip and cause a 50% plus move in the stock price a few days post earnings.
At time of writing, GME is up 14%.
One of my personal favorites is BlackBerry (BB). Not discussed as much over on WallStreetBets, but has been one of the top trending stocks on the reddit forum. With it still being cheap compared to GME and AMC, I wouldn't be surprised if it begins to trend again.
I detailed the reasons for me being long the stock before the WallStreetsBets squeeze in an article titled, "Why I am Buying BlackBerry Stock for the First Time."
The Fundamentals remain the same, the technicals are a bit different now. Over on our Discord channel, we have been calling BlackBerry BASEDBerry. Because it is holding $10.00 support and forming a basing/reversal pattern. The chart above is that of the US listing, but the technical layout looks just the same on the Canadian listing. Just in Canadian Dollars of course.
$11.80 is resistance. Price must break above to trigger a larger move. To be honest, I would prefer BlackBerry to pullback and then breakout. This would create an inverse head and shoulders pattern for us. Just makes our bull case even stronger.
The technicals are lined up nicely. Now we just see if WallStreetBets hype this up. According to shortsqueeze.com there are 50,230,000 shares short.
There you have it. WallStreetBets is back! Speculative money is returning back to the stock markets, and it appears this money is leaving crypto's. For those trading these stocks, keep these technicals fresh in your mind! For those considering GME, just be wary of the earnings. Earnings are 50/50 plays. You just never know how the stock will react to earnings. Not something I would play. I would just wait until post earnings.