Is the retail crowd rotating out of the stock markets and heading into cryptocurrency? The short answer: yes.
For those who trade or observe the financial markets on a daily basis, it has been rather quiet on the stock market side than lately. The volume and moves just aren't there, but some might just argue that things are back to normal.
Be honest. When was the last time you heard about the meme stock retail crowd? Particularly the Reddit WallStreetBets (WSB) crew? Financial media have sites such as MarketWatch and Zerohedge rarely talk about them now. In fact, the meme stocks themselves such as Gamestop (GME) and AMC etc have not done much at all.
There was a meme/retail crowd ETF making some buzz when it was released. Of course I am talking about BUZZ, which is intended to track the performance of the 75 large cap U.S. stocks which exhibit the highest degree of positive investor sentiment and bullish perception based on content aggregated from online sources including social media, news articles, blog posts and other alternative datasets.
Not much buzz on this one.
One of the most telling signs of the retail crowd moving away from stocks is the action on the small caps. This area tended to attract a lot of the retail and reddit traders trying to make it rich fast on lower priced stocks.
The Russell 2000 is the index I have used to gauge retail interest, as it tracks the US small caps. Lately, we have seen headlines about the S&P 500, the Nasdaq and/or the Dow Jones making new record highs weekly, and sometimes even on a daily basis. Not so much the Russell 2000.
BNN Bloomberg investigated money flows and came to the conclusion that yes, the meme crowd is rotating out of stocks and into cryptocurrencies:
"Prices of stocks like Tilray, Virgin Galactic, Plug Power and Nio have been inversely correlated with cryptocurrencies in 2021, which is indicative of a retail rotation," wrote Vanda's Ben Onatibia and Giacomo Pierantoni in a weekly note to clients. "As Bitcoin sank following the Coinbase IPO, all retail favourite stocks enjoyed a decent recovery. But as the price of Ethereum and other altcoins skyrocketed this week, retail favourite stocks have given up most of their recent gains."

As evidence of their claim, the Vanda analysts point to an inverse correlation that has been present since mid-March between the Bloomberg Galaxy Crypto Index and a basket of well known retail favorite stocks.

A chart of U.S. call option volumes shows that the number of contracts outstanding has dropped since the wildest days of the frenzy when retail traders were using the instruments to force short squeezes.

What that all means is that anyone looking to trade in stocks formerly associated with the retail frenzy now needs to keep an eye on action in cryptocurrency markets.

"Investors in ESG, electric vehicles and a host of other high-flying sectors will need to pay full attention to developments in the crypto world," the Vanda analysts wrote. "A significant correction is all they may need to get some of their lost appeal back."
The interesting thing is that WallStreetBets does not allow any cryptocurrency discussion on their reddit group. No worries though, there are now WSB spinoff telegram and discord groups that discuss crypto's. Mainly alt coins, often referred to as sh*t coins.
Crypto's have been hot. Sure, some attribute this to SPACs and NFTs (and maybe influencers like Gary Vee telling people to but Ethereum), but that meme crowd that were chasing stocks are now in cryptocurrencies.
I have seen this in real life. On my social media, people who never traded stocks were posting about Gamestop, AMC, Rocket, Nokia, any of those WSB stocks. They have been quiet for months. Last week they re-emerged and I am seeing posts on crypto's!
Ethereum has been the big winner. Believe it or not, we are now above $4000 per Ether!
Dogecoin has probably been the most popular among the meme traders. Being a meme coin, you can understand why. The cryptocurrency has plunged lately after Elon Musk's SNL appearance where he referred to his Dogecoin pump as a 'hustle'.
Technically, we are holding above a major support zone at $0.40, and I can see the meme crowd buying the dip on this one.
The crypto coin I see a lot over on my social media is Safemoon. A DeFi token that I have never heard of. Expect to see one of these every week as the meme crowd chases alt coins for gains.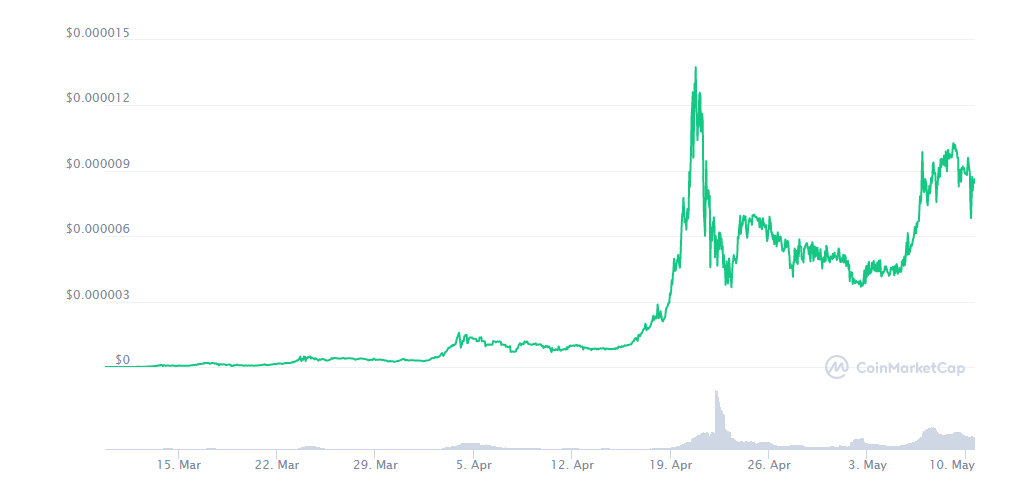 There are a few crypto charts that I follow that are breaking out today. One of which, is getting some mentions by traders with large followings. I will be covering this crypto in a Market Moment this week. Members of Equity Guru's Discord Trading Room already know the scoop.
So what comes next?
Honestly, I think the retail crowd will comeback to the stock markets eventually. The Fed will not be raising rates anytime soon after the dismal NFP data on Friday, AND with what happened over the weekend with Oil. More on this later this week, but recall my posts on the Fed using Oil for 'transitory' inflation to mask inflation from their monetary policy.
This means that the party is not over. Cheap money will continue. We will see higher markets until some sort of black swan event.
Or as Bloomberg put it: when crypto's sell off, watch for that money to flow back into stocks.
On the cryptocurrency side, regulations are coming. I argue this will be positive since it will allow Wall Street and larger institutions to trade tokens knowing there is now depositor insurance. More money and volume will be chasing crypto's. However, it defeats the original ethos of crypto's being away from the grasps of big banks, big corporations, and big government. But the average retail trader won't care. It makes them money. The hardcore crypto enthusiasts are already preparing for this and moving to DeFi tokens.
Of course, governments can make crypto trading tougher for the retail crowd. There have been rumors such as a capital gains tax as high as 80% on crypto's being thrown around. All FUD, but this rumor did cause a crypto sell off. In summary, if crypto's are just traded for gains, I don't see any major problems. Institutions make money, the retail crowd makes money. Everyone is happy. But if crypto's try to compete for currency, meaning if people start using it for money, then there will be issues. Because then crypto's compete against central banks who will do anything to keep their monopoly of printing currency.
Tags: