While Marvel's main stable of assets grows, spin-offs are inevitable. Scarlett Johansson spins off into her own Black Widow movie. Everyone's favourite Avenger Hawkeye (okay, maybe just my favourite Avenger) gets his own show. Vision and Wanda spin-off, only to set up the next Doctor Stange movie. And Marvel Discovery's (MARV.V) Serpent River/Pecors and Wicheeda North properties get spun-out, becoming Power One.
Okay, that last one may not be a superhero spin-off, but Power One does sound like it could be a S.H.I.E.L.D-esque operation.
The spin-out I'm referring to is Marvel's April decision to spin out two of their properties into their wholly-owned subsidiary Power One. The decision was approved by a shareholder vote on April 23, 2021, with 17,827,570 votes in favour to 1,297,416 votes against.
The deal will send Marvel's shareowners one share of Power One for every five MARV shares they own, and Power One will issue Marvel 5,000,000 Power One shares. So, if you are a Marvel shareowner and your main focus were those two properties, fear not, because you will end up with shares in them. Through the spin-out, Power One assumes certain liabilities incurred acquiring, exploring or maintaining the properties.
Last Friday, the Supreme Court of British Columbia's order allowing the spin-out went into effect. Stock in Power One will be granted based on Marvel stock ownership on May 7, 2021.
The Serpent River property (which has also been called the Pecors East Zone) comprises 10 mining claims in the Sault Ste. Marie Mining Division, Elliot Lake area in northern Ontario, and has ~115 units while covering 1,840 hectares.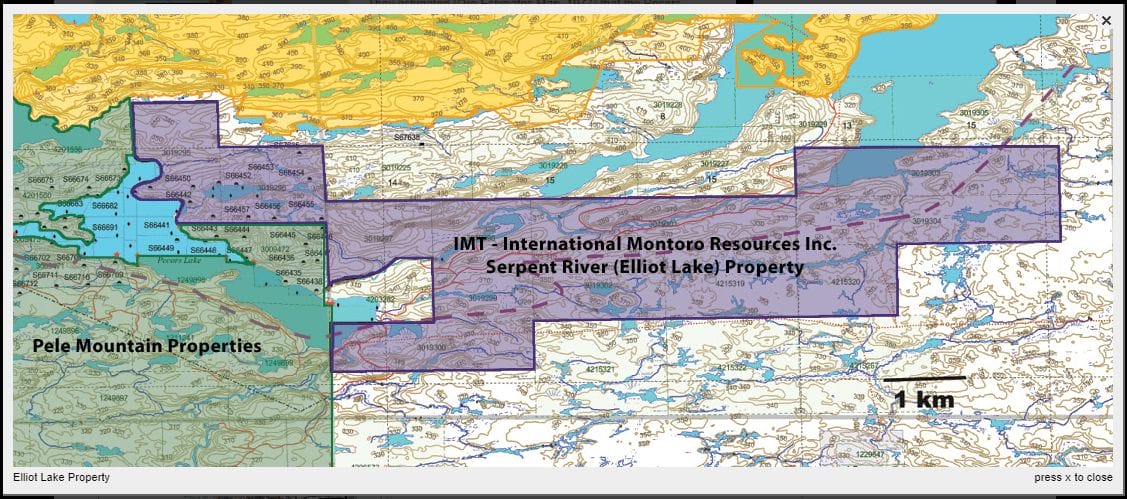 Last December, they received an extension to its drilling permit from the Ministry of Energy, Northern Development, and Mines (ENDM) on the Serpent Rivers property, allowing them to further explore the property.
At the time, Marvel's President and CEO, Karim Rayani, commented "The drilling permit extension will enable us to return to our Pecors Ni-Cu-PGE project to investigate the extent and nature of the 2015 significant results. This appears to be a new source of PGE mineralization within an area close to the success of Grid Metals and Canadian Palladium."
For regular readers of Equity Guru, the other property involved in the spin-out, the Wicheeda North project, will sound familiar. That's because it borders Defense Metals (DEFN.V) Wicheeda Rare Earth Elements (REE) Project. Recently, DEFN has been receiving requests from international REE smelter and separator enterprises and is working with SGS on a hydrometallurgical pilot test at their facility in Lakefield, ON. Because the two projects border one another, once Defense Metals starts getting results from their testing, it should provide Power One with some idea of the quality of their property.
The Wicheeda North property is located in British Columbia's Cariboo mining division, approximately 80km northeast of the city of Prince George and 50km east of Bear Lake. The property is accessible via an all-weather gravel road and is close to vital infrastructure, such as power lines, railways, and highways.
In 2010, Aeroquest conducted an Airborne Geophysical Survey over portions of the Wicheeda North property. The assessment report at the time states that "the electromagnetic data suggests that there may be an un-mapped fault in the center of the block. The magnetic data shows a subtle feature in the center of the block, slightly offset from the interpreted fault. It is recommended that the airborne survey be followed up by a geochemical survey and property scale mapping."
Marvel says they intend to confirm the reported mineralization on their claims with their own sampling program.
Marvel has also been making news recently with developments on the Blackfly Gold Project. On May 6, they announced that they had received their work permits for the Blackfly property and that they were beginning exploration on the project. On May 7, Rayani stated the crew was on the ground at the site and they were anticipating drilling to begin within 30 days. Their plan for 2021 exploration is to do up to 2000m of drilling.
In their press release announcing they had received their permits, Marvel made sure to note that they were set up to take advantage of all the historical data on the site and that they had remodeled the geophysical surveys that had been taken of the property, including their own survey that was conducted last year.
The property has had prospectors and explorers on it since the end of the 19th century, when, in 1897, gold was first discovered on the property, and the next year the project's 45-foot shaft sunk. The grades around the shaft were anywhere from 80 to 167 g/t of gold.
Now Marvel is going after a 5 km extension which Rayani describes as "high grade" and notes this area has never been drilled. There have been numerous drilling efforts over the years, however, with the most recent having been conducted by Terra-X in 2012. In their drilling, Terra-X was averaging between 5 and 20 grams on their holes. Rayani also said that because the data was current, they could use it going forward.
"We are excited to be commencing our activities on the Blackfly gold project," stated Karim Rayani. "The property has a rich history dating back as early as 1898, geological mapping indicates alteration/mineralization for up to a 5km distance, grades at the historic shaft have been reported as high as 167g/t Au.  With the benefit of our recent airborne geophysical surveys plus the results of all earlier exploration programs, Marvel's exploration team will be zeroing in on the highest priority targets."
The Blackfly Gold Project is located near Atikokan, ON, and consists of 64 unpatented mining claims totaling 1,296 hectares of land. The property is located along and within the Marmion Lake Fault Zone, ~13.6 km southwest along the strike of Agnico Eagle's Hammond Reef Gold Deposit. Agnico Eagle's deposit has 4.5 million ounces of gold measured or indicated.
The property borders Falcon Gold's (FG.V) Central Canada Project, and, once again, if that name is ringing any bells for long-time Equity Guru readers, that's because Falcon Gold is another company covered by Equity Guru. And the connection between Falcon and Marvel doesn't end there. Astute readers may have recognized Rayani's name from the beginning, as along with being the CEO of Marvel Discoveries, Rayani is also the CEO of Falcon Gold.
So how has Rayani done as CEO of Falcon? Well, when he took over, their share price was barely $0.03. Now? it may not have rocketed to the moon, but it is currently $0.095, and was even as high as $0.25 back in August. People who bought into Falcon when Rayani took over as CEO will have seen their investments more than triple.
Coincidentally, Falcon Gold also recently began exploration at the Central Canada mine. This area is one to watch, and with their plans to commence drilling at the Blackfly project soon, we should see some interesting results coming on the horizon.
Following the news of Marvel's acquisition of the Wicheeda North property and the subsequent spin-out, MARV shares went from $0.07 to $0.15, but have come back down to $0.105.
Full disclosure: Marvel Discoveries is an Equity Guru marketing client.