Defense Metals (DEFN.V) announced they have received the formal Wicheeda Rare Earth Elements (REE) Project continuous hydrometallurgical pilot plant proposal from SGS Canada.
Defense Metals received positive results at a pilot plant level from SGS Canada earlier this year, at the same SGS facility in Lakefield, ON, where this campaign will take place. That first 26-tonne flotation pilot campaign yielded approximately 1,200 kg of high-grade REE mineral concentrate.
Hydrometallurgy is the extraction of metal from ores using aqueous solutions (meaning they use water).
According to the press release:
"The test program will utilize representative flotation concentrate generated during the flotation pilot plant campaign and is expected to be completed in stages comprising initial gangue leach; caustic crack; primary acid leach; caustic re-crack; impurity removal; and REE precipitation. Parallel investigations into operability of acid and caustic regeneration; operability of gangue leach and caustic crack and primary acid leach circuits using recycled reagents; in addition to tailings neutralization studies will also be completed."
The process is expected to take approximately six months, pursuant to DEFN acquiring sufficient financing. The goals are to find out the viability of the hydrometallurgical flowsheet, to provide samples for both downstream REE separation testing and solid-liquid separation testing, and to confirm the purity of the final product.
The hydrometallurgical pilot will provide them with valuable information about the quality of their REE and the best way to move forward with their Wicheeda REE Project.
"Since initiating its option to acquire 100% of the Wicheeda REE Project in late 2018 and subsequently collecting a 26-tonne bulk sample, Defense Metals has rapidly advanced Wicheeda from an attractive prospect to compelling resource-stage project. Flotation and hydrometallurgical flowsheet development was completed in parallel with our highly successful 2019 diamond drill campaign that led to an upgraded and expanded mineral resource estimate. We are now excited to take the next step in demonstrating scale-up operability of the Wicheeda REE beneficiation process, leading to the production of a saleable NdPr oxide product," stated Craig Taylor, CEO of Defense Metals.
Recently, Defense Metals has received four requests for REE samples after engaging Welsbach Holdings. These sample requests are part of negotiations surrounding a potential memorandum of understanding for an offtake agreement.
DEFN's Wicheeda REE Project consists of 6 mineral claims over an area of 1,708 hectares. The project has an indicated 4,890,000 tonnes of 3.01% Light Rare Earth Elements (LREO) and an inferred 12,100,100 tonnes of 2.90% LREO.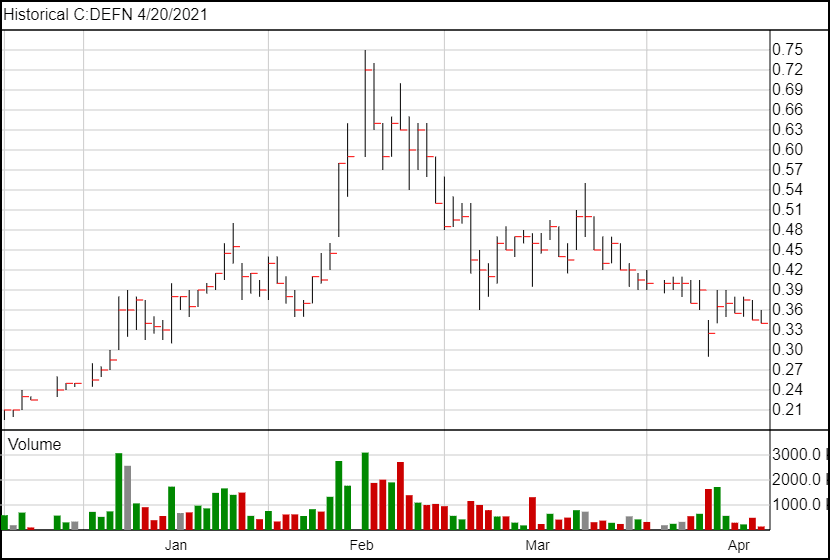 Following the news, Defense Metals' share price has not changed significantly.
Full disclosure: Defense Metals is an Equity Guru marketing client.