Defense Metals (DEFN.V) were notified by their Asian-based advisor Golden Dragon Capital (GDC) that they had received requests for samples from two Rare Earth Element (REE) smelting and separator enterprises.
The samples are being requested as part of negotiations over an initial memorandum of understanding (MOU) and potential mineral concentrate offtake agreements. An offtake agreement (for those who don't know) is an agreement in which a buyer agrees to purchase a product before it is available.
The samples being requested are from Defense's wholly-owned Wicheeda REE Project, which is located approximately 80 km from Prince George, BC. The property has 4,890,000 tonnes of 3.02% graded Light Rare Earth Oxide (LREO) indicated, with another 12,100,000 tonnes of 2.90% LREO inferred.
"We have now received four requests for evaluation samples of our high-grade Wicheeda REE mineral concentrate from Asian-based REE refiners. Defense Metals believes this underscores growing international market demand for readily accessible, high-quality, North American REE products. Discussions with potential offtake partners have the potential to yield benefits through opportunities for direct project funding, technical services agreements, and access to the full downstream rare earths value chain," stated Craig Taylor, CEO of Defense Metals.
As Taylor notes, the requests mark the third and fourth requests for samples from Defense's Wicheeda REE property. Last month, Defense Metals received two sample requests, also from Asia, for the potential of generating an offtake agreement.
Back in February, DEFN surged 30% following the announcement of their engagement Welsbach Holdings. At the time, Craig Taylor stated:
"The engagement of Welsbach will enable Defense Metals to leverage their extensive experience and relationships in the Asia-Pacific region (Australia, Singapore, China, Japan, and South Korea), Continental Europe, and the United States towards engaging in one-on-one discussions with REE refiners and separators."
It seems that Welsbach is succeeding on that front, especially with regards to their Asia-Pacific relations.
Getting some MOUs for offtake agreements could help Defense Metals by providing them with increased certainty surrounding their production and sales.
In an interview with Equity Guru's Greg Nolan last month, CEO Craig Taylor said, regarding the Wicheeda REE Project, that "[he sees] selling the deposit rather than putting it into production [themselves]". Having offtake offers could also provide potential suitors with more confidence regarding the mine and could provide Defense with some additional leverage.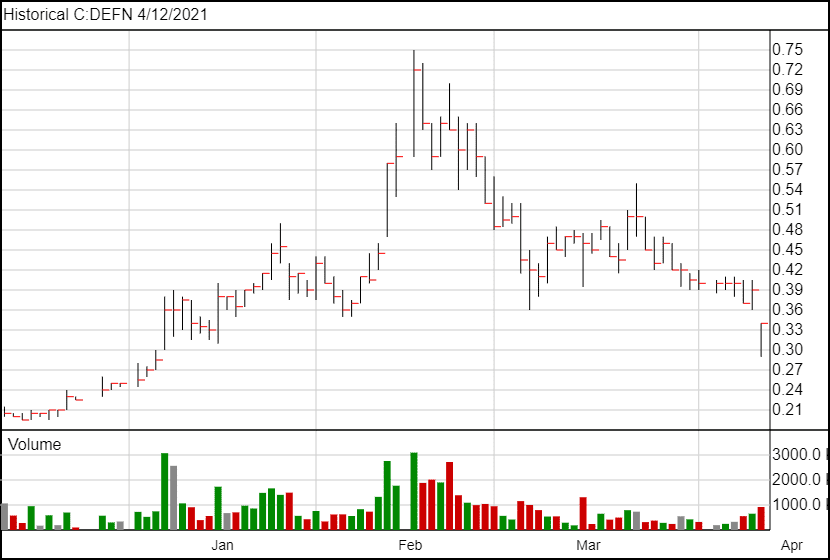 Following the news, Defense Metals' share price opened down 6 cents at $0.32 before moving back up slightly to $0.34.
Full disclosure: Defense Metals is an Equity Guru marketing client.