Organic Garage (OG.V), one of Canada's leading independent organic grocers, announced today that its newly acquired plant-based food company, Future of Cheese, has entered into a commercial manufacturing agreement with Ontario based, Flamaglo Foods.
"Selecting a domestic manufacturing partner with the highest level of proven experience, knowledge and success in the plant-based food sector is a significant milestone for the company, and allows us to commence production of our initial line of products with confidence," Stated Jen Wojtaszek, President of Future of Cheese.
Ah, cheese. The forbidden fruit to those of us unfortunate enough to have developed a lactose intolerance. I myself suffer from a mild intolerance to dairy goodness, but a slice of cheese wont kill me. An entire block of goat cheese, on the other hand, will have me begging for forgiveness. With this in mind, Organic Garage's latest acquisition of Future of Cheese is nothing but gouda news for us lactose intolerant cheese lovers. Through acquiring Future of Cheese, Organic Garage intends to produce a line of plant-based alternatives to conventional dairy based butters and cheeses.
On March 4, 2021, Organic Garage officially completed the acquisition of Future of Cheese, a Canadian plant-based cheese innovator and manufacturer led by some of the most famous cheese makers, chefs, scientists and sustainability experts. With Future of Cheese's extensive history and experience, the Company hopes to release an initial line of products including a cultured-plant based butter, followed by a cream cheese and a variety of some of the most popular cheeses. As I am writing this, I can't help but salivate at the mouth knowing that I can soon consume cheese without feeling like my insides are at war.
Sure, there are other vegan cheese options available, however, many of these alternatives contain almost no nutritional value. On the contrary, Future of Cheese's products will be manufactured by Flamaglo Foods using top quality, sustainable and ethically sourced plant-based ingredients. In doing so, the Company believes its initial offering of products will be adopted by consumers of all dietary preferences and the food service industry as a whole.
Flamaglo Foods is a family-owned company with reliable experience in the manufacturing and production of plant-based dairy alternatives. The company launched Yoso, its first consumer brand in 1998, which has since become one of Canada's favorite plant-based dairy alternative brands. Currently, Yoso sell its products in more than 2,000 retail locations across Canada and has a well-established distribution network with retailers and distributors nationwide. Similarly, Flamaglo Foods has become one of Canada's leading independent plant-based food manufacturers with its state-of-the-art Hazard Analysis and Critical Control Points (HACCP) certified facility located in Cambridge, Ontario.
"My team and I are excited about the collaboration with Future of Cheese, and we look forward to working together to help transform their well-developed vision and recipes into exceptional products ready for the rapidly growing plant-based consumer market," stated Francis Lo, Co-Founder of Yoso and Flamaglo Foods.
With this in mind, Flamaglo Foods and Future of Cheese, two companies with invaluable knowledge related to the plant-based foods market, go together like nachos and cheese. Over the last two months, Future of Cheese has been working closely with Flamaglo Food's experienced team to ensure all aspects of the manufacturing process will be achieved using the highest and strictest level of quality controls. This includes ingredient sourcing, batch testing, product manufacturing, packaging, storage and fulfillment.
Its a good time to brie in the vegan cheese market, which was valued at USD$1.01 billion in 2019, according to Grand View Research. This market is expected to grow at a compound annual growth rate (CAGR) of 12.8% from 2020 to 2027 in relation to a growing acceptance of veganism among consumers, especially millennials, around the world. Furthermore, lactose intolerant individuals like myself are key consumers in this market, with approximately 65% of the human population suffering from some form of lactose intolerance.
With four retail location in the GTA, Organic Garage is poised for success in one of the most underserved, high potential markets in Ontario. Furthermore, in the third quarter of 2021, the Company saw its year over year sales increase 21.6% to $6.9 million from $5.7 million, demonstrating a steady increase in consumer interest. Following the commencement of production, Organic Garage's line of plant-based dairy alternative could become a major boon for the Company, which has already established a reliable base of consumers with diverse dietary preferences.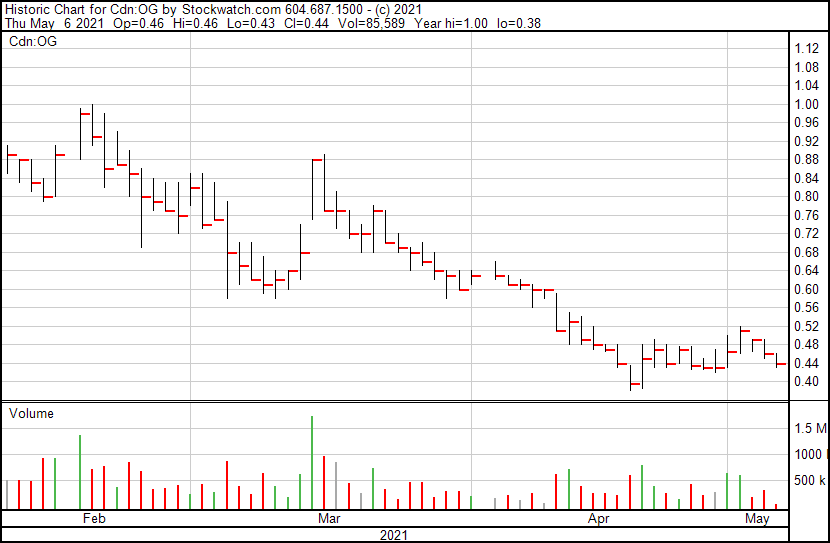 Organic Garage's share price opened at $0.46 today and is currently trading at $0.44 as of 11:38AM ET. The Company's shares are down 2 cents following the news.
Full Disclosure: Organic Garage is a marketing client of Equity Guru.