Mednow (MNOW.V), a healthcare technology company offering virtual access, has formed Mednow Virtual Care to provide its proprietary telemedicine service. This will enable Mednow to offer its patients integrated access to doctors.
"Consumers remain loyal to the pharmacies that provide the best service and we believe this means that physicians working closely with pharmacists can achieve best practices when it comes to medication fulfillment and adherence. With the launch of Mednow Virtual Care, Mednow's patients will receive seamless interdisciplinary care on the Mednow.ca virtual platform in addition to the convenience of all of their pharmacy needs delivered to their doorstep. We created this joint venture with proven entrepreneurs and operators in the medical field because of our laser focus on patient experience," said Karim Nassar, CEO of Mednow.
As of 2020, the global telemedicine market was estimated at USD 55.9 billion and is expected to grow at a compound annual growth rate of 22.4% from 2021 to 2028. Due to the impact of COVID-19, the global demand for telemedicine has grown rapidly. In response to limited contact between healthcare, facilities, staff, and patients, many companies like Mednow have developed telemedicine services to care for their patients. Furthermore, telemedicine technology enables a larger demographic to receive basic healthcare without straining the healthcare system as a whole.
Mednow Virtual Care will be owned 70% by Mednow, with 15% to be owned by Mednow's advisors, Mr. Christopher Fisher and Dr. Karim Vellani, respectively. Both Mr. Fisher and Dr. Vellani will be essential in the recruitment of medical professionals and the overall growth of the Mednow.ca platform. The Company's Mednow.ca platform provides virtual pharmacy services through an approach that prioritizes patient experiences. Some features include free at-home delivery of medication and access to healthcare professionals via chat. Mednow Virtual Care expects to launch its telemedicine services in Ontario in the second quarter of 2021.
However, with an increasing amount of services available, the telemedicine market has become oversaturated. As a result, the telemedicine market is highly competitive making it difficult for some companies to excel. With this in mind, Mednow's recent performance hasn't exactly been spectacular, not to mention investor sentiment towards the Company has taken quite the hit. Mednow's latest press release is arguably the most important piece of news the Company has released in the last month, however, Mednow may have to pull out all the stops to earn a place as a leader in the telemedicine market.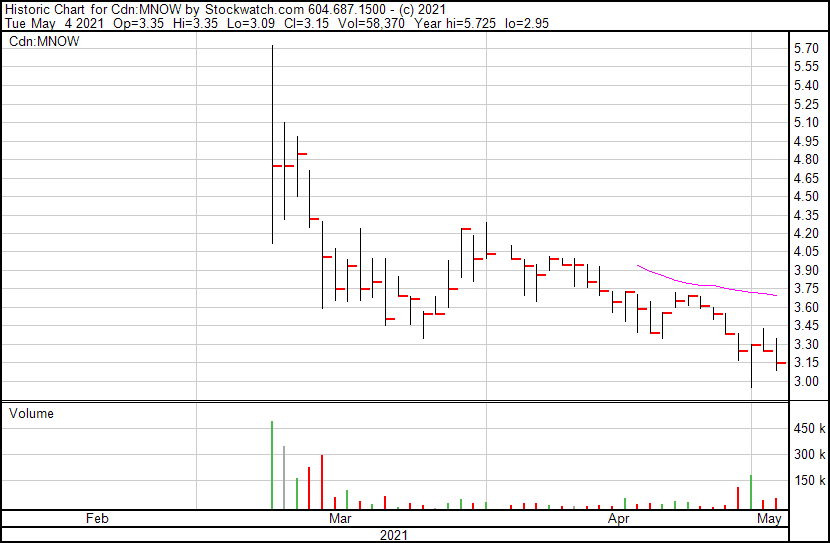 Mednow's share price opened at $3.35 today, up from a previous close of $3.25. The Company's share price has since dropped to $3.15 as of 11:51PM ET.