Better Plant Sciences' (PLNT.C) Jusu juice is now available for purchase at select retail locations in British Columbia and Alberta.
"At Jusu we have always done what we can to engage our employees in community outreach…By doing this we have not only been able to give back to many, but it has also helped build positive team culture and form meaningful relationships within our community. For us, these things are very important as they provide the opportunity for employees to feel part of something bigger which makes for a happier, more connected and engaged team, resulting in more satisfied and loyal customers," says Joelle Fiorito, Chief of Operations at Jusu.
Prior to Better Plant's announcement, Jusu juice was available at the Company's Jusu Bar quick serve location in Victoria, BC and through home delivery via Better Plant's e-commerce platform. However, Jusu products are now available at select Canadian retailers such as Whole Foods Victoria. This is part of Better Plant's plan to aggressively develop its network of retailers that sell Jusu juice products across Canada.
According to Wintergreen Research, the cold pressed juice market is expected to grow substantially from $4.3 billion in 2017 to more than $8.1 billion by 2024. Assuming this prediction is reliable, companies like Better Plant can expect to see considerable growth in the next few years. However, the Company will be competing on the same stage as current industry leaders such as Amazon, Hain Celestial Group, Coca-Cola, and Starbucks. Whether this helps or hinders Better Plant's initiative to gain traction for Jusu products is hard to determine at this moment.
Better Plant is very much so a company with a focus on its consumers and the communities they come from. In addition to making Jusu juice available at select retailers, Better Plant also announced initiative to give back to the community. Each Jusu Bar delivery location plans to partner with local charities to provide juices to people in need. Aside from juices, Better Plant is also committed to provided consumers with skin and body care products as well as a home cleaning line. The Company certainly offers a diverse array of products and services, however, there is clearly a concern for the well-being of Better Plant customers.
Better Plant is a company with plenty of room to spread its roots and ingrain itself in a market estimated to grow rapidly between now and 2024. Currently, the Company's stock performance appears to be relatively stagnant and will most likely not be influenced heavily by its latest news.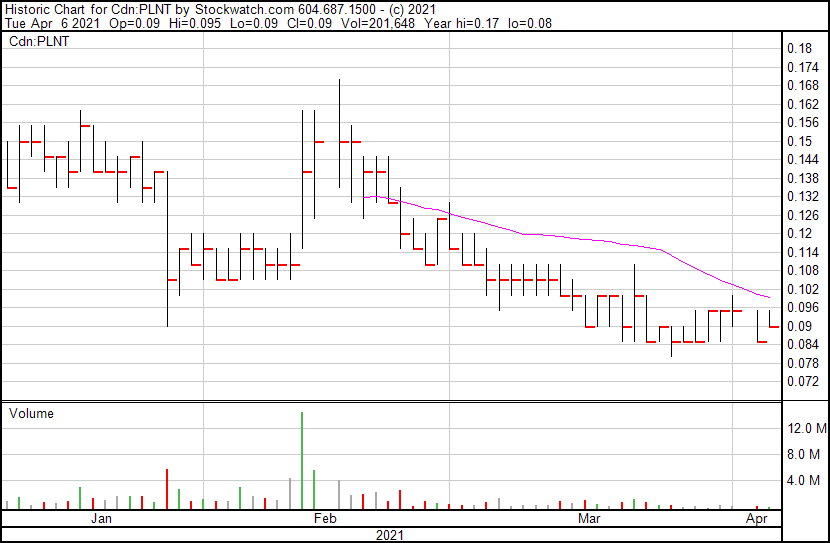 Better Plant's stock price opened at $0.09 today and reached a high of $0.95. The Company's stock price has since returned to $0.09 indicating no significant change.