The Blooming Plant-Based Market
When plant-based foods first began circulating in Ontario, I was skeptical. Don't get me wrong, I have nothing against plant-based diets. Keep in mind, when I say plant-based diet, I am talking about a diet consisting primarily of whole grains, fruits, vegetables, nuts, beans, oils and plant-based foods. With this in mind, I consider plant-based foods to consist mainly of products intended to serve as alternatives to meat, however, more often than not, these meat alternatives ended up being the plant-based equivalent of Frankenstein. In reality, a lot of plant-based foods are actually an amalgamation of chemical compounds derived from plants like methylcellulose, soy, leghemoglobin and zinc gluconate. Furthermore, before Beyond Burger and Impossible Burger were introduced in 2016, a majority of plant-based foods were made with filler ingredients such as rice and tofu.
Needless to say, the plant-based industry has come a long way since Beyond Meat and Impossible Foods first started making headlines. In fact, I almost seriously considered switching to a plant-based diet when I got my greasy hands on a Beyond Meat burger from A&W back in 2018. Aside from carrying a hefty price tag, the Beyond Meat burger tasted arguably better than its meat counterpart. If not for the finite supply of funds in my bank account, I'm sure I would have switched to a plant-based diet after tasting a sliver of what Beyond Meat had to offer. Considering the plant-based food market is expected to reach an outstanding $74.2 billion by 2027, growing at a CAGR of 11.9%, I'd say a lot of people feel the same way, or at least those with deeper pockets do. Looking to dip their toes in this lucrative market, several plant-based companies have come out of the woodwork hoping for a shot in the limelight. Here are just a few of the biggest plant-based movers this week.
Zoglo's Incredible Food Corp.
$30.92M Market Capitalization
Zoglo's Incredible Food Corp. (ZOG.C), a portfolio company of Eat Beyond, is one of the newer companies to hit the plant-based scene. The Company recently went public after listing on the Canadian Securities Exchange (CSE) on July 26, 2021. More recently on August 16, 2021, Zoglo's announced that it would be listing its plant-based food products from its Incredible™ product line at select Walmart Canada locations across Canada. The Company's Incredible™ product line features a variety of healthy plant-based food alternatives including appetizers, veggies and meat substitutes. Aside from Walmart, Zoglo's has its products listed at 700 retail stores across Canada including Shopper Drug Mart, Sobeys, Metro, and Loblaws, some of the largest supermarkets in the world.
"We are very excited to bring Zoglo's innovative and flavourful products to Walmart customers across Canada with the purpose of eating healthier and living better…It is rewarding to see our products continually being validated and recognized as premier plant-based food offerings for the Canadian market," said Anthony Morello, CEO of Zoglo's.
Keep in mind, in addition to North America, Zoglo's has established itself within Europe, which was estimated to command the largest share of the global plant-based food market in 2020. Through a non-binding letter of intent (LOI) to acquire a 50.5% interest in Monday Swiss UK Ltd., a leading European-based developer and manufacturer of plant-based food alternatives, Zoglo's now has an opportunity to capitalize on Europe's blooming plant-based market. The proposed acquisition is expected to improve the Company's annual sales by up to CAD$6 million, thereby increasing Zoglo's annual revenue by 200%.
Better Plant Sciences Inc.
$11.6M Market Capitalization
Better Plant Sciences Inc. (PLNT.C) is a wellness company that develops and sells sustainable, plant-based products that are intended to be better for consumers and the planet. Unlike Zoglo's, Better Plant offers a variety of products ranging from lifestyle products, skincare products, cold-pressed juices, and THC-infused topicals under the brands Jusu Wellness, Urban Juve, Jusu Bar and Wright & Well, respectively. This week, on August 17, 2021, Better Plant relaunched a line of ten 100% pure essential oils, and six pure essential oil blends with six essential oil spritzers. These new products will be relaunched as part of the Company's Jusu Wellness Home collection, and are currently available for purchase in Canada from getjusu.com.
"Adding essential oils and spritzers allows consumers to bring all of those benefits in to their daily lives, whether is it by adding a few drops of the Relax essential oil blend to a diffuser in their home, or carrying a Camper's Blend spritzer with them on their next outdoor excursion," said Joelle Fiorito, Director of Operations at Jusu.
In my opinion, essential oils are the hallmark of every suburban mom who refuses to get their kid vaccinated, yet here I am with an essential oil diffuser in my room. Does it work? Who knows. At the very least, I'd like to think that it helps me breathe a little easier at night when I am trying to sleep. Regardless, the global essential oils market demand was estimated at 247.08 kilotons in 2020 and this number is expected to grow at a CAGR of 7.5% from 2020 to 2027. Furthermore, whether you're into essential oils or not, the global essential oils market is expected to grow from USD$9.62 billion in 2021 to USD$18.25 billion in 2028. If you aren't planning on buying essential oils, you may want to consider investing in the people who sell them.
The Very Good Food Company Inc.
$285.961M Market Capitalization
The Very Good Food Company Inc. (VERY.V) is a plant-based food technology company dedicated to producing nutritious and delicious plant-based meat and cheese products under its core brands, The Very Good Butchers and the Very Good Cheese Co. The Company announced on Thursday that it would be ramping up production at its Rupert, Vancouver, BC facility and is poised to begin initial production at its California facility next year. Currently, the Company's Rupert facility produces an average of 13,000 lbs. of product per day, however, Very Good will be ramping up production with a target of producing 60,000 lbs. of product per day in Q1 2022. The Company will also be commissioning its second production line in Q4 2021 which will be dedicated to the production of Very Good's new gluten-free and soy-free Butcher's Select Line. As for Very Good's California facility, the Company hopes to begin initial production by Q2 2022, with a target of 27 million lbs. of product per year when fully operational.
"The fact that we have achieved year-over-year triple digit growth in revenue is a direct result of the robust demand for our premium plant-based food products coupled with our expanding production capacity," said Mitchell Scott, co-founder and CEO of VERY GOOD.
Very Good also announced its Q2 2021 Financial Results early Thursday morning, showcasing some impressive results. The Company's revenue increased 156% to $2,780,681 compared to $1,087,790 in Q2 2020. Furthermore, product units sold increased 132% to 307,745 in Q2 2021. Regarding Very Good's eCommerce performance, the Company saw sales increase 161% to $2,206,403 and orders fulfilled increase 115% to 24,025 in Q2 2021. As of June 30, 2021, the Company's total cash and cash equivalents were $5,926,067, up noticeably from $3,508,826.
Naturally Splendid Enterprises Ltd.
$9.808M Market Capitalization
Naturally Splendid Enterprises Ltd. (NSP.V) isn't your run-of-the-mill plant-based company. Naturally Splendid has established numerous healthy, functional foods under recognized brands such as Natera Sport™, Natera Hemp Foods, CHII, Elevate Me™, Woods Wild Bar™, and its most recent brand, Natera Plant Based Foods, a line of plant-based meat alternatives. In addition to its plant-based options, the Company, through its joint venture with Plasm Pharmaceuticals, has been approved by Health Canada to conduct a Phase 2 clinical trial for the treatment of COVID-19. Naturally Splendid is also credited for developing proprietary technologies for the extraction of healthy omega 3 and 6 oils from hemp.
Earlier this week, on August 17, 2021, Naturally Splendid announced that it had signed a definitive agreement with Flexitarian Foods Pty. Ltd., a division of Australia's largest plant-based manufacturer, to become the exclusive Canadian manufacturer and distributor for an extensive line of plant-based, meat-alternative products. Under the terms of the agreement, Naturally Splendid will offer ten additional SKUs under the Natera Plant-Based Foods brand in exchange for exclusive manufacturing and distribution rights for an initial 10-year term with a 10-year renewable term. These existing SKUs, plus additional plant-based entrees, will be manufactured at the Company's existing Safe Quality Food (SQF) certified manufacturing facility in Pitt Meadows, BC.
"We are more than pleased to execute this definitive agreement to be the exclusive Canadian manufacturer and distributor for this amazing line of plant-based entrees. The strategic move to become the exclusive manufacturer in addition to being the exclusive distributor, is pivotal for the Company," said Naturally Splendid Chief Executive Officer Mr. J. Craig Goodwin.
So, why does this matter? Cutting to the chase, manufacturing in Canada will provide worthwhile benefits, including increased margins due to reduced transport cost and optimized inventory levels. Moreover, by incorporating Canadian-grown ingredients, the Company will be able to optimize its supply chains. In total, Naturally Splendid's facility is designed to output 8 to 10 tons of product per shift, per day. The installment of necessary manufacturing lines is estimated to cost the Company approximately CAD$800,000.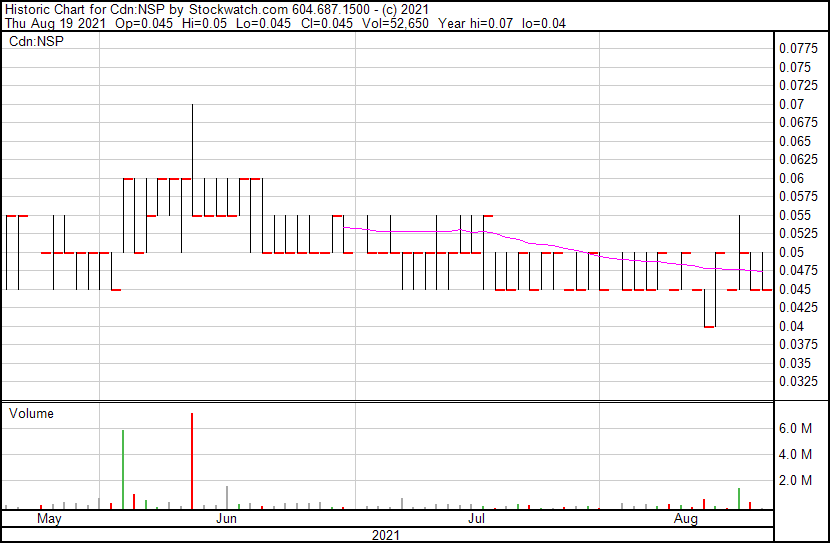 Why You Should Care About the Plant-Based Market
I get it. Plant-based foods aren't exactly the most exciting thing in the world. The plant-based market as a whole may not be as hot as the bitcoin and mining sectors, however, it would be a mistake to overlook its apparent value. Not convinced? A new report published by Bloomberg Intelligence (BI) estimates that the plant-based meals market will exceed $162 billion. If BI's prediction is correct, this would suggest that the plant-based meals market is ready to explode by 451% in the coming years. Additionally, BI predicts that vegan dairy may take up 10% of this market within the subsequent decade. Similarly, the plant-based meat market is expected to surge from $4.2 billion to $74 billion within the same period.
Statistics aside, it doesn't take an analyst to point out just how popular plant-based diets are. I mean, I can't even swipe through Tinder without a girl declaring they are a vegan in their bio. With this in mind, the proportion of young Americans identifying as 'flexitarians' has increased exponentially over the years. For context, a flexitarian refers to someone who is attempting to eat less meat opposed to cutting it out of their diet entirely. A survey of 2,000 Americans revealed that 47% of respondents described themselves as flexitarian. Additionally, 63% said they'd be willing to swap meat for a plant-based alternative if it met certain criteria. Personally, I would happily switch to a flexitarian diet if the price point for plant-based meat alternatives wasn't so steep.
In 2019, the average price for a meat alternative sold in a US grocers' meat department was $9.87/lbs. In comparison, the average price for beef was $4.82/lbs. and $2.33/lbs. for chicken. Currently, packs of Zoglo's Crispy Sticks, which are comparable to corn dogs, are sold at Metro for $6.49 per 280g. On the other hand, a 544g pack of POGO corn dogs costs $7.99. Although both packs contain 8-9 items, you're still getting more bang for your buck with POGOs. However, if you're looking for a lighter, healthier food option, Zoglo's Crispy Sticks are arguably a cheaper option. At the end of the day, the companies selling plant-based products are the one's making money. If you're looking to share in their success, the four companies mentioned in this article may be worth adding to your watchlist. The plant-based market is only going to grow and the sooner you get in, the better.