On February 11, 2021, Defense Metals (DEFN.V) surged 30% after it announced the engagement of Welsbach Holdings to assist in market research, finding supply chain partners and commercial negotiations, for its Wicheeda Rare Earth Element (REE) Property, 80 kilometres northeast of Prince George, British Columbia (BC), Canada.
"The engagement of Welsbach will enable Defense Metals to leverage their extensive experience and relationships in the Asia-Pacific region (Australia, Singapore, China, Japan, and South Korea), Continental Europe, and the United States towards engaging in one-on-one discussions with REE refiners and separators," stated Craig Taylor, CEO of Defense Metals.
"Road accessible and surrounded by all the necessary infrastructure required to build and run an efficient operation, Wicheeda is a standout in the REE arena," stated Equity Guru's Greg Nolan two weeks ago.
"The Wicheeda resource currently stands at 4,890,000 tonnes grading 3.02% LREO (Light Rare Earth Oxide) in the Indicated category, and 12,100,000 tonnes grading 2.90% LREO in the Inferred category.
A successful drilling campaign completed last year (highlight interval: 4.43% LREO over 83 meters including 5.47% LREO over a drill core interval of 33 meters) may see another phase of drilling as spring approaches the BC interior.
The Wicheeda resource appears destined to grow. Note the significant mineralization tagged outside the current resource base (gray rubber ducky image, map below).
From a metallurgical standpoint, positive flotation and hydrometallurgical testwork achieved a high-grade 50% LREO concentrate at >85% recovery.
Hydrometallurgical testwork demonstrated a 90% extraction rate for REEs—a rate that could see further improvement." End of Nolan.
Flotation pilot-plant processing of a 26-tonne bulk sample of Wicheeda REE material yielded a mineral concentrate averaging 7.4% NdPr oxide (neodymium-praseodymium) critical magnet metals.
"REEs are crucial for high-tech manufacturing," confirms The Verge, "These elements are produced mostly in China, and used in the US for everything from electric cars to missiles".
The U.S. currently gets 77% of its REEs from China.
"The Critical Materials Caucus, is the latest effort by officials in Washington to blunt China's prowess as the world's largest producer or processor of rare earths, lithium, titanium and other niche but important minerals," reported Mining.com.
Recent Wicheeda 43-101 Technical Report Highlights:
49% increase in overall tonnage of Updated Wicheeda REE Project Mineral Resource Estimate (MRE) based on the results of 2019 diamond drilling of 13 holes totaling 2,007.5 metres;
30% increase in overall average grade, in part though the incorporation of potentially economically significant praseodymium not previously estimated;
Conversion of 4,890,000 tonnes to Indicated Resources previously defined as Inferred;
Increased Inferred Resources by 730,000 tonnes in comparison to Defense Metals Initial Wicheeda MRE; and
Potential for expansion of the Wicheeda Deposit to the north and west in the down plunge direction.
"The goal is the successful negotiation of one or more binding commercial REE offtake and/or other supply chain agreements with respect to the Wicheeda REE Deposit," stated Taylor on February 11, 2021, "Welsbach will immediately commence its work aiding with respect to strategic partner identification, business introductions, and ultimately commercial negotiations."
Although the market was jolted by the Welsbach news, it shouldn't have been.
For the last 12 months, DEFN has been methodically pushing the British Columbian REE project down the development pipeline.
"Unlike a lot of juniors bogged down with 100's of millions of shares sloshing around defn has a paltry 60 M." wrote slingbo today on the Stockhouse DEFN investor bull-board, "Additionally, while there is no guarantee of an operating mine at the end of the road it is looking very promising. No pump and dump here, just investors seeing real value".
"We are so close to $ .55 on big volume," noted up2005, "Eyes are coming to the company. This market segment REE's will reward the LONGS. Company and IR department doing a great job of putting out consistent information on both the company but also the sector. Good job Todd".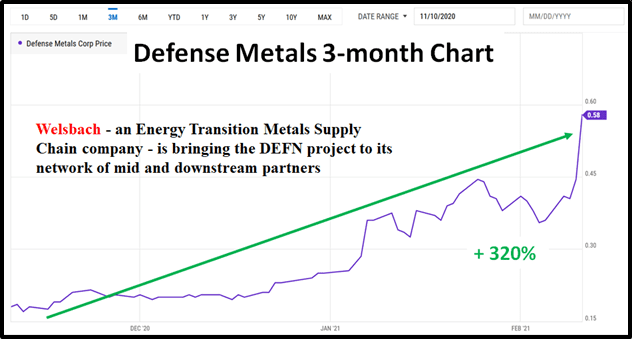 Two weeks ago, DEFN announced that it has received final results for the airborne survey on the Wicheeda Rare Earth Element property.
"A continuous development in hardware, software and instrumentation has made resolution of airborne geophysical surveys as precise as ground based geophysical surveys," states Springer Geophysics.
"This incredibly high-resolution dataset arms us with an enhanced property-wide terrain model," stated Craig Taylor, CEO of Defense Metals.
Figure 1. Wicheeda REE Deposit LiDaR Bare Earth Terrain Model Showing 
The results of the airborne survey are expected to impact project development efforts including geological modelling, resource estimation and environmental baseline monitoring."
Three months ago, DEFN updated investors on its ongoing baseline environmental monitoring program.
DEFN recently completed:
Meteorological station installation
Stream flow monitoring
Property-wide high resolution airborne LiDaR (Light Detection and Ranging) survey
As the Wicheeda REE Project advances, the data is analyzed along with regional climate data to characterize the project area and provide inputs to design and permitting.
"The current global situation requires supply chains to strengthen their resilience and increase their capacity, in order to respond to growing demand," stated Brendan Jephcott, Welsbach's Asia advisory partner on February 11, 2021.
"Part of our mission at Welsbach is to support the efforts of junior mining companies and assist them in their commercial processes," added Jephcott, "Welsbach is a specialist in the Energy Transition Metals Supply Chain and we are keen to bring Defense Metals Corp project to our network of mid and downstream partners".
Talk about "off-take agreements" and "downstream partners" raises the possibility that DEFN could generate significant amounts of cash to build an economic mine, while minimizing dilution to the existing share base.
Full Disclosure: Defense Metals is an Equity Guru marketing client.