The junior mining sector has been mired in a holding pattern for the past two months. The metal itself is consolidating sharp gains registered since the beginning of the year.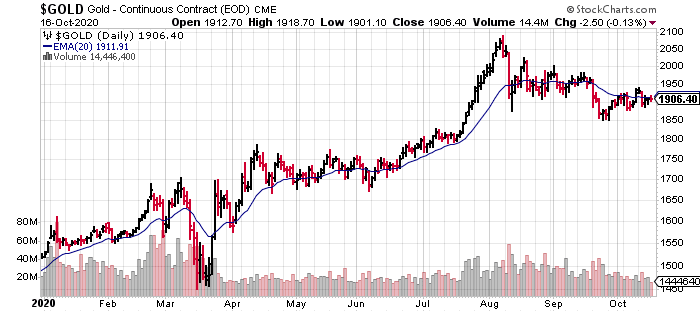 The larger stocks in the junior arena, as measured by the GDXJ… same thing (nice bit of price/volume violence surrounding the mid-March crash day lows).
At this juncture of this current consolidation phase, a number of potential bargains are beginning to emerge. Much of the current price weakness is accompanied by low volume—weak-kneed casino clowns dumping their positions wholesale after losing their nerve.
At the same time, several of the companies I follow closely have registered strong gains, and are holding onto them.
The market is still rewarding success with the drill bit, but the results need to be stellar.
There's a lot to be said for taking advantage of price weakness, especially if said weakness is NOT related to any particular fundamental shift in the Cos underlying dynamics.
There's also much to be said for buying relative strength during these periods of price weakness.  Said price strength is often indicative of superior underlying dynamics that will continue to broaden as the uptrend reasserts itself.
The following companies are among those I follow closer than most. Some are trading at the lower end of their recent ranges, some are riding the middle ground, some are forming bullish flags near the upper end of their recent trading ranges.
This series of round-ups will play out over the next few weeks, starting near the bottom—the exploration and early-stage development Cos—and gradually work our way up the food chain to advanced-stage development and producing entities sporting market caps well in excess of $100M.
Our goal with this series of sub-$20M ExplorerCo roundups?…  to uncover early latent potential—to feature Cos with a shot of attaining that lofty $100M-plus market cap standing. We have had multiple successes with our shortlist in the past year or so. Let's see if we can uncover a few more gems.
Here we go…
56.3 million shares outstanding
$16.33M market cap based on its recent $0.29 close
Brigadier Gold (BRG.V) is aggressively working its 3,954-hectare Picachos Gold-Silver Property in the mining-friendly region of Sinaloa, Mexico.
Picachos is flanked on both ends (to the northwest and southeast) by the recent high-grade discoveries of Vizsla Resources (VZLA.V) and GR Silver (GRSL.V).
Note Picachos' location on the map below (note the scale)…
Brigadier's entry into the fray involves more than mere closeology—it's positioned on-trend, and in a similar geological setting to both discoveries.
This is shaping up to be a productive mineral belt.
Project Highlights:
Located in the Sierra Madre Occidental Baluarte watershed, between Vizsla Resources' Panuco Project and GR Silver's Plomosas Project;
A prior operators' underground channel sampling at the San Agustin Mine returned an average grade of 81.22 g/t gold and 73.36 g/t silver across 1.2 meters;
Values as high as 185 g/t Au were cut across the bottom of the San Agustin production shaft;
The San Agustin vein system has never been tested with a diamond drill bit;
More than 160 known historic underground mines, workings, and prospects at Picachos have gold-rich vein potential;
The company is a good three weeks into a 5,000 meter 40 hole drilling campaign.
Drill targets for this first phase of drilling:
The San Agustín mine area

highlighted above (map below);

The Mochomos vein

where historic rock chip-channel sampling yielded 18.5 g/t Au and 570 g/t Ag across approximately 0.5 meters;
T

he Los Tejones vein

which yielded values of 28.6 g/t Au and 114 g/t Ag across approximately 1 meter;

The Fermin vein

– values of 268 ppm Ag and 0.3 g/t Au across 1 meter.
On October 6th, the company announced results from a recent sampling campaign along multiple parallel veins which comprise the El Placer vein system.
Highlights:
El Placer vein system has now been traced for over 4 kilometers;
Sample assay highlights include:
– 7.4 g/t gold over 3.2 metres;
– 12.8 g/t gold, 54 g/t silver, 0.1% copper, 7.7% lead, and 6.73% zinc over 0.5 metres;
– 101 g/t silver, 0.3% copper, 2% Lead, 11.6% zinc over 1 metre.
Stream sediment samples indicate highly anomalous gold and strong base metals.
Michelle Robinson, Brigadier geologist and rock-kicker extraordinaire:
"The significance of these results cannot be overstated. I have compiled the 1:50 000 SGM data underlying other important gold discoveries in Mexico. For example, the Amalia discovery made by Radius Gold and optioned by Pan-American Silver was indicated by single sample G13C13-101 with an area of 186 hectares and values of 0.06 ppm gold and silver below the detection limit of the analytical method used by the SGM."
Assay related newsflow should begin over the next few weeks.
Investor presentation (right side of the Cos homepage)
87.73 million shares outstanding
$13.16M market cap based on its recent $0.15 close
Bravada has a solid base of exploration and development plays in its projects portfolio along several of Nevada's more productive gold trends.
"Bravada believes these properties have characteristics of very large Carlin-type gold deposits or rich low-sulfidation gold/silver deposits."
The company employs the prospect generator business model.
Its flagship Wind Mountain Project has a resource of 570,500 oz Au & 14,736,000 oz Ag (Indicated), plus 354,300 oz Au & 10,115,000 oz Ag (Inferred).
A  2012 Wind Mountain PEA shows a NPV@5% = $26.5 M (after‐tax) and an IRR of 21%. Commodity inputs = $1,300/oz Au & $24.42/oz Ag.
The company is expected to begin cash‐flowing in 2021 from a barite deposit that is currently under development.
Earlier this spring, the company began fieldwork at its Highland Gold/Silver Project, located in Nevada's Walker Lane Gold Trend, where OceanaGold (OGC.T) is earning a 75% interest by spending US$10million.
Since we last checked in, the most significant piece of news to drop was the commencement of a diamond drilling campaign at Highland:
August 25th news: Bravada Drilling Underway at Highland and Permitting Underway for Drilling at Wind Mountain, Nevada.
The Big Hammer target is getting all the attention during this first phase.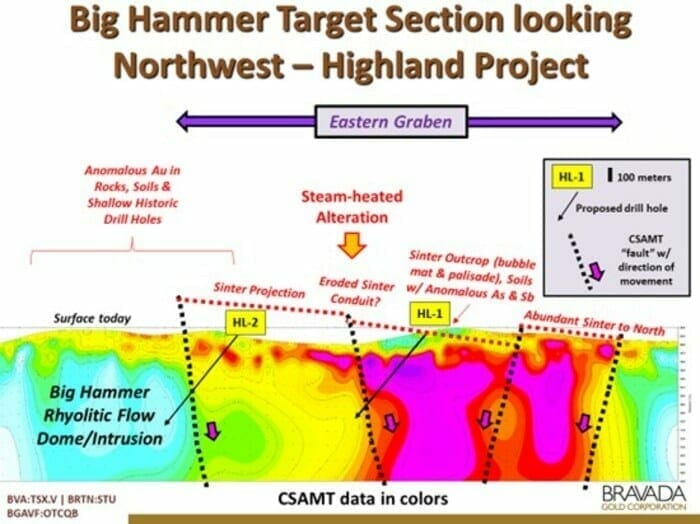 In other project news, Bravada has completed 3D modeling at its 100% owned Wind Mountain gold/silver project and is in the process of modifying its existing drill permit to include four new drill sites. Each site can be used for multiple drill holes and three or four reverse-circulate drill holes are planned for late fall or early winter.
50.68 million shares outstanding
$9.88M market cap based on its recent $0.195 close
Defense Metals (DEFN.V) is our go-to Rare Earth Element (REE) development play. It's a strategic wager on a looming supply crunch, one precipitated by Chinese domination of the REE refining market.
October 14th (Asia Times Financial): China cuts rare earths exports by 43% in Sept, builds stockpile
The company's 1,708-hectare Wicheeda Project is located in the mining-friendly region of Prince George, B.C.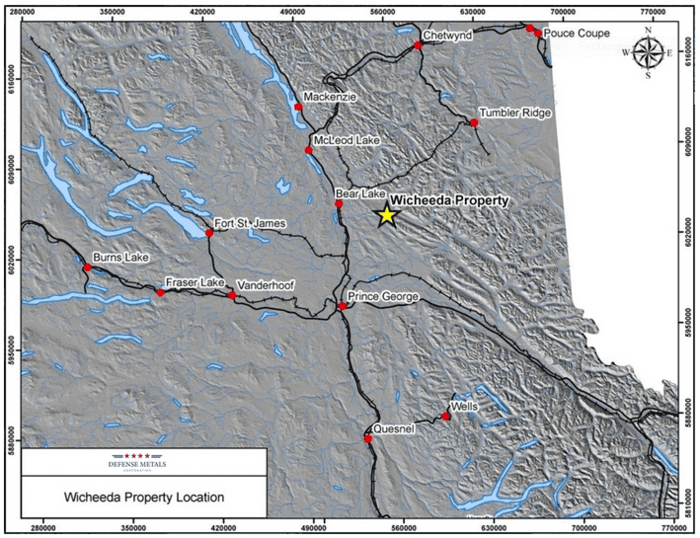 The current resource at Wicheeda stands at 4,890,000 tonnes averaging 3.02% LREO (Light Rare Earth Oxide) in the Indicated category, and 12,100,000 tonnes averaging 2.90% LREO in the Inferred category.
A bulk sample—some 30 tonnes—extracted back in early 2019 has now been completely processed at SGS Canada's metallurgical test facility in Lakefield, Ontario. This is a part of the company's ambitious plan to push Wicheeda further along the development curve.
On September 24th, Equity Guru's Lukas Kane offered his insights regarding the most recent developments out of SGS Canada's testing facility…
Read: Defense Metals' (DEFN.V) pilot plant metallurgy validates REE extraction plan
Lukas Kane:
"The completion of pilot plant testwork led to several important areas for further study that have the potential to improve metallurgical performance and reduce energy and reagent inputs leading to potential future process cost savings, including:
Confirm the performance of the flotation circuit at lower pulp temperature (60 degrees Celsius);
Further evaluate the effect of high-density conditioning, which can potentially provide significant cost savings on pulp heating."
Craig Taylor, Defense Metals CEO:
"The success of the flotation pilot and 1,200 kilograms of high-grade REE concentrate produced, places Defense Metals and the Wicheeda REE deposit among rare company and opens the door to future hydrometallurgical pilot trials at SGS, with the ultimate goal of producing a Nd-Pr oxide product stream."
This is an interesting set-up. Politics alone could represent a potent catalyst for the short to medium term.
81.59 million shares outstanding
$4.9M market cap based on its recent $0.06 close
Fremont is focused on the discovery potential in one of the world's most prolific and mining-friendly jurisdictions—Nevada.
The company controls four gold projects along the Carlin, Cortez, and Independence Trends.
The Carlin Trend is perhaps the best known of the three having produced tens of millions of Au-ounces since the first discovery in the early 1960s.
Fremont's Nevada based projects:
The North Carlin project is located on the Carlin Trend. The company is targeting a Carlin-style gold deposit and/or low-sulfidation epithermal mineralization.
The Cobb Creek project is located on the Independence Trend—the target is a Carlin-style gold deposit.
The Griffon project is located on the Cortez Trend—the target is Carlin-style gold.
The Hurricane project is located on the Cortez Trend—the target is a Silica replacement-type gold deposit.
A recent drilling campaign at the company's Griffon project failed to meet expectations. The project isn't dead, but management is boldly shifting focus to the next property along its project pipeline.
The North Carlin Project now bears flagship status.
October 7th news: Fremont to Drill North Carlin Project
Highlights from this press release:
Over 42 square kilometers in size, North Carlin is a large, under-explored chunk of highly prospective terra firma located at the northern end of the Carlin Trend;
The Carlin Trend is one of the richest gold mining districts in the world having produced over 84 million ounces of gold since the early 1960s – Nevada Gold Mines' Carlin Complex hosts 30 million ounces of gold in the measured and indicated category;

The Project is approximately 6 kilometers north of and on-strike of Nevada Gold Mines/Premier Gold Mines' South Arturo mine where recent drilling intersected 39.6 metres of 17.11 grams per tonne gold;

The Project is 12 kilometers north of Nevada Gold Mines' Goldstrike mine which hosts 11.1 million ounces gold in the Measured and Indicated category

;

The western edge of North Carlin is approximately 6 kilometers east of Hecla Minings' Hollister mine;
Situated in the right geological setting for a significant discovery, Fremont has developed several high-priority drill targets based on good science

—

soil geochemistry, gravity and geomagnetic surveys, and the projection of key faults that control gold mineralization along the Carlin Trend;

The Company is permitting ten drill sites at North Carlin and plans to drill a minimum of 1,500 metres in a reverse circulation program commencing later this fall

.
Blaine Monaghan, Fremont CEO:
"We are very excited to start drilling North Carlin. In terms of periodicity and alignment, the Project is strategically located at the northern end of the Carlin Trend. Based on North Carlin's geological setting and the exploration results to date, we believe that it holds excellent potential for the discovery of a new Carlin-type deposit."
To kick this drilling campaign into gear, the company just announced a $1M non-brokered private placement.
Fremont to Raise $1.0 Million with a Lead Order from Palisades Goldcorp
There's more to the Fremont story. We'll explore North Carlin, Cobb Creek, and various aspects of the company, in greater detail, in the coming days.
118.43 million shares outstanding
$16.58M market cap based on its recent $0.14 close
Forum's 38,250-hectare Janice Lake project located in north-central Saskatchewan along the Wollaston Domain, "a northeasterly-trending belt of metamorphosed lower Proterozoic supracrustal rocks deposited upon Archean granitoid basement" is the company's flagship project.
The district-scale copper potential of Janice Lake (note the scale on the map below) attracted Rio Tinto in a JV deal worth $30M, where the mining colossus stands to earn 80% of the project by spending $30M.
"Forum entered into an agreement granting Rio Tinto Canada a four year option to acquire a 51% interest in the Janice Lake Project by spending $10 million in exploration, making $490,000 in cash payments, and servicing the remaining $200,000 in underlying cash payments to Transition Metals Corp. Rio can earn a further 29% interest (total 80%) by spending a further $20 million in exploration over a three years (total $30 million) and making further cash payments of $150,000 to Forum (total $640,000)."
Rio spent over $3M on the project in less than a year. They plan to spend another $7M on a multiple phase drilling campaign, one that began with RAB drilling earlier this summer.
Assays from this RAB campaign are pending.
A good overview of Janice Lake, the Rio deal, and historical exploration completed on the property to date can be found by tapping the following link…
Read: Drilling commences at Forum's (FMC.V) district-scale Janice Lake copper project in Saskatchewan
Forum has multiple irons in the fire.
On October 13th, the company dropped the following headline concerning its highly prospective Ni-Cu-PGM Love Lake project:
Forum Announces Whole Rock Geochemical Results at Its 100% Owned Nickel-Copper-Palladium Project, Saskatchewan
The following summary of events was offered by Forum CEO Rick Mazur during a recent interview and email exchange:
Forum has taken an empirical approach to exploration of the Love Lake Mafic/Ultramafic Complex for deposits of nickel, copper, platinum, and palladium. We are ticking off all the boxes:
An airborne magnetic survey has identified three potential feeder zones.

Geochemical investigation of almost 200 outcrop samples collected in the field has determined that these are olivine-rich rocks which are prospective for magmatic nickel/copper/PGM deposits.

Surface samples are generally high in sulphides and depleted in nickel and PGMs. Where did all the nickel go? Has it segregated from the magma and settled as nickel sulphides in feeder zones?
An electromagnetic survey over these potential feeder zones, one which measures conductance, will help Mazur and crew zero in on the highest priority drill targets.
These depleted nickel and PGM values at surface, as noted by CEO Mazur above, and contrary to what one might think, actually represents a hugely positive indicator as the company pushes towards a maiden Love Lake drilling campaign.
Here's John Kaiser regarding the significance of these depleted metal values at surface…
Note that Forum normally employs the prospect generator business model. But with Love Lake, they're holding onto 100% of the project with plans to go it alone.
Forum will be mobilizing a drill rig to Love Lake in the coming weeks.
To facilitate this plan, the company announced a non-brokered FT private placement on October 14th:
Forum Announces $1 Million Non-Brokered Flow-Through Private Placement for Exploration at Its 100% Owned Love Lake Nickel-Copper-Palladium Project, Saskatchewan
The following link will take you to an updated Love Lake presentation dated October 13, 2020…
LOVE LAKE – Copper Nickel Palladium Project
Keep an eye on the Road Anomaly when drilling begins.
Between Janice Lake (Rio Tinto JV), Fir Island (Orano Canada JV), and Love Lake (100% Forum), we should see three (3) aggressive concurrent drilling campaigns launched in the coming months.
29.45 million shares outstanding
$11.49M market cap based on its recent $0.39 close
Goldseek holds large, geologically prospective land positions in the storied Hemlo Gold Camp of Ontario (Barrick Gold), the Urban Barry Gold Camp of Quebec (Osisko Mining, Bonterra Resources), and the Fenelon Gold Camp, also of Quebec (Wallbridge Mining).
The company is focused on 3 main projects.
Horizon Project, Hemlo Gold Camp, Ontario
Mines in the Hemlo camp have produced more than 21 million ounces of gold in their three-decades-plus of continuous production.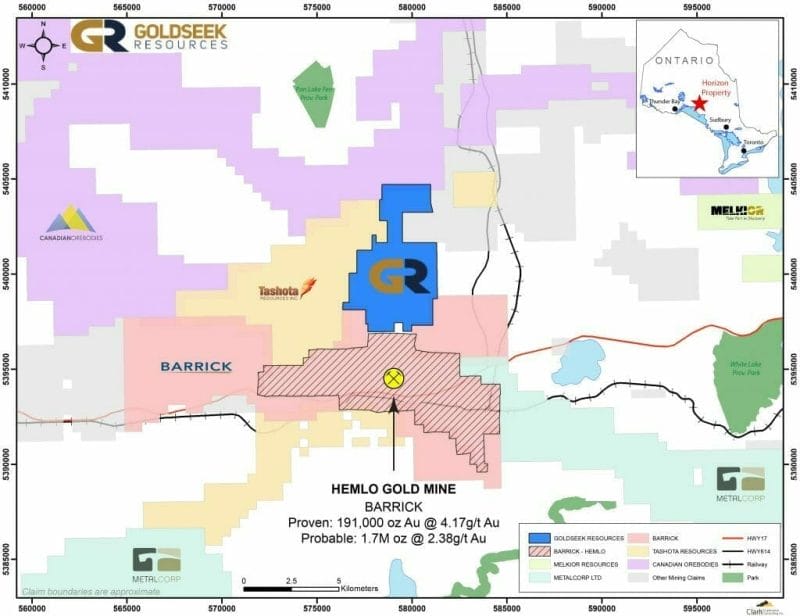 Project highlights:
Over 5,000 acres located in the heart of the Hemlo

—

4 kilometers north of Barrick's Hemlo deposits;
Shares a 5 kilometer border with Barrick Gold (ABX.T);
Geophysics (VTEM airborne & IP) lit up three main target areas including Target C at a depth of 600 meters-plus.
Southern Arm Project, Abitibi Greenstone Belt, Quebec
Project highlights:
Bonanza Project, Urban Barry Gold Camp
Project highlights:
Contiguous claims (12,000 acres) in the Urban Barry Camp

—

over 7.1 million ounces have been discovered-to-date;
Shares a 28 kilometer border with Osisko Mining's (OSK.T) Great Bear target;
A total of 11 TDEM anomalies;
Strong gold till soil samples from both Melkior Resources (MKR.V) and Osisko extend onto the property;
A $4.7 billion development deal announced between the Eeyou Istchee James Bay Cree and the Quebec gov't will deliver power out to the Windfall Lake Camp.
Since we last checked in, a modest drilling campaign at the Horizon Project in the Hemlo camp generated results that might best be characterized as a technical success.
"Five holes were drilled totaling 1,060 meters with three drill holes designed to test two near-surface IP chargeability conductors approximately 200 meters apart and the other two drill holes designed to test Maxwell plate conductors modeled from the VTEM resistivity depth images. Results of the program were encouraging as anomalous silver, zinc, lead, and copper occurred in four out of five holes drilled."
On August 26th, the company announced the delineation of multiple drill targets at their Southern Arm Property on the Detour Gold Trend, stating:
"The next step on the project will be to conduct a systematic till sampling program by percussion drilling or sonic drilling. Once we further define our targets along the 7.3km trend, we plan on conducting a diamond drill program this winter."
On September 16th, the company announced having defined several geochemical anomalies, in till, at their Bonanza Property in the Urban Barry camp.
A previously completed soil survey (see news release dated July 8th, 2020) defined three targets at Bonanza, two of which will be followed up with an IP survey before the hunting season.
"Following the IP results, a trenching program will be performed on the top priority near-surface areas. In parallel with the IP survey, a prospecting program will be completed to define the source of the anomaly better. This information will be used to plan a trenching survey, followed by a drill program to be completed before the end of 2020."
On October 14th, the company dropped the following headline…
Goldseek Completes IP Geophysical Survey at Bonanza (Urban Barry)
… along with a video link discussing the contents:
That's it for part 1 in this series of sub-$20M ExploreCo round-ups.
Stayed tuned for part 2 in the coming days.
END
—Greg Nolan
Full disclosure: Brigadier and Fremont are Equity Guru marketing clients. Forum Energy Metals is a Highballer marketing client. We own shares of Brigadier, Defense, and Forum, and may initiate purchases in the remaining companies in the weeks/months ahead.