There are few events in the junior exploration arena that get the speculative juices flowing more than news of a drill rig rolling off a flatbed on a setting with heaps of discovery potential. If the team behind the effort has multiple world-class discoveries under its belt, things can get downright exciting.
Bluebird Battery Metals (BATT.V) dropped a very welcome headline since we last checked in on the company three weeks back.
Before we dive into the news, a few of the more compelling fundamentals underlying the commodity Bluebird has in its crosshairs…
NICKEL
New electric vehicle (EV) battery design changes favor Nickel, Manganese, and Cobalt (NMC). To overcome travel-distance challenges in current EVs—warranties on existing batteries cover only 150,000 miles—battery makers are moving away from lithium-ion phosphate batteries and are embracing newer designs based on NMC-111 (equal parts nickel, cobalt, and manganese), and NMC-811 (80% nickel, 10% manganese, 10% cobalt).
According to Reuters, there's a new 'Million Mile Battery' about to make its debut.
This is a watershed event, one that could sway drivers away from their gas-guzzling coupes towards an electrified ride that supports our push for global decarbonization.
Tesla, along with China's Contemporary Amperex Technology Ltd (CATL), plans on supplying a long-life NMC battery with a cathode composed of 50% nickel.
No matter what these battery makers unveil over the next year or two, nickel will be an essential ingredient.
The Peak
The following chart suggests sales of fossil-fuel-powered vehicles have hit their peak.
It doesn't take a buck-fifty IQ to see the trend here.
With more and more EVs whipping past us in the Andretti lane, we're going to need a lot more nickel if carmakers are to keep up with this accelerating demand.
For balance, to explore both sides of the supply/demand equation, I happened upon this headline last week:
Column: Knives out for nickel market as restaurants close
A wave of restaurant closures in the developed world would generate a surge of unwanted cutlery. If 20% of restaurants closed, it would translate to around 80,000 tonnes of stainless steel scrap containing 24,000 tonnes of nickel, according to analysts at Citi.
I have no doubt heaps of cutlery will be coughed up by a raft of ill-starred eateries. But a surfeit of soup kitchens may be about pop up around the globe—an unfortunate consequence of the economic rout we're in—sopping up whatever flatware is surrendered.
Got nickel?
CANEGRASS
This is Western Australia. According to the venerable Fraser Institute, there's no other jurisdiction on the planet where mining is more welcome.
Bluebird's flagship Canegrass Project—a 4,200 hectare chunk of highly prospective terra firma—lies within a geological setting surrounded by world-class deposits.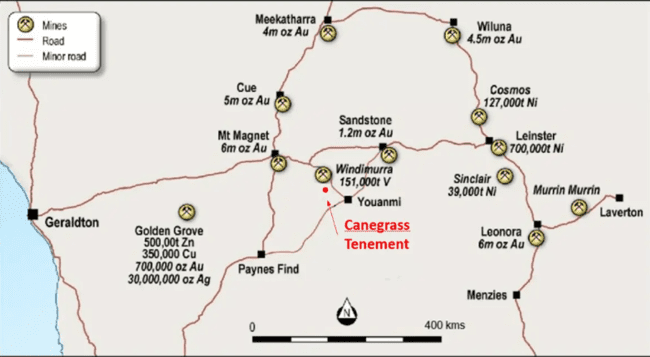 The Windimurra Complex is Australia's largest, exposed, layered mafic intrusion complex measuring some 85 kilometers x 37 kilometers by some 11 kilometers thick.
This Archean-aged complex is geologically similar to the Bushveld Igneous Complex in South Africa, the source of much our planet's nickel, copper, cobalt, and platinum group elements.
Within the Windimurra Complex, the prospective Shepards Discordant Zone—a 600 meter thick sequence of magnetite-rich leucogabbro—can be traced for more than 50 kilometers and trends directly onto Bluebird's Canegrass ground.
This is a fertile geological setting where 8.5 kilometers of magnetite rich-gabbro-norite trend parallel to a shear zone.
Quoting my recent offering on the subject…
Note the yellow stars and red diamonds distributed along this 8.5 km trend (above map). These symbols represent no less than twelve geophysical anomalies, several of which correlate well with significant drill intercepts from a 2018 drilling campaign.
Also, note the yellow star and the grey circular anomaly in the southwest corner on the above map—the Corner-Well Gabbro. Note the map's scale. The company is excited about the potential of this large zone. It should see multiple probes with the drill bit during the upcoming field season.
The June 1 headline
Bluebird Plans 18-Hole Drill Program for Canegrass High-Grade Nickel Sulphide Project in Western Australia
This highly anticipated drilling campaign will be divided into two phases—18 holes in 3,160 meters, part reverse circulation (RC), part diamond drilling (DD).
This program will follow up on results from a 2018 drilling campaign, and will also test new, high priority targets (see map further down).
Highlights from 2018:
– All holes returned anomalous Ni, Cu, Co (and PGE) values, and included some of the highest grades intersected on the project to-date:
BBRC001 (Winx) 14 meters @ 1.17% Ni, 0.88% Cu and 0.05% Co from 65 meters (including 1 meter @ 2.70% Ni, 0.23% Cu and 0.12% Co);
BBDD001 (Sunline)

0.57 meters @ 3.07 % Ni, 0.62% Cu and 0.24% Co from 144.1 meters

;
BBDD002 (Tulloch) 14.25 meters @ 0.69% Ni, 0.82% Cu and 0.05% Co from 243.2 meters (including 4.9 meters @ 1.33% Ni, 1.26% Cu and 0.10% Co).
– All mineralized holes are open along strike and at depth.
– Downhole electromagnetic (DHEM) testing identified anomalies in holes BBRC001 and 002, BBDD001 and 002, strongly suggesting the mineralization is more extensive than the intervals tagged during the 2018 campaign.
Further details from the June 1 press release…
The Canegrass Project is emerging as one of the more interesting new layered intrusive nickel projects in Western Australia. The upcoming program will drill untested conductors identified in surface geophysics and continue to assess the extents of the Ni-Cu (Co) mineralization intersected in the previous campaign, including targeting off-hole anomalies.

Drilling will commence with an initial RC program testing the new anomalies. This will be followed by a diamond drilling program deepening the RC holes that will target the geophysical anomalies generated from the last campaign and any encouraging geology arising from the RC campaign. The current strike extents of each prospect is unconstrained and down dip/plunge extensions remain to be tested. In order to drill the nickel prospective conductors, the drilling at Winx will have to pass through the vanadium-rich magnetite horizons that initially attracted explorers to the area.
NEWEXCO
We touched on the significance of their 'drilling partner' NEWEXCO in our May 29th offering.
NEWEXCO—helmed by a gifted team of geologists, geophysicists, data analysts, and GIS gurus—has a history of discovery success…
2008 – Discovery of the Year: "A prestigious award from the Annual Sydney Excellence in Mining conference which recognised the entire Newexco exploration team for their integrated approach to geological and geophysical targeting. The recognition is primarily for the discovery of the Spotted Quoll massive nickel sulphide deposit and also recognises the Flying Fox discoveries for client Western Areas NL. Resources quoted in the WSA 2008 Annual Report were 2.3 Mt @ 4.7% Ni."
2009 – AMEC Prospector of the Year: "Awarded to Bill Amann, Adrian Black and Kevin Frost for the 'blind' discovery of the Spotted Quoll massive nickel sulphide deposit. This deposit was masked by 30 metres of barren granite cover and laid undiscovered throughout 35 years of active exploration and drilling. The initial resource at Spotted Quoll was in excess of 2 Mt @ 6% Ni; subsequent drilling has increased this resource with reserves to sustain greater than 10 years of open pit and underground mining. The recent updated underground reserves were 3.1 mt @ 4.2% Ni."
… and NEWEXCO believes Bluebird could be onto something big at Canegrass.
Peter Dickie, Bluebird President and CEO:
"We are excited to commence drilling at Canegrass and anticipate all preliminary on-site activities, as well as permitting, to be completed promptly. Our drilling partner, Newexco, is renowned for methodically planned and executed exploration programs and delivered exceptional results at Canegrass in 2018. Newexco has been instrumental in a number of significant discoveries in Australia and we are pleased to be working with the company for our 2020 program."
This June 1 press release also contains a detailed table the planned drill holes for this 2020 campaign (good info fellas).
The June 10 headline
BlueBird Announces $2.5 Million Financing
This PP consists of 16,666,667 units priced at $0.15 for total gross proceeds of $2,500,000. Each unit consists of one common share and one-half of one transferable warrant (each whole warrant is exercisable at $0.25 for two years).
For newbies, a 'transferable warrant' will be listed on the exchange and can be traded just like a stock, after the holding period is up.
Final thoughts
Based on its current 67.06 million shares outstanding, Bluebird has a market cap of $10.06M based on its recent $0.15 close. The stock traded north of $0.18 in recent sessions. The volume spikes suggest accumulation…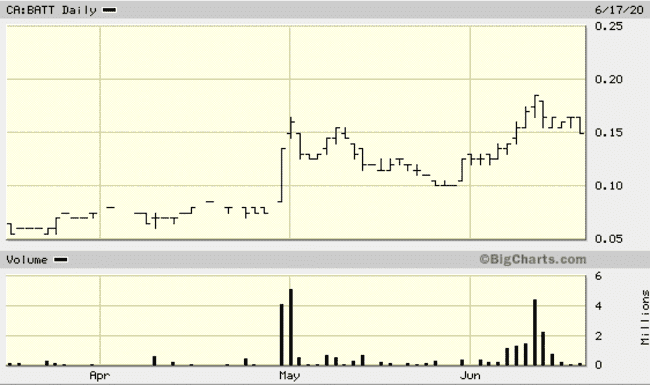 Note that 80% of the company's float is either insider or house controlled.
These are exciting times for Bluebird.
Let the drilling begin.
END
—Greg Nolan
Full disclosure: Bluebird Battery Metals is not currently an Equity Guru marketing client.