Let's face it, the (still) nascent cannabis industry has been plagued with numerous companies that made no business sense.
"Abattis Bioceuticals (ATT.C) didn't have shit," stated Equity Guru's Chris Parry, "It was a pile of cardboard cutouts of real companies, with nothing behind them but an incorporation document and a logo. That played great at investor conferences but the moment folks tried to look under the ATT skirt, they'd find actual junk where 'the junk' should have been."
"What sets us apart is a seamless integration of capital and operational expertise," gushed MedMen (MMEN.C) President Modlin, "There are a lot of people making bets in this space, we are making investments. And that's what makes us proud."
"Wayland Group (WAYL.C) was once a darling of the Canadian marijuana market, with a GMP-certified grow facility supposedly expanding to 216,000 sq ft, and reach into Europe," recalled Chris Parry, "But it was also built on a foundation of self-dealing and over-hype, and collapsed hard just days after the company announced a fake $200m asset sale to ICC International (WRLD.U), which has since delisted.
Sifting through the wreckage of the cannabis industry, we are starting to find some gems.
Heritage Cannabis (CANN.C) is a case in point.
Last week, Heritage announced that its subsidiary Voyage Cannabis was granted an industrial hemp license by Health Canada, allowing Voyage "to bulk store, as well as buy and sell industrial hemp, flowering heads, leaves or branches to other license holders, and to import and export grain".
Heritage has been producing full spectrum CBD from high quality hemp biomass as part of the Company's medical and recreational product initiatives. It is expected that these products will be available to the public within the next few months.
"We are now able to purchase and store greater quantities of hemp on both sides of the country and can further support hemp farmers by augmenting their storage capacity in a controlled environment," stated Clint Sharples, CEO of Heritage
A couple of weeks ago, Heritage announced that its subsidiary Voyage Cannabis has been given a cannabis oil sales license by Health Canada.
Now Voyage can now sell weed products, including oil derivatives, to provincial cannabis boards as well as directly to patients in the medical market.
Heritage plans to begin making its cannabis oil available for sale shortly, including its direct-to-vape, all natural oil products. CANN's proprietary extraction methodology uses high pressure systems and no harmful chemicals. Pending Health Canada product approvals, Heritage will launch a line of full spectrum CBD tinctures.
"We have been processing and formulating products in anticipation of this license and are eager to begin offering them to the public." stated Clint Sharples, CEO of Heritage. "Our extraction division, Purefarma, has built a reputation for quality and purity, and this license allows Voyage to offer these products directly to this growing market in addition to our contract manufacturing business."
New licenses, deals, products – that's all good – but it's not the nitty gritty stuff investors are looking for now.
By "nitty-gritty" we mean – numbers.
Four weeks ago, Heritage released its Q1, 2020 financials.
Key Q1, 2020 highlights (in $CAD):
Revenue of $4 million compared to ZERO in Q1, 2019.
Gross Margin of $1.5 million (37%)
Net loss of $2 million compared to $3.8 million in Q1 2019
Positive cash flows anticipated in fiscal 2020
Cash position of $9.3 million
Working capital of $14.8 million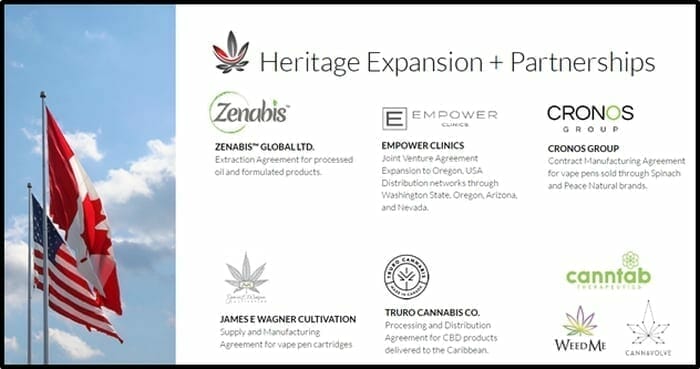 Q1, 2020 Corporate Highlights:
12-month supply and manufacturing agreement with James E. Wagner Cultivation (JWC) for the filling and packing of vape pen cartridges for Canadian recreational and medical markets.  JWC will provide a minimum of 100 kg per month of aeroponically-grown premium-grade cannabis biomass for processing into direct-to-vape products.
Wholly-owned subsidiary CannaCure received amendment licensing approval for the expansion of three additional grow rooms at its facility in Fort Erie, Ontario.
Launch of its EndoDNA Test Kit in Canada which analyzes over 500 genes and more than 550,000 Single Nucleotide Polymorphisms in the human body, providing a personalized EndoDecoded report, identifying how an individual's specific genetic makeup interacts with cannabinoids and terpenes.
Cannabis research partnership with Brock University to advance understanding of the medical benefits of cannabis.
Advancement of its JV Partnership with Empower Clinics with the order and installation of extraction and post-production equipment units at Empower's existing licensed hemp processing facility in Sandy, Oregon. Through Empower's Dr-staffed health clinics in Oregon and Arizona, it has access to over 165,000 patients.
Cannabis – it turns out – is not a fad.
"Cannabis purchases rose as much as 600% since the beginning of March, 2020 in Canada's biggest market," stated BNN Bloomberg, "thanks to stockpiling by consumers during the COVID-19 pandemic – and demand may be sticking around".
Sales data provided by the Ontario Cannabis Store (OCS) over the past six weeks indicates legal pot appears to be a more "habitual" purchase than a one-time novelty, according to Cheri Mara chief commercial officer at the provincial retailer.
"Heritage's first quarter in 2020 showed continued growth in revenue," stated Sharples, "We have a strong balance sheet that we believe will support the company through this time and we have taken steps to preserve cash balances."
Growing cannabis revenues.
Shrinking losses.
A healthy balance sheet.
That's about as real as it gets.
Full Disclosure: Heritage Cannabis is an Equity Guru marketing client.