Cronos Group (CRON.T) announced today that it has signed an amended and collaboration license agreement with Ginkgo Bioworks that will enable the companies to accelerate the commercialization of cultured cannabinoids at scale.
"Beginning commercial production demonstrates the significant progress under way with our Ginkgo partnership and the competitive benefits we see in being first to market with innovative consumer products…Cannabis holds many unique compounds with a wide range of potential use cases and benefits. By leveraging Ginkgo's research platform and our fermentation manufacturing capabilities, we believe we have disruptive technology that can deliver rare cannabinoids at scale and elevate the consumer experience," said Kurt Schmidt, president and chief executive officer of Cronos Group.
In accordance with the amended agreement, Cronos will be able to commercialize products using cultured cannabinoids ahead of reaching originally stated productivity targets, while maintaining the necessary incentives to achieve previously agreed upon efficiency and cost goals. For context, cultured cannabinoids refer to the manufactured version of natural cannabinoids. By transferring the DNA sequences for cannabinoid production into organisms like yeast, Ginkgo is able to produce manufactured variants of cannabinoids at a reliable and scalable rate.
Additionally, the amended agreement is expected to facilitate Cronos' cultured cannabinoid products being first to market in Canada, which will drive significant market knowledge and consumer insights. In particular, Cronos and Ginkgo are focused on manufacturing rarer cannabis compounds including cannabigerol (CBG), a type of cannabinoid that has shown promise as a treatment for cancer and inflammation in various animal studies. Cronos expects that the final productivity target for CBG will be achieved prior to September 2021, as previously announced.
"Biological manufacturing is unlocking access to important cannabinoids that can be scaled up and produced reliably, consistently and economically…We look forward to continuing our work with Cronos to facilitate innovation bringing this powerful technology to the cannabis industry," said Jason Kelly, chief executive officer and co-founder of Ginkgo.
Under the terms of the companies' original agreement, Cronos agreed to issue Ginkgo 14.7 million common shares upon Ginkgo's demonstration that certain micro-organisms are capable of producing eight target cannabinoids above specified minimum productivity levels. However, under the amended agreement, one-third of common shared in the tranche will be issued on the date that Cronos sells a product incorporating the relevant target cannabinoid to a third part. The remaining two-thirds will will be issued upon Ginkgo's demonstration that the relevant micro-organisms can produce the target cannabinoid above the corresponding productivity level proposed in the original agreement.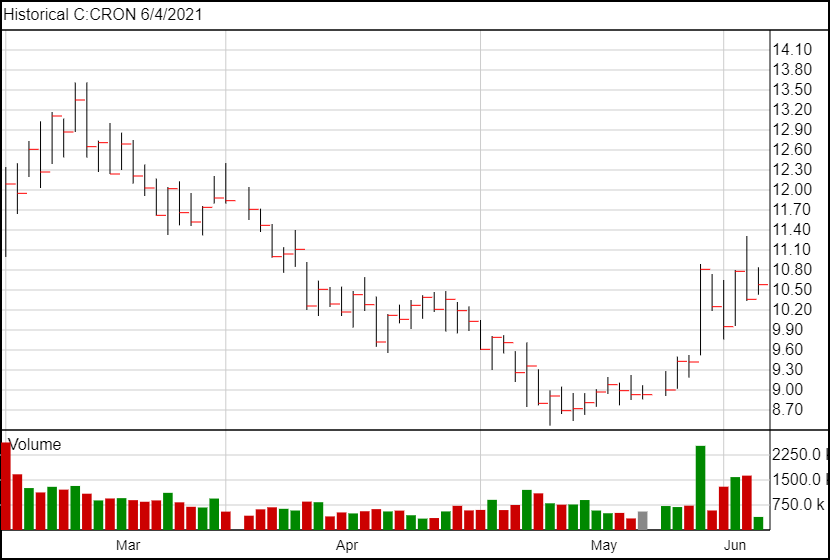 Cronos' share price opened at $10.62, up from a previous close of $10.36. The Company's shares are up 2.12% and are currently trading at $10.58 as of 10:40AM ET. This indicates that there has been some change following the news.