When a sector gets hot, small cap stocks can often get a bump by sidling up to the hot sector with a new product/idea/opportunity.
When the dust clears, the intrinsic value of the new offering is typically deemed to be low.
We saw it in 3D-printing, with Dung Beetle Treats.
We saw it in weed with a $1 billion website that forgot to sell cannabis.
We saw it in blockchain with a Cryptocoin for porno transactions.
"SpankBank is a revolutionary model of cooperation for the adult industry: a merchant-owned credit system that controls the issuance of our BOOTY ERC20 stablecoin"
In the last 2 years, SpankBank's "stable porno cryptocurrency" fell in market cap from $173 million to $1.2 million.
On March 10, 2020, Aytu BioScience (AYTU.Q) announced that is has signed "an exclusive distribution agreement for the right to commercialize a clinically validated and commercially used coronavirus 2019 (COVID-19) IgG/IgM Rapid Test."
Today, many retail investors are Googling "corona virus" – so AYTU's news is timely.
"The test has been licensed from L.B. Resources (a Hong Kong Corporation)," stated AYTU, "It is intended for professional use and delivers clinical results between 2 and 10 minutes at the point-of-care."
"Delivering clinical results" is the bio-tech equivalent of "discovering mineralising rock".
All rock is mineralised.
If I fart into a test-tube and a team of scientists determine that the aroma originates from human fecal matter – that is a clinical result.
Never-the-less, investors got very excited.
The COVID-19 IgG/IgM Rapid Test is an assay used in the rapid, qualitative and differential detection of IgG and IgM antibodies to the 2019 Novel Coronavirus in human whole blood, serum or plasma.
This point-of-care test has been validated in a 113-patient clinical trial and has received CE marking.
CE marking indicates conformity with health & safety standards for products sold within Europe. The CE marking is also found on products sold outside the EEA that have been manufactured to EEA standards.
Test Features:
Results reported in 2-10 minutes
Facilitates patient treatment decisions quickly
Simple, time-saving procedure
Small specimens, only 5 µL of serum/plasma or 10 µL of whole blood specimens required
All necessary reagents provided & no equipment needed
High sensitivity and specificity
Clinical Results
The COVID-19 IgG/IgM Rapid Test was evaluated with 113 blood samples obtained from patients exhibiting pneumonia or respiratory symptoms.
Clinical results using the COVID-19 IgG/IgM Rapid Test show:
The sensitivity of the lgM test is 87.9% (87/99) and specificity is 100% (14/14) when compared to RT-PCR.
In medical diagnosis, test sensitivity is the ability to correctly identify those with the disease (true positive rate).
Test specificity is the ability to correctly identify those without the disease (true negative rate).
According to this limited survey, if AYTU's test says you don't have the corona virus, you don't have it.
If AYTU's test says you do have the virus – there's a 12% chance it's wrong.
So far, only about 5,000 people have been tested in the U.S.
If that number goes to half a million, with these "clinical results" – you'd have 60,000 healthy people quarantined or hospitalised because of an unreliable test.
Not an obvious win, but good enough for The Street!
This morning RawDogg CV Short-Slayer DJ (@loudanepro) – who "calls out bullshit* SRI/trading using psych/objectivity" – reminded AYTU shorts that they are "Grandma's Bitch".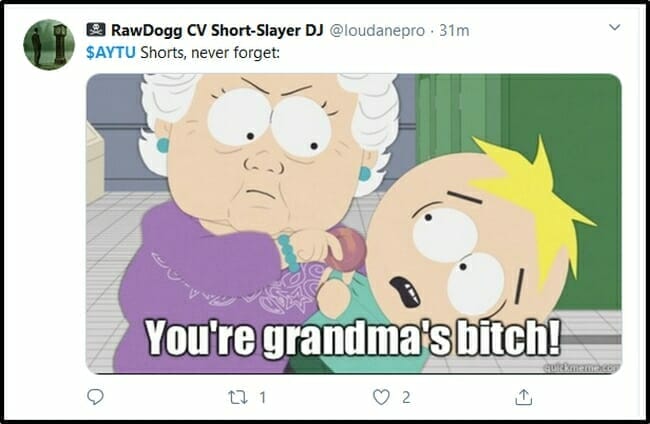 AYTU expects to pursue U.S. regulatory clearance and expects to consult with the FDA about qualifying the test under FDA's Emergency Use Authorization.
The Company expects to receive an initial product shipment in three to four weeks, pending the timing of required regulatory, customs, and importation activities.
In short, AYTU expects to do many things, and promises to do nothing.
From a legal and ethical standpoint, that is smart strategy.
"The safety and health of every American is of paramount importance to the company as we face the threat of the coronavirus," stated Josh Disbrow, CEO of Aytu BioScience, "We are excited to be able to work with U.S. regulatory authorities, and we will work to make this important test available in the U.S. as soon as possible."
ATYU's 2019's revenues were $7.3 million – about 7% of it's current market cap of $93 million.
This agreement grants Aytu the exclusive right to distribute the product in the U.S for a period of three years, with additional three-year autorenewals thereafter.
"Our mission is to bring the core benefits of blockchain technologies to the world of adult entertainment," stated SpankBank who launched three products: Spank Pay, Spank Bank, Cyptotitties.
Today SpankChain is trading at $0.0035 with a 24-hour trading volume of $9.73.
– Lukas Kane