After an emergency 50 BPS rate cut, and U.S. 10-year money hovering on both sides of 1% for the first time since forever, gold is taking on a whole new luster.
Smart money types are calling it a no-brainer.
Even if you've frowned on the metal in the past à la the "gold is a barbarous relic" argument, it's difficult poking holes into the logic of owning it, especially now, in these uncertain times.
I see gold as a currency—the only currency immune to counterfeit via accommodative fiscal policy.
Speaking of which, I never tire of these two and their hilarious take on what Quantitative Easing (QE) really, truly is…
Adding validity to the argument for gold, technically, the metal is in a bull market.
Since it's launch last May, the chart pattern is classic bull market action: an initial powerful surge is met with a multiple-month consolidation, after which it breaks out hard to the upside.
Subsequent selloffs quickly lose momentum and the accumulation resumes creating a series of higher highs and higher lows.
Note how this most recent selloff—a collapse triggered by overzealous margin clerks—bounced neatly of the 50-period moving average. Classic bull market price action.
A successful assault on recent price highs would seal the deal in my mind.
Upside resistance now stands at $1690 to $1700.
Gold stocks
Rick Rule, CEO of Sprott US Holdings, figures there are roughly 2,000 listed junior miners worldwide, of which only 200 are viable.
That sounds about right, judging by the number of hapless wannabe discovery co's out there (don't get me started).
In my way of thinking, shortlisting the best of the best—those with ounces-in-the-ground underlain by large geological footprints—and holding said shortlist with a long term bias in mind is the likely best strategy as this bull market in precious metals gains traction.
Shortlist candidate: Metalla Royalty & Streaming (MTA.V):
Metalla, preferring to ink deals with third parties on existing royalties, owns royalties/streams on deposits operated by some of the biggest and best in the gold and silver arena: Agnico Eagle (AEM.T), Newmont-Goldcorp (NGT.T), Pan American Silver (PAAS.T), St. Barbara (SBM.AX), and Osisko (OR.T).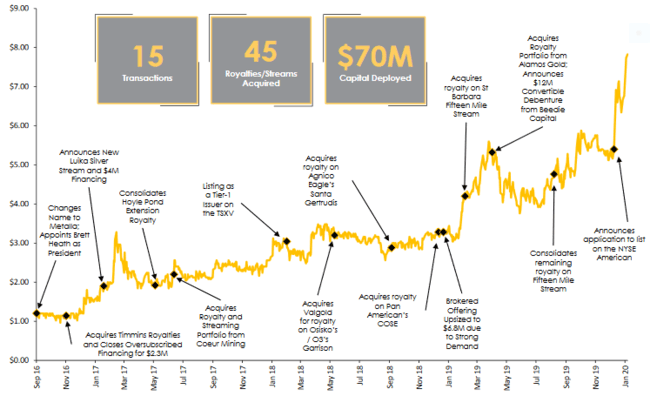 2019 was a banner year for Metalla on the acquisition front.
2020 could be a repeat.
Feb. 18, 2020 acquisition news:
Metalla Acquires an Existing 2.0% Gold Royalty on Teck / Newmont's Nuevaunión Project
Here, the company has acquired a 2.0% NSR (Net Smelter Return) royalty on future gold production from a portion of the La Fortuna deposit and prospective exploration grounds forming part of the NuevaUnión Project located in the Atacama region of Chile.
NuevaUnión is 50/50 owned by Newmont-Goldcorp (NGT.T) and Teck Resources (TECK.NYSE).
NuevaUnión stands as one of the largest undeveloped copper-gold-molybdenum projects in the Americas.
This deal involves a partner.
"Metalla has partnered with BatteryOne Royalty Corp. ("BatteryOne" and together with Metalla, the "Purchasers") to jointly purchase the NSR such that Metalla will be entitled to all payments under the NSR with respect to gold production, BatteryOne will be entitled to all payments under the NSR with respect to copper production, and all other payments under the NSR will be split evenly between the Purchasers."
The price of admission:
"The total acquisition price will be $8 million to be satisfied in cash and common shares of the Purchasers. Metalla has agreed to pay 25% of the Purchase Price and BatteryOne will pay 75% of the Purchase Price in proportion to the underlying commodity at the La Fortuna deposit. A total of $3 million in cash was paid by the Purchasers on closing and the balance of the Purchase Price is $1 million in cash that is payable in one year from the closing date and $4 million that is payable equally in cash and common shares of the Purchasers upon the achievement of commercial production at the La Fortuna deposit (such common share price of the Purchasers to be calculated based on a 10-day volume-weighted average price as of the date prior to issuance or cash in certain circumstances)."
NuevaUnión
As stated further up the page, NuevaUnión is one of the largest undeveloped copper-gold-molybdenum projects in the Americas.
The project is comprised of two orebodies 40 kilometers apart- Relincho and La Fortuna.
For those with a memory, the La Fortuna portion of the project used to go by the name of El Morro.
The NSR covers the Cantarito claim, part of the proposed La Fortuna open-pit deposit and prospective exploration ground to the southeast.
The Cantarito claim covers at least 8% of La Fortuna's ounces-in-the-ground. Note the position of the proposed open-pit on the map below…
8% may not sound like much, but La Fortuna's proven and probable reserves currently stand at 8.97 million ounces of gold.
La Fortuna Reserves

La Fortuna Resources
Brett Heath, President and CEO:
"We are pleased to add another high-quality gold royalty on one of the world's premier copper-gold projects. NuevaUnión is being developed by two of the most prominent mining companies in the world, Teck and Newmont. This transaction gives shareholders exposure to gold on a long-life asset on an accretive basis."
Homing in on recent trading patterns in Metalla common, the last few sessions have been incredibly volatile—the stock could have been purchased for a five-dollar bill only a few days back.
Another opportunity to buy an A-list company on the extreme cheap may not present again, but entering a few stink bids might pay off if the extreme volatility we've witnessed in recent sessions continues in days and weeks ahead.
For a deeper delve into the company's assets and the royalty/streaming space, the following Guru offering should accommodate:
Metalla Royalty & Streaming (MTA.V) – aggressively growing its royalty and streaming asset portfolio
END
—Greg Nolan
Full disclosure: Metalla Royalty and Streaning is an Equity Guru marketing client.