On August 1, 2019, iAnthus Capital (IAN.C) provided an operational update for GrowHealthy, the company's Florida medical marijuana operation.
GrowHealthy is about to open its 6th store in Florida.  This 4,000 sq. foot location will serve the Miami-Dade County population of approximately 2.7 million.
With operations in 11 states, including 23 dispensaries: Arizona (4), Maryland (3), Massachusetts (1), New York (2), Florida (5), Vermont (1), Colorado (1), and New Mexico (6) – iAnthus has formed a "super-regional footprint" in both the eastern and western United States.
GrowHealthy owns a 190,000 square-feet cultivation and processing facility on 33 acres in Lake Wales, Florida. It sells cannabis and CBD products on-line and in its dispensary locations.
Grow Healthy provides guidance in finding a prescribing doctor – from there it's a 3-part process:  1. shop, 2. place and order, 3. get free delivery.
iAnthus' Florida dispensaries are expanding patients' access to medical cannabis products.
"Our original dispensary design provides an inviting, immersive and educational experience," stated Randy Maslow, President of iAnthus, "we have plans for further rapid expansion of GrowHealthy dispensaries throughout Florida."
According to Marijuana Business Daily, Florida's medical weed market has been growing fast:
In 2018, active patients nearly tripled, from 56,000 to 159,000
The Marijuana Business Factbook projects that 2019 medical marijuana sales in Florida will reach $425 million-$525 million, up from $225 million-$300 million in 2018.
Florida is the 3rd most populous state in the U.S (19 million) with 17% of Floridians over 65 years old.  With that demographic – it's not surprising that there is a strong demand for medicinal cannabis and CBD products – which are used to treat cancer, joint pain and inflammation.
"Since opening our first Florida dispensary in December 2018, we have grown our market share from 0% to 3%," stated Hadley Ford, CEO of iAnthus. "We now have five open dispensaries, with our two newest locations in Orlando and Daytona Beach having opened a few weeks ago. Next week we plan to add the key Miami market."
For investors looking forward, the most significant value of the Florida dispensaries may be a springboard into the (future) recreational market.
Florid State Attorney Jack Campbell recently announced that his office will not be prosecuting minor marijuana cases, since current testing kits can not differentiate between hemp (legal) and cannabis (illegal).
"This office will no longer be charging people with possession of cannabis absent a confession to what the substance is or testing by a lab that can meet the evidentiary standards," Campbell told law enforcement officials.
At issue is the current difficulty statewide determining whether hemp products, which look, smell and come from the same family as marijuana, contain .3% or less THC.
The current kits can only tell if THC is present, not the THC purity.
"Hemp products look and smell exactly like marijuana products," Campbell stated. "Much of the search and seizure law hinges on either the officer's or K9's ability to smell."
Throughout the U.S., iAnthus is creating retail beach-heads into future rec markets.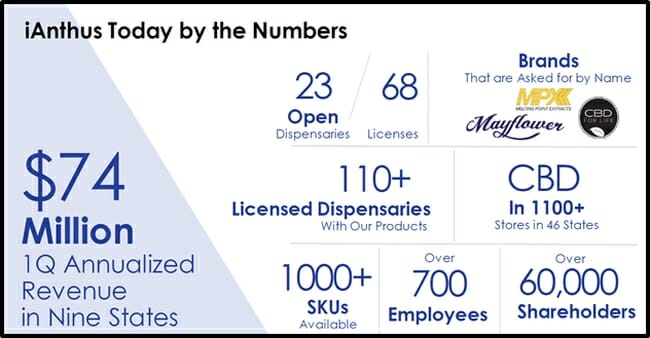 With the options pricing kerfuffle in the rear-view mirrow, iAnthus is getting down to work.
Chief Strategy Officer and Director, Beth Stavola is a key cog in the IAN management wheel. The former COO of MPX Bioceutical, she is also the founder of Health for Life, one of the most recognized cannabis brands in Arizona.
In February 2016, Ms. Stavola launched CBD for Life, a company that produces CBD-infused pain management and beauty products using 99% pure CBD extract.
Previously, Ms. Stavola worked on Wall Street with Jefferies and Company, rising to the position of senior vice president. She is actively involved in organizations that promote women in the cannabis industry and in 2014 was named as one of the leading medical cannabis entrepreneurs by Congresswoman Dina Titus, on the floor of the House of Representatives.
Ms. Stavola has recently been buying shares of iAnthus on the open market.
"We are now the third highest in Florida in terms of THC volume per store," stated Mr. Ford, "These early results demonstrate the strength of our operational team in large states like Florida, and the capabilities that we will bring to other greenfield markets for iAnthus like New York and New Jersey."
IAN shares peaked on September 11, 2018 at $9.10.  Dragged down in the general cannabis investing malaise, the company is now trading at $3.52 – with a market cap of $550 million.
– Lukas Kane
FULL DISCLOSURE: iAnthus Capital was an Equity Guru marketing client. Current relationship? I have an ex who is quirky, talented, aggressive. Every time I think about her my heart goes pitter-patter.  It's like that.