On July 17, 2019 Supreme Cannabis (FIRE.T) announced that it has signed an "acquisition agreement" to gobble up all the shares of a privately-held Truverra Inc.
Supreme will be handing over 14.7 million FIRE shares, giving the deal a dollar value of $20 million based on FIRE's "closing price on July 16, 2019".
Editor's note: mid-morning Supreme's stock is up about 10%.  So, the "dollar value" of the deal just nudged higher.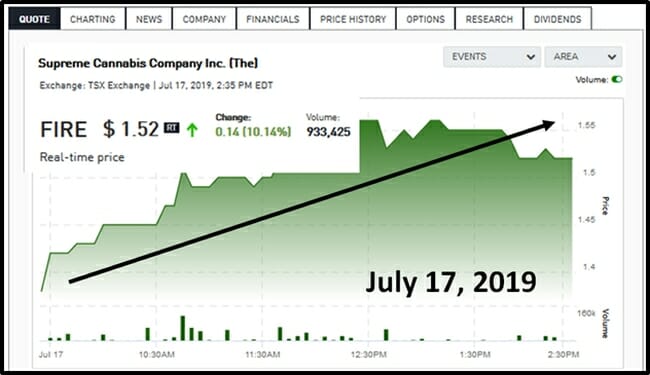 Supreme describes this as a "three-cornered amalgamation" between Truverra, Supreme Cannabis and a 100% owned subsidiary of Supreme Cannabis designed for "Cannabis 2.0 opportunities".
Cannabis 2.0 is the next wave of cannabis-related commercialisation.  Beyond dried flower into auxiliary products like cannabis-infused drinks, edibles, creams, and CBD health products.
Deloitte estimates that roughly $1.6 billion will be spent on edibles in Canada, followed by cannabis-infused beverages at $529 million and topicals at $174 million. Spending on concentrates is expected to hit $140 million, followed by tinctures at $116 million and capsules at $114 million.
"Forty-five percent of current consumers say they see cannabis topicals as an alternative to prescription medications, not a complement," stated Deloitte who surmised that pharmaceutical companies may feel like tossing their cookies.
Toronto-based Truverra operates in Canada and international cannabis markets through its subsidiaries, Canadian Clinical Cannabinoids Inc. (CCC) and Truverra Europe B.V.
Truverra Deal Highlights:
Health Canada licensed facility in Toronto, Ontario
Truverra to serve as Supreme Cannabis' global medical brand
Building on existing R&D platform
Established CBD offering in Europe.
Management team anchored in life sciences and pharmaceuticals.
Producing cannabis derivative products for Legalization 2.0.
CCC operates a 5,000 square-foot Health Canada licensed facility in Scarborough, Ontario. Supreme management intends to repurpose CCC's state-of-the-art facility to produce high-quality cannabis extracts concentrates and vaping liquids.
"With the acquisition of Truverra, we secure a Toronto-based facility equipped to extract our high-quality inputs for concentrates and vaping liquids in the near-term," stated Navdeep Dhaliwal, CEO of Supreme Cannabis.
Truverra Europe, is located in the Netherlands and sells a broad portfolio of hemp-based CBD products into select European markets.
This part of the acquisition syncs nicely with Supreme's European Master Plan.
A month ago, Supreme announced the launch of Supreme Heights, an investment platform based in London, UK "focused on opportunities in the UK and Europe's CBD health and wellness space."
Supreme explained to Equity Guru that the structure and governance of Supreme Heights creates significant "flexibility and creativity" in the way that European investments are made.
The European Union is one of the world's largest and most sophisticated markets, with member countries adhering to a galaxy of different rules and regulations.
"The rapidly evolving CBD markets in the UK and Europe present compelling investment opportunities," stated Dhaliwal, "We look forward to driving value for Supreme Cannabis shareholders through this investment platform."
In these frontier cannabis markets, all business activity is a type of Beta-test.  It's useful for Supreme's international macro-ambitions that Truverra Europe has already established a CBD beach-head.
"Truverra Europe has successfully launched multiple CBD products in various jurisdictions," confirmed Dhaliwal, "The senior leadership team has a wealth of experience manufacturing and launching products in highly-regulated industries such as life sciences and pharmaceuticals."
By co-incidence rather than cunning, today is "Supreme Cannabis Day" at Equity Guru.
Every staff member who can wield a pen, or speak into a microphone has been asked to drill down into FIRE and publish their opinions on the company.
"Supreme President John Fowler has become not only one of the most respected execs in the cannabis business," wrote Equity Guru's Chris Parry, "but also one of the most loved by his colleagues, employees, and customers. He's also one of the most efficient executors of actual business, having done so without falling into scandal or blowing out his budget."
"I purchased FIRE shares for $1.84," this writer confessed, "11 months later, those shares are trading at $1.40.  To this point, my investment is down 22%. There are 5 reasons I still believe in Supreme Cannabis. The first one is Financials:.
Q3, 2019 Financial Highlights:
Net revenue of $10 million
29% increase from Q2 2019 ($7.7 million).
382% increase from Q3 2018 ($2.1 million)
Revenue from adult-use up 63% quarter over quarter
7ACRES' facility approved for additional 90,000 sq. ft, doubling capacity from 13,300kg to 26,250kg.
For 18 years, Truverra's CEO, Jeff Adams held positions in finance, corporate dev., biz dev. and international sales at Canada's largest generic drug producer, Apotex Inc.
In his most recent role, Adams was responsible for the company's global licensing activities.
"With Supreme's support we look forward to strengthening our operations in Canada and globally," stated Jeff Adams, CEO of Truverra. "In the near term, we will continue to build Truverra's CBD offering in Europe and position the brand to serve international medical markets."
The closing of the transaction is expected to occur before August 30, 2019.
Full Disclosure: Supreme Cannabis is an Equity Guru marketing client.