In a recent Guru offering, we suggested that Blue Sky Uranium's (BSK.V) Ivana deposit was destined to grow, perhaps dramatically so:
"On the subject of growth, and this might be considered one of the better catalysts going forward, Blue Sky boasts heaps of (exploration) blue sky – numerous high priority targets are slated for a proper probing with the drill bit in the coming months."
Today's news both confirms and fortifies that latent subsurface potential:
Blue Sky Uranium Pit-Sampling Results Continue to Expand Mineralization Adjacent to Ivana Uranium-Vanadium Deposit
Before we dive into the news, a quick refresher:
Blue Sky's flagship project, Amarillo Grande, is located in the Patagonia region of central Rio Negro province, Argentina.
The company's Ivana deposit – a resource of some 22.7 million pounds of uranium oxide and 11.5 million pounds of vanadium oxide – represents the largest uranium discovery in that country in over 50 years.
Ivana also boasts compelling early stage economics, as demonstrated in a recent scoping study (PEA):
These solid numbers are good for 13 years worth of uranium and vanadium production.
The following slide from the company's i-deck shows where Ivana currently sits on the 'Uranium World Mines 2018 Cost Curve', a measure of the Ivana's production costs (per lb of U308).
And yes, holding a position in the 1st quartile is right where we wanna be.
The three key points featured above – jurisdiction, resource, economics – serve as a solid foundation for creating shareholder value.

Another supporting factor: the near certainty of higher U308 prices going forward.
The following slide from the company's i-deck makes a strong case for higher prices.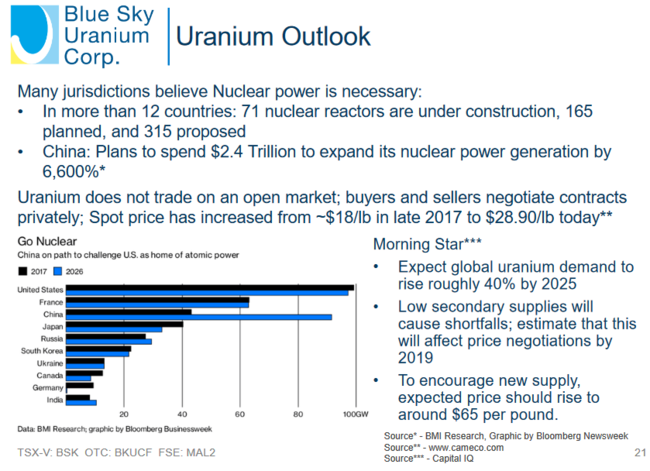 What's really going to move the needle for this stock, aside from firmer commodity prices and enhanced economics, is success on the exploration front.
Back to the Apr 29th news
Nikolaos Cacos, Blue Sky president & CEO:
"The recent robust preliminary economic assessment for Ivana provides a strong foundation for the Amarillo Grande Project. As we advance the Ivana deposit, we are also continuing our exploration work, and these results indicate the potential for further expansion in the immediate deposit area."
The news reported on high-grade uranium and vanadium values from a pit sampling program carried out in the area immediately west of the Ivana resource.
This method of sampling, where pits are hand dug from surface down to a maximum of 2.9 meters, is an inexpensive and effective approach to exploration.
Highlights for composite channel samples collected from pit walls include:
1,881 ppm U3O8 & 640 ppm V2O5 over 2.0 meters at AGI-CAL103,
including 3,404 ppm (0.34%) U3O8 and 1,335 ppm (0.13%) V2O5 over 0.8 meters
1,390 ppm U3O8 & 650 ppm V2O5 over 1.6 meters at AGI-CAL56,
including 2,332 ppm (0.23%) U3O8 and 1,016 ppm (0.10%) V2O5 over 0.7 meters.
610 ppm U3O8 & 384 ppm V2O5 over 1.6 meters at AGI-CAL58,
including 1,070 ppm (0.10%) U3O8 and 555 ppm (0.05%) V2O5 over 0.4 meters.
486 ppm U3O8 & 298 ppm V2O5 over 2.0 meters at AGI-CAL78,
including 1,206 ppm (0.12%) U3O8 and 589 (0.06%) ppm V2O5 over 0.6 meters
The map above shows off the new areas of mineralization (bottom left) relative to the Ivana deposit itself (outlined in orange). Note of the scale on this map.
These are exceptional results.
Compare some of the richer highlighted values (1,881 ppm U3O8 & 640 ppm V2O5) to the average grades supporting the overall resource (311 ppm U308 & 107 ppm V2O5).
Impressive geological sleuthing fellas. This is getting interesting.
This newly-identified near-surface mineralization is open to expansion, as indicated on Figure 1, but drilling is required for further testing as the target zone is interpreted to be at greater depth in adjacent areas.
If the company is successful in delineating a high-grade sweet spot sporting similar values adjacent to or within the overall Ivana resource, the entire economic picture stands to improve markedly.
It's also important to note that all of Ivana's mineralization discovered to date is located at or near surface, and is hosted in loosely consolidated sediments. This simplifies the entire mining process as no drilling, blasting or crushing will be required.
The slide below highlights Blue Sky's exploration potential on a much a larger scale. Note the 145-kilometer long mineralized trend.
It would appear that Amarillo Grande's surface has barely been scratched.
Look for the company to continue expanding the known resource and homing in on new zones of mineralization over the next six to eight months. They have no shortage of high priority targets to test with the drill bit.
If you want to learn more about this exceptional U308-V205 ExplorerCo, the following articles and podcast will help bring you up to speed:
Blue Sky (BSK.V) delivers positive metallurgical test results from its Ivana uranium-vanadium deposit in Argentina

Blue Sky Uranium (BSK.V): unveils a PEA for its Ivana uranium-vanadium deposit, Patagonia region Argentina

Equity.Guru podcast: Chris Parry speaks with David A. Terry, director at Blue Sky Uranium (BSK.V)
Final thoughts
The company's market cap currently sits at a modest $23.06M based on its recent trading range, last closing at $0.21.
With exploration results like those tabled above, the stock has every reason to push higher.
END
~ ~ Dirk Diggler
Full disclosure: Blue Sky Uranium is an Equity.Guru client. We own stock.
Tags: