Talking about lithium in late 2018 is like showing up to a vegan pot-luck with roasted venison.
A frosty reception is assured.
The story of the TSX.V is – above all – a story about showing up to the dinner party with the right dish.
Over the last decade, investors have been hungry for gold, potash, graphite, technology, block-chain, cobalt – then weed.
Lithium demand is tied directly to all things mobile and electric – including EV's (electric vehicles) – with their massive lithium-ion batteries.
Lithium stocks did well in 2017, but then fell out of favour.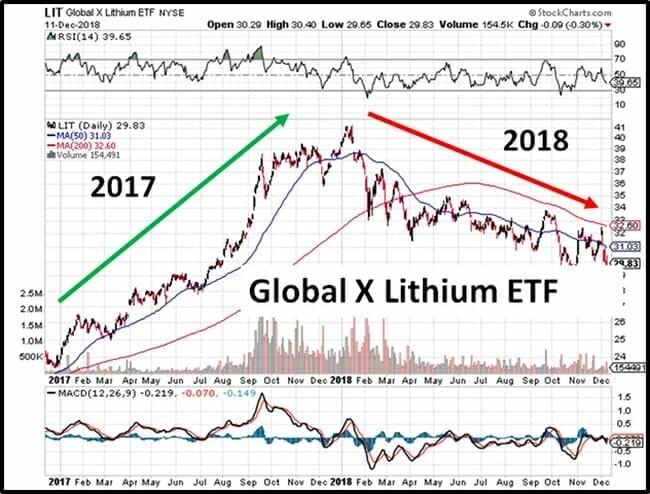 There are some shiny stocks in the bargain bin.
Case in Point:  Cypress Development (CYP.V) has a massive lithium project in Nevada – just east of Albemarle's Silver Peak mine, North America's only lithium brine operation, which has been running continuously for a half a century.
Cypress is valued at about $14 million.
To state that CYP shares are "cheap" is to cheapen the word "cheap".
They are practically free.
Cypress has a Net Present Value of $1.45 billion.
CYP controls two claim blocks totalling about 5,700 acres. Lithium mineralization occurs throughout to a depth of at least 120 meters.
On December 11, 2018, CYP provided an update on the company's Clayton Valley Lithium Project in Nevada.
Cypress is working towards a prefeasibility study (PFS) outlined in its recently completed Preliminary Economic Assessment (PEA).
"It took only 2,000 meters of drilling to delineate this resource," stated Equity Gury's Greg Nolan, "Less than $1 million was spent bringing Clayton Valley to the PEA stage – and it took only 2 years, from the first hole drilled to the release of this PEA."
"That's extraordinary," added Nolan, "It speaks to the experience and competence of this management team."
PEA Highlights:
Net present value of $1.45 billion at 8% discount rate
32.7% internal rate of return (IRR) on after-tax cash flow.
Lithium carbonate price of $13,000 per tonne based on Benchmark Research market study.
Average annual production rate of 24,042 tonnes of lithium carbonate over 40-year life.
Operating cost estimate averaging $3,983 per tonne of lithium carbonate.
Capex payback period of 2.7 years.
"Cypress is continuing to work on steps to de-risk the project and complete the prefeasibility study in the first quarter of 2019," stated Dr. Bill Willoughby, Cypress CEO, "Metallurgical tests are underway and focused on optimizing conditions of the process flowsheet."
Willoughby is a mining engineer and the former President of International Enexco, which was acquired by Denison Mines in 2014.
Somewhat unusually, for an PHD-Engineer type – he is also an excellent communicator.
In the video below, Willoughby talks to "Ahead of The Herd" about the geology, the risks and the potential financial rewards of the Clayton Valley Lithium Project.
---
Early in 2019, Willoughby and his team plan to complete infill drilling in the pit area and obtain additional material for larger-scale tests.
Cypress has applied to modify its existing drilling permit for its infill program.
The infill program is planned for up to 1500 meters of drilling between previous holes GCH-06 and DCH-10, which Cypress believes is the higher-grade center of the deposit.
Q1, 2019 Infill drilling objectives:
assist in upgrading resource categories
further define a production schedule for the PFS
advance metallurgical tests.
Currently metallurgical testing for the PFS is using sample material from the existing drill core.
The metallurgical program is focused on optimizing leaching conditions with respect to acid concentration, residence time, and other parameters."
Global Resource Engineering (GRE), property-wide resource estimate for Clayton Valley outlined nearly 2 billion tonnes of claystone material:
3.835 million tonnes of lithium carbonate equivalent (LCE) contained in 831 million tonnes of material at an average grade of 867 ppm Li in the Indicated category.
5.126 million tonnes of LCE contained in 1.12 billion tonnes at an average grade of 860 ppm Li in the Inferred category.
In 2017, EV's represented 1.7% of all vehicle sales globally – rising 51% year-over-year.
Lithium (the product & the investment) is not going away.
Now is a good time to look for bargains in the lithium space, so that when the pot-luck food-theme flips – you will be loaded up and ready to make bank.
If you can find a better bargain than Cypress Development – I'll trade in my 1981 Jaguar XJ6 for a Chevy Volt.
Full Disclosure:  Cypress Development is an Equity Guru client, and we own the stock.