Talk about having the right address.
Renaissance Oil Corp (ROE.V) is currently drilling off its first unconventional well at its onshore Amatitlán block on the Tampico-Misantla super basin in Mexico, one of only twenty-four 'super basins' on the entire planet. This particular super basin is estimated to contain over 30 billion barrels of oil and more than 20 trillion cubic feet of wet gas.
This drilling is a turning point for the company, a watershed event if you will. I know people who have been waiting years for this development.
The well, named Profeta (the Spanish word for prophet), was spud in mid-July. Profeta-1 will go a long way toward confirming the quality of Renaissance's resource at Amatitlán. Positive results could have a dramatic impact on the company's share price.
First, a cursory review of what Renaissance has…
It all started 5 years ago when the government of President Enrique Pena Nieto pushed through reforms that pulled in the reins on PEMEX, the 76-year state-run monopoly in Mexico's energy sector. Though a measure of political uncertainty has cropped up in recent days (more on this below), the country finally opened its doors to foreign investment to help exploit its formidable onshore oil reserves. These reserves require companies with a very particular set of skills… skills like modern drilling & completion know-how… skills which come naturally to a company like Renaissance.

Fact: Mexico holds some of the largest undeveloped oil & gas resources in the world. The country's enormous unconventional resource potential is virtually untouched. This is why Renaissance Oil Corp is there.
The assets…
The company's flagship asset, the Amatitlán project, is a massive 60,000-acre block of ground estimated to hold over 6 billion barrels of oil within its subsurface shales.
Amatitlán, widely considered to be the 'sweet spot' of the Tampica Misantla Super Basin, was the first shale oil play to be pursued and acquired by a foreign company in Mexico.
Renaissance's partner on the project is Russian oil giant LUKOIL, a behemoth in the oil sector boasting production of 1.7 million b/d in operations and subsidiaries in over 40 countries around the world. Nice to have a partner with that kind of clout. PEMEX, Mexico's once powerful state-run oil monopoly, is also along for the ride via royalty interests.
The dealeo…
Renaissance's Board of Directors, management, and technical team are an impressive lot. Their resumes speak for themselves. The deal Renaissance was able to strike with LUKOIL wouldn't have been nearly as favorable had it not been for the pedigree of this team.
Project operator, options to increase their stake to 62.5%, rights of first refusal on an adjacent block (Pitepec) … cool beans.
With regards to the CIEP (Contract of Exploration and Extraction) noted in the above slide, according to news released on the PEMEX website dated June 22nd, the PEMEX board has approved the migration of the Amatitlán CIEP to a CEE (Contract of Exploration and Extraction). What does this all mean? My read is that Renaissance's interest in Amatitlán is all but a lock. No further PEMEX approvals are required. The next step for the partners is to negotiate terms – contractual, financial, royalties.
It's not just the shale. Renaissance is also a conventional oil producer with impressive revenue growth…
According to the company's second quarter results, progress made on their shallow Tertiary aged Chicontepec formations at Amatitlán is impressive…
During the quarter, six additional wells were drilled intersecting the shallow Tertiary aged Chicontepec formations. To date sixteen Chicontepec wells, of a seventeen well program, have been drilled with the drilling of a seventeenth well now underway. Eleven of the new wells have undergone completion operations and been brought onto production with further completions expected to be concluded in the coming weeks. Renaissance has also completed workovers and repair operations on eight wells of the scheduled workover program.
And then there's the Chipas Blocks – Mundo Nuevo, Topén and Malva – located just southwest of the city of Villahermosa, Tabasco…
HIGHLIGHTS from its most recent quarter include:
Revenue reached a record of $7 million.
Revenue increased of 40% compared with the previous quarter.
Revenue higher by 31% compared to Q2, 2017.
Production in Q2 2018 increased to 1,656 boe/d compared to 1,249 boe (barrel of oil equivalent)/day in the previous quarter and 1,552 boe/d in the second quarter of 2017.
Renaissance & LUKOIL drilled 6 new wells targeting the shallow Chicontepec formations at Amatitlán.
This production growth is low risk. It's a nice buffer to have while the company focuses it sights on drilling off its first unconventional well on the Tampico-Misantla super basin.
Equity Guru's Lukas Kane dove into the Q2 results recently. His take…
A broad view of the company can also be perused via the following piece by yours truly…
Renaissance Oil (ROE.V): A smashed monopoly, a dream team and a Super Basin
Back to the Super Basin…
As mentioned above, the spudding of Profeta-1 is a highly anticipated event.
It's important to note that Renaissance's technical team was the first to develop oil-bearing shales in the US. That expertise and experience should go a long way in Mexico.
Profeta-1…
In a smart move, in order to expedite the process of penetrating the Upper Jurassic shales, Renaissance chose to re-enter an existing well rather than drilling off a new one. Profeta-1 was actually drilled by PEMEX during the 1980s. From the core and technical data collected back in the day, Renaissance was able to determine that the Upper Jurassic shales contain a high-quality resource of light oil. The Renaissance team believe the petroleum volume, the reservoir pressure, the thickness, high porosity, and the uniformity of the shales, are all ideal for commercial production.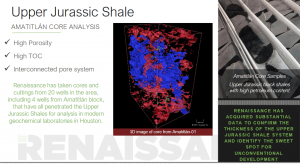 Comparisons have been drawn to other tight oil plays, specifically the shales of US Eagle Ford…
The timeline for Profeta-1…
It will take roughly six or seven weeks for the company drill through all three of the Upper Jurassic members – Pimienta, Tamán and Santiago. Drilling began in mid-July so that takes us into the first week or two of September. Core and technical data will be collected and compiled along the way. Then comes the fun part: after all of the data is analyzed, the company's team of geological sleuths will make a decision on where to insert the horizontal leg of the well.
After drilling off the horizontal section of Profeta-1, the well will be completed and tested. A drum roll will then crescendo for between thirty and sixty days as results from Profeta-1 are anticipated in Q4 of this year.
The costs in drilling off Profeta-1…
Drilling this unconventional well is expected to cost somewhere between $12 and $14M. Renaissance, with approximately $7M in cash on hand, is fully funded for its 25% share of the total cost.
Politicos and politics…
I noted above that there was a measure of uncertainty on the political front in Mexico. The election of populist Andrés Manuel López Obrador (a.k.a. AMLO) last month throw into question future policies related to oil and gas exploration and development. AMLO has stated that he intends to ban fracking. At the same time, he stated his intention to boost oil production. I honestly can't see how he can accomplish one without the other. It doesn't really matter at this juncture. ALMO doesn't take office until December. Profeta-1 drilling has not been impacted and the company is moving forward on all fronts.
Final Thoughts…
The company's conventional production growth, as demonstrated in their recent quarter, is impressive. Profeta-1 – the company's first unconventional well at its onshore Amatitlán block on the Tampico-Misantla super basin – is the big enchilada, however.
If Profeta-1 meets expectations, it'll be a whole new ballgame. The buzz in the air surrounding the drilling of this well has been bolstered by good science – e.g., supportive data from 20 wells and 222 cuttings samples have lead this team to conclude that the shales underlying Amatitlán are of the highest quality.
Renaissance currently has 278.3 million shares outstanding giving the company a basic market-cap of $55.7M. There are a number of potential short to medium term catalysts here: the migration of the Amatitlán contract to a new level, exercising the company's option on Amatitlán for 62.5%, exercising its option to acquire additional prospective ground (Pitepec) along the shale fairway… Profeta-1 is the ultimate catalyst in this authors opinion. Success on Profeta could launch the company's stock higher… multiples higher.
We stand to watch.
END
~ ~ Dirk Diggler
FULL DISCLOSURE: Renaissance Oil Corp is an Equity Guru client. We own the stock.