With the Vancouver Resource Investment Conference (VRIC 2023) coming up in a few days, my pre-conference routine has begun. Whenever I attend any mining conference, the first thing I do is go over the technical charts of every single company. I look for setups which meet my bottoming and reversal criteria and then save them in a watchlist. Then, I do deeper digging into financials, management, and the assets.
With a nice chart setup, and promising fundamentals, I then speak with management at the conference and get to know what their biggest accomplishment for the year ahead is going to be. When a stock has a nice setup, all it requires is that one catalyst for the breakout and new uptrend. This is a formula which has worked for me, and allows me to deduce a large list of companies down to a few AND allows me to properly use my time at conferences.
One company which really sticks out to me currently is Tier One Silver (TSLV.V). I briefly introduced this company to my readers in my recent Silver article which can be read here. For my fellow silver bulls, you can also check out silver 2023 outlook here.
Silver companies really interest me because I believe silver is the cheapest hard asset out there. The white metal moves as a monetary metal, has a close correlation with gold, but is primarily used for industrial purposes. You get the best of both worlds. Bearish on the global economy due to central banks, inflation, and potential geopolitical tensions? Gold does well in a confidence crisis, when people lose confidence in the government, central banks and the fiat currency. Silver follows gold but moves like gold on steroids. One can make a strong argument that we are already in this confidence crisis.
You bullish on the world and see the world coming together to tackle the climate crisis? Well electric vehicles and solar panels will play a role. Guess what? A lot of silver is required and used, which just means silver demand will increase which just puts more strain on the silver deficit. In simple terms: more silver will be required to meet this demand meaning higher silver prices and more investment in finding primary silver mines.
Tier One Silver is an exploration company focused in Peru. They are exploring two early stage projects which have untapped potential.
Why Peru? Well Peru produces approximately 16% of the global silver supply making them the 3rd largest producer of silver. The country also possesses the largest reserves of silver in the world. Untapped potential. Furthermore, the South American country is the 6th largest producer of gold, and the 2nd largest producer of copper. Why is this important? Because a lot of silver is found as a by-product in gold and silver discoveries and mines.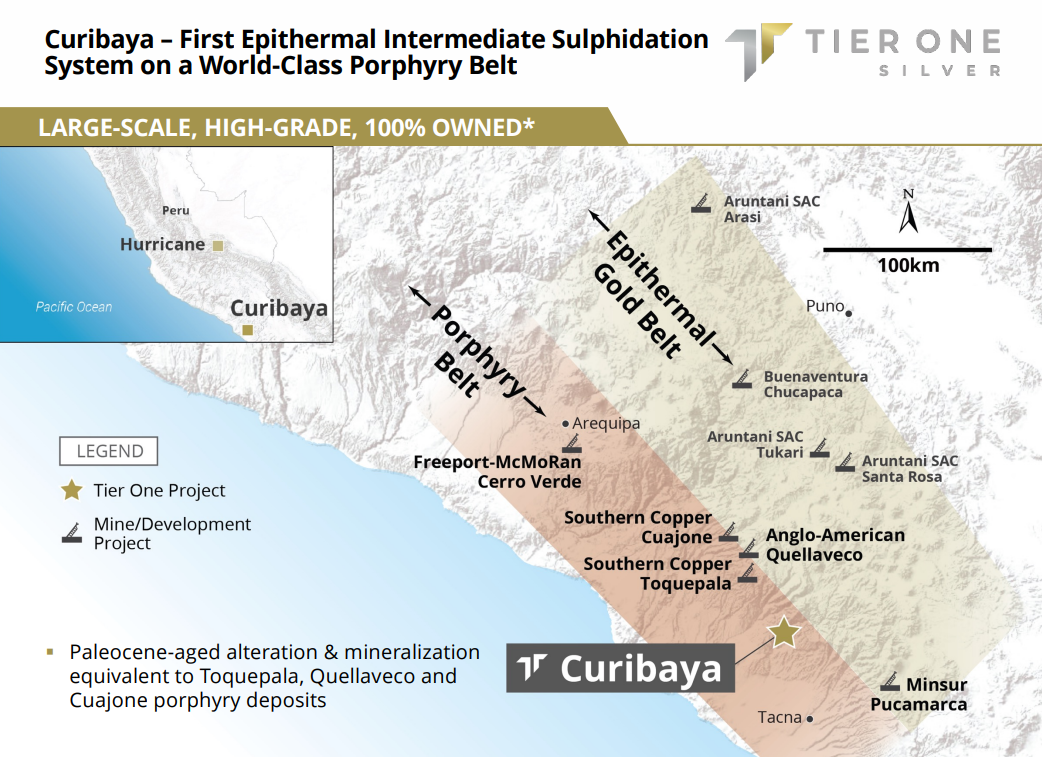 Tier One Silver's flagship Curibaya asset is situated on a world class porphyry belt. For us non geology nerds, all it means is it is on a geological belt which is where gold and copper is found. We know this because there are many other mines in the area.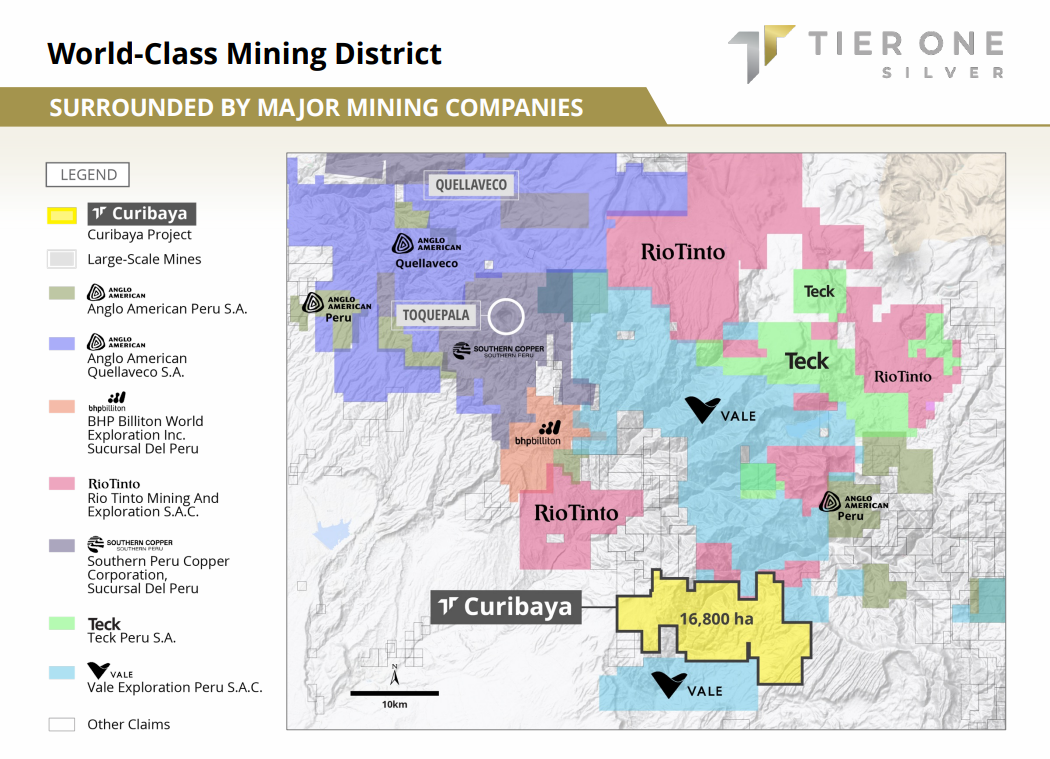 This gets us to the first important point: close-ology. The science in mining where your asset is surrounded by producing mines, past producing mines, and/or other large discoveries. This increases the likelihood of a discovery or some resources as the vein from next door assets could follow through into your land package. If these companies have found something nearby, chances are that Tier One Silver is in the right area for a discovery.
Look at the companies which are working in Peru and are near the Curibaya project. Rio Tinto, Teck, BHP Billiton, Vale and Anglo American. We are talking about some of the biggest names in mining. And let's not ignore Southern Copper, a name that may not trigger familiarity like the other mining giants, but this is a $57 billion dollar company. Definitely part of the big boy club.
So we are in the right area. Check.
And sampling has shown BIG numbers in terms of grade of silver. We are talking up to 298,590 g/t silver and 934 g/t gold sampled. Ridiculous numbers. Or the technical term, Bonanza grades.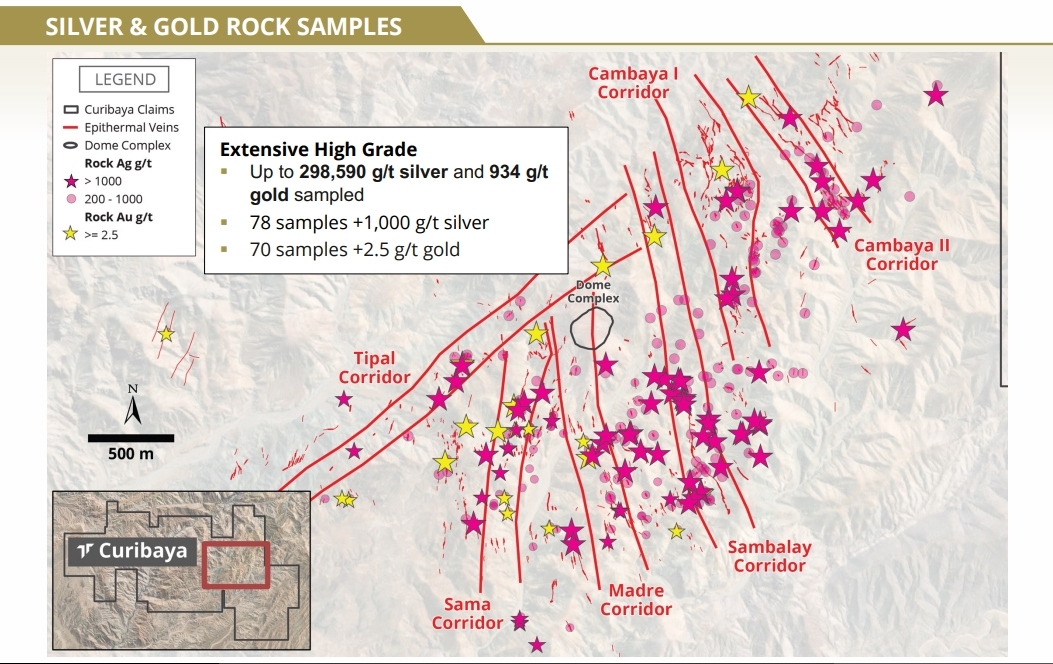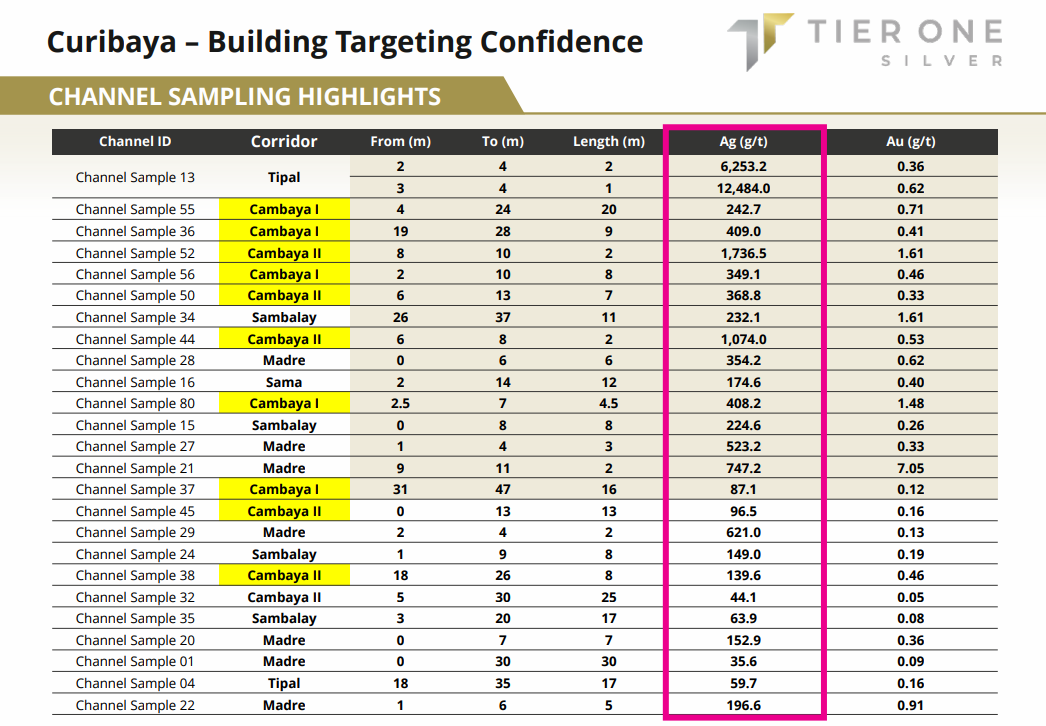 Look at some of those silver samples. Altogether, there has been 78 samples showing 1,000 g/t silver.
Back in September 2022, Tier One Silver announced channel sampling results within the Cambaya structural corridors from the Curibaya Project. Highlights from this program included:
4.5 metres (m) of 408.2 g/t silver (Ag) and 1.48 g/t gold (Au), including 1 m of 1,768.0 g/t Ag and 6.33 g/t Au, in 22CRT-080, 8 m of 349.1 g/t Ag and 0.46 g/t Au, including 1 m of 2,680.0 g/t Ag and 3.14 g/t Au, in 21CRT-56 and 2.5 m of 136.4 g/t Ag and 0.82 g/t Au, including 0.5 m of 568.0 g/t Ag and 3.37 g/t Au
CEO Peter Dembicki had this to say:
"The robust silver grades and concentration of arsenic in the channel samples at Cambaya reinforce our thesis that the precious metals system at Curibaya is preserved at higher elevations where less erosion has taken place. This gives us further confidence in our epithermal targets while we also work to define copper porphyry targets through our ongoing CSAMT geophysical program."
In summary, this project is in the right area (nearby major mines), and samples are producing high-grade silver results, which points to the potential of a world class discovery. For someone who writes about markets and stocks, we have the potential for a very exciting story of discovery.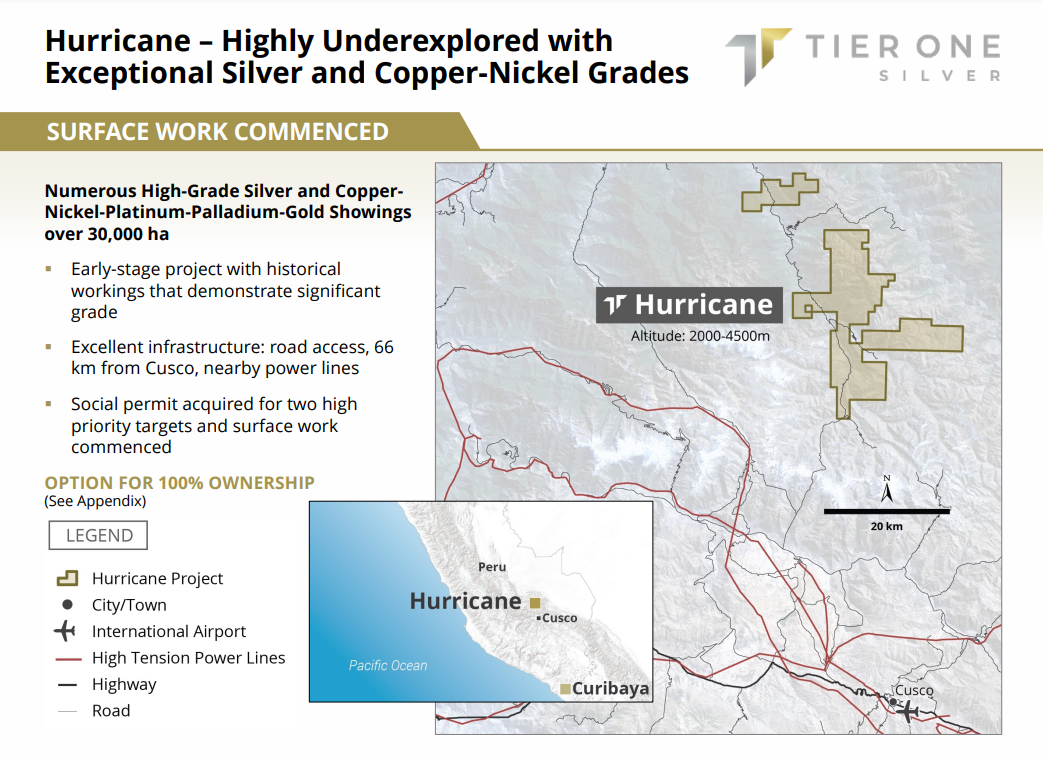 The other asset is the Hurricane Project, a highly underexplored project where historical workings show significant grades.
Tier One Silver's most recent news had to do with reporting rock and channel sampling results from the Magdalena target area on the Hurricane project.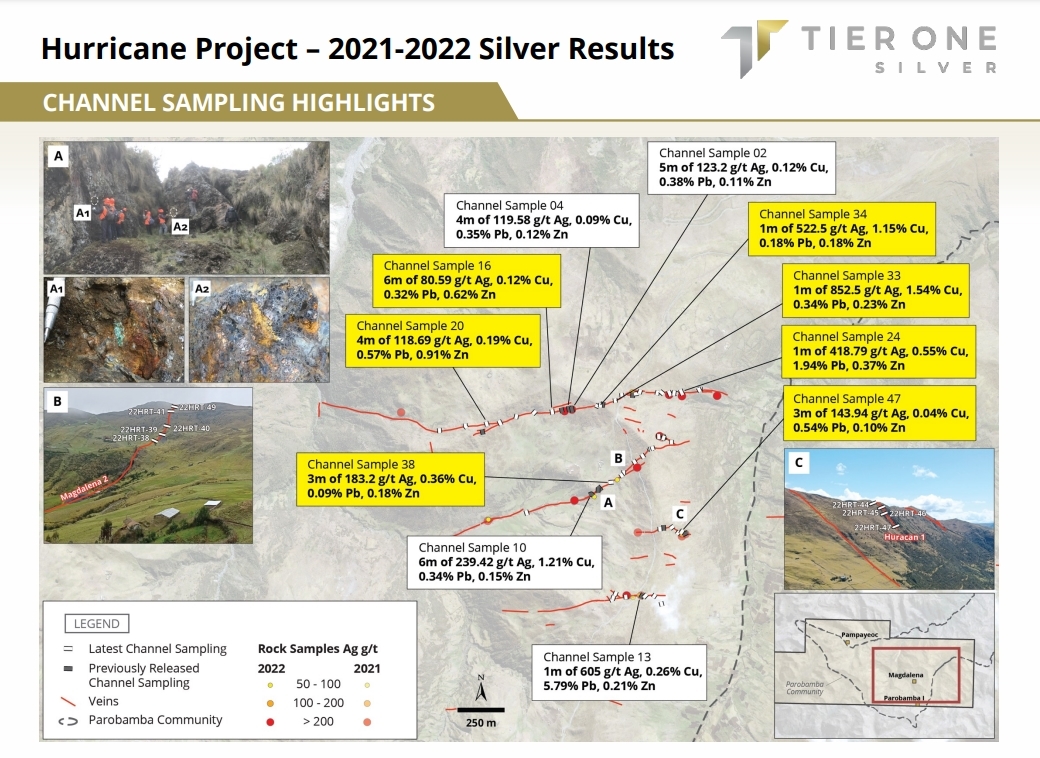 Highlights from the program include 1 metre (m) of 852.5 g/t silver (Ag), 1.54% copper (Cu), 0.34% lead (Pb) and 0.23% zinc (Zn), 1 m of 522.5 g/t Ag, 1.15% Cu, 0.18% Pb and 0.18% Zn and 2 m of 232.5 g/t Ag, 0.37% Cu, 1.06% Pb and 1.78% Zn.
Two projects with untapped potential and could hold world-class discoveries.
Now, let's talk about management. When it comes to the junior mining space, the team is very important. Looking at teams with experience and who have done it before is very important in this industry. You want to invest your money with winners.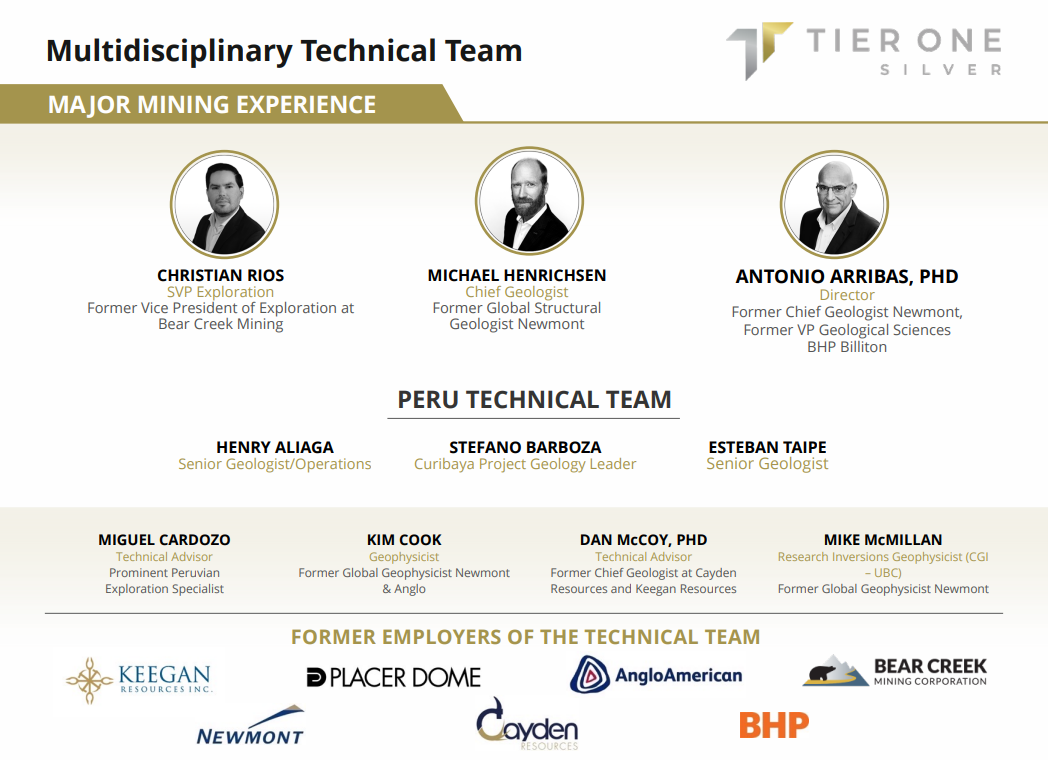 In terms of experience, the technical team has worked for some major mining companies. Many in Peru, so they know the geology.
The management team also has a track record of success and discovery, creating value for shareholders: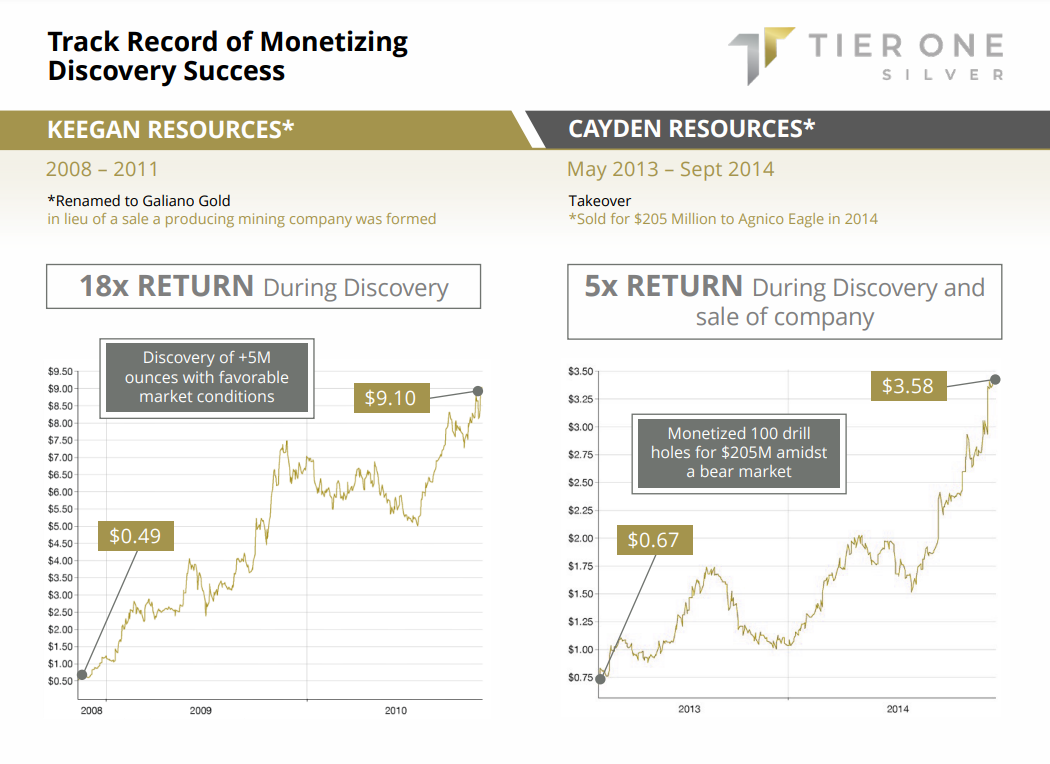 Let's take a peek at the most recent balance sheet: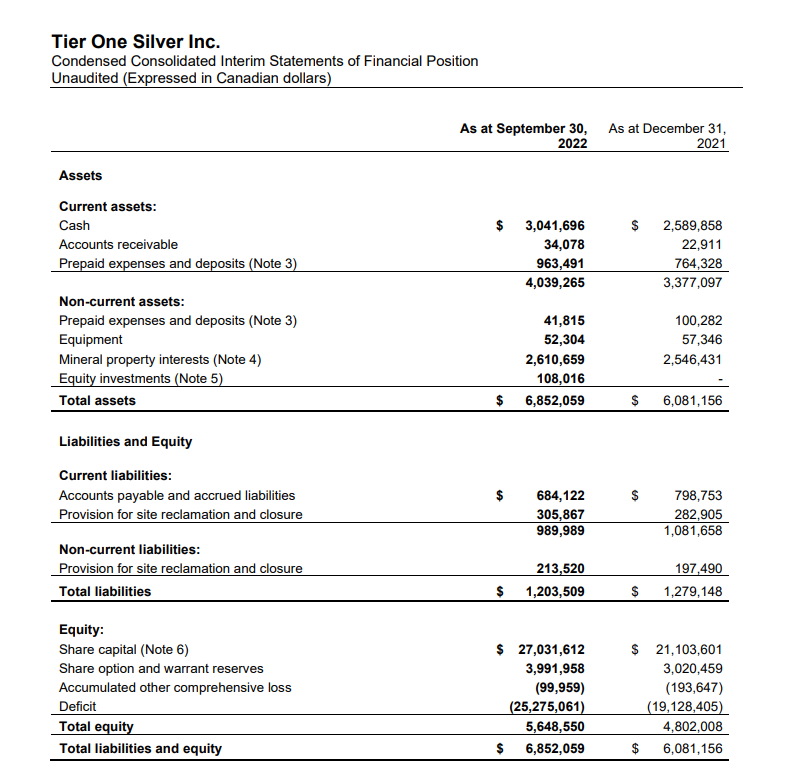 Of course junior explorers are not making money and rely on financings. But there are a few things I look for in order to determine a healthy junior explorer.
The cash position is always key. You want to see a few millions of dollars so you know the company has the funds for drilling etc, things which will be catalysts for the stock price. Plus, if it is low, then you may want to wait a bit before buying shares just because a financing is likely.
Secondly, the working capital is positive. Believe it or not, this is rare for many junior explorers. A simple calculation of current assets – current liabilities. If this is positive, the company has a positive working capital.
And then to the best part in my opinion. The technical set up.
At first, this chart may not interest technical traders. But I am not a day trader. I like to look forward a few months and even years.
Since the Summer of 2022, Tier One Silver has just ranged. Bouncing from all time record lows at $0.25 to $0.375 to the upside. Price has been constrained within this range.
According to market structure, there are only three ways ALL markets move: an uptrend, a range and a downtrend. Tier One Silver's chart shows a previous downtrend, and a current range. A range after a long downtrend gets my attention because it generally signals the end of the downtrend as it shows the exhaustion of selling pressure.
We now await for the missing element of market structure: an uptrend.
Now I am not saying this will happen right now, but the chances of a new uptrend is increasing given the 6 month plus range we have been in. But we NEED the breakout of the range to trigger this new uptrend. We need to see Tier One Silver close above the $0.375 zone to trigger this breakout and a new uptrend.
As you can see, recently price sold off at the top portion of the range or resistance. I will continue to watch this chart for the breakout trigger.
This could happen in two ways. Perhaps silver prices breakout of their current range which makes silver stocks go ballistic. Again, check out my silver articles which I linked near the beginning of this article for more information.
Secondly, and one I will be discussing with management about, a press release catalyst. Perhaps the announcement of drilling and/or a major find. This is preferred because you have a very exciting discovery story potential backed by solid technicals.