Uranium prices unfortunately did not breakout on the technicals as we hoped for, but this does not mean they cannot in the medium to long term. The market structure is still positive and intact, and the fundamental supply-demand mechanics remain strong.
In the last uranium roundup, I spoke about a potential catalyst being sanctions or a ban on Russian uranium. European countries are talking about this. There are some who predict that this could come into fruition given the recent events in Poland, however it has come out now that it was a Ukrainian 'accident' missile.
The range still holds between $48.60-$53.60 with the breakout almost occurring just a few weeks ago. On the technicals, uranium bulls still need to be patient but a range provides a good time to search for and accumulate good uranium stocks while they are still cheap.
Longer term, analysts remain bullish on uranium. Recently, Amati Strategic Metals stated that the uranium outlook has turned favorable due to "accelerated decarbonisation initiatives and the emergence of financial players in the uranium spot market."
"A supply deficit is forecast to continue for a few years, which is being exploited by financial players trying to soak up as much supply on the spot market, in an attempt to establish a more realistic incentive price for new supply coming onto the market," says Lequime.

"In addition, the West is facing a real threat of a bifurcated world, where the continued source of cheap uranium is no longer guaranteed."
Another 56 reactors are currently under construction, mainly in China, India and South Korea, with a further 434 reactors either planned or proposed. Western Europe and the USA account for almost 65% of world's current nuclear energy generation, while Kazakhstan, Russia, Uzbekistan and China account for 60% of the world's primary U₃O₈ supply.
"The shift away from the burning of fossil fuels and biomass, coupled with the clear geopolitical issues surrounding the dependency of the sourcing of natural gas is putting greater and greater focus on nuclear power and renewable technologies." Lequime said.

"The difficulty in the scalability of hydropower, solar and wind power in a reasonable timeframe suggests that nuclear power will assume a more prominent role in the energy mix going forward. Uranium is seen to be at a critical turning point, where there is no path to zero that does not involve uranium."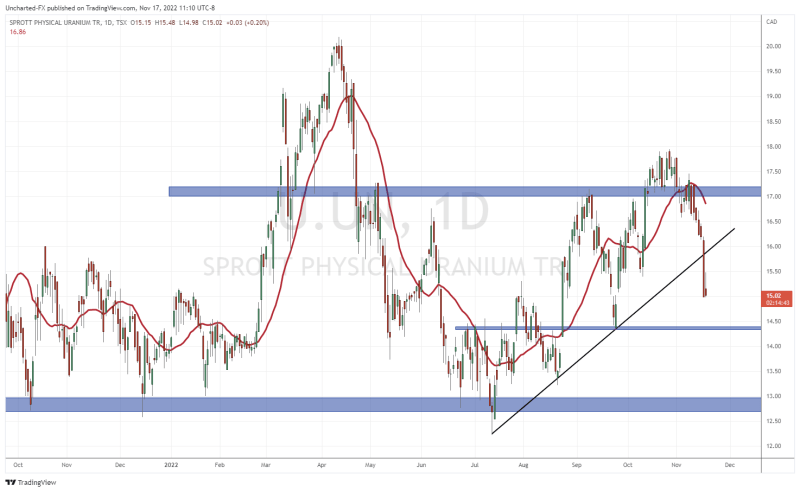 One chart that uranium bulls need to be aware of is the chart of the Sprott Physical Uranium Fund (U.UN). Resistance at $17 has been rejected, and this week we closed below a major trendline. More downside could be in store as this chart tracks the spot price.
A positive looking chart would be Uranium Royalty Corp (URC.V). From a market structure perspective, I love how this chart ranged at the $3.00 zone and then confirmed a breakout. We are pulling back from $4.00 but could just be in order to confirm a retest at $3.20 before we head higher.
Forum Energy Metals (FMC.V)
Forum Energy Metals Corp is a diversified energy metal company with uranium, copper, nickel, and cobalt projects in Saskatchewan, Canada's Number One Rated mining province for exploration and development, a strategic uranium land position in Nunavut and a strategic cobalt land position in the Idaho Cobalt Belt.
We of course are interested in the uranium asset.
Recent news this week announced that Forum Energy  is mobilizing a drill and crew to commence drilling on its 100% owned Wollaston uranium project by the end of the month.  Permits are in place and approximately 3,000m of drilling in 12 holes are planned on various targets that were developed by the recent airborne magnetic and electromagnetic (EM) survey flown over the project in August. The Wollaston project is well located 10 km south of Cameco's Rabbit Lake Uranium Mill and 30 km south of Orano/Denison's McClean Lake Uranium Mill in the northeastern Athabasca Basin.
The stock is ranging at a major support zone. A good area for a trend reversal. We just need the breakout above $0.12 and perhaps upcoming drilling will be the catalyst to confirm the breakout. Next resistance comes in at the $0.18 zone.
IsoEnergy Ltd. (ISO.V)
IsoEnergy is a well-funded uranium exploration and development company with a portfolio of prospective projects in the infrastructure-rich eastern Athabasca Basin in Saskatchewan, Canada.
The company just got even more well funded announcing a CAD $15.3 million financing consisting of a $5 million non-brokered private placement of common shares, a concurrent private placement of $5.3 million in convertible debentures, and a $5 million "bought deal" private placement of charitable "flow-through" shares.
CAD $5 million will see 1,500,000 million common shares issued at a price of $3.33 per share to NexGen Energy Ltd. Queen's Road Capital Investment Ltd. private placement will be CAD $5.3 million of unsecured convertible debentures.
In addition, there will be an agreement with PI Financial Corp. on behalf of a syndicate of underwriters to which the Underwriters have agreed to purchase, on a "bought deal" private placement basis, 940,000 common shares of the Company at a price of CAD $5.35 per flow-through share for gross proceeds of CAD $5 million.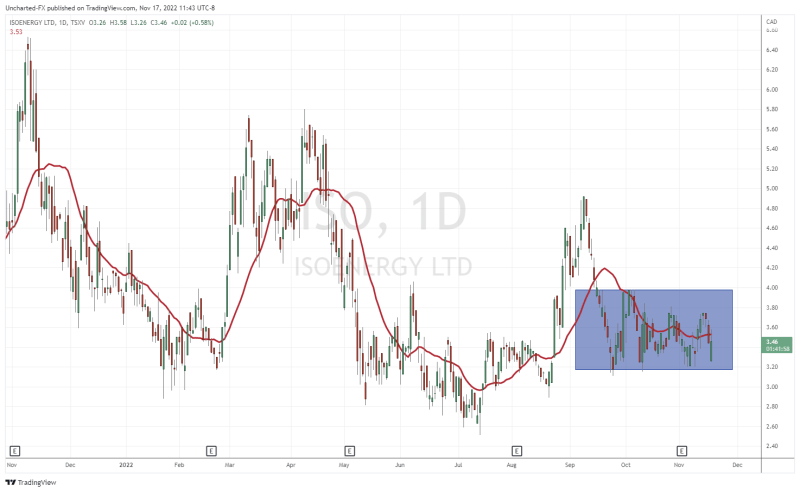 The stock is just ranging, and just needs a breakout. A breakout higher for bulls of course, but a break lower could take us back to $2.60.
CanAlaska Uranium (CVV.V)
CanAlaska Uranium Ltd holds interests in approximately 300,000 hectares (750,000 acres), in Canada's Athabasca Basin – the "Saudi Arabia of Uranium."  CanAlaska is currently working with Cameco and Denison at two of the Company's properties in the Eastern Athabasca Basin. CanAlaska is a project generator positioned for discovery success in the world's richest uranium district.
This week, the company announced assay returns of 25.4% U3O8 at West McArthur.  The West McArthur project, a Joint Venture with Cameco Corporation, is operated by CanAlaska who currently holds a 79.3% ownership in the project.
The new geochemical assay results indicate multiple high-grade intersections over a 12.6 metre wide zone in WMA072-3, highlighted by 3.98% U3O8 over 2.3 metres from 845.9 to 848.2 metres, which contains a sub-interval of 25.40% U3O8 over 0.3 metres from 846.4 to 846.7 metres. Additionally, WMA070 returned 0.84% U3O8 over 5.0 metres from 808.5 to 813.5 metres. These new results complement the previously reported high-grade intersection of 2.4% U3O8 over 9.0 metres in WMA067 and provide a compelling target where the mineralized structure intersects the unconformity.
The Company believes that it has successfully identified the orientation of the controlling structure for the basement-hosted uranium mineralization as part of a larger fault system. A formal 2023 exploration program and budget for $10 million has been approved by the Joint Venture.
The recent news has given the stock a pop. A pop which took us back above what used to be resistance now turned support. As long as CVV stock remains above $0.40, the new uptrend remains intact!
Uranium Energy Corp (UEC)
Uranium Energy Corp is the fastest growing supplier of the fuel for green energy transition to a low carbon future.  UEC is the largest, diversified North American focused uranium company, advancing the next generation of low-cost, environmentally friendly In-Situ Recovery (ISR) mining uranium projects in the United States and a pipeline of high-grade conventional projects in Canada.  The Company has two production-ready ISR hub and spoke platforms in South Texas and Wyoming, anchored by fully licensed and operational central processing plants.
The company announced that the Texas Commission on Environmental Quality ("TCEQ") has approved the Company's submission for a renewed and expanded radioactive material license ("RML") for its Hobson Central Processing Plant.
UEC's amended RML from the TCEQ increases the Hobson Processing Plant's licensed production capacity to 4 million pounds of U3O8 annually.  This distinguishes the plant as having the largest licensed capacity in Texas and the second largest in the United States.
Amir Adnani, President and CEO stated: "We continue to execute on our strategy of growing UEC's leadership as a pure-play, un-hedged uranium supplier in politically stable jurisdictions. Today's achievement increases and advances our production capabilities in South Texas as we work towards the Company's return to production.  We are pleased with the TCEQ's approval of a renewed and expanded licensed capacity at our Hobson Central Processing Plant. Expanding the licensed production capability to four million pounds per year is an important step in providing the Company upward flexibility without permitting delays for our South Texas hub-and-spoke production platform."
The stock itself is also remaining in a range, and requires a breakout either above $4.60, or below $3.20. This is definitely a stock to consider as they are a near term producer.