Big pharma firms like Abbvie can offer incredible product growth potential to investors, but they also saddle shareholders with tremendous risk in terms of regulatory approval and capital cost.
According to a recent study which tracked the success rates of clinical drug development through to FDA approval between 2006-2015, just 9.6% of the drug candidates involved in 7,455 clinical drug programs across 1,103 different companies (both large and small) made it from phase 1 clinical trials to FDA approval. (see below)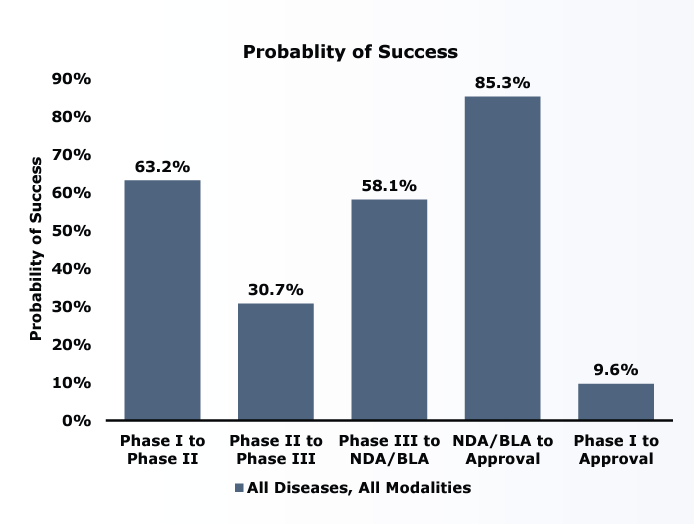 In a March 2020 report, researchers determined the median capitalized research and development costs for 63 of 355 new therapeutic drugs and biologic agents between 2009 and 2018 was an estimated $985 million USD per product.
This massive expense doesn't include the estimated median cost of $19 million per clinical trial to support FDA approval. Absolutely staggering, especially when there is a 90.4% probability the clinical program will stall indefinitely or fail altogether before it reaches commercialization. So, is there an option for the retail investor with limited capital and lower risk tolerance?
Specialty pharma could very well be that option. Companies operating in this niche space, like Medexus Pharmaceuticals (MDP.T), typically license already-approved specialty drugs for sale in a new jurisdiction, meaning Medexus provides similar growth potential with almost none of the risk involved in drug development as the company only operates as a license acquirer and product distributor.
Specialty drugs treat complex conditions, like rheumatoid arthritis, allergic rhinitis, and cerebral palsy, therefore the drugs themselves have increased margins and a relatively focused customer base. This eliminates the need for massive and expensive marketing efforts to effect significant sales.
Even though specialty drugs have the potential of generating hundreds of millions of dollars a year in revenue, big pharma typically ignores them as they require billions of dollars of income to offset continuing R&D costs.
This leaves the field open for smart operators like Medexus to slip in under the radar and scoop up revenue generators on the cheap. This means there will always be a product well to draw from when it comes time to grow their portfolio.
Speaking of radar, Medexus has been on our radar for years. Its adroit management led by industry veteran, Ken d'Entremont, company founder, president, and CEO, has selected a diverse portfolio of effective drugs which already include Rasuvo®, IXINITY® and Gleolan™ in the U.S. as well as Metoject®, Rupall™ and Tripsan® in Canada.
Medexus recently released its Q1 2023 financial results which showed the company upping revenues during the quarter to $23.05 million USD, a 33% increase from the same period in fiscal 2022, while reducing cost of goods sold by 2.67% to $8.66 million.
The quarter's sales efforts resulted in gross profits of $12.13 million, almost double the amount from the same period last year. This resulted in an adjusted EBITDA of $1.91 million for Q1 2023, versus an adjusted EBITDA loss of $4.91 million in Q1 2022.
Rasuvo's unit demand increased in the trailing 12-month period ending June 30, 2022, but as competition builds in the American market for branded methotrexate, Medexus has moved to reduce unit-level prices to maintain its market position.
Rupall's unit demand growth during the trailing 12-month period ended June 30, 2022 was "strong" at 22%, cementing Rupall as one of Canada's fastest-growing antihistamines on the market.
Metoject added to Meduxus' momentum with an increased unit demand in the same period, however it is impacted by the disruption of a generic product entering the Canadian methotrexate market. Like Rasuvo, the company has implemented unit-level price reductions to maintain its market position.
Medexus has also filed paperwork for patent litigation in Canada's Federal Court regarding two generic versions of Metoject released in the Canadian market. A trial date has been set for early calendar 2023.
Another recent addition to Medexus's product portfolio, Gleolan, continues to align with expectations with the company realizing a portion of the net sales during the ongoing transition period. The transition is expected to complete in full during the current financial quarter so Medexus can begin realizing total product revenue within the three-month period ending September 30, 2022.
The preceding is a good indicator of a successful going concern with a strong foundation, but that isn't the end of it. Medexus is working to add yet another leading product to its sales catalog, treosulfan.
Treosulfan is a medication given to patients before they undergo a bone marrow transplant from another donor in a process known as allogeneic hematopoietic stem cell transplantation (AHSCT). It basically clears the existing bone marrow to make room for the transplanted bone marrow cells, which then can produce healthy blood cells.
Belonging to a family of drugs known as alkylating agents, treosulfan itself, replaces the traditional use of busulfan in AHSCT.
According to a recent clinical study published in the American Journal of Hematology, treosulfan was superior to busulfan in patients at a median age of 60 years. Their 36-month event-free survival (EFS) rate was 59.7% compared to 49.7% with those using busulfan.
Thirty-six-month overall survival rates for patients using treosulfan were also superior to busulfan, coming in at 66.8% versus 56.3%.
With this in mind, treosulfan has the very real potential of adding more than $100 million in revenues to Medexus' income statements.
Treosulfan's ride to American commercialization under Medexus experienced a small bump when the FDA returned to Medexus with a request for more information.
Unfortunately, investors interpreted that incident through the lens of big pharma's process and assumed this was a precursor to a death knell for treosulfan's release in America.
Stock price took an unnecessary hard hit, but management stayed the course and followed through with the July 25, 2022, announcement of its treosulfan application resubmission with the inclusion of the info the FDA asked for.
If things go smoothly as expected, FDA approval within a two- to six-month period from its initial acceptance would set the stage for a commercialization launch in the U.S. in H1 2023.
As such, Medexus is primed for real growth over the next 12 months. Analysts have taken a shine to the stock as illustrated by the following reports:
Raymond James gave Medexus an outperform 2 rating with a target price of $4.50 on a 2023E revenue estimate of $87 million USD. (July 26, 2022)
RJ analysts commented, "…we calculate that ~60% of the Rev. from MDP's newest assets—Treosulfan and Gleolan—should drop straight to the bottom line, driving a material escalation in EBITDA beginning in 2H23, and into 2024."
Stifel Nicolaus Canada gave Medexus a buy rating with a $14.25 target price. (July 25, 2022)
SNC analysts commented, "We see MDP as a specialty pharma company with solid offerings of IXINITY for hemophilia B, Rasuvo and Metoject in rheumatoid arthritis, a fast growing allergy medicine, Rupall, along with the business being at a point of inflection for operating leverage with the infrastructure in-place to support much greater sales. As scale is achieved, profit is expected to ramp, leading to a re-rating in valuation and a much higher share price."
Equity.Guru's own Chris Parry threw the gauntlet and Ken d'Entremont was more than happy to pick it up is this recent interview:
Ken also spoke with Jody Vance about Medexus' value proposition and investment potential in her recent video:
Finally, we writers throw our opinion into the ring in this recent Investors Roundtable Video:
The rest is up to you and your due diligence, but Medexus continues to build a story of success and could be an impressive portfolio addition since its anticipated revenues in 2023 are expected to beat its current market cap, which is relatively unheard of in the pharmaceuticals sector.
Medexus sat at $3.05 per share during trading on August 11, 2022 for a market cap of $60.85 million.
–Gaalen Engen
Full Disclosure: Medexus Pharmaceuticals is an Equity.Guru marketing client.