EasTower Wireless (ESTW.V), a US-based company focused on providing next generation wireless communications infrastructure, announced today a proposal for a non-brokered private placement which would entail the issuance of up to 10 million units at $0.05 per unit for gross proceeds of up to $500,000.
Each will consist of one common share and one transferable common share purchase warrant. Each warrant will entitle the holder to purchase one common share in EasTower at an exercise price of $0.10 per warrant.
Warrants can be exercised up to 24 months after the financing closes, but this exercise period is also subject to acceleration. The expiry date can be accelerated at any time following the four-month anniversary of the PP closing if the volume weighted average price for the company's common shares on the TSX Venture Exchange remains above $0.25 for any 10 consecutive trading days.
Once the conditions of acceleration have been met, the company will release a press release announcing the reduced warrant term and the new expiry date will be on the 20th calendar day after the date of such press release.
Net proceeds for the raise will be used as working capital.
This announcement follows on the heels of EasTower signing a master agreement with one of the world's largest tower operators back in the middle of June.
The unnamed client made EasTower one of its approved contractors for future developments as well as inviting EasTower to support them in further mandates in three of their other tenancy markets including Nashville, Louisville, and Knoxville.
EasTower, which specializes in the construction, installation, and maintenance of 5G and 4G wireless systems, is positioning itself to participate in a global 5G market which is estimated to grow to $1.67 trillion USD by 2030 at a CAGR of 52%.
Company CEO, Vlado P. Hreljanovic, commented, ""EasTower continues to advance and provide quality 5G builds to the largest telecoms and tower companies in the United States. Our reputation for quality execution continues to resonate with the large US telcos and main tower companies as we anticipate further expansion into the Midwest through direct invitation from our valued clients with mandates to support the scalable growth that we have positioned our company to be in."
EasTower reported $1.1 million CAD in cash and cash equivalents as of March 31, 2022, with revenues of $425,061 for the three months leading up to March 31, 2022, for a net loss of $2.23 million during the same period.
Here is a quick breakdown of the company and its potential by Equity.Guru founder, Chris Parry.
The company currently trades at $0.04 per share for a market cap of $2.71 million.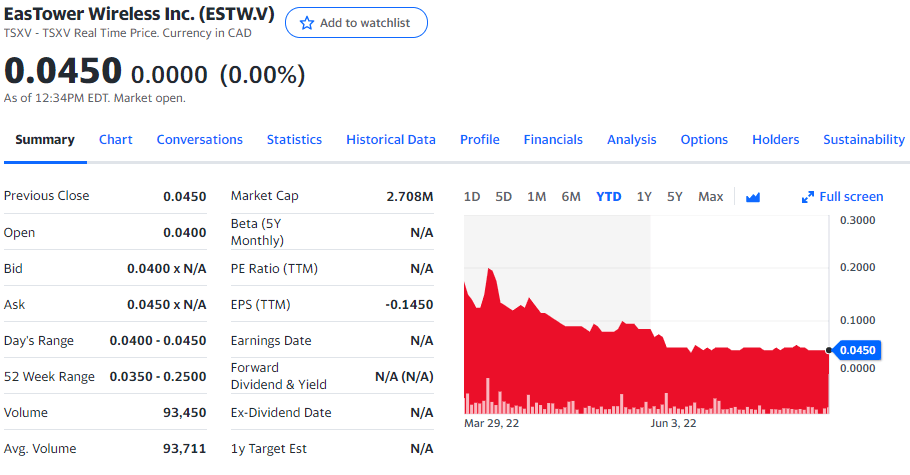 –Gaalen Engen