The cost of living increased at its fastest pace in decades. Canadian inflation hit 39 year highs of 8.1%.
Gasoline was the biggest single contributor. If gasoline was stripped out, inflation would be 6.5% vs 8.1%. The next major source of inflation? Food prices. Canadians also continued to see higher prices at the grocery store, with the cost of food up 8.8 percent compared with June last year.
Here is a cool image showing the rise in basic food prices in Canada: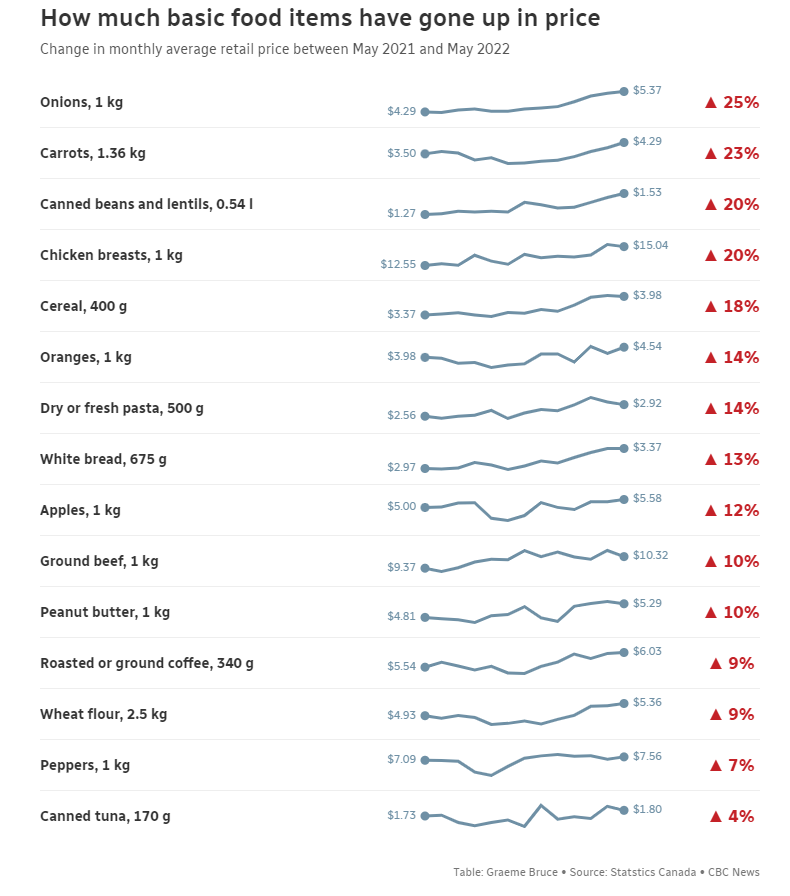 Just last week, food suppliers said that more price hikes are coming to Canadian grocery stores in Fall, but now, there could be some positive news.
Sylvain Charlebois, professor and senior director of the Agri-Food Analytics Lab at Dalhousie University told Canadian media (CTV) that there could be some light at the end of the tunnel.
"Certainly, that's why people are still noticing higher prices at the grocery store and at the restaurant,"

"But the good news is that I believe that our food inflation rate has peaked in our country, so we're starting to see the end of the food inflation tunnel, finally."
Supply chain disruptions are finally being dealt with:
"But generally speaking, I think the food industry is starting to control elements related to the supply chain and the impact of the Ukrainian conflict, as well,"
Mr. Charlebois has also previously said that Canada should see a strong harvest this year, which will keep agricultural commodity prices down. However overall, he does not expect year-to-year prices to drop any time soon.
There are other factors in play such as the Canadian Dairy Commission approving the second milk price increase this year, as well as potential pressure on the Canadian Loonie with US rate hikes.
What lies ahead? Food inflation will rise by as much as 7% by the end of the year.
MustGrow Biologics (MGRO.CN)
MustGrow has put out a press release after 3 months of silence. Yet another major deal. Univar Solutions (NYSE:UNVR) division NexusBioAg has announced an exclusive marketing and distribution agreement in Canada with MustGrow.
The agreement is for TerraMG, a mustard derived soil biopesticide technology. This deal has been months in the making.
In 2021, NexusBioAg and MustGrow initiated a field research program to develop MustGrow's sustainable farming technology in Canadian canola and pulse crops. This technology has the potential to address the agronomic challenges of ClubRoot and Aphanomyces diseases which impact these crops. NexusBioAg liked the results and the companies are moving onto the next stage of the development process.
Through this exclusive marketing and distribution agreement, NexusBioAg customers have access to the latest in agronomic innovation, which is yet to be registered with Canada's Pest Management Regulatory Agency.
"TerraMG complements the NexusBioAg portfolio and we are excited to add this technology to our growing product offering. As the sole distributor of TerraMG in Canada for use in canola and pulse crops, this agreement further reinforces NexusBioAg's commitment to collaborating with leading manufacturers to launch innovative, sustainable and cutting-edge solutions that provide value to the Canadian agricultural industry and benefit its growers," said Matthew Ottaway, senior vice president, global consumer solutions for Univar Solutions.

"We are very pleased to partner with an organization like NexusBioAg. Their team's technical and commercial expertise is unparalleled and will be advantageous in accelerating the development and growth of TerraMG for use in Canadian canola and pulse crops. The NexusBioAg team has tremendous knowledge of the Canadian agriculture market as well as sustainable farming solutions. We look forward to commercializing this biopesticide technology in the Canadian market together," remarked MustGrow COO Colin Bletsky.
The stock chart remains unchanged from last week. We are still battling at a major support level. A battle between the bulls and the bears. If MustGrow fails to hold this support, a breakdown would take us to $2.00. If we can build a base and bounce from here, a move to $4.00 is possible in the medium to long term.
Beyond Oil (BOIL.CN)
TEJA food group, a distributor of Beyond Oil's product in Canada and the United States, has formalized product testing with two Canadian national restaurant chains in select restaurant locations to integrate Beyond Oil's powder into their operations. This is definitely worth paying attention to given the rise in cooking oil. Beyond Oil's product would allow restaurants to save on costs during a time when prices are rising.
Success for this testing will be based on the product's performance in extending the useable life of their frying oil, reducing the number of times in a month oil needs to be replaced and without changes to the quality or taste of the food.
"Cooking oil prices have risen dramatically over the last year, causing increased cost pressures for restaurant owners and other food producers," says Tom Grande, President of TEJA. "These inflationary costs have hit consumers and the food service industry alike. Our customers are seeking solutions to combat these inflationary pressures, and we believe the Beyond Oil product will help achieve those results."

"We are pleased to see growing interest from restaurants, food chains, and food producers who have begun to realize the significant benefits our product can deliver for the companies, the customers, and the planet," said Dr. Tamir Gedo, CEO of Beyond Oil. "We believe these new restaurant-level tests will confirm that our product will meet or exceed the expectations of these national chains across several key metrics. This is an exciting next step in progressing towards our product commercialization in North America."
A roller coaster ride for the recently IPO'd stock. We hit record highs, and then fell to bounce near the IPO price. A very strong support level.
Now, we are retesting a zone on BOIL which I marked in a previous agriculture roundup. The $1.15 zone is acting now as resistance, or a price ceiling. We either sell off here and set up for another test at support down at $0.60, or we close above and then make a run to $1.50 and higher.
International Zeolite (IZ.V)
International Zeolite Corp. explores for and develops mineral properties in Canada. It has interests in the Bromley Creek zeolite project, which consists of one mineral lease and four mineral claims covering approximately 1,492.02 hectares located near Princeton, British Columbia; and the Sun Group zeolite project covering approximately 948.935 hectares in British Columbia.
No news out but take a look at this chart:
An explosive move from $0.10. Almost a 90% pop in 3 trading days! Not only have we broken above a downtrend line, hinting at a new trend, but we did so with higher than average volume.

Something is up. It seems like big news could be on the way.