If you want to invest in something with a bold geopolitical flavor, then rare earth minerals are the investment for you. When the China trade war headlines were all the markets were talking about way back when, rare earth minerals were always in articles titled something along the lines of, "Possible China trade war weapons". And these headlines could be making market headlines once again.
US-China relations have worsened. House Speaker Nancy Pelosi visited Taiwan, a country that the Chinese Communist Party (CCP) deems as part of its territory and not an independent country. Pelosi became the highest ranking US official to visit Taiwan in 25 years. The CCP are not happy, but are dealing with their own problems. For more info on the geopolitics, check out my most recent on this topic and the US-China Thucydides Trap.
The Chinese have issued sanctions on Pelosi, and have suspended cooperation with the US on a range of issues including military, anti-drug, and climate change. Military drills around Taiwan are ongoing at time of writing.
The US has responded by boosting competitiveness with China. Since the two countries will likely not be getting along quite well in the future, the US is now protecting itself from major Chinese imports. Things that the CCP could use as a weapon. The big bill which just passed is to boost chipmaking and semiconductors in the US. The U.S currently produces only about 10% of the world's supply of semiconductors, whereas east Asia accounts for 75% of global production.
If the US is now about to protect themselves by increasing domestic production on things which they currently rely on China for, then my money is on rare earth minerals.
When it comes to rare earth metals, China is the #1 producer, producing more than half of the world's total rare earth production. The US comes at a distant second place accounting for about 15% share of global production.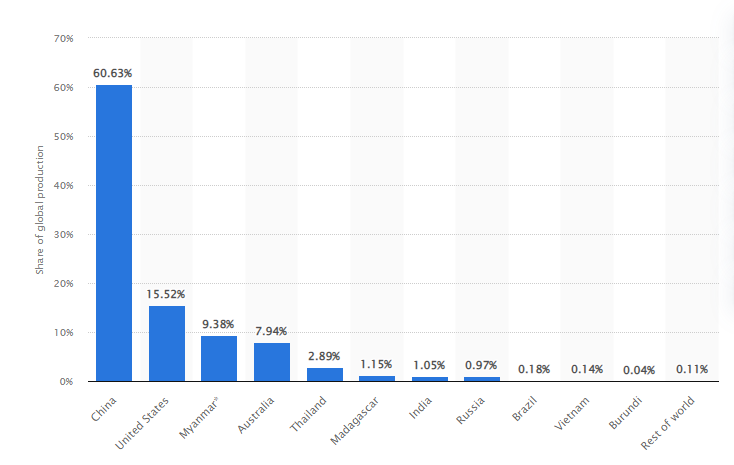 When it comes to rare earths and certain other critical minerals, the US relies on imports. And I mean heavily:

With rare earths receiving strategic designation by the US government, the US government is all in for increasing domestic supply. This means more rare earth mines need to come online. Environment concerns still matter, but in terms of how vital these metals are, I think it is safe to say that some of these projects could be fast tracked with government support. Especially now with US-China relations deteriorating.
Geopolitics not your cup of tea? Then how about the green movement? The US government on both the Federal and State level have recently passed bills which will see demand for critical minerals increase.
Firstly, the Biden administration has passed the Inflation Reduction Act which also deals with tax credits for critical mineral production. The bill creates a new 10% Advanced Manufacturing Tax Credit for a variety of critical minerals produced in the U.S., including niobium, scandium, and titanium.  Should NioCorp find it economic to produce the magnetic rare earths neodymium, praseodymium, dysprosium, and terbium, and once the Project is financed and placed into commercial production, the 10% tax credit would also apply to the cost of producing these products.
"NioCorp could benefit substantially from these new production tax credits in the future," said Smith. "This and other provisions in this bill send a powerful signal to producers, markets, and investors that the U.S. government wants to up its game in terms of encouraging more production of American-made critical minerals."
Other positives that will benefit Niocorp includes the revision of the existing $7500 federal electric vehicle tax credit, and bill provisions which includes $500 million for 'enhanced use' of the Defense Production Act to provide economic incentives to create, maintain, protect, expand, or restore domestic sources for critical components, critical technology items, and industrial resources.
More US states are likely to follow California's lead in banning the future sale of internal combustion engine vehicles as a means of accelerating demand for electric vehicles. These government actions are going to increase demand for the critical minerals needed for electric vehicles and other clean/green applications. Very bullish for companies sitting with a domestic supply!
When it comes to a play advancing a project, there is no other proposed project in the world that will make these 3 critical mineral groups other than NioCorp.
NioCorp Developments LTD. is developing the Elk Creek critical minerals project, a large underground deposit in southeast Nebraska. The project is rich in Niobium, Scandium, Titanium and Rare Earth elements.
These minerals don't only have a military and technology component, but will be crucial for electric vehicles and the green economy. In fact, with China wanting to produce EV's in the tens of millions per year, they may not even have enough rare earth production to meet this demand!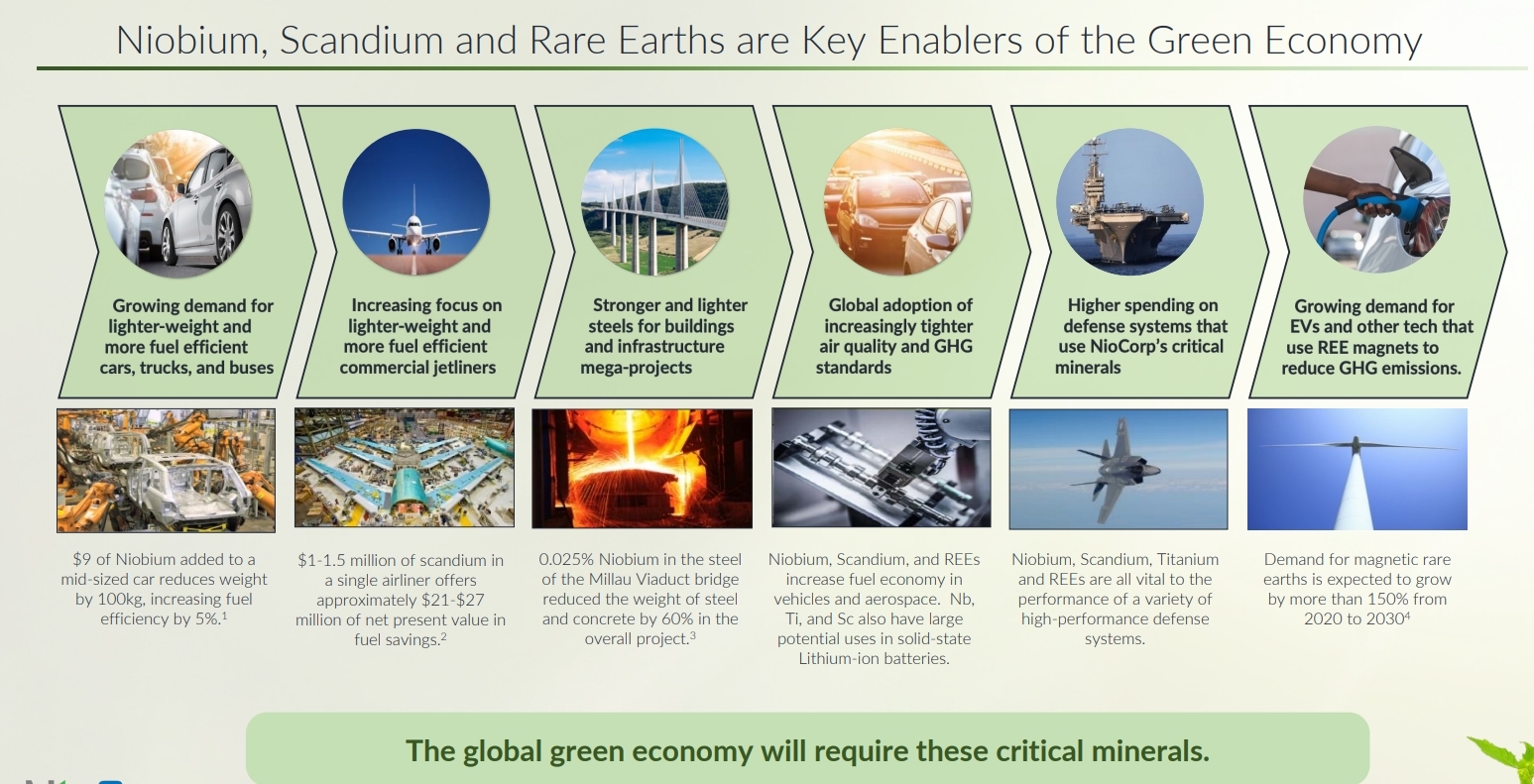 If you listen to management, they say that this is a primary Niobium mine with elements of Scandium, Titanium and magnetic Rare Earth Elements. So what is Niobium primarily used for?
Niobium is used in alloys including stainless steel. It improves the strength of the alloys, particularly at low temperatures. Alloys containing niobium are used in jet engines and rockets, beams and girders for buildings and oil rigs, and oil and gas pipelines. This element also has superconducting properties.
When it comes to Niobium, there are only 3 primary Niobium mines in operation in the world today. NioCorp's Elk Creek Project was confirmed as the second largest indicated-or-better rare earth resource in the US!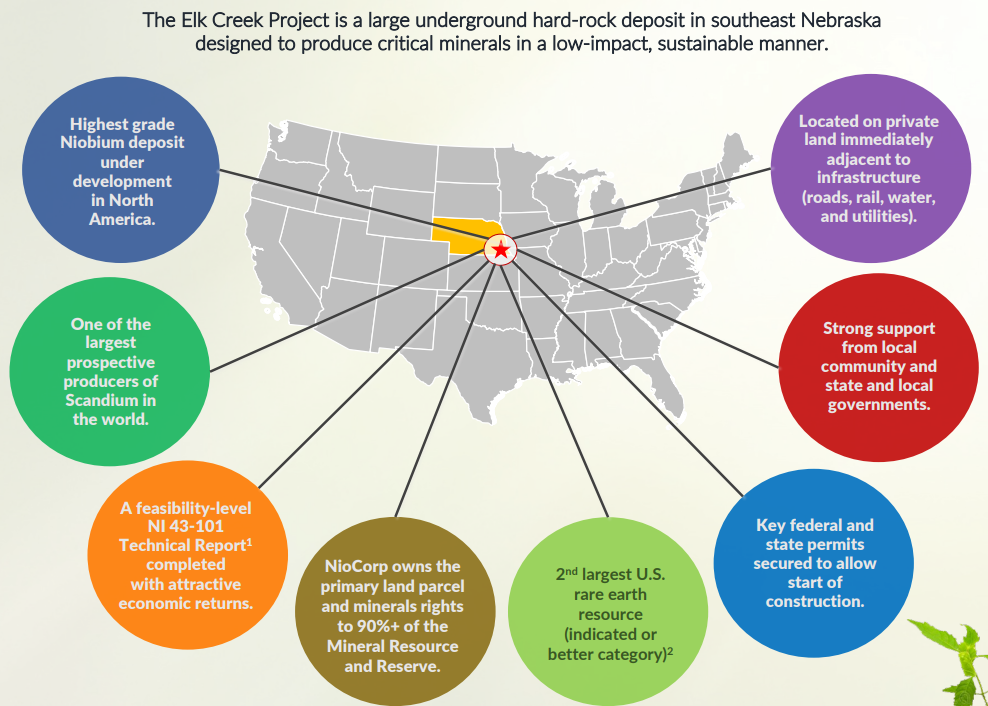 When it comes to junior miners, this is definitely a company that is more advanced stage and de-risked. They have a feasibility study, and a NI 43-101 technical report. The project is shovel ready. All that is left is to secure project financing to build the mine.
Here are the economics of the Elk Creek Project: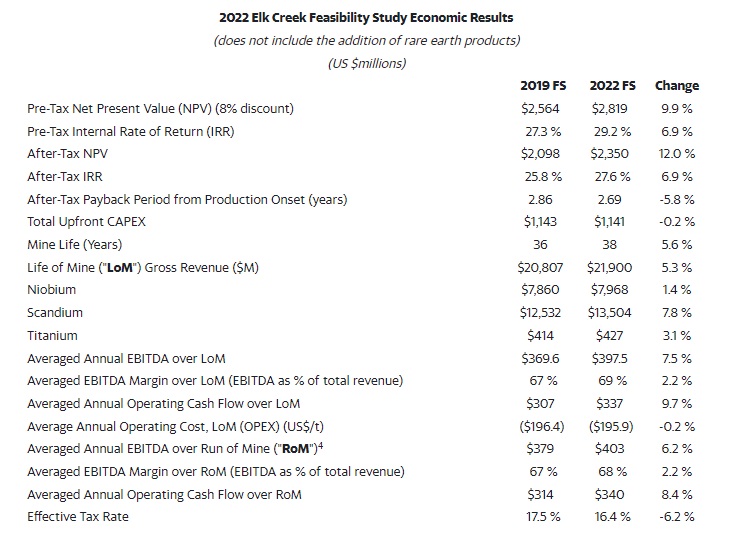 The life of the mine has increased from 36 to 38. The after-tax net present value (NPV) also increased to $2.35 billion. Not bad considering NioCorp is sitting at a current market cap of $265 million.
The next step will be to focus on the magnetic REE products neodymium-praseodymium oxide, dysprosium oxide, and terbium oxide at purity levels that meet current commercial requirements. There currently is no commercial-scale production in North America of these separated rare earth products from ore mined in the U.S. A further updated NI 43-101 technical report will detail the company's plans for producing rare earth products and will determine the net impact of integrating rare earth operations into the project.
This is perhaps the best as the current market environment might make it difficult to raise money, especially as interest rates are rising.
When it comes to the chart, we told readers and viewers that NioCorp recently bounced at a major support level. The $0.80 zone saw a major bounce when news was released that the Elk Creek Project was confirmed as the second largest rare earth resource in the US back in May. We then bounced at $0.80 in late June.
If you tuned into our previous Investor Roundtable, I told investor's that I am looking for the stock to take out the $0.93 level. I said that a reversal pattern is on the cusp of triggering. A pattern known as the cup and handle. A few weeks later, the stock adhered to my technicals and confirmed the breakout on August 8th 2022. Bullish!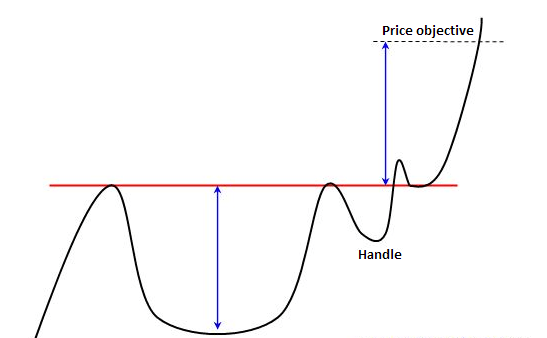 One thing I look for in breakouts is volume. A green candle and breakout is great, but if it is not backed with large volume, the upward movement is unlikely to sustain. Volume on the August 8th 2022 breakout was 224,600 shares traded! The most since June 17th 2022. This volume means that the likelihood of sustained momentum is high.
The breakout led to a 14% gain hitting $1.10.
What happens now?
We have pulled back from a combination of weaker market conditions, and traders taking profits after the run.
Breakouts tend to pullback and retest the breakout zone. This is happening NOW. Actually, it first occurred on September 1st 2022. Look at the large wick on the daily candle. That tells me that there is a large group of buyers at the $0.93 support zone. The uptrend remains intact as long as the price remains above $0.93. If so, expect $1.10 to be taken out.
If NioCorp closes back below $0.93, that would be bearish. It would indicate that the breakout turned out to be a false breakout or fakeout.
I would also watch the $1.00 level just because it is an important psychological number. We take this zone out, and I would expect to see more momentum. My first upside resistance zone target is the $1.20 level. This is just based on technicals and sustained upwards momentum. Major fundamental news could cause this stock to pop even higher.
We have a breakout and retest, and the current macro environment is looking positive for rare earth/critical minerals. NioCorp is early in its reversal pattern, but this is a company and stock with a bright long term future.