Progress at IBW Project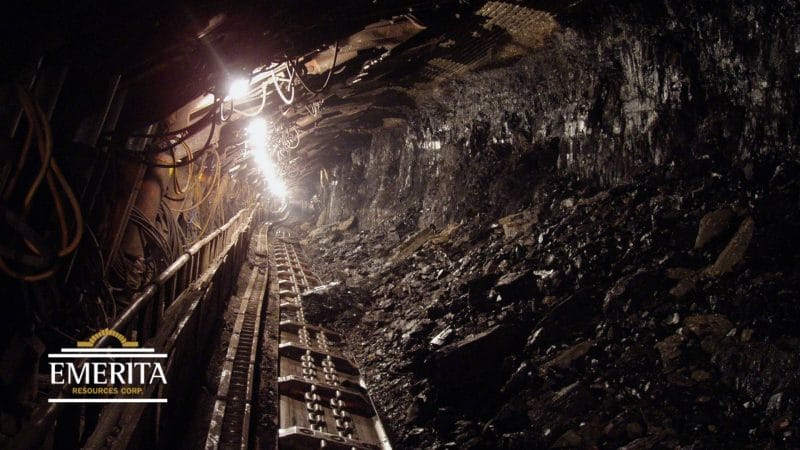 $274.101M Market Capitalization
Emerita Resources Corp. (EMO.V) announced today that, with the permitting for the Romanera and El Cura deposits now completed, the Company will now focus on the Romanera Deposit. In order to delineate this deposit and accelerate the Iberia Belt West project (IBW) towards a production decision, Emerita intends to complete 70,000 m of diamond drilling this year.
"Our team is fully prepared and excited to execute on this drill campaign. The core shacks and sampling facilities are in place. Our QA/QC protocols are well established and we have environmental and safety professionals dedicated to the Project to ensure we operate to the highest standards of environmental and safety performance," said Joaquin Merino, P.Geo, President of Emerita.
In order to complete 70,000 m of drilling before year-end, the Company is considering expansions at depth and along the strike. This includes potentially increasing the number of drills dedicated to the Romanera deposit to six, however, if required, additional drills will be contracted. Currently, there are eight drills on the IBW property. Two rigs will continue to drill the Infanta and El Cura deposit areas.
Romanera Deposit
The IBW project features polymetallic deposits located in southern Spain. To be more specific, the project is host to three previously identified high-grade deposits, including La Infanta, El Cura, and Romanera. As previously mentioned, the Infanta and El Cura deposits are currently being drilled, however, all deposits are open for expansion along strike and depth. In addition to the IBW project, the Company owns 100% of the Tintillo project and its Aznalcollar project is pending.
With this in mind, Emerita holds a significant land position in the Iberian Pyrite Belt (IBP), a geographical area host to some of the world's most abundant metallic mineral deposits. To date, over 2,000 million tonnes of ore have been extracted from the IPB. Regarding Emerita's Romanera and La Infanta deposits, zinc-copper-lead-silver were found at the surface to shallow depths at both.
Additionally, according to Emerita, the Romanera deposit is the largest massive sulfide deposit found thus far on the IBW property. Keep in mind that sulfide minerals are regarded as the source of many precious metals, including gold, silver, and platinum. They are also the ore minerals of metals like copper, lead, nickel, and zinc. As a result, the Romanera deposit represents the most important in terms of potential economic viability.
Drill History:
The Romanera deposit was drilled by Asturiana de Zinc in the 1960s and by Minera Rio Tinto in the 1990s. According to reports, the deposit contains 34 million tonnes grading 0.42% copper (Cu), 2.20% lead (Pb), 2.3% zinc (Zn), 44.4 g/t silver (Ag), and 0.8 g/t gold (Au). Within this amount, there is a higher-grade resource of 11.21 million tonnes grading 0.40% Cu, 2.47% Pb, 5.50% Zn, 64.0 g/t Ag, and 1.0 g/t Au.
However, it should be noted that a Qualified Person has not done sufficient work on behalf of Emerita to classify the historical estimates reported as current mineral resources or mineral reserves. As such, the Company is not treating the historical data as current mineral resources or mineral reserves. Based on historical drilling, the deposit itself extends from the surface to approximately 350 m depth.
"Historical drilling by Rio Tinto and Asturiana de Zinc has delineated mineralization over approximately 450 meters of strike, however, Emerita's electromagnetic (EM) survey maps the conductor associated with this deposit for 1.2 kilometers of strike…The historical drill hole database comprising 51 drill holes provides a high level of confidence in the upcoming drill program," said David Gower, P.Geo., CEO of Emerita.
Referring back to Emerita's latest news, once the Company's drill program is complete, it expects to publish its inaugural NI 43-101 mineral resource estimate at the IBW project. Furthermore, Emerita's new drill core is expected to provide sample material for completing metallurgical studies. Specifically, areas along strike and at depth will see 50 m drill spacing on section with 100 m step-outs between sections.
Additionally, to increase the confidence in the new resource area, infill drilling between sections will be completed. Ultimately, the Romanera deposit is significantly larger than any of the discovered deposits on the IBW project. With this in mind, the Romanera deposit has the potential to become a standalone operation in the future.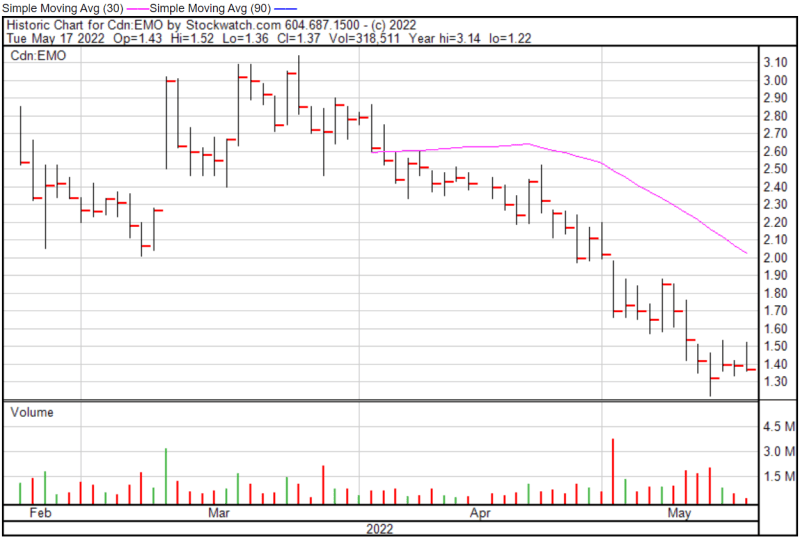 Emerita's share price opened at $1.43 today, up from a previous close of $1.39. The Company's shares were down -2.16% and were trading at $1.36 as of 11:14 AM EST.